Only a couple dozen hours left in the summer transfer window and Leicester City have yet again failed to sign a right-winger as of now. They have been chasing down transfer targets all summer and although they have done some good business this time, they have failed to get the player they have been looking for ages now.
Leicester City made history by winning the Premier League in 2016 but ever since then they haven't even qualified for the Champions League. Even after performing well in the past 2 seasons, they have only finished 5th in the table. Leicester City lost their star player, Riyad Mahrez in 2018 but haven't found an ideal replacement for the player yet.
https://www.instagram.com/p/Bir2s2QluEm/?utm_source=ig_web_copy_link
Leicester are currently pursuing the signature of Ademola Lookman and are extremely close to bringing him to the King Power Stadium. Here's why Lookman would be the perfect addition to Leicester City and can help them push for the Premier League title.
WHO IS ADEMOLA LOOKMAN
Lookman is one of the brightest and the most underrated footballers from England who has had an interesting career so far. The player started off at Charlton Athletic in 2014 and was picked by Everton in the summer of 2017.
https://www.instagram.com/p/BdlibxsFY7w/?utm_source=ig_web_copy_link
The wide player scored a goal in his debut game against Manchester City but after that, he never made the headlines. He struggled for game time at Everton and was loaned to RB Leipzig the next season. In his 11 appearances, Lookman impressed in Germany after scoring 5 goals and 3 assists which earned him a call-back to Everton.
Things didn't pan out the way Lookman would have wanted since he was yet again used as a bench warmer. In the 2018/19 season, Lookman had 21 appearances for the Merseyside club but he only started 3 of those games. In an attempt to revive his career, he made a permanent move to RB Leipzig in 2019 even though Everton wanted him to go on loan and play in the Championship.
https://www.instagram.com/p/CJeqI3BHd6x/?utm_source=ig_web_copy_link
Lookman didn't get his fair share of game time over there as well and that has been the biggest problem for Lookman throughout his career.
He was loaned out to Fulham last season and for the first time, we saw Loookman consistently start for his team and reach his unlocked potential. Although Fulham got relegated last season, Lookman's run of promising performances has earned him a place in the wish-list of Brendan Rodgers.
WHY LOOKMAN?
Leicester City have been short on wide players for the last few seasons which has really hurt them in the long run. They play 2 attacking midfielders rather than wingers and although Barnes, Ayoze Perez are great players in their own right, they aren't natural wingers.
https://www.instagram.com/p/BqfpHfwHNUq/?utm_source=ig_web_copy_link
Leicester City are known for their ability to be quick on the counter but they often find themselves playing too dental which is why most of their attacks don't amount to anything.
Due to this even the responsibility of scoring goals lies only in the sole striker of the team which isn't sustainable, with the growing competition in the Premier League. Leicester needs a player who can drift wide and push the ball ahead since this will add a whole new dimension to their game.
Lookman's pace and quality on the ball is what makes him the perfect match for Leicester City. Leicester play quick football and only take a few touches but progress the ball rapidly. Lookman has the technical skill to think on his feet as we saw him be the spark in a rather dull Fulham side last season.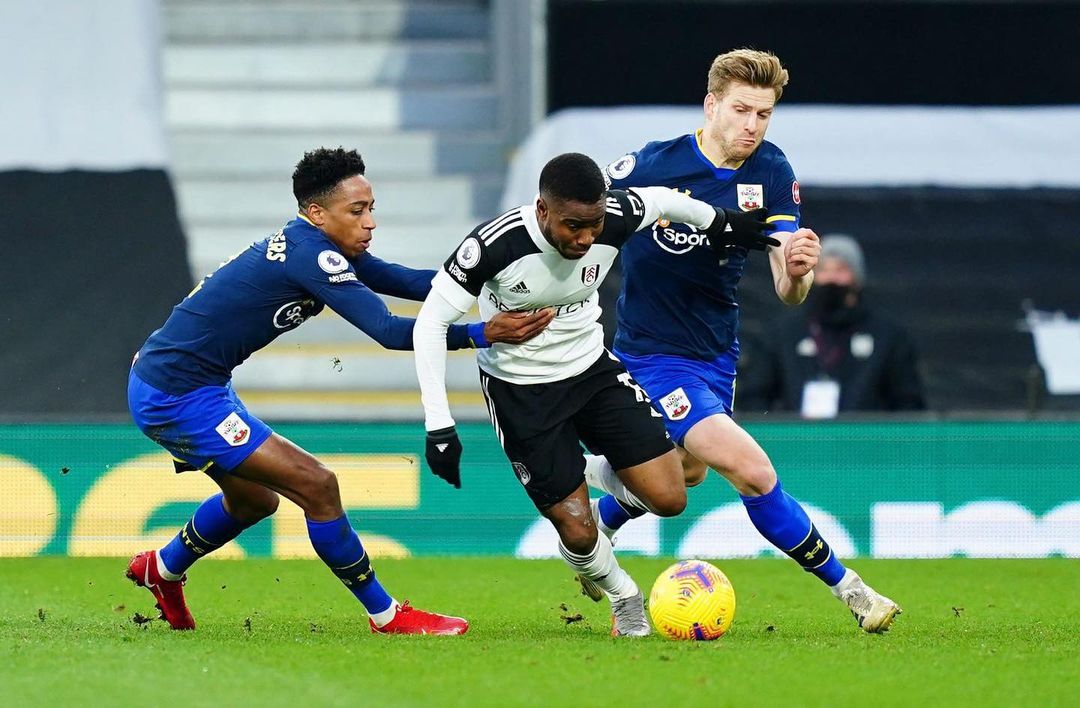 His pace would come in handy while pushing the ball on the flanks since the player has an average of 2.72 successful dribbles per 90 which is one of the highest figures in the Premier League. The player has the ability to make cut-in passes into the 18-yard box and his crossing ability could come in handy now that they have the tall figure of Vestergaard in their side.
Lookman could work on his shooting more since he only had 30.9% of his shots on target. Leicester City have plenty of players to finish the ball in the net but don't have anyone to run along the flanks and provide extra opportunities for Vardy and co to finish the ball.
Ademola Lookman and Leicester City are a match made in heaven and if the Foxes pull this deal off, this would be a great boost for their title-winning chances this season.