The 2020/21 season is officially over after the completion of the European Championship in which Italy defeated England to lift their second title, a first since 1968 and it is time for the transfer window to commence again as fans across the globe are eager to know which all clubs are willing to go for the most expensive transfers.
Once described by former Manchester City player, Joey Barton, as 'Christmas Eve for football fans,' the recent transfer windows have seen clubs not willing to spend more money than usual, owing to the Coronavirus pandemic that has wrecked the entire world.
✍️🆕 #WelcomeAchraf@AchrafHakimi

❤️💙 #𝑾𝒆𝑨𝒓𝒆𝑷𝒂𝒓𝒊𝒔 pic.twitter.com/DWVV6DCu7j

— Paris Saint-Germain (@PSG_inside) July 6, 2021
But this time around, the window has come back to life again with clubs such as Paris Saint-Germain, who have completed the biggest signing of this summer, after paying €60 million for the transfer of Achraf Hakimi from Inter Milan, and Manchester United agreeing on a deal in principle with Borussia Dortmund for the transfer of Jadon Sancho, at a reported €85 million-plus add-ons.
𝗛𝗲𝗮𝗱𝘀 𝘂𝗽.

We have agreed a deal in principle for the transfer of Jadon Sancho to United! 🔴⚪⚫#MUFC

— Manchester United (@ManUtd) July 1, 2021
FootTheBall are here to go back in time to look at 25 of the most expensive transfers that have taken place in association football and how they have fared.
Disclaimer 1: Jadon Sancho is not included in the list as he is still not officially announced by Manchester United.
Disclaimer 2: All prices are the principal amounts (without add-ons) and are reported in Euros to have uniformity.
Disclaimer 3: Because the prices reported here are in Euros, some of the transfers which broke the world-record fee in British Pound Sterling, such as Kaka's deal in 2009, but not in Euros due to exchange rate fluctuation are not included here.
1. NEYMAR – €222 MILLION
After a year of pursuit, Paris Saint-Germain managed to sign the Brazilian superstar after triggering his release clause of €222 million in the summer of 2017.
Paris Saint-Germain is very happy to announce the arrival of Neymar Jr ➡ https://t.co/lKFj4qPDYA #BemvindoNeymarJR 🇧🇷 pic.twitter.com/rSvlBiKX6D

— Paris Saint-Germain (@PSG_inside) August 3, 2017
Neymar has won all trophies to be won at the domestic club level, but continentally he hasn't been to get his two dreams: the Ballon D'Or and the UEFA Champions League title.
2. KYLIAN MBAPPE – €145 MILLION
PSG managed to bring in Kylian Mbappe in the same summer as Neymar, on a loan deal with an obligation to buy in 2018 for an initial of €145 million and another €35 million in variables.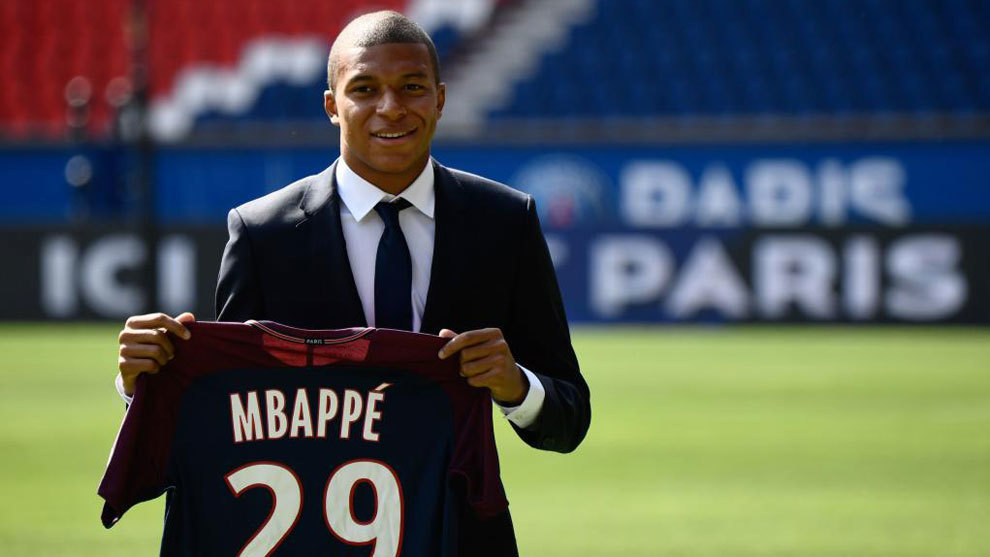 Mbappe during his unveiling with PSG, on loan in 2017. (Image Courtesy: Paris Saint-Germain / Website)
Similar to Neymar, the 22-year-old has his eyes on the Champions League and the Ballon D'Or but has a World Cup to his name, which his Brazilian counterpart doesn't have.
3. JOAO FELIX – €126 MILLION
After their talisman Antoine Griezmann moved to Barcelona, Atletico Madrid broke the bank to prise Joao Felix away from Benfica for €126 million in the summer of 2019.
#PuroTalento pic.twitter.com/ehvuo8YBNI

— Atlético de Madrid (@Atleti) July 3, 2019
Although he had a release clause of €120 million, Atletico managed to agree on a deal for €126 million so that they could pay the amount in installments rather than a single payment as the release clause demands.
=4. PHILIPPE COUTINHO – €120 MILLION
Philippe Coutinho moved to Barcelona after some tough negotiations between Liverpool and the Spanish giants. After an offer of €80 million was rejected in the summer of 2017, the Brazilian finally moved to Barcelona for an initial €120 million and a further €40 million in add-ons.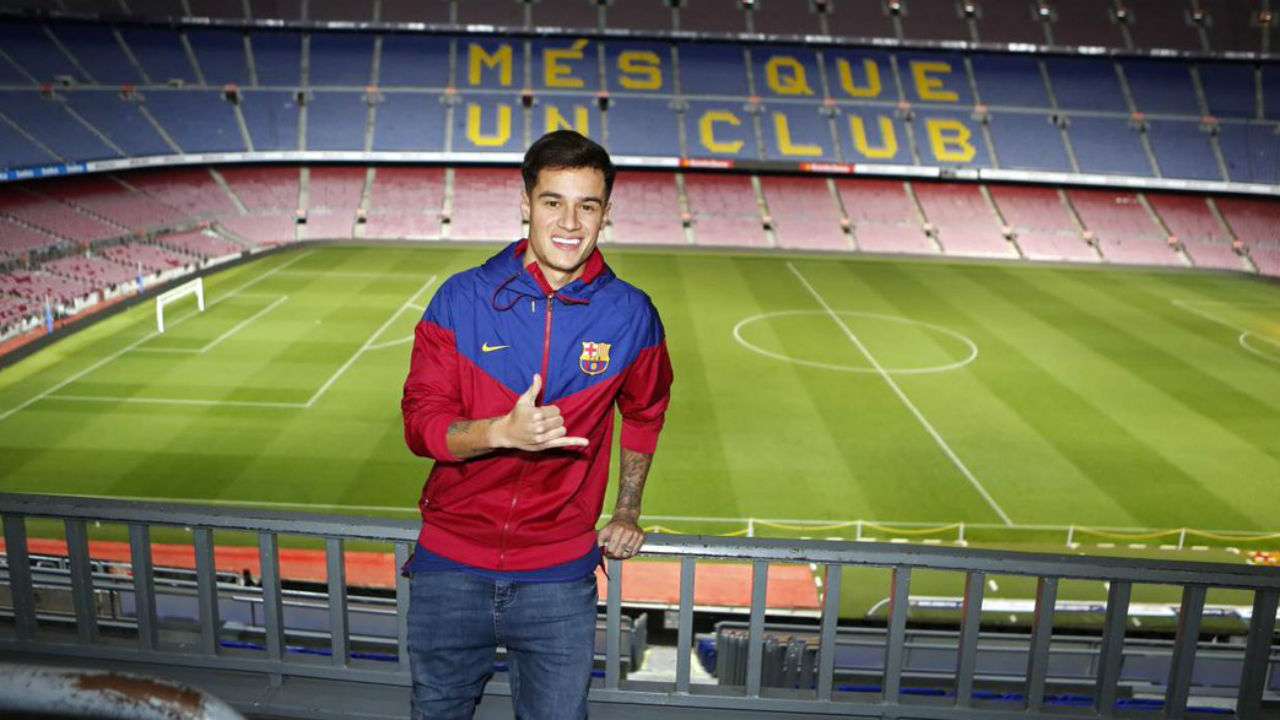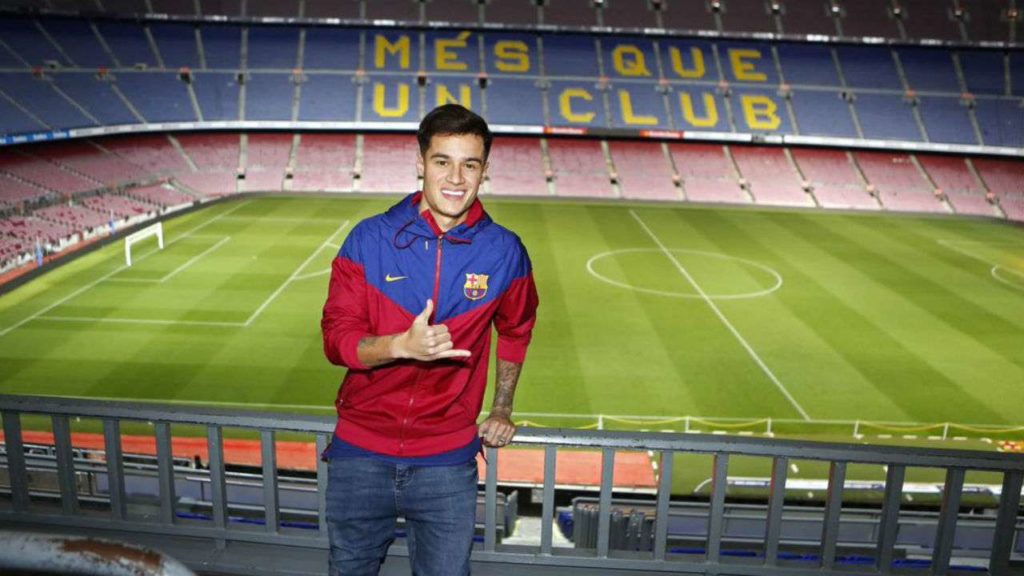 Coutinho during his unveiling at Barcelona in 2018. (Image Courtesy: FC Barcelona / Website)
The move has not worked out for both parties, and with the club facing financial troubles, it looks like Coutinho might be on the move this summer.
=4. ANTOINE GRIEZMANN – €120 MILLION
After it was known that the World Cup winner was ready to move from Atletico, Barcelona pounced upon the opportunity to trigger the release clause of Antoine Griezmann which stood at €120 million.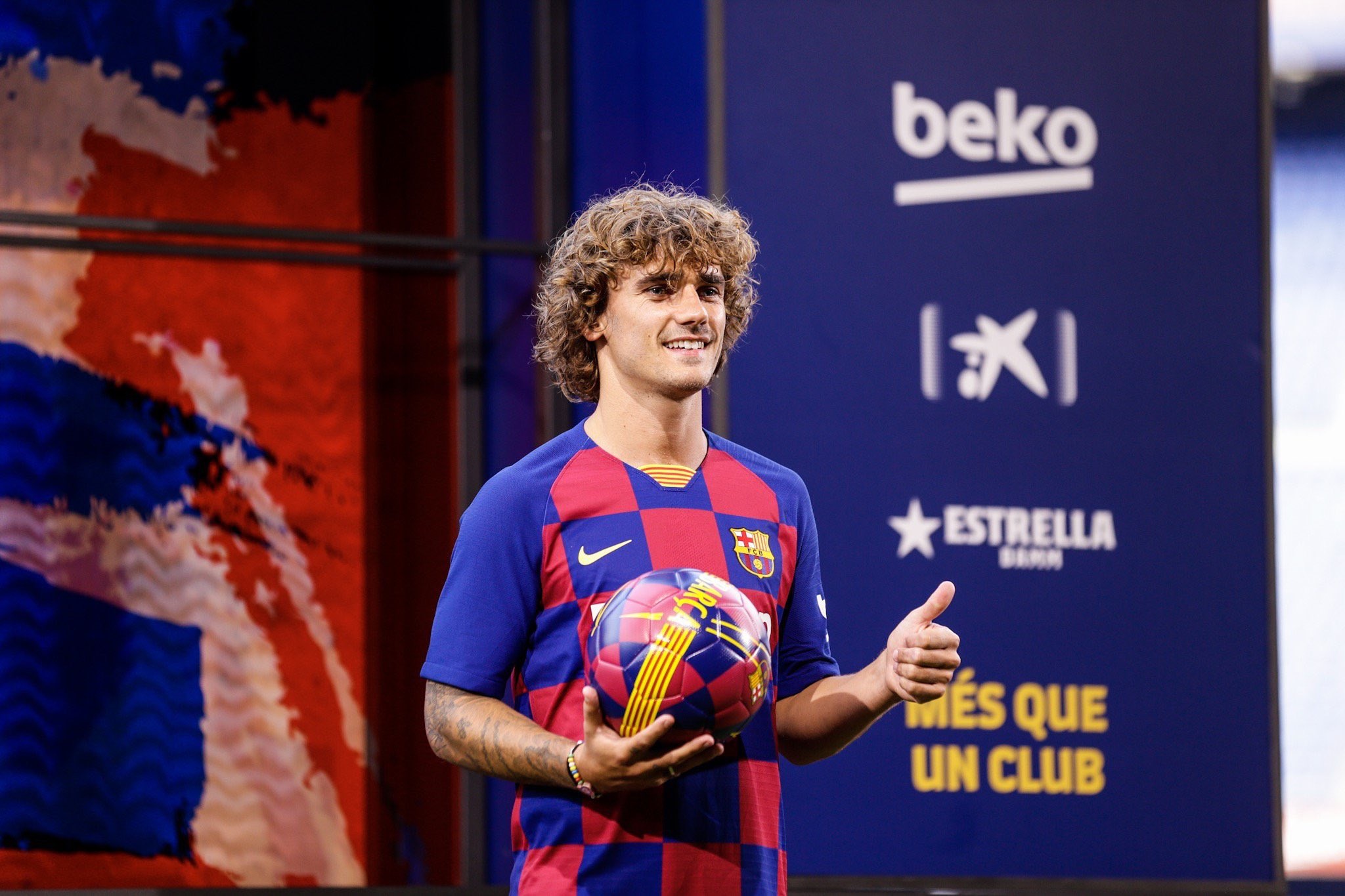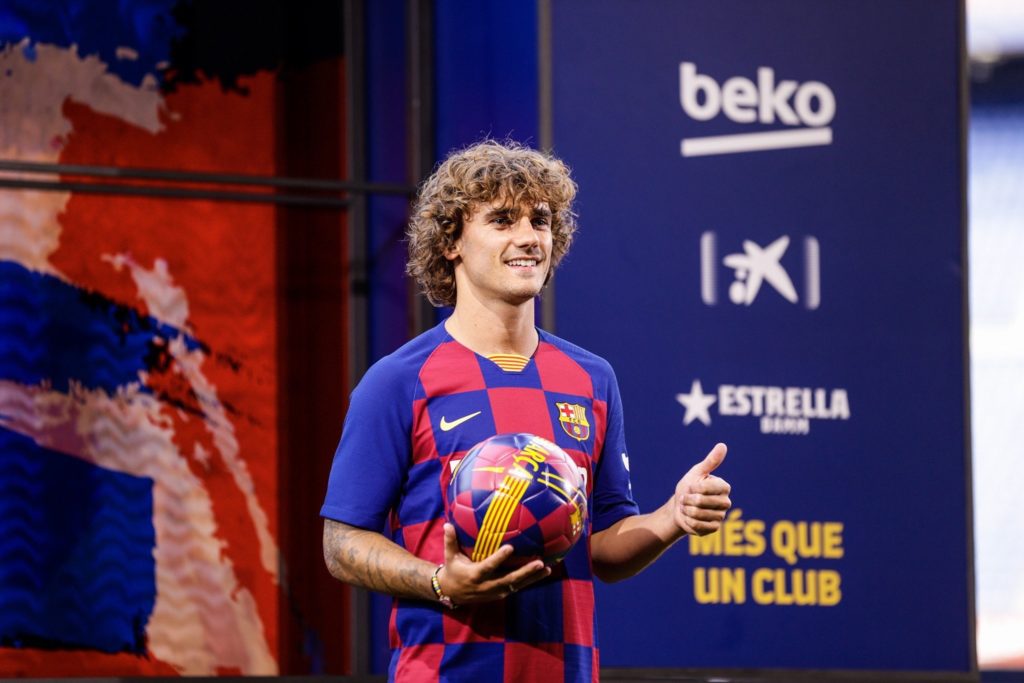 Griezmann during his unveiling at Barcelona in 2019. (Image Courtesy: FC Barcelona / Website)
Although he was quiet in this first season, Griezmann was coming back to his best in the 2020/21 season, but the recent troubles at Barcelona might see him leave the Blaugrana, with Manchester City reportedly interested in his services.
=6. OUSMANE DEMBELE – €105 MILLION
In one of the most expensive transfers of 2017, after Neymar's move to PSG, Ousmane Dembele was brought on board by Barcelona, for an initial €105 million with another €45 million in bonuses.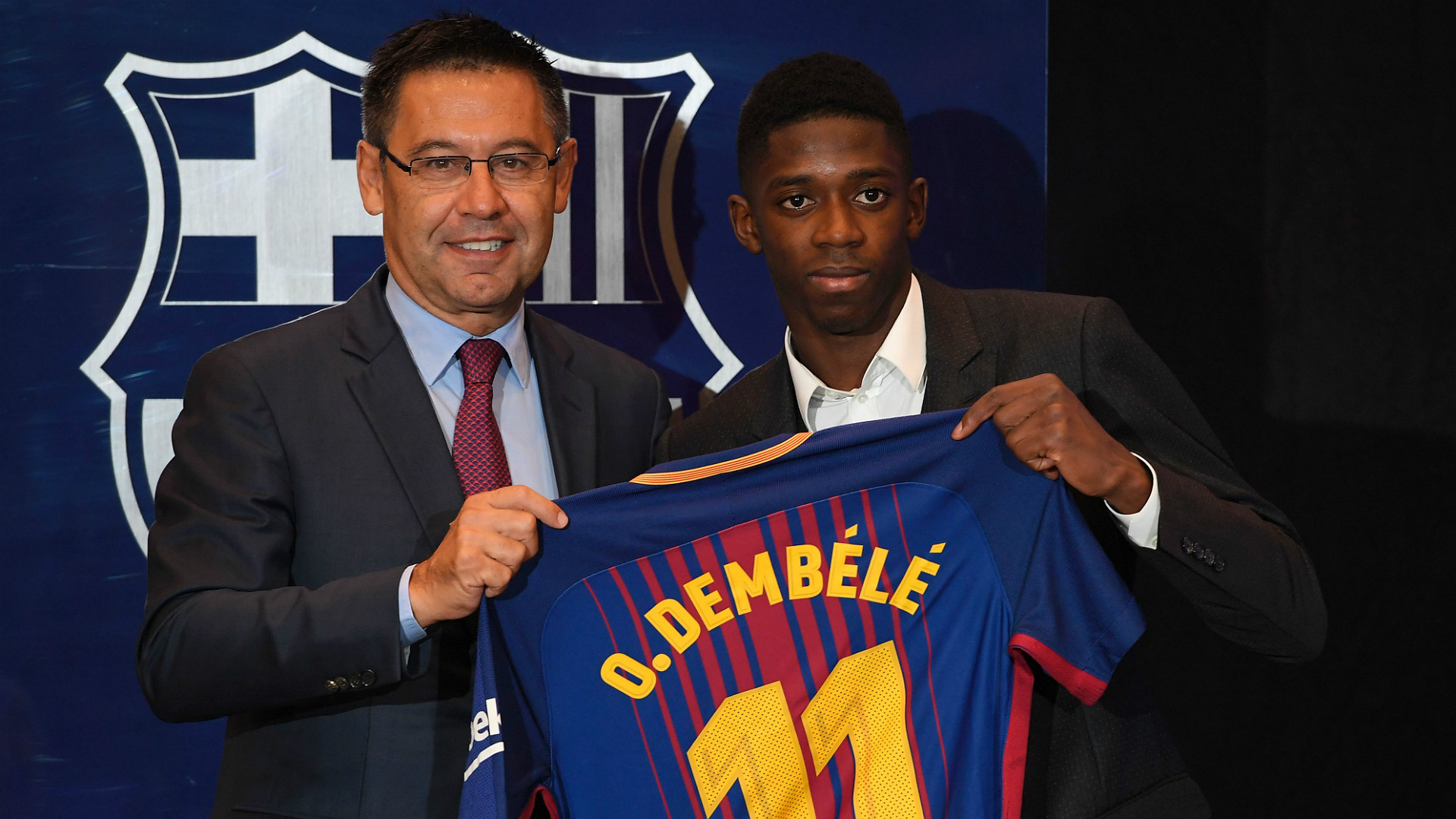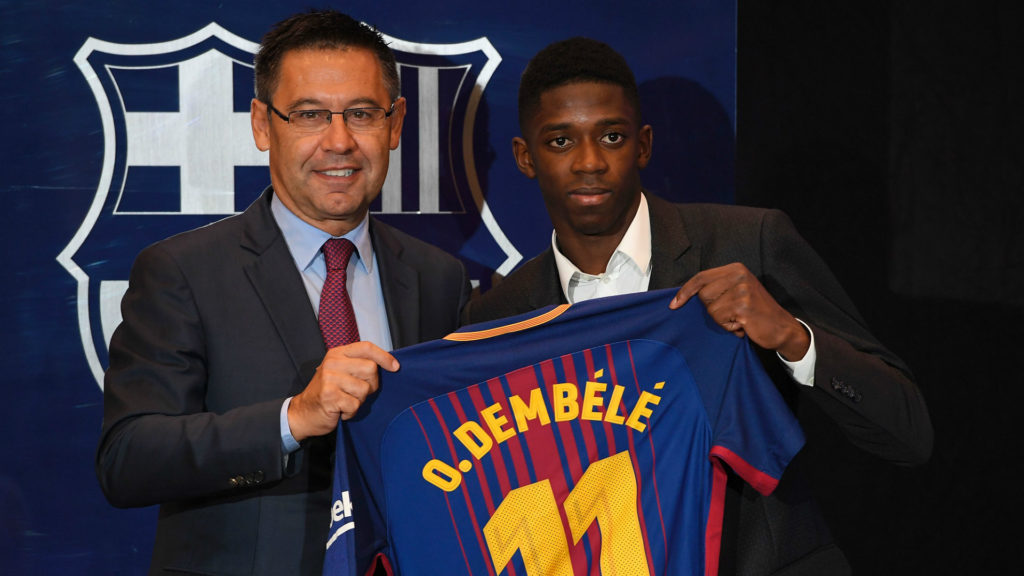 Dembele with then Barcelona president Josep Bartomeu in 2017. (Image Courtesy: FC Barcelona / Website)
Injuries have been the biggest barrier to Dembele making an impact in his four years at the club and with another two to three months on the sidelines, the hopes of him performing at the highest level are becoming increasingly bleak.
=6. PAUL POGBA – €105 MILLION
It was a homecoming with a world-record fee in the summer of 2016, but the promise with which Paul Pogba came delivered so little, as there are just two titles in that period, a League Cup and the Europa League.
POGBA

6#POGBACK pic.twitter.com/J8zPNn3Y2N

— Manchester United (@ManUtd) August 9, 2016
Ole Gunnar Solskjaer is potentially building something presently at Manchester United with Pogba at its heart, but with PSG circling around the midfielder whose contract expires next summer, will the heart still be there?
8. GARETH BALE – €100.8 MILLION
The world record holder until Pogba's move in 2016, Gareth Bale still remains on Real Madrid's books after a season on loan at Tottenham Hotspur but for how long, no one knows.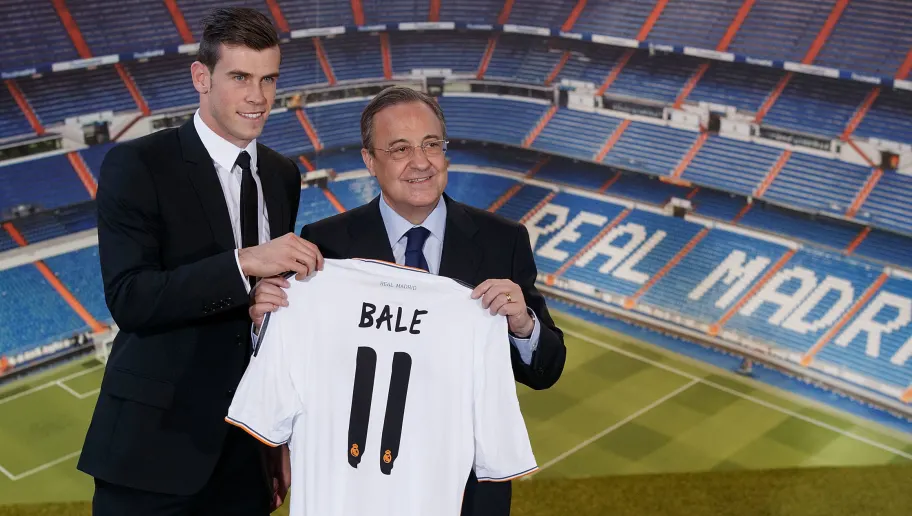 Bale with Real Madrid president Florentino Perez in 2013. (Image Courtesy: Real Madrid / Website)
He has had an incredible record at Los Blancos, winning four Champions Leagues, two La Liga titles, one Copa del Rey, three UEFA Super Cups, and three Club World Cups and will hope to retire with some more.
=9. CRISTIANO RONALDO – €100 MILLION
Plenty questioned the move of Cristiano Ronaldo from Real Madrid to Juventus in 2018 for €100 million, but he silenced everyone with his performances for the Old Lady in the past three seasons.
.@Cristiano https://t.co/vzGBI3d8kh #CR7JUVE pic.twitter.com/UB7BwBdDWe

— JuventusFC (@juventusfcen) July 10, 2018
He has surpassed Pele in terms of the number of goals scored in a career, but his future in Turin is up in the air, with rumours of him moving to Manchester United or Paris Saint-Germain circulating in the media.
=9. EDEN HAZARD – €100 MILLION
The Chelsea legend has struggled at Real so far as he has suffered from seven different injuries in 18 months since joining, including a fractured foot that saw him miss 17 matches from December to January last year.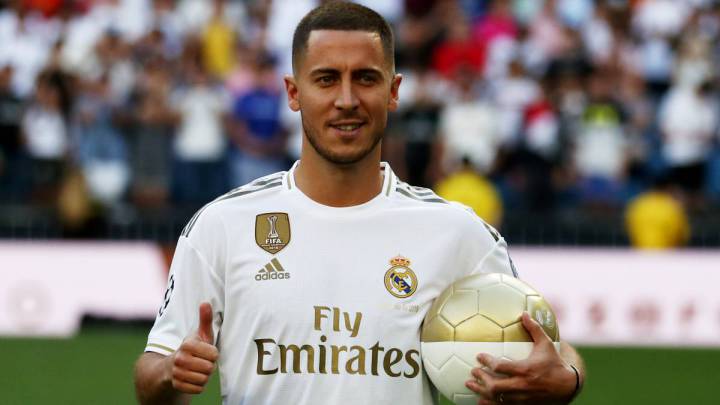 Hazard during his unveiling at Real Madrid in 2019. (Image Courtesy: Real Madrid / Website)
Another injury in the Euros with Belgium saw him return to Madrid for treatment but it might work to their advantage itself as he could recover early and start the season with renewed energy for Los Blancos.
11. CRISTIANO RONALDO – €94 MILLION
A world-record transfer until the move of Gareth Bale to Real Madrid in 2016, Cristiano Ronaldo's move to Los Blancos is certainly the best of this lot.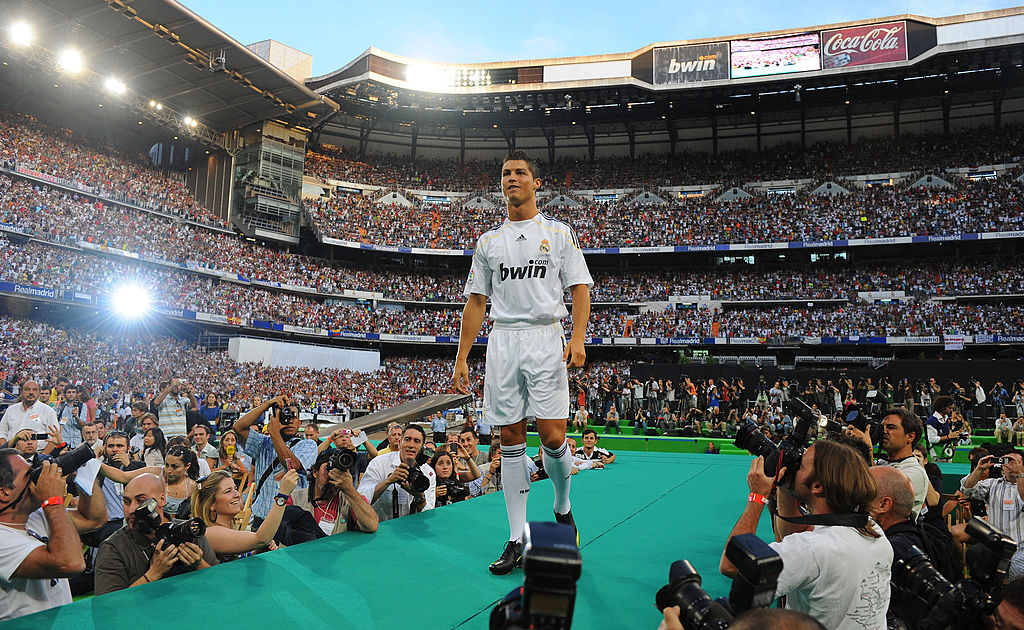 Ronaldo during his unveiling as a Real Madrid player at the Estadio Santiago Bernabeu in 2009. (Image Courtesy: Real Madrid / Website)
After scoring 451 goals in 438 games, delivering four Champions League titles, three Club World Cups, and two La Liga titles, he still turned a profit for Real when he moved to Juventus in 2018.
12. GONZALO HIGUAIN – €90 MILLION
In what was a consequence of falling out with the Napoli hierarchy, Gonzalo Higuain's move to Juventus in 2016 was one of the most expensive transfers that year and held many records before they were broken in the consequent years.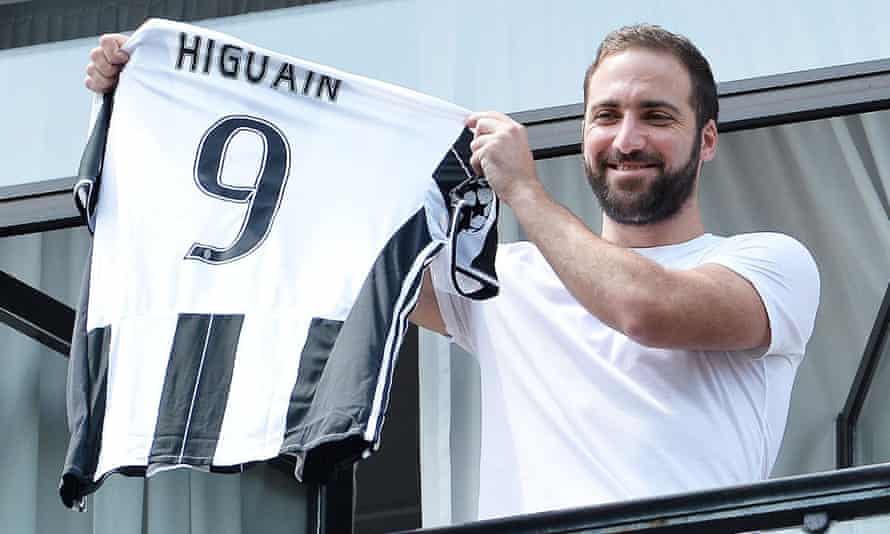 Higuain posing with the Juventus jersey after signing for them in 2016. (Image Courtesy: Juventus / Website)
It was the most expensive transfer for a South American (broken by Neymar), the highest fee paid by an Italian team (broken by Juventus themselves in 2018 for Ronaldo) and the highest fee for an inter-league transfer (broken by Mbappe's move to PSG from Monaco in 2018).
It wasn't a bad transfer by any means and it did provide some value for money as he managed to achieve 82 goals involvements in 149 games before moving to AC Milan, Chelsea, and then finally settling in MLS.
13. HARRY MAGUIRE – €87 MILLION
18 months after Liverpool broke the world record transfer fee for a defender with the signing of Virgil van Dijk, Manchester United broke it again when they paid €87 million to secure the services of Harry Maguire from Leicester City.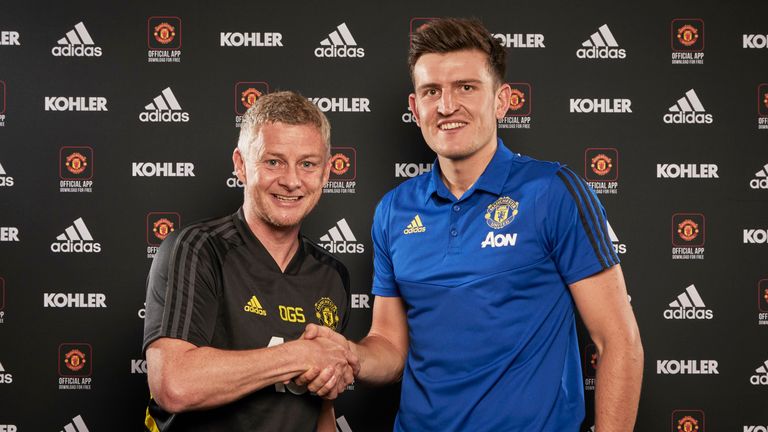 Harry Maguire with manager Ole Gunnar Solksjaer after his signing in 2019. (Image Courtesy: Manchester United / Website)
He was made captained straight away and after an underwhelming first season, the Englishman has turned himself into one of the best in the world, evident with his displays for England at the recently concluded Euros.
14. ROMELU LUKAKU – €85 MILLION
In what was a surprise move for many, Romelu Lukaku moved from Everton to Manchester United for a fee of €85 million after scouting for Alvaro Morata in the early days of the 2017 summer window.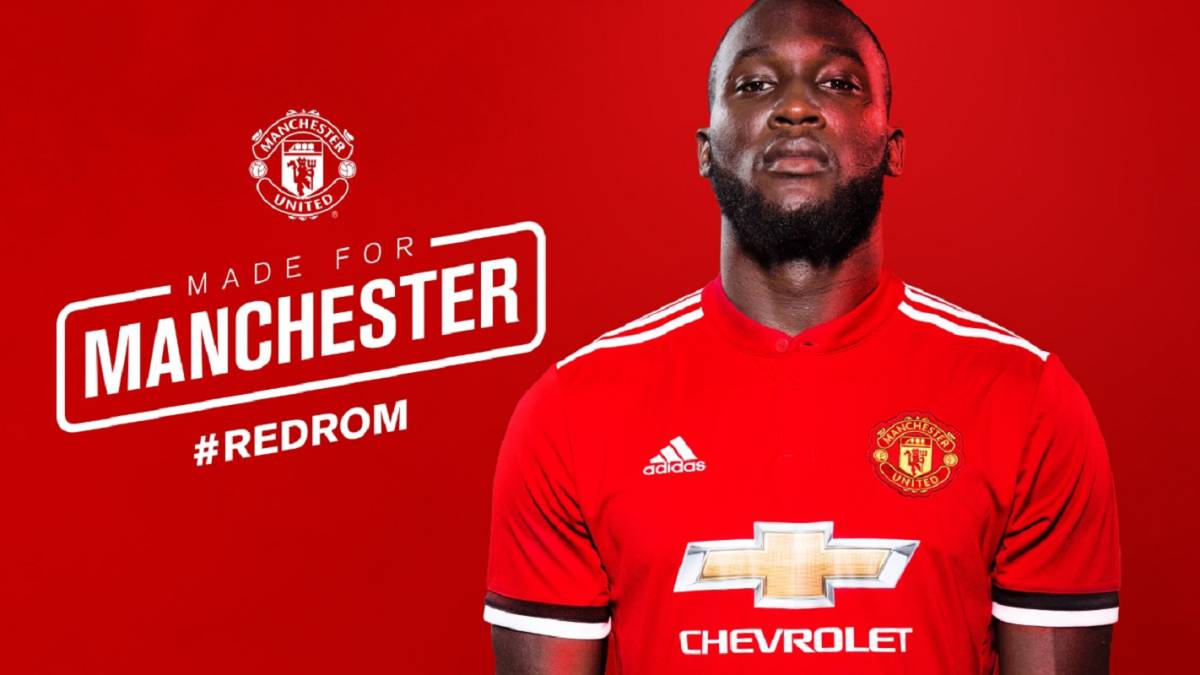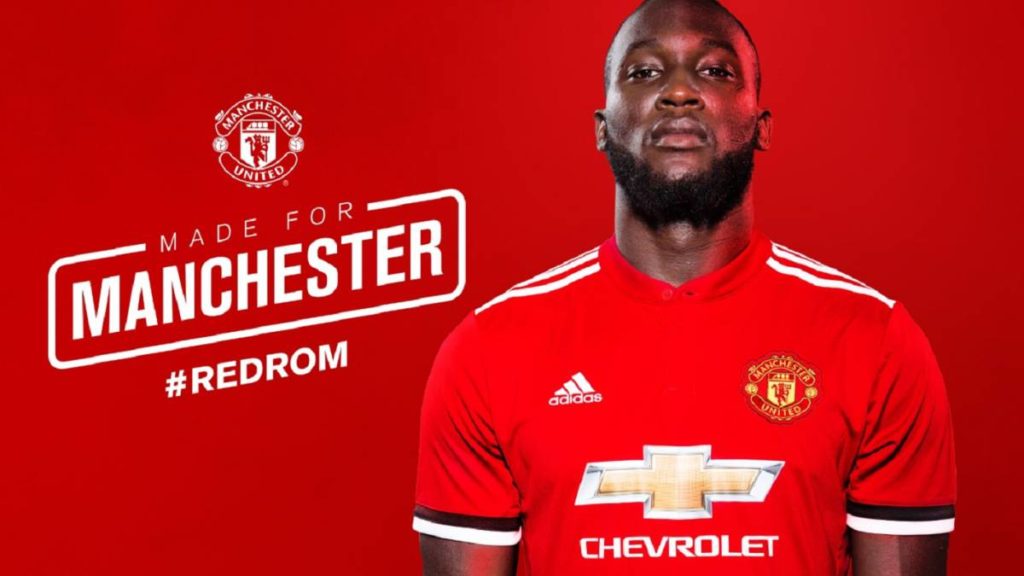 Romelu Lukaku after his signing for the Red Devils in 2017. (Image Courtesy: Manchester United / Website)
It was a promising start for the Belgian at Old Trafford, with 27 goals in the first season, but after a return of 15 goals in 45 appearances in the second season, he was deemed not required by Solksjaer which saw Lukaku move to Inter Milan.
15. VIRGIL VAN DIJK – €84.5 MILLION
Liverpool looked at bringing in the Dutchman in the summer of 2017 but balked at the fee quoted by Southampton. But eventually, they had to concede and pay a world-record fee at that time for Van Dijk in the winter of 2018, funding his move from the money received from Coutinho's departure to Spain.
Liverpool Football Club can confirm they have reached an agreement with Southampton for the transfer of Virgil van Dijk.

Full story: https://t.co/tJy9vsGOen pic.twitter.com/L17A7UwqaU

— Liverpool FC (@LFC) December 27, 2017
And the decision was first met with ridicule by fans of other clubs but after his impact at the club in just 18 months, no one would laugh anymore.
16. LUIS SUAREZ – €82.3 MILLION
Luis Suarez's move to Barcelona from Liverpool in 2014 came at an initial cost. (Not Money!). He had to wait until October to make his first appearance for the Blaugrana after he has banned from competitive football due to his actions involving Italy's Giorgio Chiellini at the World Cup that year.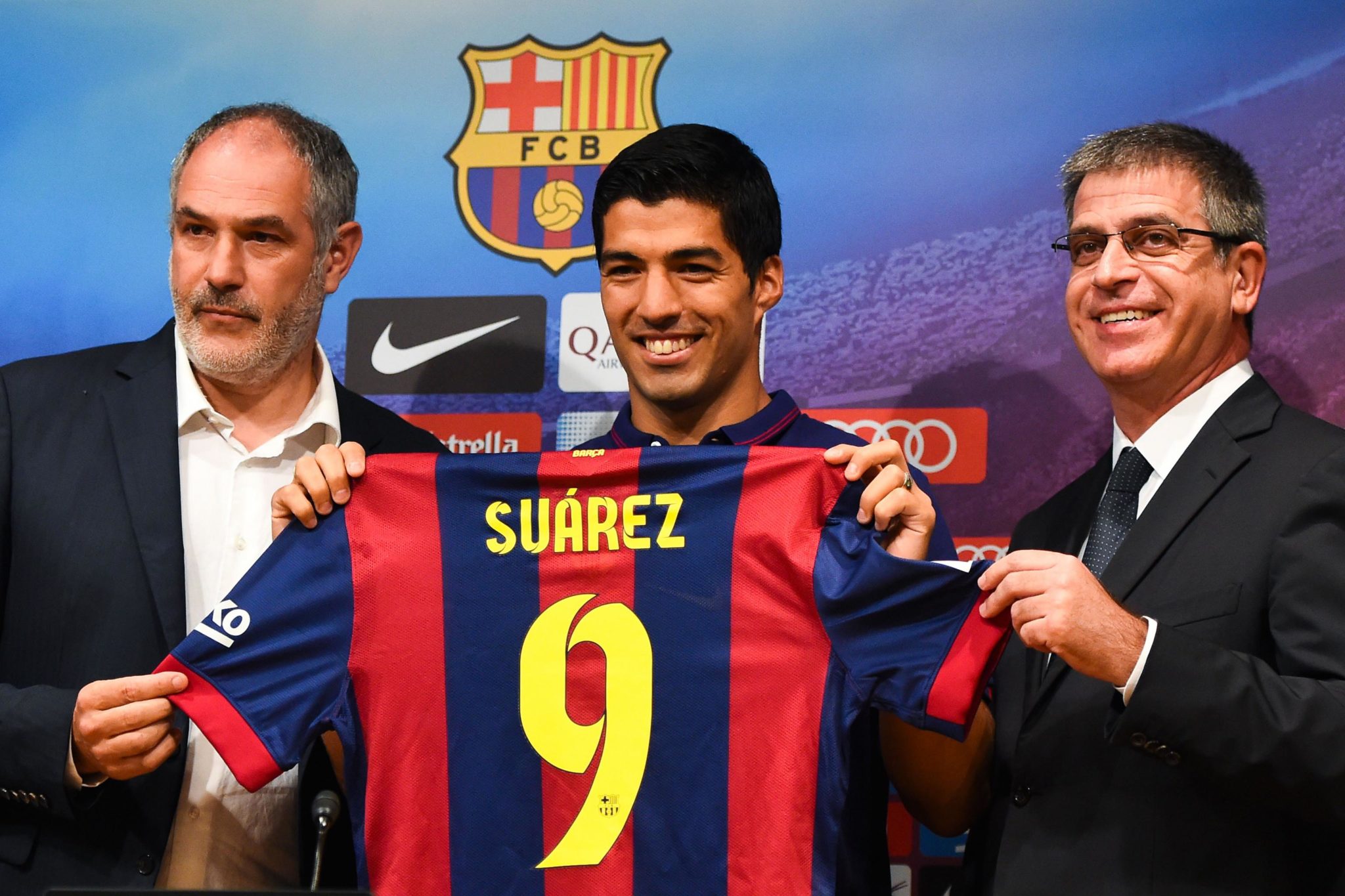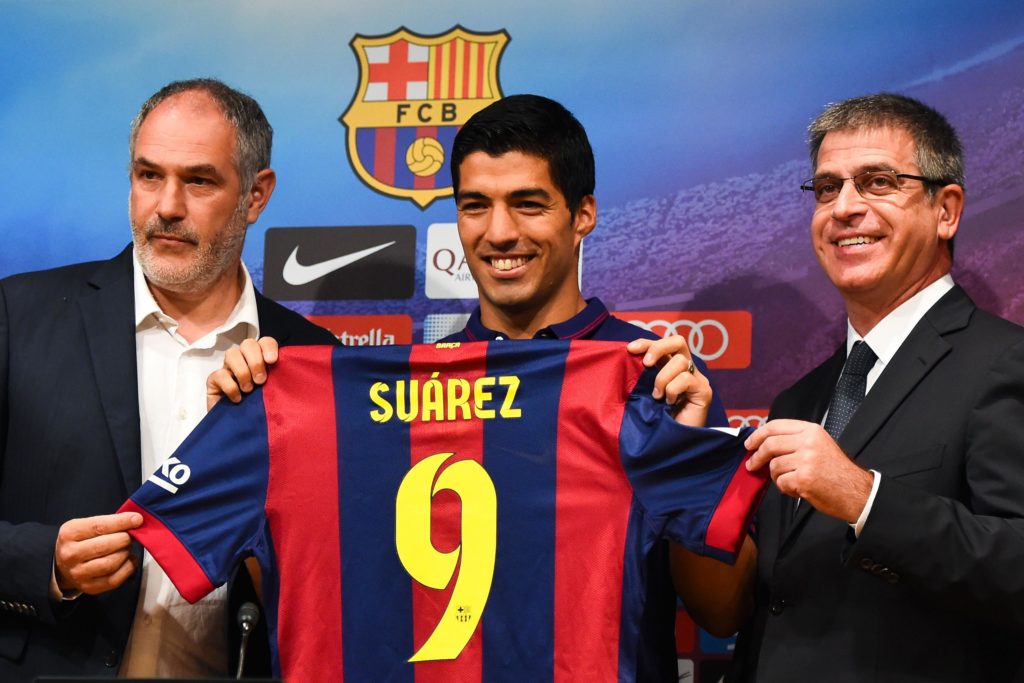 Suarez with then Barcelona hierarchy in 2014. (Image Courtesy: FC Barcelona / Website)
What followed though, was heavenly for the fans of the club and the fanatics across the globe. It was the birth of the revered trio – MSN, which mesmerized everyone with their play and went on to win four domestic titles and a Champions League.
=17. JAMES RODRIGUEZ – €80 MILLION
A move that was warranted after an impressive World Cup campaign with Colombia in 2014, James Rodriguez never truly hit the ceiling at Real Madrid.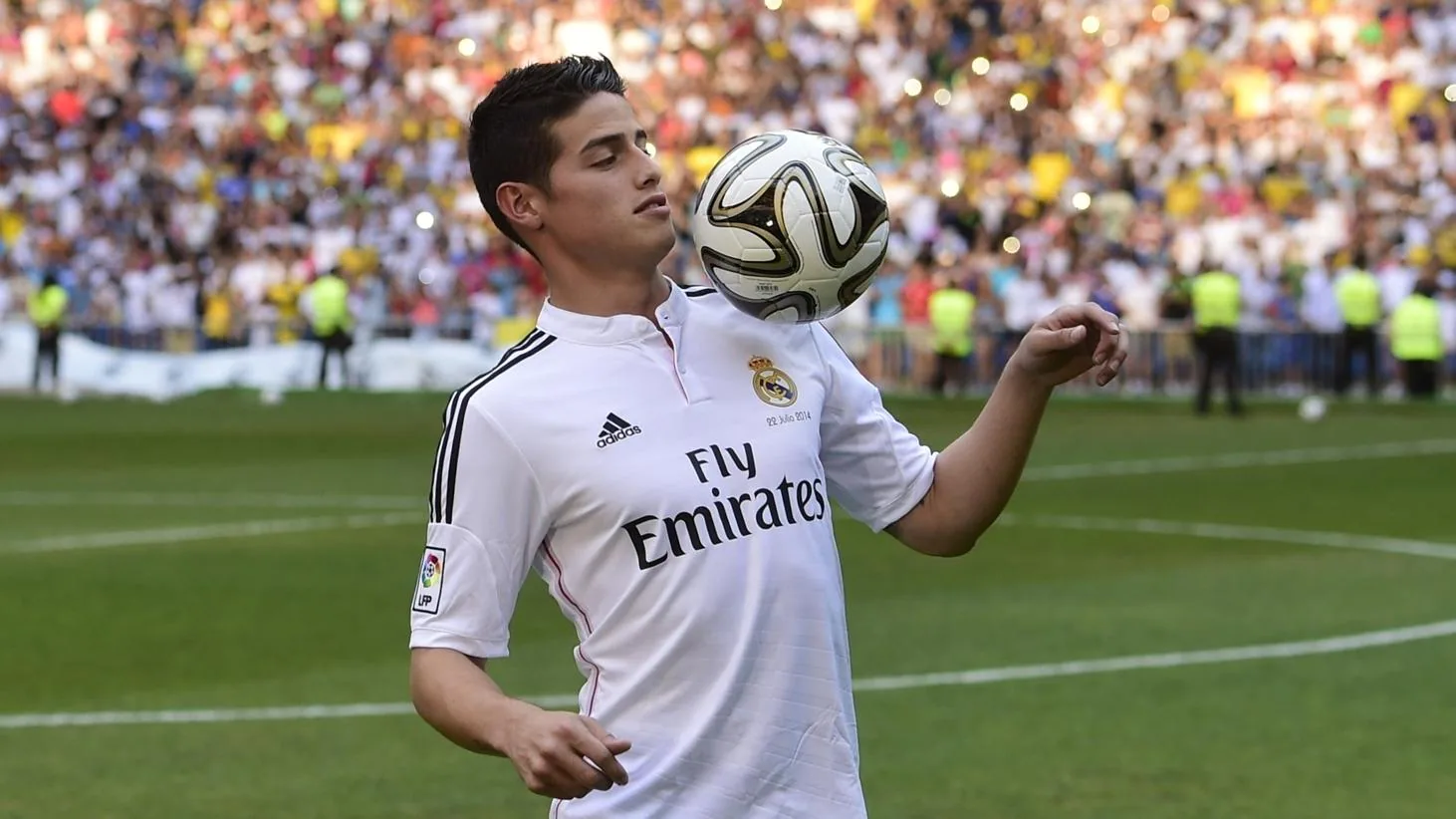 Rodriguez during his unveiling as a Real Madrid in 2014. (Image Courtesy: Real Madrid / Website)
Although he contributed to 79 goals in 125 appearances, he was never a first-choice starter at the club and after a spell at Bayern Munich on loan and now at Everton, he is still looking for the right club that can use him properly.
=17. KEPA ARRIZABALAGA – €80 MILLION
Only a few fans in Chelsea, let alone the whole of England, would have known about Kepa when he moved from Athletic Bilbao for a world-record fee for a goalkeeper that still stands.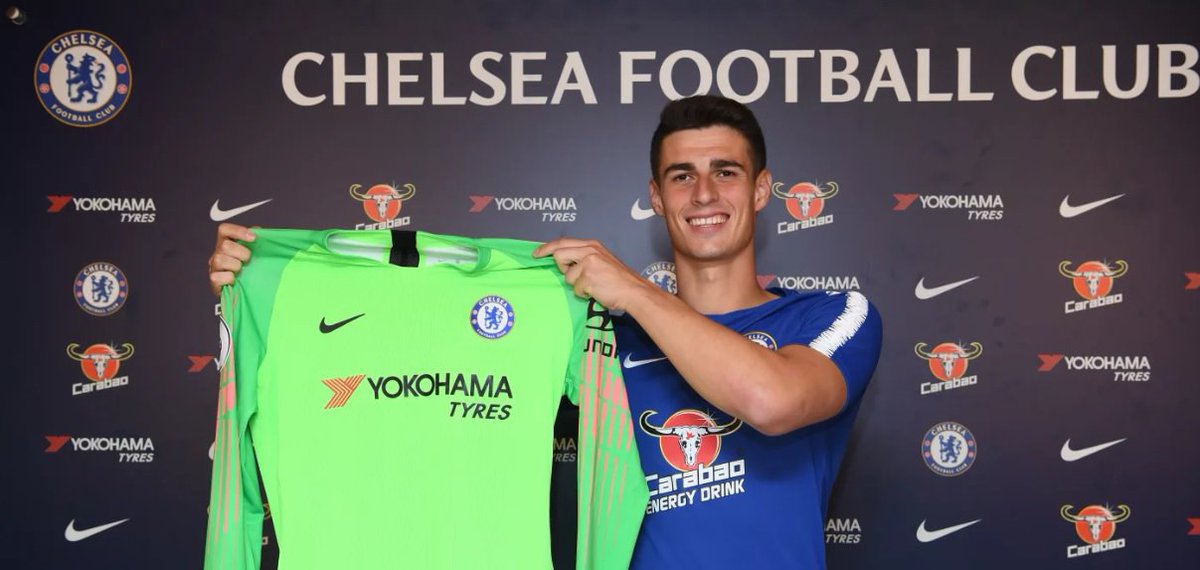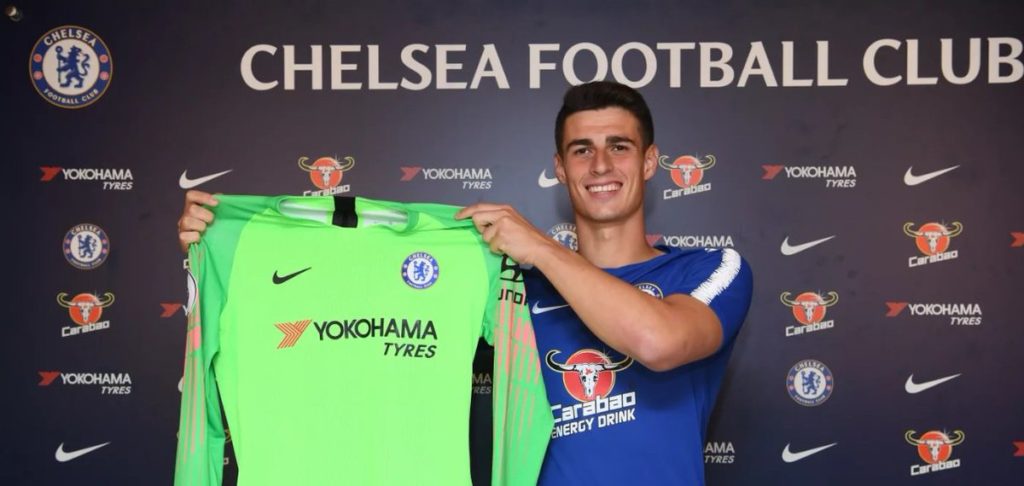 Kepa posing with the Chelsea jersey after signing for them in 2019. (Image Courtesy: Chelsea FC / Website)
He came in as Thibaut Courtois' replacement and after a few impressive performances in the early days, Kepa has claims to be the worst signing ever made in the Premier League.
With Edouard Mendy replacing him in the summer of 2020, Kepa will likely move this summer in search of first-team football, and Chelsea will be more than happy to let him go.
=17. LUCAS HERNANDEZ – €80 MILLION
The French World Cup winner had a disappointing start to his Bayern career, after becoming their record signing. He is lifted his standards this season, although is yet to fully establish himself.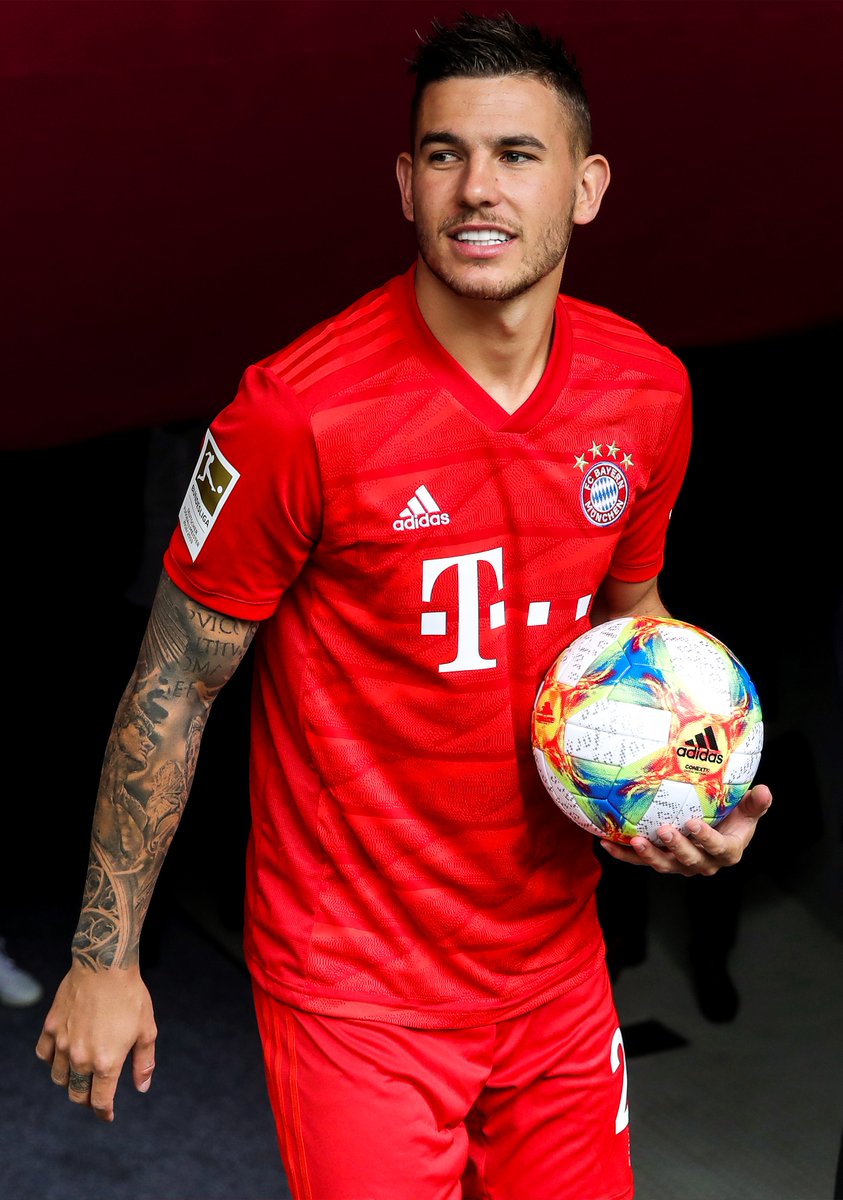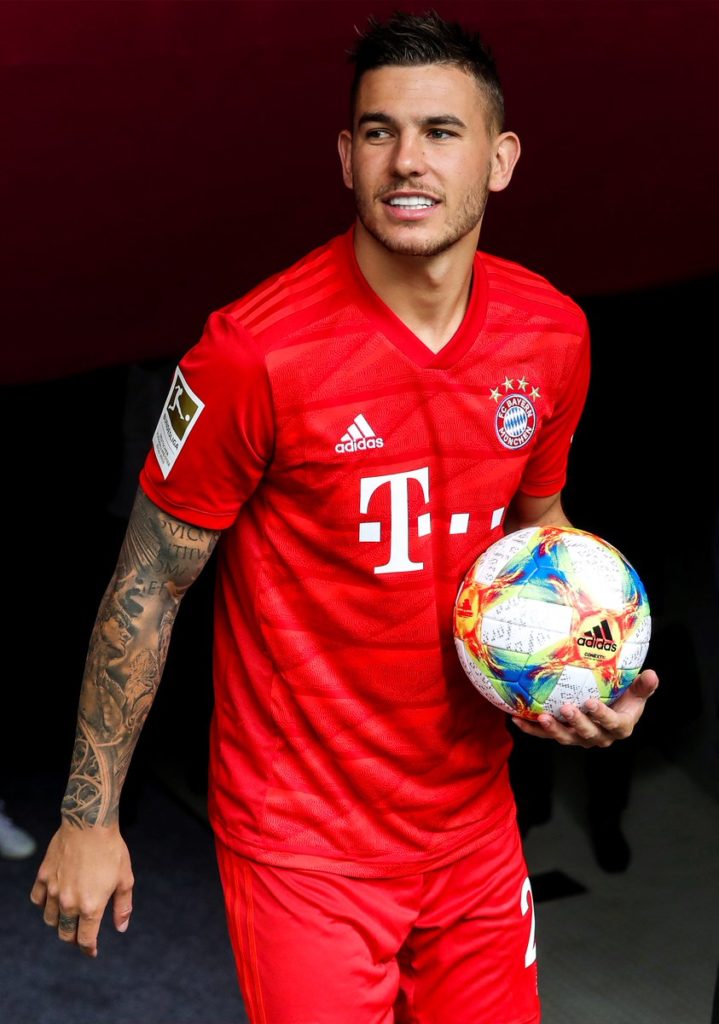 Lucas Hernandez during his unveiling as a Bayern player in 2019. (Image Courtesy: Bayern Munich / Website)
He had the chance to prove himself at the Euros, but an injury in the final group stage fixture against Portugal and France's subsequent exit in the Round of 16 has halted him from performing, and will have to wait until the start of the season with the Bavarian club.
=17. ROMELU LUKAKU – €80 MILLION
After his tough time at Manchester United, Romelu Lukaku moved to Inter Milan in one of the expensive transfers in 2019 and it has been an enjoyable move for both the club and the player.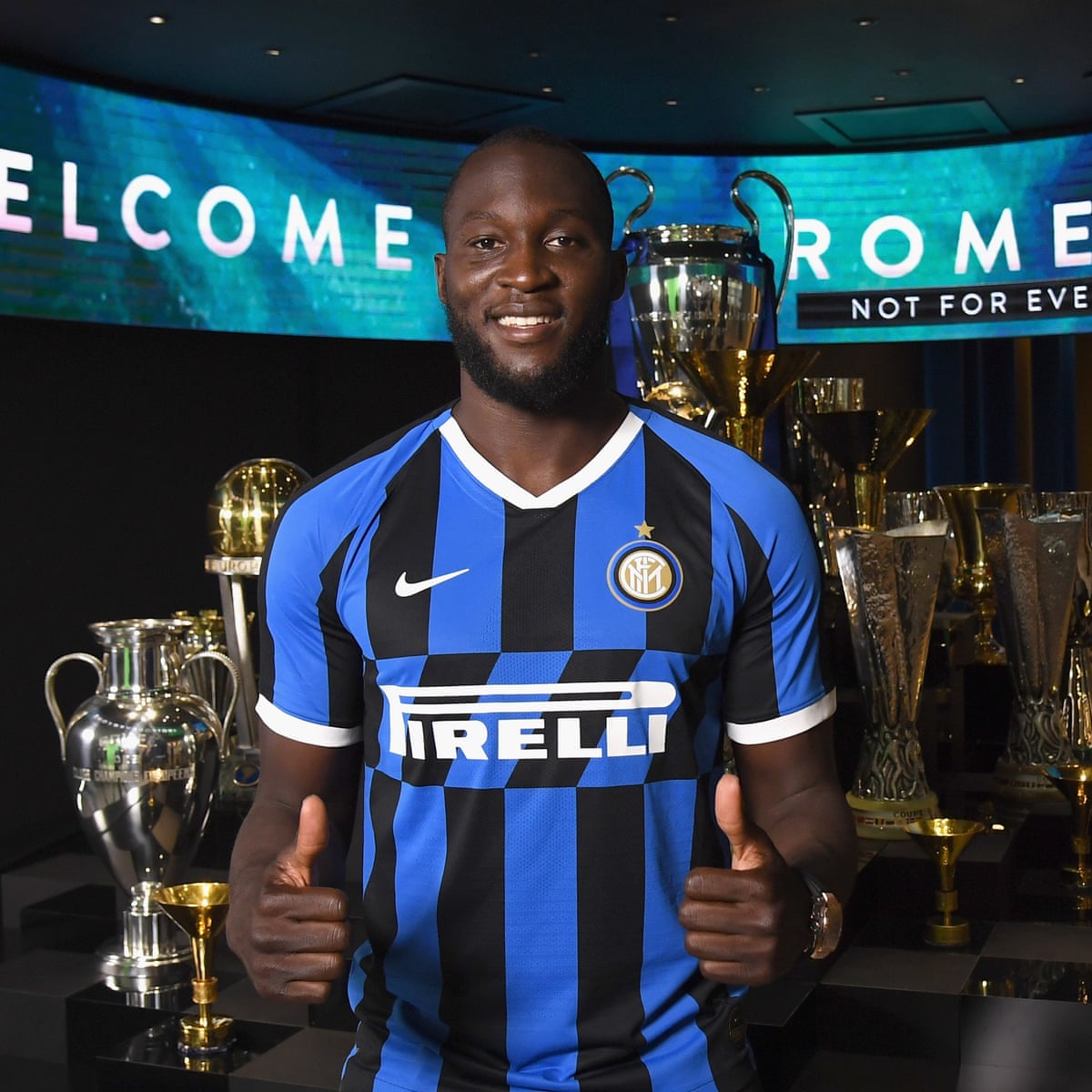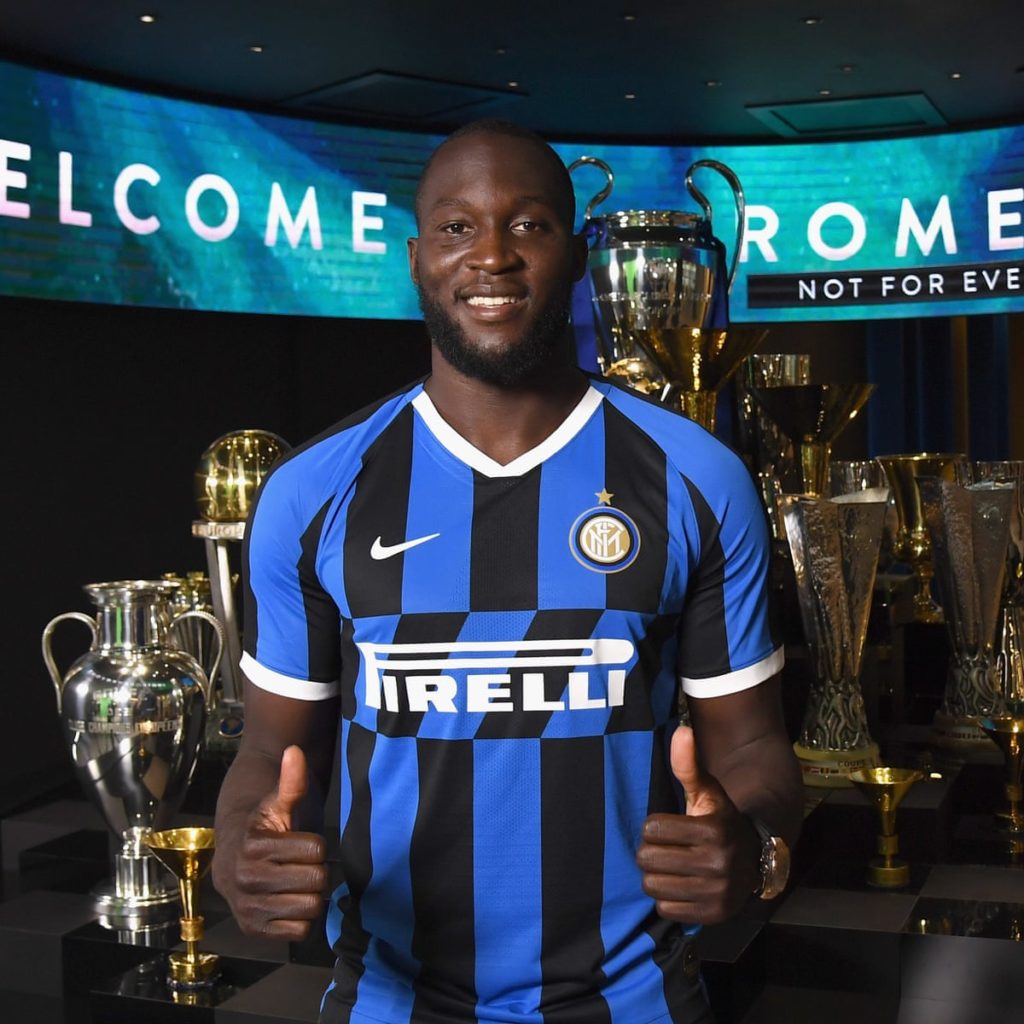 Lukaku posing in front of the Inter Milan trophy cabinet after his signing in 2019. (Image Courtesy: Inter Milan / Website)
He, along with Lautaro Martinez, helped Inter finish second in his first season before going on to fire them to the Scudetto in 2021 under the management of Antonio Conte. With 64 goals in 95 appearances, Lukaku is on the way to become a legend at the capital club and is certainly one of the top strikers in the world.
21. NICOLAS PEPE – €79 MILLION
Pepe has looked close to breaking through on a few occasions only to slip back into mediocrity since his move to the Emirates with the Gunners.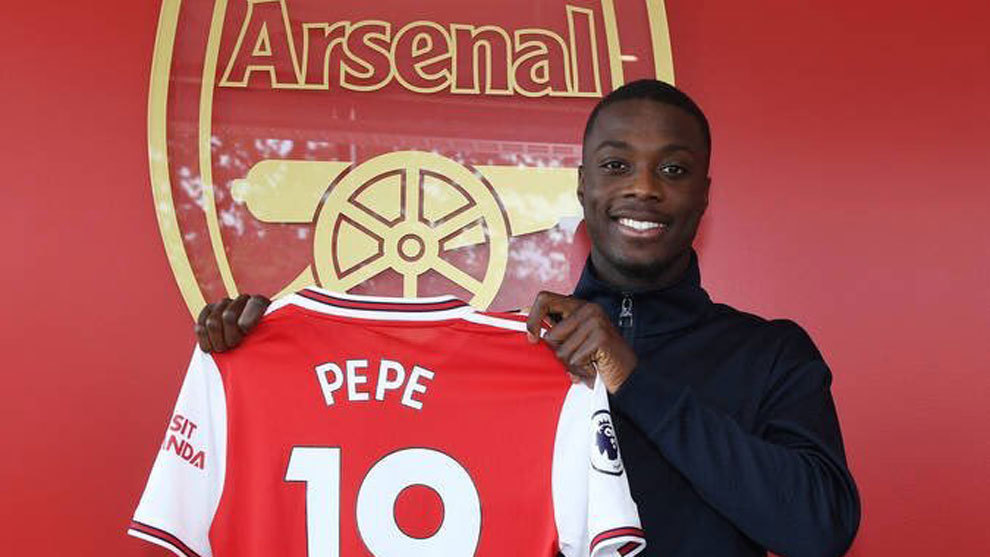 Nicolas Pepe posing with the Arsenal jersey after his signing in 2019. (Image Courtesy: Arsenal / Website)
Unai Emery, Freddie Ljungberg, and Mikel Arteta have all tried and failed to bring the best out of the wide attacker on the right-wing, but his positive performances on the left-wing at the ending of the season for Arsenal, it might be the start of something spectacular for the youngster.
22. ZINEDINE ZIDANE – €77 MILLION
When Zinedine Zidane moved from Juventus to Real Madrid in 2001, this was the Wall Street Journal headline,
"Real Madrid CF raised the stakes in soccer with its 77-million-euro signing of a French midfielder in what could be the last big-money deal before new rules abolish transfer fees."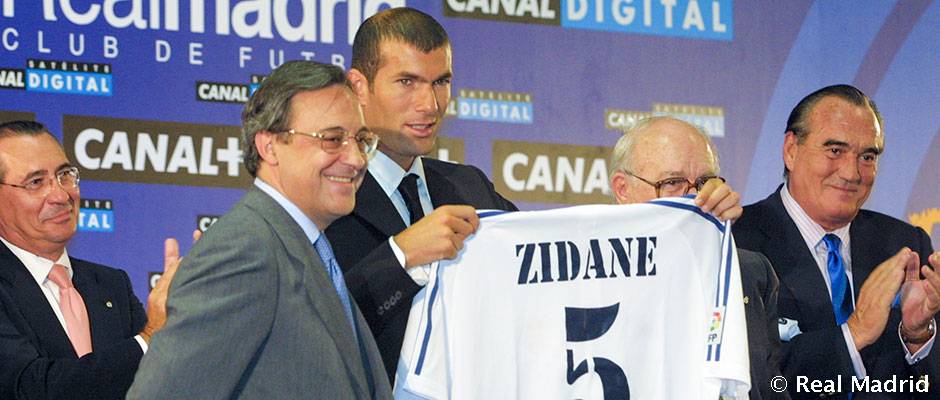 Zidane during his unveiling as a Real Madrid player with Florentino Perez in 2001. (Image Courtesy: Real Madrid / Website)
They were truly wrong as the world of football saw many more expensive transfers in the two decades after the Frenchman's move but at that time, it was the world-record transfer and held its record until Ronaldo's move to Los Blancos in 2009.
=23. MATTHIJS DE LIGT – €75 MILLION
Brought in as a replacement for the retired Andrea Barzagli, Matthijs de Ligt is on the way to become a defensive great and is certainly the future of Juventus.
💡 LIGTS 🔛 | Matthijs de Ligt officially signs for Juventus! ✍️⚪⚫

https://t.co/dWhtEdSULz #TURNDELIGTON #LiveAhead pic.twitter.com/1xrVIFqSBy

— JuventusFC (@juventusfcen) July 18, 2019
He was underwhelming in the 2019-20 season, after having a shocker of a debut against Napoli but this season he has been back to what he has Ajax, organising defences and being the leader that he is.
=23. KEVIN DE BRUYNE – €75 MILLION
Arguably the best midfielder in the world, and like Neymar, Kevin De Bruyne has won everything that is available at the domestic level.
What he and Manchester City yearn for is the UEFA Champions League, which they were close this year after reaching the final and on a personal level, a Ballon d'Or.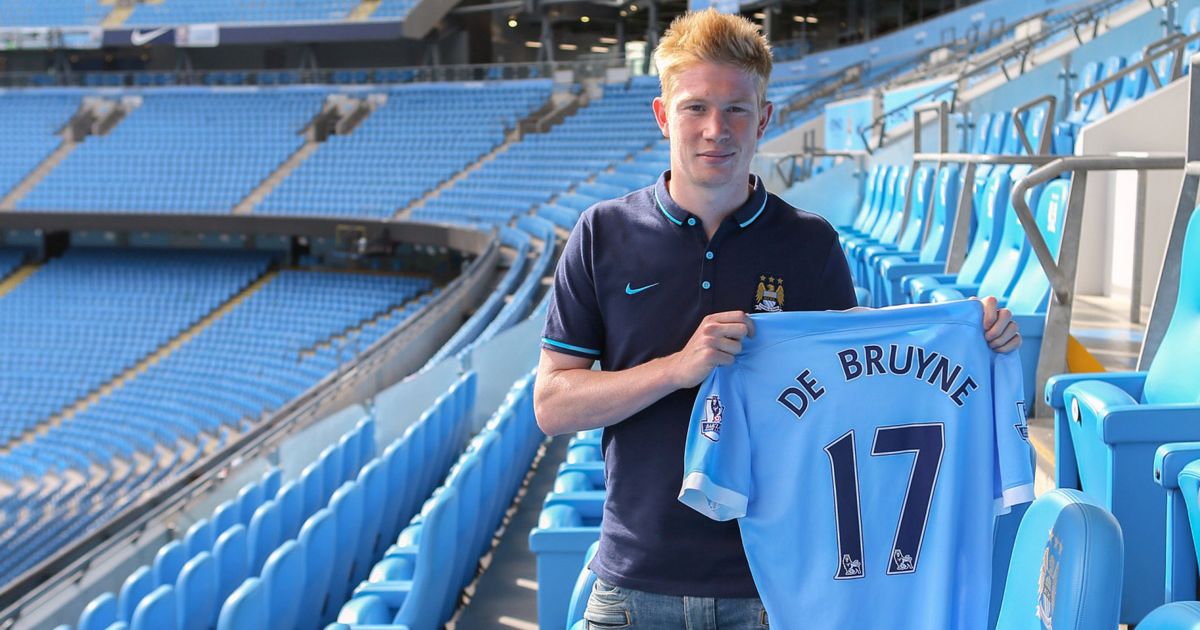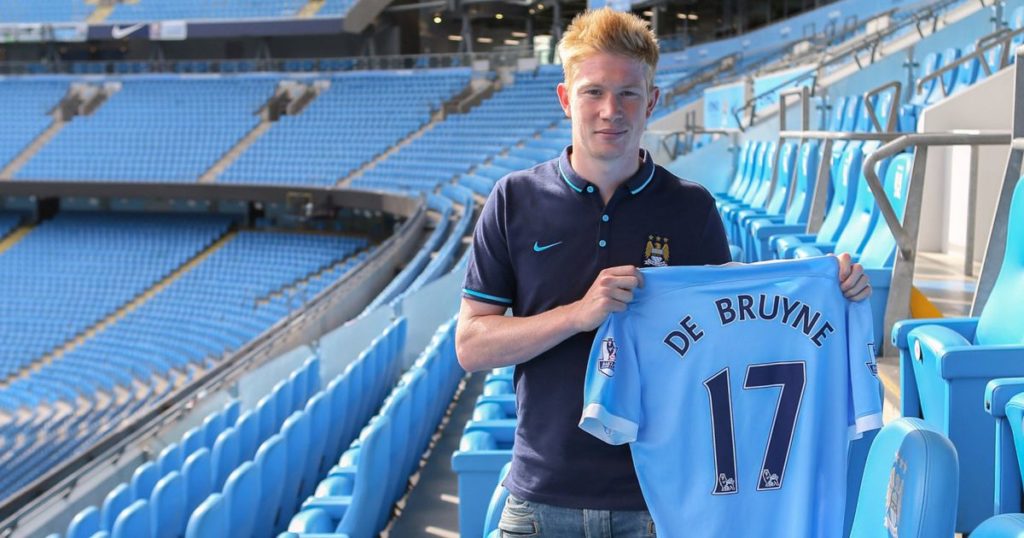 Kevin De Bruyne after signing for Manchester City in 2015. (Image Courtesy: Manchester City / Website)
The €75 million City paid to Wolfsburg in 2015 for De Bruyne now looks like a steal and they will hope that their mercurial Belgian continues to perform as he does.
=23. FRENKIE DE JONG – €75 MILLION
Barcelona have had a great tradition of elite central midfielders – Xavi, Iniesta, and Sergio Busquets the recent examples – and there is hope de Jong could ascend to those levels after his being one of the expensive transfers in 2019.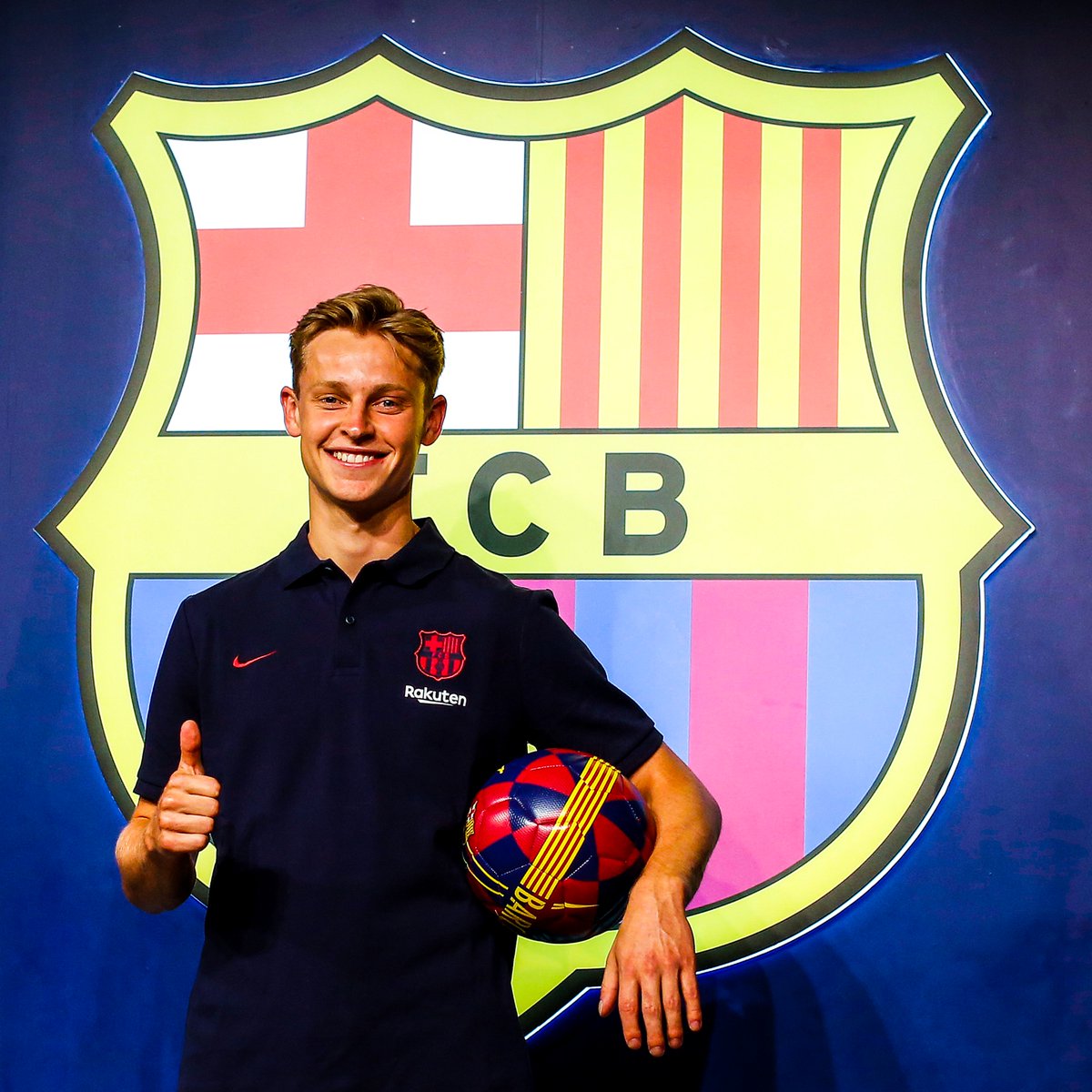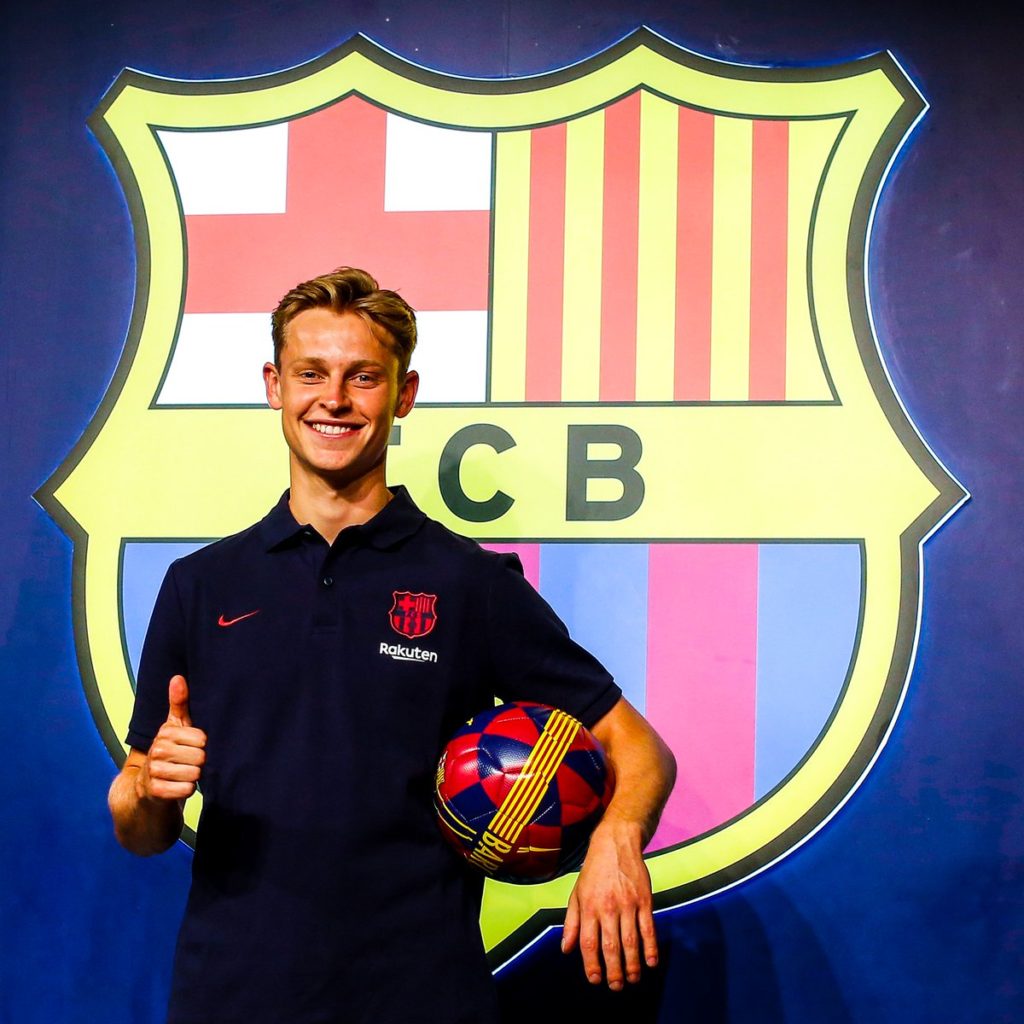 Frenkie de Jong at his unveiling as a Barcelona signing. (Image Courtesy: FC Barcelona / Website)
So far though he has been symbolic of Barca's overall issues, often seeming caught between different jobs as a deep passing midfielder or dynamic No.6 looking to combine with the attack.
He is still their most important player after Lionel Messi and will continue to be if the Argentine leaves Barcelona this summer.
=23. ANGEL DI MARIA – €75 MILLION
A British record transfer at that time, Angel Di Maria's move to Manchester United from Real Madrid was ill-fated for many reasons. Personally, his wife did not like the city of Manchester from the moment they stepped foot in England and a robbery in the following months just increased their apprehensions.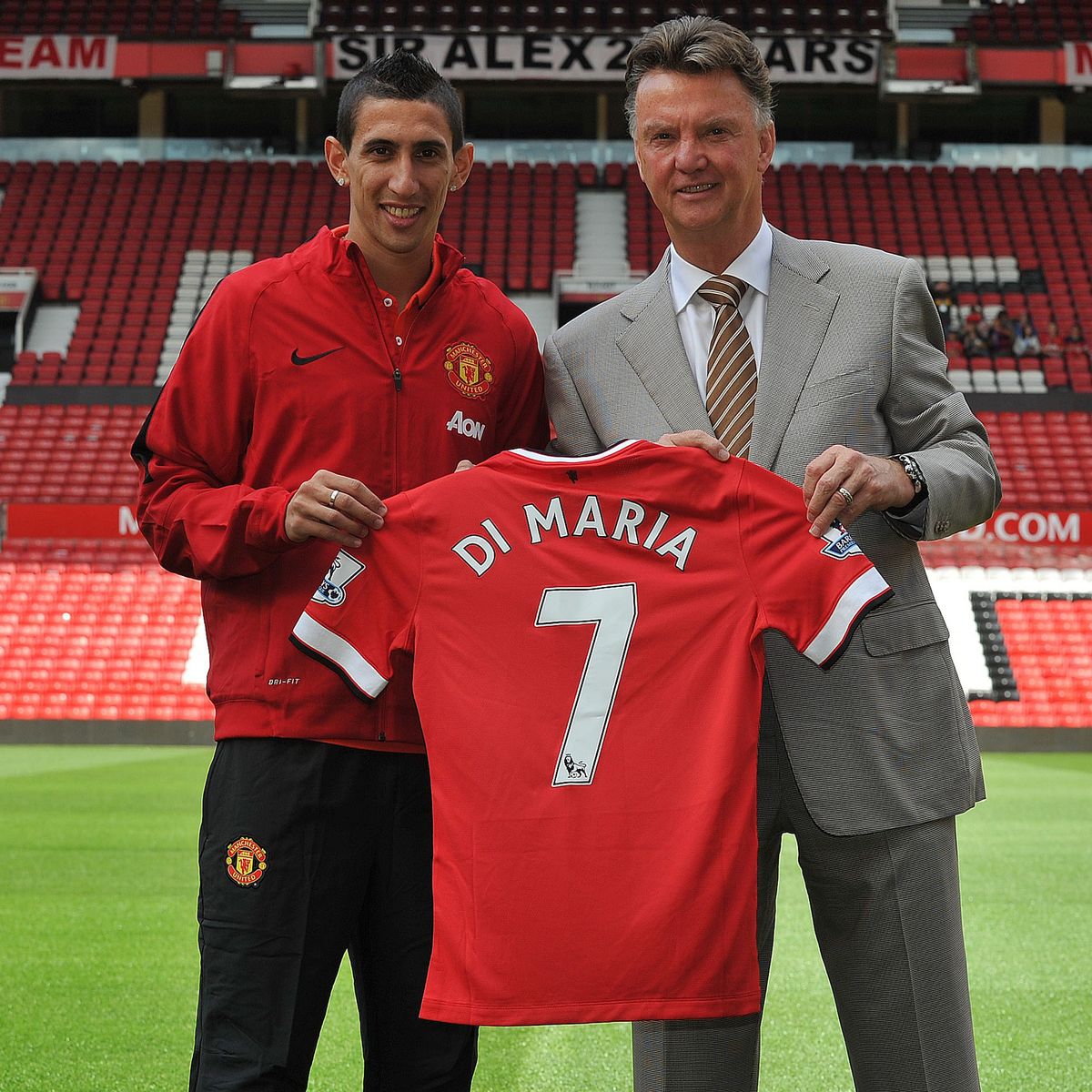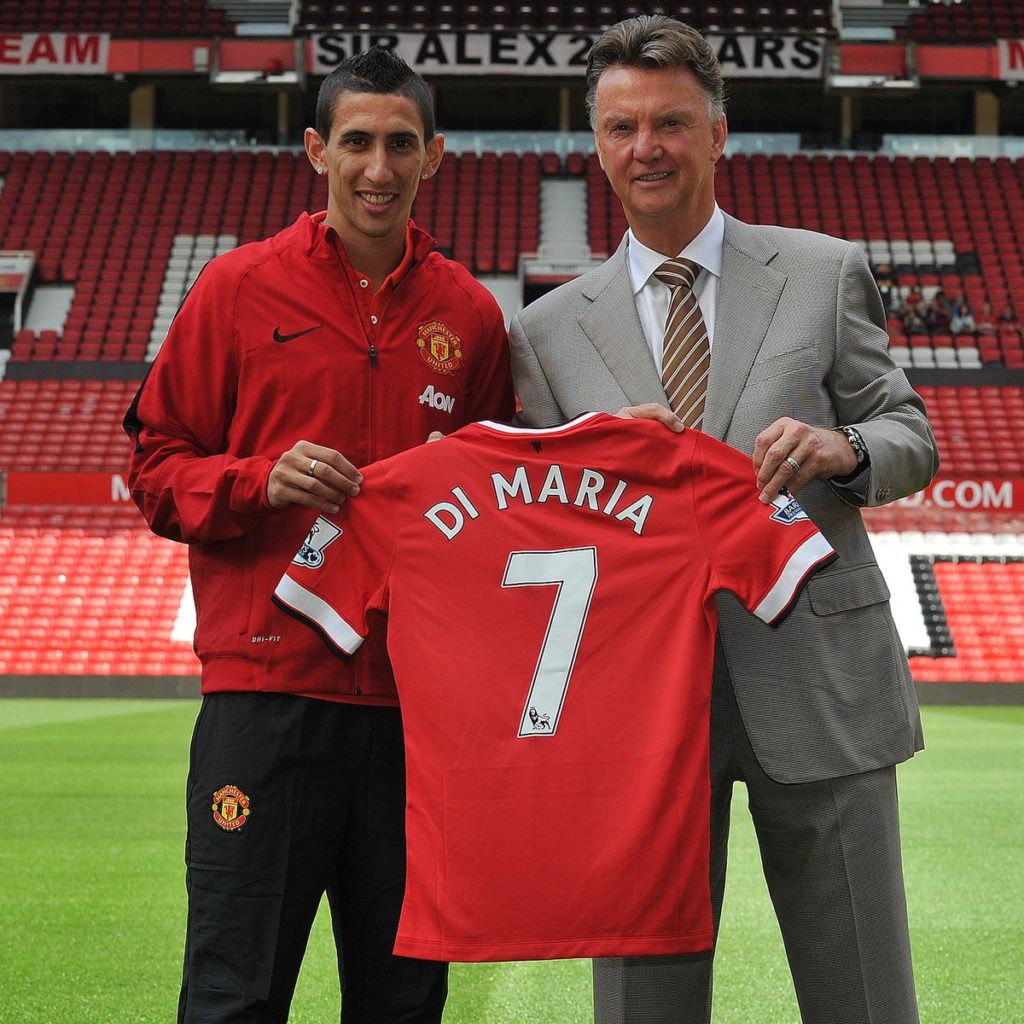 Di Maria with then-manager Louis van Gaal after his signing in 2015. (Image Courtesy: Manchester United / Website)
On the pitch too it was not all merry, as Louis van Gaal often played him out of position and although he produced a tally of 11 assists in 27 appearances, it wasn't for him to stay in England.