AC Milan have taken a plunge in the transfer market in search for a centre-forward this season before the market shuts down at the end of August. The Rossoneri are interested in signing a player who is young and can wait and learn in the wings alongside Olivier Giroud and Zlatan Ibrahimovic.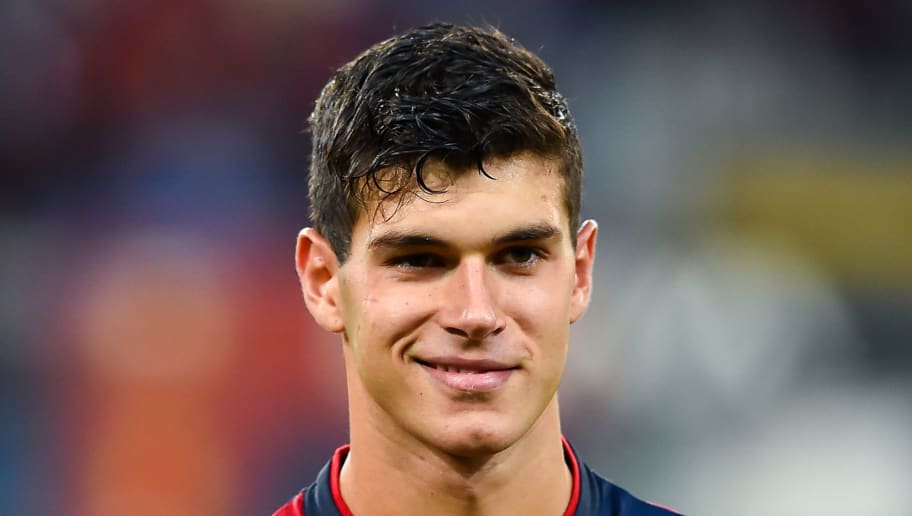 The Swede will be 40 this October and is not expected to play for AC Milan next season onwards in Italy, while Olivier Giroud needs a strike partner up front in the near future in Milano after Ibrahimovic's eventual departure.
Therefore, the Italian club have narrowed down on the 20-year old forward Pietro Pellegri as they prepare for the upcoming seasons in Serie A. As such, FootTheBall brings to you a comprehensive insight about the former Genoa player as he nears a transfer to AC Milan.
A TRAILBLAZER IN SERIE A FOR GENOA
Pietro Pellegri is a youth academy product of Genoa and made his debut in the Italian top-flight competition Serie A for the same club in December 2016 in an eventual 0-1 loss away to Torino FC in Piedmont.
 At that time, he equalled the record of the youngest player to represent a club in Serie A alongside AS Roma's Amedeo Amadei (who had done so in 1937) at the age of 15 years and 280 days. Pellegri held this record until May this year, when it was surpassed by Wisdom Amey in May 2021.
Pellegri is the first player born in the 21st century to play in Serie A. Apart from this in September 2017, he became the youngest player to score in the Italian top-flight after he managed a brace against Lazio in an eventual 2-3 loss.
In January 2018 he earned a move to French club AS Monaco in Ligue 1 for a transfer fee reported to be in the region of €25 million, which is considered to be the second-highest for a 16-year old football player.
PELLEGRI CONTINUES MAKING HISTORY IN FRANCE'S LIGUE 1
His trailblazing exploits continued when he came from Italy to France as he became the youngest league player in AS Monaco's history to play in Ligue 1, surpassing Kylian Mbappe by 11 days in the process.
The current Paris Saint-Germain player congratulated Pellegri for the unique feat in the French top division and shortly afterwards he became the youngest goalscorer in the top-flight of French football after finding the back of the net in a 1-2 loss to Bordeaux.
But, his career has been punctuated by injuries that have limited his playing time on the pitch, including a surgery for a groin tear that kept him out for a year from football.
Milan are in talks to acquire Pellegri on loan from AS Monaco this season in Serie A. The 20-year old Italian's contract with AS Monaco is set to expire next season and therefore, he must first sign a new contract with the French club before agreeing to a loan move to his homeland in Italy.
PELLEGRI TO PLAY ALONGSIDE BOYHOOD IDOL
Pietro Pellegri is a fan of AC Milan forward Zlatan Ibrahimovic and if the reports doing the rounds in Europe are anything to go by, he will be sharing the dressing room with his childhood idol this season in Milan.
And by the looks of it, the loan move is a perfect opportunity for the 20-year old to gain valuable experience in Serie A in a team that finished 2nd last season in Italy and there was no team outside the city of Milan who could overtake them in terms of aggregate points at the end of the league season on the Italian peninsula.
This can be seen as the golden opportunity for a player who has so far been plagued by various injuries in his career that have prevented him from stamping his authority comprehensively in Europe.
Adapting to the league would not be much of an issue for Pellegri as he has earlier played for Genoa FC in Italy, but a move to AC Milan would truly kickstart his future career in the coming seasons as the Rossoneri prepare for life after Zlatan Ibrahimovic in Italy's fashion capital.
And who better to recruit, than an admirer of the Swede to lead the charge for them in future seasons, both in Italy and Europe