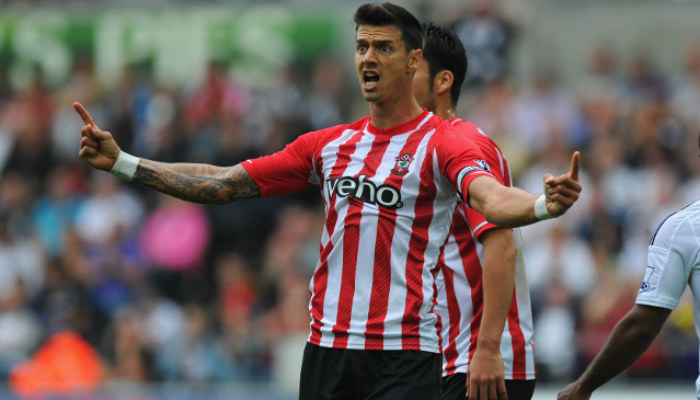 Premier League side Southampton's centre-back and captain Jose Fonte denied to disclose any further information about his rumoured move to Jose Mourinho's Manchester United  in the next winter transfer window in January.
Premier League giants Man Utd were desperate to rope in the services of Southampton star defender Jose Fonte within the summer window.
Mourinho wanted to add more depth in the defense and build upon the flying start to the new Premier League season. The former Chelsea boss was even linked with a £8m move for Southampton's star defender Fonte..
However, the Red Devils failed to come up with a tempting bid for the 32-year-old defender within the deadline day, which will force Fonte to stay at Southampton for at least one more season. Fonte had joined the South coast club back in the year 2010, when the Saints featured in League one.
ALSO READ: Sam Allardyce Defends Decision To Use Rooney In Deeper Role During England's 1-0 Win Over Slovakia
Despite being 32, Fonte was a part of Portugal's Euro 2016 winning squad and has a lot to offer with a four-year experience in the Premier League to his name.
Fonte is currently on international duty for Portugal and he refused to comment on the rumours that linked him with a move to Old Trafford in the upcoming winter transfer window during January.
"Was I disappointed the Man United move didn't happen? Let's leave that for another time. Now I'm focused on Southampton," said Fonte.
The Portuguese central-defender went on to speak about his future targets of winning the World Cup, playing in the Champions League and most importantly winning a trophy in England. However he didn't disclose the name of the club, where he wants to fulfil his future ambitions – which added more fire to the rumours linking him with a move to Man Utd in January.
ALSO READ: Manchester United Players Banned From Swapping Shirts In Attempt To Save Money
"I have lots of targets: to play in the Champions League, to play in a World Cup, to win a trophy in England," he added.
Later the defender took to Facebook for explaining what he really meant to say in the interview by stating that he wants to achieve his future goals while playing for Southampton.