An international tournament is ideally the most opportune moment for emerging talent to burst onto the international scene and make the entire world take notice of their exceptional performances for their national sides in the tournament.
More often than not, budding players' careers witness a sudden but largely sustained upward trend after a strong showing at an international tournament.
And Euro 2020 is no exception to this, with record-breaking audiences to watch the proceedings in Europe both in person at stadiums and around the world on TV sets and streaming platforms – this is the chance for young and upcoming footballers to stamp their mark of authority and immortalise themselves in the hearts and minds of football fans, pundits and managers for generations to come.
FootTheBall takes a look at one such emerging prodigious talent in Europe – Real Sociedad's Swedish forward Alexander Isak, as football enthusiasts wait with bated breath for the continental tournament to commence on Friday, 11th June 2021.
WHO IS ALEXANDER ISAK?
Born in Stockholm to parents from Eritrea in northeast Africa, Alexander Isak is Real Sociedad's modern-day multi-tasking forward who is involved in pressing the opposition defenders along with receiving balls from over the defensive line to score for the White and Blues.
He is Sweden's youngest ever goalscorer – scoring his debut goal at the age of 17 years, 3 months and 22 days.
He was acquired by a Borussia Dortmund side led by current Chelsea manager Thomas Tuchel in the dugout in 2017 as he plied his trade in the German top flight.
The 21-year old has been pretty impressive this past season in Spain as he became the first player since Sergio Aguero to score 17 or more goals aged 21 or under – the former Manchester City forward did it with Atletico Madrid back in the 2008-09 season.
PLAYER ANALYSIS
Isak plays as the centre forward in either a 4-3-3 formation or a slightly tweaked 4-2-3-1 set-up where he is supported by players like David Silva and Mikel Oyarzabal in midfield.
He stands tall at 6 feet and 3 inches and is somewhat similar in playing style to Leicester City's Jamie Vardy, except for the fact that he is taller than the Englishman and is a better dribbler than the Premier League winner.
There is no doubt about his ball-carrying ability on the pitch as he is a skilled dribbler in the opposition half, but his aerial strength is surprisingly below-par for a player of his enormous height.
He is below average in winning headers in both open play and set-piece situations for Real Sociedad. But on the flip side, he is effective in leading from the front when it comes to pressing opposition defenders and also in winning in central positions in the opposition half for Sociedad.
But he has the uncanny proclivity to score goals from one-touch finishes in La Liga in what is seen as a very Dominic Calvert-Lewin-Esque trait in the Swede and in terms of physicality, he is a hybrid of both Zlatan Ibrahimovic and Peter Crouch.
BOOMING FACTOR
Real Sociedad, despite a fifth-place finish in La Liga this past season, aren't truly a force to be reckoned with in Spain and Europe, therefore a strong outing from the 21-year old Swede might earn him a move to a club that is synonymous with European footballing royalty, so to say.
The Swedes are without their talismanic forward Zlatan Ibrahimovic and there couldn't have been a better time for Isak to announce his arrival at one of the grandest stages of football.
Along with Kulusevski, the mantle for scoring goals is on Isak's shoulders and he can have an instant impact if he performs brilliantly in their opening match with two-time European champions Spain.
Sweden will be expected to vie for second place in Group E with a Robert Lewandowski-inspired Poland and Alexander Isak can stamp his authority by putting in an impressive performance in their match with the Poles to effectively secure second place in the group behind Spain.
PREDICTION FOR EUROS
Expect the 21-year old to feature in the starting line-up in a 4-4-2 formation along with Juventus' Dejan Kulusevski in their opener with La Roja in Seville, Spain.
As he is adept at pressing defenders, it is likely that both Pau Torres and Aymeric Laporte will have their plates full dealing with both Isak and Kulusevski.
His playing experience in the Spanish top-flight also gives him an edge as he will be aware of and quite nearly anticipate the moves of the Spaniards in the match. After that, it will be relatively easy for Isak as Sweden will face Slovakia and Poland in the remaining group matches.
He will be looking to score one of his trademark one-touch finishes in the matches with both the Slovaks and Poles, but either a goal or assist in the opening match with Luis Enrique's charges will see his stock in the transfer market skyrocket at an incredible pace as clubs will readily line up to acquire his services.
IDEAL LANDING SPOT
If he does shine at the Euros, then his ideal landing spot would be, needless to say, Chelsea. The Blues are currently relying on young talent for both domestic and European success – a 21-year old Kai Havertz scored their winning goal in the Champions League final off a delightful pass from the 22-year old Mason Mount.
As such, Alexander Isak will be an ideal replacement for Chelsea forward Tammy Abraham – both Isak and Abraham and Isak have similar physical attributes- and if he puts in some consistent performances for Thomas Tuchel's side, he can even be included in the starting line-up ahead of Timo Werner next season.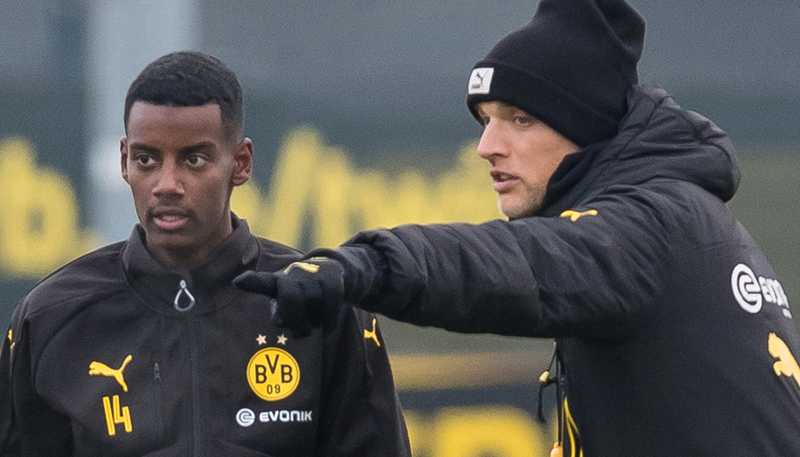 And his time with the German manager at Borussia Dortmund will certainly play in his favour if such a move does happen this summer. Die Borrusien are mulling over buying him back from Real Sociedad and the Spanish club reportedly wants the said clause removed from the 21-year old's contract as they aim to make him a regular feature at the Anoeta Stadium in San Sebastian.
But a lucrative offer from the Premier League side might just convince the Spanish club to part with the young, prodigious asset in return for a handsome transfer fee this summer.