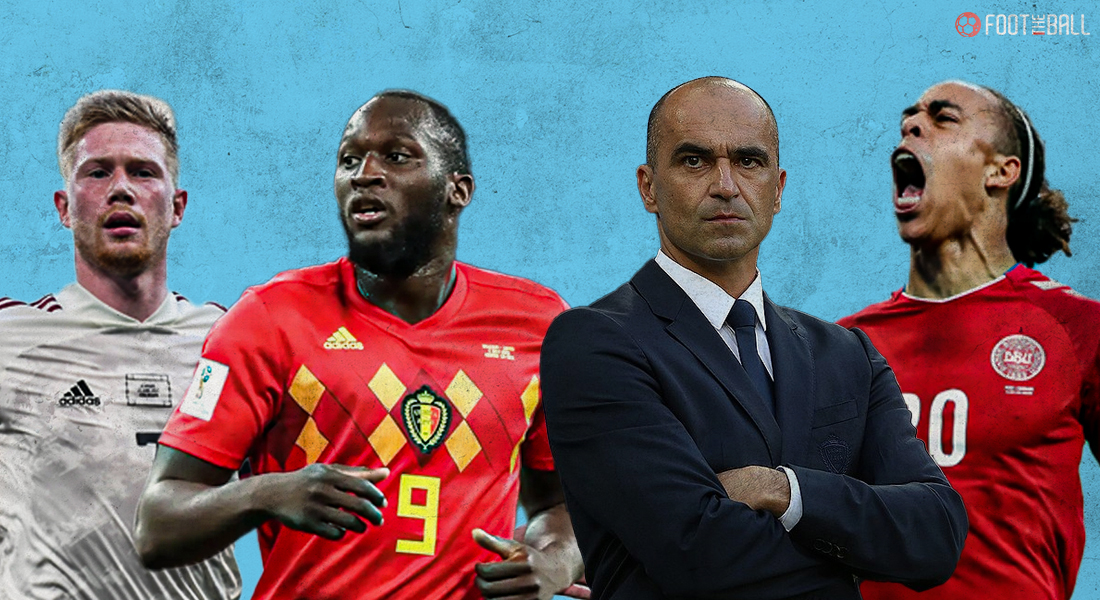 MATCH REPORT: DENMARK VS BELGIUM, KEVIN DE BRUYNE SPOILS AN EMOTIONAL TRIBUTE TO CHRISTIAN ERISKEN AS HE COMPLETES A COMEBACK OFF THE BENCH
Kevin de Bruyne came off the bench to win the game for Belgium over a disappointed host Denmark. Parken Stadium packed with a 25 thousand crowd was the host as Denmark took over Belgium in a crunch match. Belgium put a clinical performance in the second half to qualify for the knockouts. Two defeats leave hosts Denmark on the brink of elimination.
De Bruyne inspires Belgium to victory and a Round of 16 spot! 👏👏👏#EURO2020 | #BEL

— UEFA EURO 2020 (@EURO2020) June 17, 2021
There was an air of emotion around the stadium as the whole of Denmark was recovering along with Christian Eriksen. The Danish midfielder sent a message for his troops to fight for him and make the country proud. Denmark took the message well and started the game brilliantly. Poulsen opened the scoring in the second minute. It was the second-fastest goal clocked in the history of Euros. In the 10th minute, a special tribute was paid to Eriksen honouring his jersey number 10.
🇩🇰 Yussuf Poulsen's opener was the second-fastest goal in EURO history! 🔥🔥🔥#EURO2020

— UEFA EURO 2020 (@EURO2020) June 17, 2021
Denmark continued their brilliance as they kept Belgium at an arm's length. The Belgians were made to wait till the second half to have a proper impact on the game. Kevin de Bruyne came off the bench at the start of the second half. It only took him 10 minutes to square the ball for an unmarked Thorgan Hazard to equalize. The midfield maestro went on to add a goal as he completed the comeback to win the game for the Red Devils.
Kasper Hjulmand tweaked his formation as he deployed a 3-4-2-1 to counter Belgiums own version of the same formation. An extra centre-back in Jannik Vestergaard was added to the backline with Wass and Maehle playing as wing-backs. This formation proved very effective in shutting down Belgiums' wide areas and stopping Lukaku through the middle.
Roberto Martinez was forced to bring in Thomas Meunier due to an injury to Timothy Castagne. Another change was made in the backline as Jason Denayer replaced Dedryck Boyata. Kevin de Bruyne and Axel Witsel were passed fit for the game but Martinez left them on the bench hoping they won't be required. Eden Hazard was surprisingly overlooked.
THIS ONE'S FOR YOU CHRIS
There was only one message in Denmark today: We're with you, Chris. The star midfielder's sudden collapse on the field last week stunned the world. Thankfully, Eriksen is stable and is recovering and the word spread filling the people with joy. He urged his boys to focus on the match and win it for him. They were underdogs going into the game but the team spirit lifted their performance on the field.
❤️ "All of Denmark is with you, Christian."#EURO2020 https://t.co/zp0PcsgPBm pic.twitter.com/vz5Q9VXfVU

— UEFA EURO 2020 (@EURO2020) June 17, 2021
A 10th-minute tribute was planned to honour Christian Eriksen's jersey number 10. The Danes started brightly and gave the crowd some extra joy. A loose pass from Denayer was taken by Pierre-Emile Hojbjerg who found Poulsen with an inch-perfect pass. The Leipzig striker took a touch before slotting it across a stuck Thibaut Courtois. The goal lifted the spirits of the players and the people.
🇩🇰 Yussuf Poulsen enjoyed that one!

Who's scoring next?#EURO2020 pic.twitter.com/QmAO4QDNs2

— UEFA EURO 2020 (@EURO2020) June 17, 2021
A tribute was indeed given in the 10th minute. Denmark followed up their good work by keeping relentless pressure on Belgium. Their crowd was sucking the opposition as the Danes hassled and hunted Belgium to win the ball back. While on the ball their neat passing carved Belgium many times. Lack of proper finishing prevented them from adding to the score.
🇩🇰 🇧🇪 ❤️#EURO2020 pic.twitter.com/NcFZ0pC5UB

— UEFA EURO 2020 (@EURO2020) June 17, 2021
ENTER DE BRUYNE
Belgium were lacking imagination in the midfield when on the ball. They struggled to provide any sort of service for Romelu Lukaku. De Bruyne who returned to the bench after a facial injury was frustrated. Roberto Martinez knew they needed the best midfielder in the world to wave his wand and initiate a comeback.
IMPACT.

De Bruyne 👏👏👏#EURO2020 pic.twitter.com/QqDDgFkTuL

— UEFA EURO 2020 (@EURO2020) June 17, 2021
On came de Bruyne for Dries Mertens to play as a wide forward behind Lukaku. Romelu Lukaku ran in behind Kjaer and squared up de Bruyne who was set to shoot. But he knew he could square the ball for a better opportunity. A razor-sharp pass found an onrushing Throgan Hazard to level the game. Martinez saw the pendulum swinging in their favour and summoned big hitter Eden Hazard and Axel Witsel off the bench.
Stunning 😍

Kevin De Bruyne gives Belgium the lead!#EURO2020 pic.twitter.com/j943Rt1V5H

— UEFA EURO 2020 (@EURO2020) June 17, 2021
This changed the game in the Red Devil's favour. All of their forwards were involved in a delicious second goal. Lukaku charged around the box to find Thorgan who played a first-time pass to his brother Eden. Hazard picked an onrushing de Bruyne who hit a wonderful left-footed strike from outside of the box to Kasper Schmeichel's near post.
This goal was enough to seal the game for the Red Devils. Denmark tried to equalize desperately but found no success. Martin Braithwaite had a couple of opportunities to level the game. A stubborn defence kept him out.
TOO HOT TO HANDLE
Belgium won their opener against Russia comprehensively. An all-round performance flexed their muscles. People were starting to believe that this Golden Generation might win it this time. This win today sealed their progression to the knockouts and lets them experiment in the final game.
🇧🇪 The difference 👊

Describe Belgium's second-half display…#EURO2020 pic.twitter.com/6acZjjbswG

— UEFA EURO 2020 (@EURO2020) June 17, 2021
They had the worst possible start possible to the game. A shaky Denayer played a bad pass straight to Denmark. They were unable to recover in time as Poulsen scored. Their forwards were as good as invisible and Lukaku had the least touches by the end of the first half. Roberto Martinez knew he had to turn it around and prove their title credentials. He had a world-class bench to choose from and put it to good effect.
🇧🇪 Bravo, Belgium! The second team to qualify for the Round of 16 🥳#EURO2020 | #BEL pic.twitter.com/EFXNkvBfyA

— UEFA EURO 2020 (@EURO2020) June 17, 2021
An inspired half-time talk turned things around. Their star quality came good as the forwards were all involved in some capacity in the goals scored. The defence settled quickly and made sure that there were no free giveaways. Another win and they are a step closer to that elusive title. They surely look the real deal in the tournament.
Denmark on the other hand can be proud of themselves. They put in a great performance in the first half. Belgium's star quality was too much to be dealt with and they felt their might. Otherwise, this performance had great character to make Christian Eriksen happy.