Right from his debut for Everton against Tottenham in 2002 aged 16, the role of being England's talisman at Euro 2004 felt like destiny for Wayne Rooney who had the world at his feet after the group stages. And in the quarterfinals, it came down crashing.
Seen as the greatest prodigy to have come out since a certain Norman Whiteside, Rooney not only had the traits of a number nine, but also could play a number ten role, such was his vision and spatial awareness for a teenager.
Manchester United and England's record goal scorer, Wazza, as he is affectionately called, burst on to the international scene in scintillating fashion at Euro 2004 and for the English fans, Rooney was the boy wonder who made them believe that things could have been different.
THE BACKSTORY
Two years before his sparkling international debut at a major tournament, Rooney made his debut for Everton at the age of 16, against Tottenham as a substitute in the 2002/03 season.
In October he went on to score his first goal for the Toffees, a brace against Wrexham in the League Cup. And on 19th October, five days before his 17th birthday, Rooney truly announced himself to English football with a beautiful last-minute curler against Arsenal, ending their 30-game unbeaten run.
After the match, Arsene Wenger, then Arsenal manager heaped praise on the youngster by saying,
"Rooney is the biggest England talent I've seen since I arrived in England. There has certainly not been a player under 20 as good as him since I became a manager here."
THE MOMENT
Owing to his performances for Everton, Sven-Goran Eriksson named the 18-year-old in his squad for the Euros in 2004, to be held in Portugal. And boy did Rooney lit up the tournament.
As with Whiteside, Rooney was physically remarkable and it wasn't like he needed time to gel with his national teammates, rather it was them who needed to adapt to his play style and skills.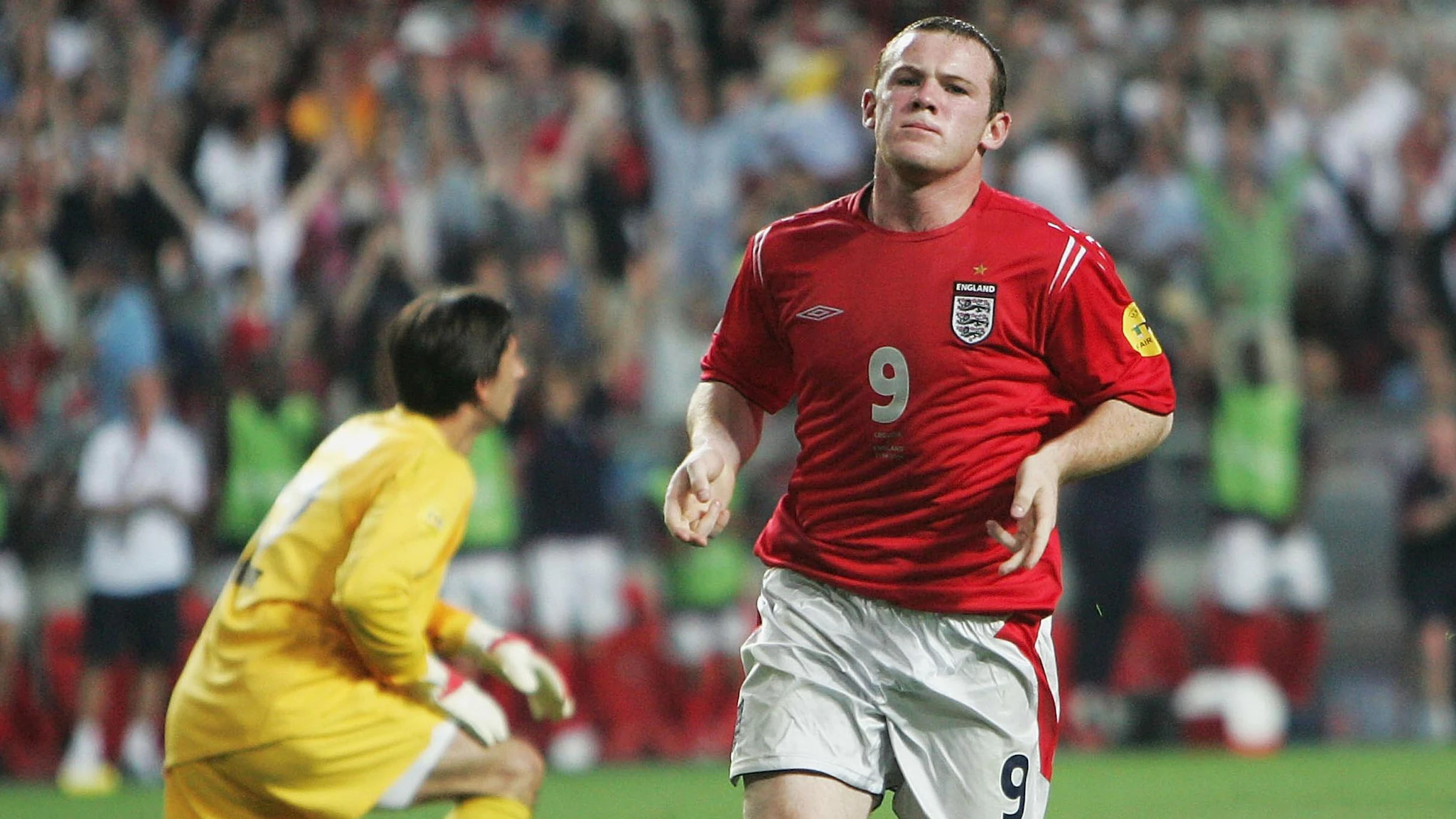 Rooney, playing for England at Euro 2004. (Image Courtesy: UEFA / Website)
Playing with freedom in his best position as a second striker behind Michael Owen, Rooney ran riot of the France's defence in the first group matches by popping up everywhere on the pitch, winning duels against players who were a minimum 7-8 years older than him.
Lillian Thuram, before the match, was speaking to the media about the hype around Rooney and said,
"I doubt how much Rooney can give to the England team. He is very young – too young for such a hard competition like this. He lacks international experience, so for England to depend on him to score their goals is dangerous."

"Rooney is not Michael Owen – he was a far better player on his debut for the English team. The Everton player is good, but he is no Pele."
Well, Thuram wouldn't have more wrong about the youngster after he left the French centre back clenching his jaw after an elbow to the face. "That [interview] was in the back of my mind," Rooney told the BBC years later. Rooney always turned it up a notch when angered but Thuram wasn't to know that then.
Although England went on to lose the game after Zinedine Zidane scored twice in injury time, people knew in the very first match itself that Rooney was the best player at the tournament. The next two games saw Wazza scoring consecutive braces in the 3-0 and 4-2 victories against Switzerland and Croatia, respectively.
It wasn't just the goals but the quality and range of them. A poacher's header, a striker's smashing finish, a thunderous striker from 25 yards, and a breakaway counter attack finished with aplomb. It takes special performances to usurp the likes of Owen, Scholes, and Beckham but an 18-year-old Rooney did it all.
But everything good that happens in life must come to an end, and for England, it came a little bit early. Before the game against hosts Portugal, Eriksson said, "I don't remember anyone making such an impact since Pele in the 1958 World Cup."
And like a hyperbole of the football nature, Rooney was injured halfway through the first half after breaking his metatarsal in a clash with Portuguese defender Jorge Andrade.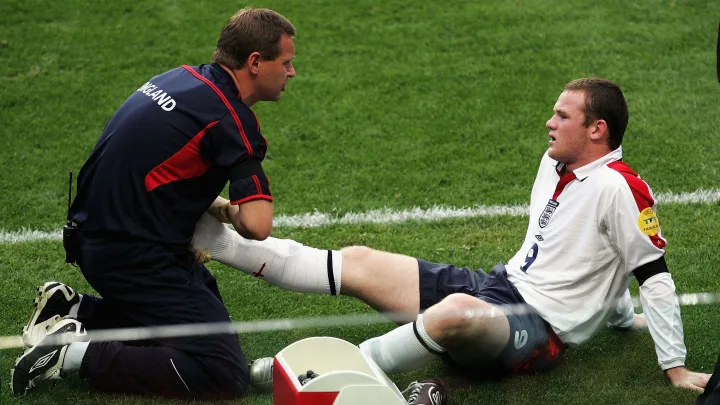 Rooney getting treatment on the pitch after clashing with Andrade in the quarterfinals. (Image Courtesy: BBC / Website)
With that, England's chances of lifting a major tournament since 1966 took a tumble as Rooney watched his side lose to Portugal 6-5 on penalties.
That summer, it was certain that Rooney was going to leave Everton and after rejecting an offer worth £20 million, Everton accepted a £25.6 million offer from Manchester United, which was at that time, the highest fee ever paid for a teenager.
And a few weeks after signing for the red half of Manchester, Rooney scored a hattrick in his debut for the Red Devils, in a match against Fenerbache in the Champions League. The rest, as they say, is history.