Jochem Loew has used over 5 formations in the last past year to find the perfect balance for this German team but he still looks to be struggling to find that. He has tried the 3-5-2, 3-4-3, 4-2-3-1, 4-3-3, 4-4-2, etc and he is still to find a perfect balance for the squad going into Euro 2021. In the majority of the games, Havertz has played from either the left or as an attacking midfielder but has hardly been used as a striker under Loew. But could the use of Havertz as a striker be the answer to the problems faced by Germany at Euro 2021?
90MAAT | Sam Thomas: "Kai Havertz is the missing piece in Tuchel's attacking puzzle. Tuchel has afforded him time to get fit and played him as a false 9 to great effect against Everton and it was the first time he had expressed the outrageous amount of talent he possesses." #cfc pic.twitter.com/LD6YGgbnim

— The Blues (@TheBlues___) March 11, 2021
Tuchel's extensive use of Havertz as a false 9 might be one of the factors that could convince Loew to play Havertz as a striker for Germany. Just like Tuchel, Loew is also a really pragmatic coach who believes in thorough positional play and dominating with possession. Under Tuchel, Havertz has flourished playing in that false 9 roles,a role he might end up playing for Germany at Euro 2020.
THE FALSE 9 ROLE
Havertz is well accustomed to the False 9 role since the latter half of his last season at Bayer Leverkusen when Volland suffered an injury and Havertz had to take his place upfront. He racked up a whopping 11 goals and 7 assists in the last 15 games he played at BayArena. He was the integral figure that made Leverkusen push for the Europa League spots and helped them book a spot in the DFB Pokal finals as well.
11 goals and 7 assists in last 15 games for Bayer Levekusen! 🔥

Which team should sign Havertz? pic.twitter.com/mGZkyMOVjs

— Football Factly (@FootballFactly) May 24, 2020
Havertz would be a perfect player to play as a striker. He drops deep, dragging defenders with him helping his teammates find an open space, he also drops in the pockets, and with a player of his technical abilities, he could exploit that pocket of space brilliantly. Kai is also known for making really smart runs and is almost at the right position all the time. Havertz is a really prolific finisher as well as he always stays calm and finishes it most of the time. And to top it all off Kai is really good in aerial duels as well as he wins a whopping 50% of his duels.
Today he turns 18, but Kai #Havertz was already making history at 17!#HappyBirthdayKai pic.twitter.com/vq6gct9mPb

— Bayer 04 Leverkusen (@bayer04_en) June 11, 2017
In a recent interview, Rio Ferdinand compared Kai Havertz to his former teammate Dimitar Berbatov, he said, "He's got that lazy swagger at times." "He's got a nonchalance about him." "The guy is so smooth man." and that sums up Havertz's game.
ROLE UNDER TUCHEL
Tuchel described Havertz as a hybrid between the 10 and the 9, he is a player who plays in between of both the roles. He will make those runs while also drop off to receive the ball and get involved in the build-up. Tuchel prefers Havertz playing as a striker when Werner is not on the pitch, so essentially Mount and Pulisic would pair up with Kai upfront in the very compact 3-4-3 formation. With Pulisic being the direct dribbler, Mount the playmaker, and Havertz operating as a 9. A very similar structure is formed when Werner is on the pitch for Pulisic with Havertz taking a more playmaking role and Timo playing on the shoulder of the last defender.
https://twitter.com/ChelseaFCBlogs_/status/1388763186191536129
Tuchel essentially employs Havertz as a 9 only against teams that like to sit deep and play with a low block, as that gives the team an extra set of control with him being so good in possession. It gives the team an added spark in terms of positional play as Havertz would drop deep to collect the ball, leaving pockets of spaces open in the opposition defense, creating space for his teammates and Havertz is also brilliant finding those little pockets of space himself.
Thomas Tuchel on Kai Havertz. pic.twitter.com/wnkXRFgOoL

— Frank Khalid (@FrankKhalidUK) February 28, 2021
We have established that Werner is really good while playing against a high line as he uses his pace to get behind the opposition defense with his directness as he still struggles to play against a low-block team as they don't give him Werner enough space to operate. Havertz was the solution for this problem which Tuchel also mentioned in a press conference.
GOAL!!
Kai Havertz towers over his man to head in for number 4!!

🔵4-0 🔴 [85'] #CHEMOR pic.twitter.com/cuuP6Bs7lP

— Chelsea FC (@ChelseaFC) January 10, 2021
He said, "He is a unique player, It's not so clear where he needs to settle, does he need to settle on one special position? Or is he kind of a hybrid player. Today, I would say he's in between a nine and a 10, something in between."
ROLE UNDER LOEW
Loew has not yet fixed a lineup as of yet but the best bet would be that he plays a 4-3-3 with a front three of Sane-Havertz/Werner-Gnabry. Just like Chelsea in the Premier League, Germany is also going to face some teams with a low block in their Euro 2021 campaign and it is going to be very important to break that low block and Havertz is going to be key to that.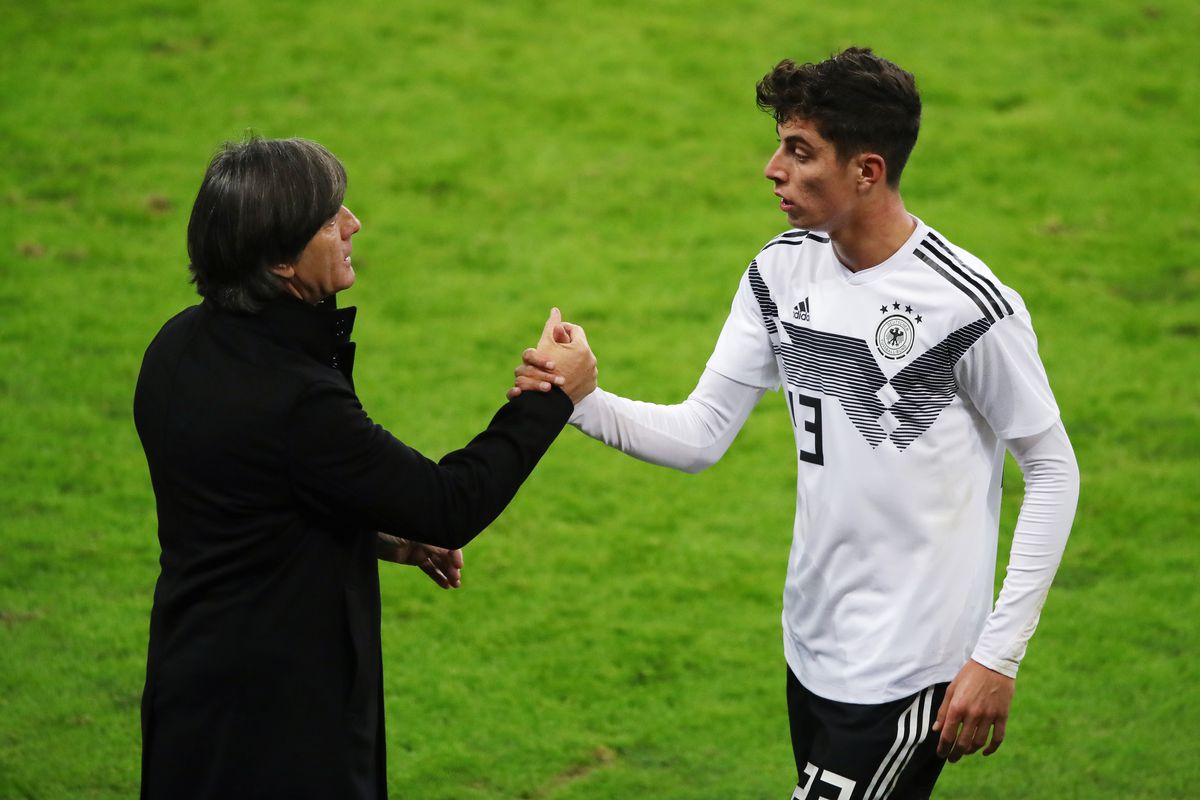 Using Gnabry as a 9, which Loew has been doing so far would be an immense waste of his ability to dribble and get past a defender from the wide positions, Havertz would be the perfect bet going forward with Werner to take that position up against teams with a high line so he could constantly be a threat to them with his runs in behind.
Will Loew start Havertz as a striker for Germany is the question everyone would be asking to the build-up to their game on 16th June against France.