Tournaments such as the Euros or its bigger brother, the World Cup, are opportunities for players to showcase their talent to the wider public which can include clubs, scouts or millions of fans alike, irrespectively of any barrier such as language or nation.
The teams which go on to play the final will feature in seven games, and while it may be only seven, it is enough for them who have the urge to showcase themselves and get a prized move in the summer, which has the potential to change their lives completely.
We, at FootTheBall, are here to tell you about such players that teams should "Buy Before They Boom". These are the players that are primed for a breakout with glittering performances in the Euro, which is sure to rocket their valuation through the roof. One such player is Lukas Klostermann.
WHO IS LUKAS KLOSTERMANN?
Lukas Klostermann is a 25-year-old defender who plays for RB Leipzig in the German Bundesliga. He started off at FSV Gevelsberg at the age of five before moving to SSV Hagen in 2001. After nine years at the club where he played in different positions, Klostermann moved to second division club VFL Bochum in 2010, aged 14, as a defender.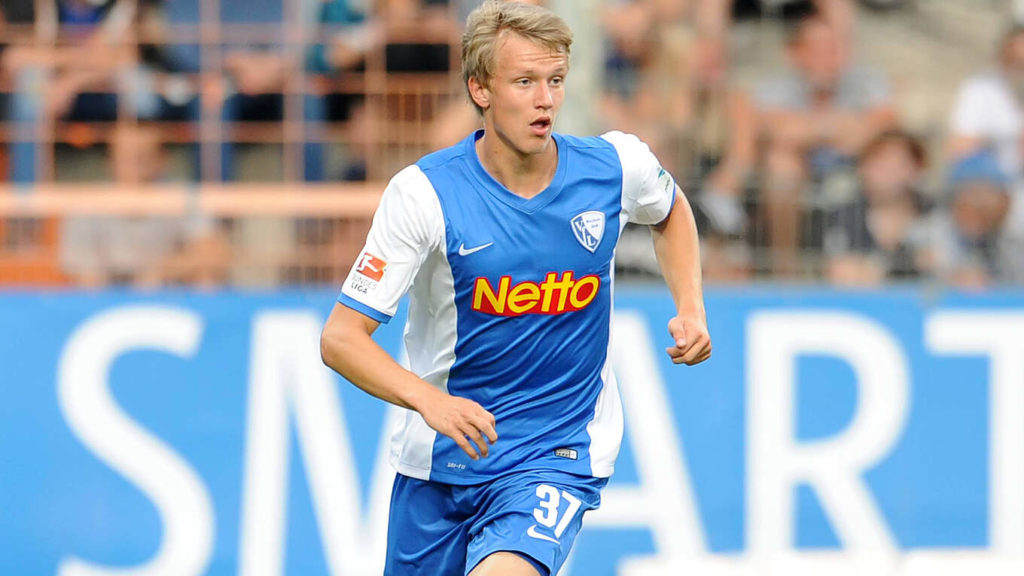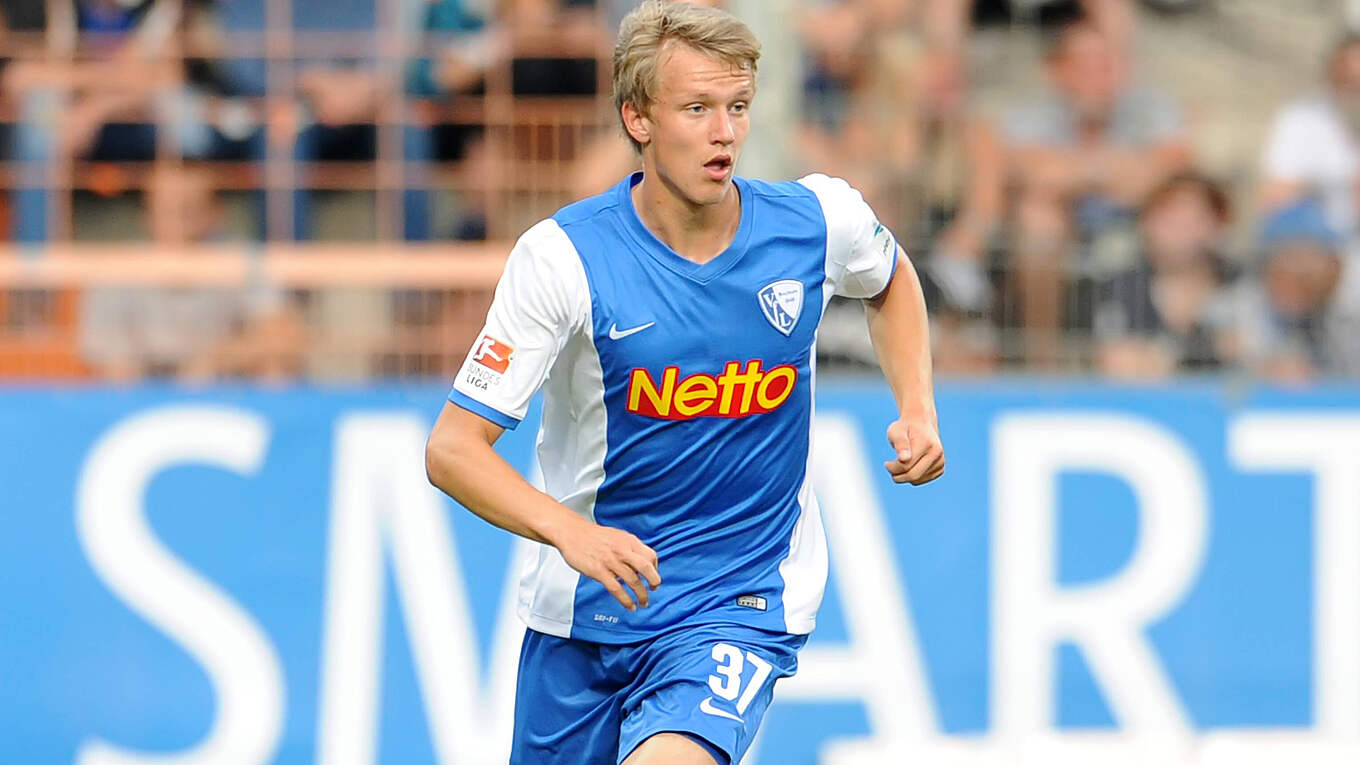 Lukas Klostermann playing for VFL Bochum during his youth days. (Image Courtesy: DFB / Website)
After making his first-team debut in the second half of the 2013-14 season, he caught the eye of RB Leipzig scouts who were watching him the whole season. Since August 2014, Klostermann is at Leipzig, making 150 league appearances for the club.
In the 2020-21 season, Klostermann finished with only 1 goal and zero assists in the league, which is predominantly less for right-back but his performances in the limited games he featured in have been one of the reasons why Leipzig finished second in the Bundesliga.
PLAYER ANALYSIS
Klostermann primarily plays as a right-back in Julian Nagelsmann's everchanging setup but at times he has also deputised in all positions of the defence. This season, whenever Nagelsmann started with a back three, Klostermann was the right-sided centre-back while in a four, he was back at his normal position.
Klostermann has been one of the standouts in the league in terms of the passing numbers and shot-creating actions for defenders. According to FBREF, the German, who has played as the right centre-back in most of the league games, is in the 94th percentile for passes completed and in the 93rd percentile in passes into the opponent penalty area, with 4.14 progressive passes per 90. Also, he is in the 95th percentile for Shot-Creating Actions (SCA), while playing as centre-back, which is quite commendable.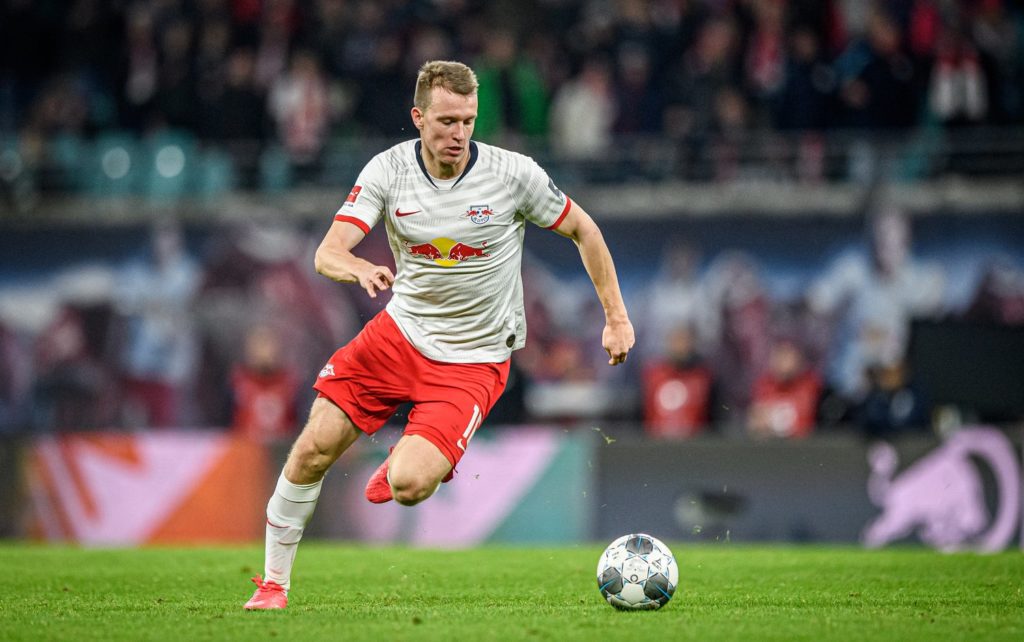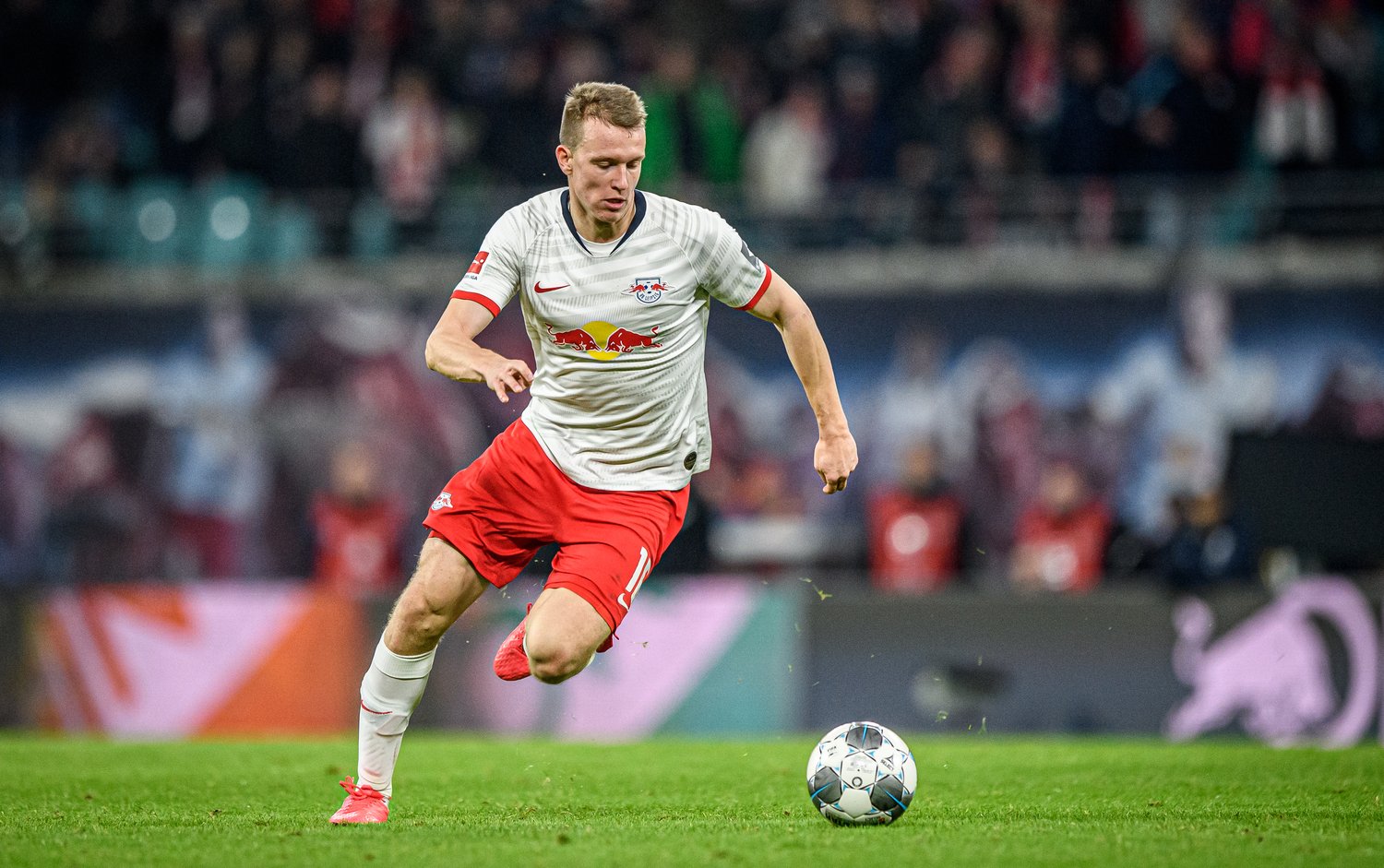 Klostermann playing for RB Leipzig. (Image Courtesy: Bundesliga / Website)
In the numbers for defensive attributes, Klostermann has 73 successful pressures in his 23 appearances in the league while also racking up 19 interceptions and 26 tackles.
But the most underrated aspect of Klostermann is his ability to progress the ball from defence, either as a centre-back or a full-back. In the 23 appearances in the league this season, Klostermann has averaged 5.12 progressive carries per 90 which places in the 91st percentile while also being in the 93rd percentile in carrying the ball into the opposition penalty area.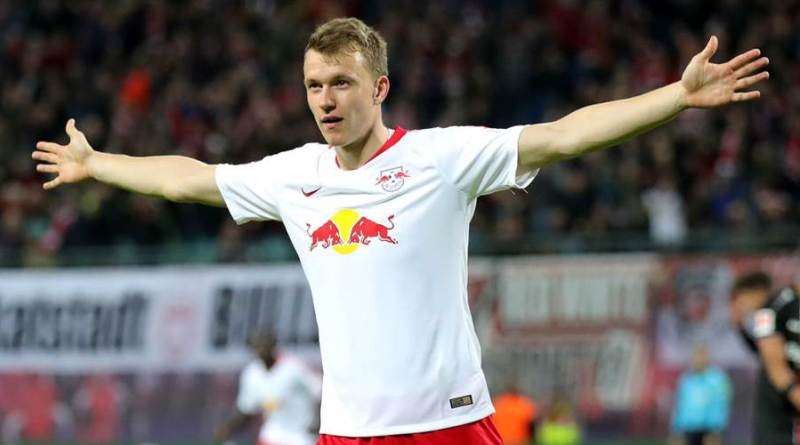 Klostermann celebrating after scoring a goal for Leipzig. (Image Courtesy: RB Leipzig / Website)
Although standing at 1.87 metres, which is very advantageous for a right-back, his inability to win duels make him a prime target for the opponents and has to improve if he does want to make it big elsewhere. Also, while having positive progressive numbers, those do not reflect in the goals and assists a normal right-back should have. Klostermann will need to improve his final ball skills drastically too alongside his physicality.
BOOMING FACTOR
The Bundesliga has often being a good market for prospective buyers to buy defenders who are fast and strong and those who are in or about to reach their prime. Full-backs who are strong and also pacy are a luxurious item in some markets and this Euros could be the time to make a good impression for Klostermann if he wishes to make a move.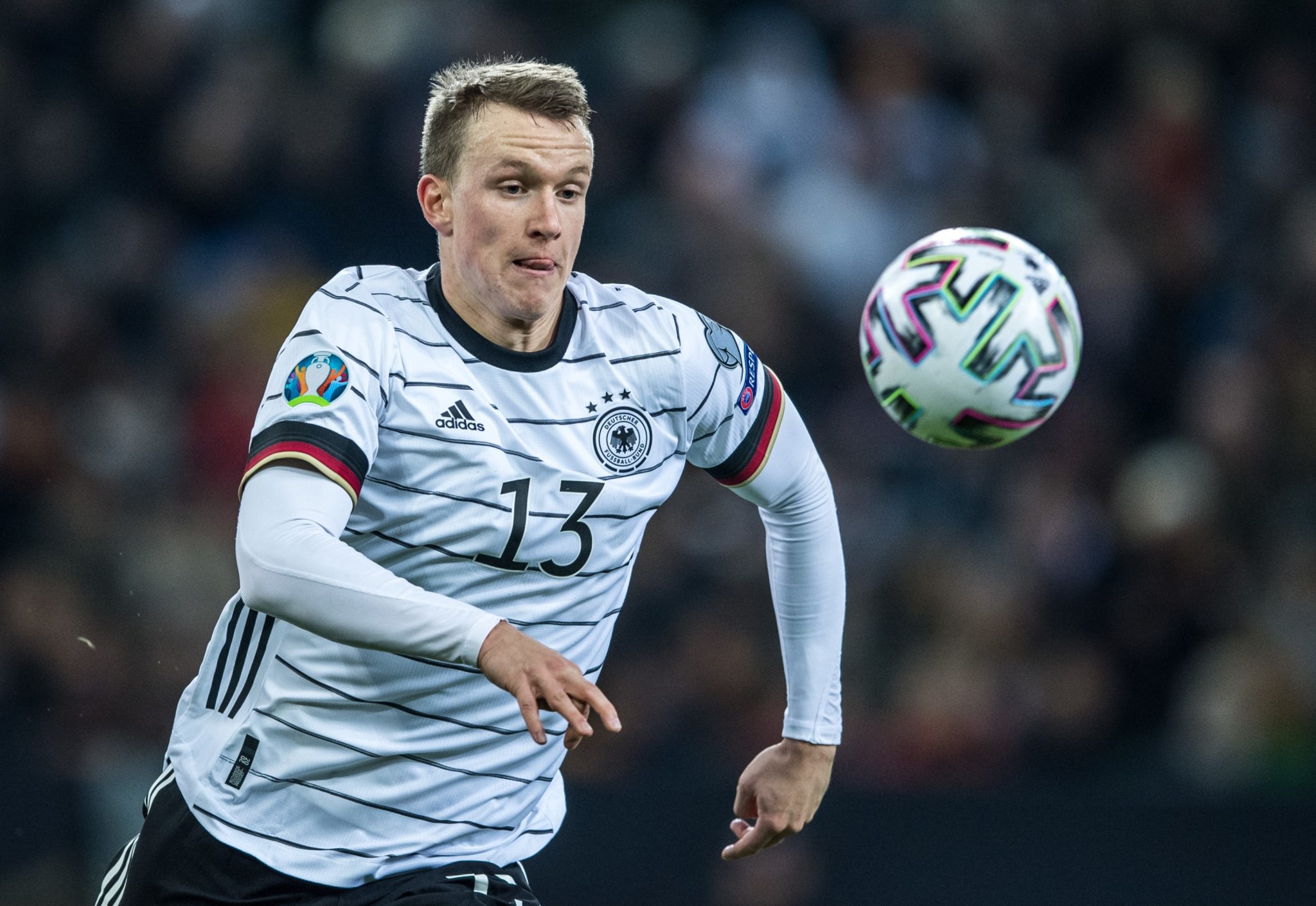 Klostermann, in his debut game for Germany. (Image Courtesy: UEFA / Website)
If the German can carry over his end-season performances from the Bundesliga to the Euros, it might be enough to convince prospective buyers to splash the cash for the 25-year-old.
Also, his ability to find passes from defence to attack can be the path for his explosion at the European Championship.
PREDICTION FOR EUROS
Despite his impressive performances for RB Leipzig in the league, Lukas Klostermann might not be guaranteed to start at the Euros for Spain. Such is depth in defence at Joachim Loew's disposal. And Klostermann starting in the opening game would mainly depend on where Loew wants Joshua Kimmich to play.
The World Cup-winning manager, at present, has two systems in which he tends to set up his German side. One is the 4-3-3, in which Kimmich is certain to start at the base of the midfield. If that is the case then, it paves the way for the Leipzig defender to start at right-back.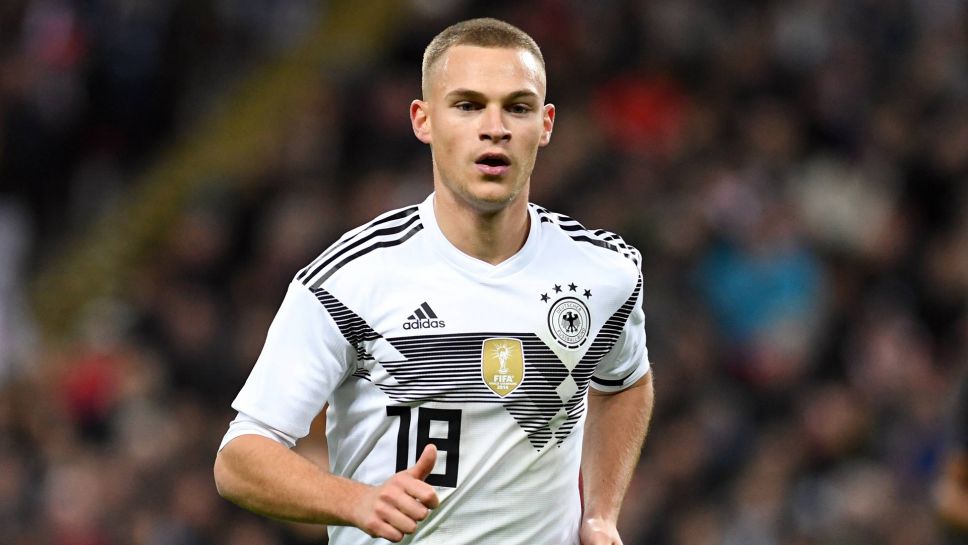 Klostermann's playing time at the Euros depends upon how the manager uses Joshua Kimmich. (Image Courtesy: Bundesliga / Website)
But if Loew wants to use his midfield talent and play Kimmich at right-back, Klostermann might miss out on a place in the starting lineup. Also, these days, Loew is preferring to start with a back three, which could see Klostermann starting as the right-sided centre-back.
A competent performance at the Euros combined with those in the league for Die Roten Bullen could very well be a message for clubs looking for players who can make it work in any kind of system or league.
IDEAL LANDING SPOT
With RB Leipzig qualifying for the Champions League this season, Klostermann is set to have top-level European football for the third consecutive season but after seven years at Leipzig, he might have the feeling to move.
Reports had emerged in the summer of 2020 that Borussia Dortmund had Klostermann on their recruitment lists since March but the signing of a new deal in May 2020 had subdued those rumours altogether. Apart from that only Arsenal have shown any form of interest in the German but nothing is concrete yet.
But, if he does move from the Bundesliga to a top club across Europe, it would have to be either of the North London clubs, Tottenham or Arsenal. Both of them, who finished 7th and 8th respectively, in the Premier League, have been plagued in the right-back position.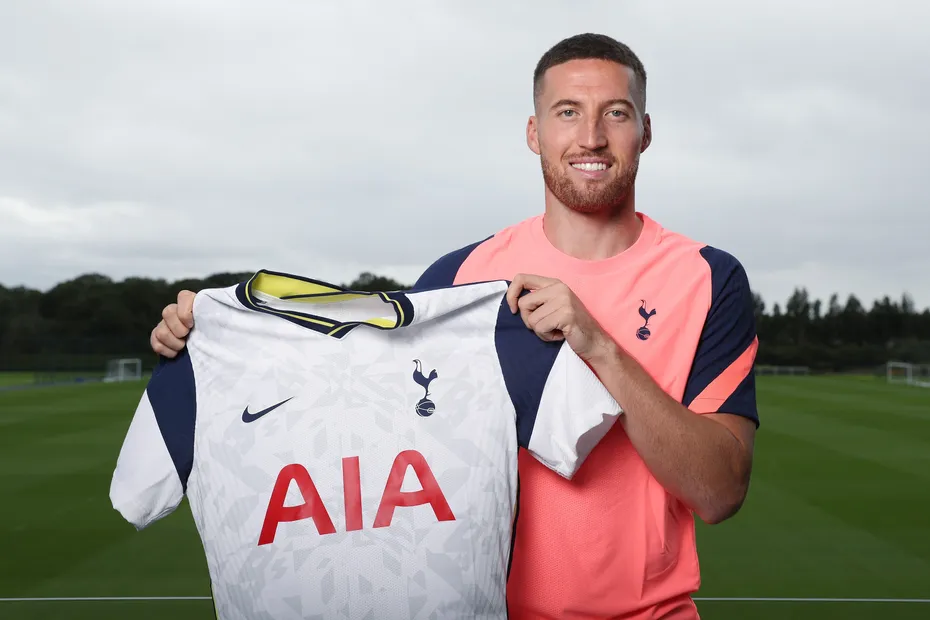 Matt Doherty has not lived up to the expectations in his debut season at Spurs. (Image Courtesy: Premier League / Website)
Matt Doherty, who was signed from Wolves at the end of the 2019-20 season, has been way too inconsistent for Spurs' liking while Serge Aurier's unneeded aggression at crucial stages has cost many times. On the other side of North London, while Arsenal needs a squad surgery, on the whole, the problems with the right-back have been lying idle.
Hector Bellerin has not lived up to the potential shown in the early years, while those who were brought in to provide competition, such as Cedric Soares, Calum Chambers, Stephan Lichtsteiner, failed to nail down the spot for their own.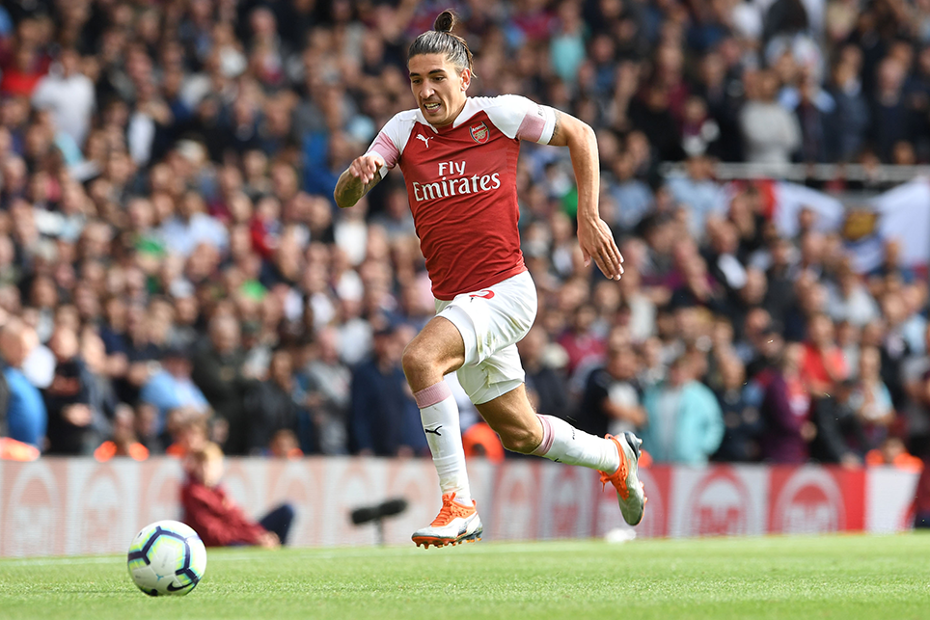 The inconsistencies of Hector Bellerin in the recent seasons are forcing Arsenal to find his replacement. (Image Courtesy: Premier League / Website)
And the frustrations of manager Mikel Arteta were visible when Bukayo Saka, a winger by trade, started in the right wing-back role in a game against Chelsea when three right-backs, Bellerin, Soares and Chambers were sitting on the bench.
But, Tottenham would only provide Conference level football in Europe while Arsenal cannot even provide that. And this sole reason might affect any move that Klostermann could make in the summer after what can be a productive Euros for him if everything goes right.