Italy find themselves in a strange place. One of the heavyweights in the game of football are being pitted as dark horses for Euro 2020. The Azzurri head into the competition having missed the last World Cup, a moment of major embarrassment for all involved. Roberto Mancini, appointed in 2018, has overseen the incomings of a whole bunch of new faces and youthfulness.
https://twitter.com/azzurri/status/1402928815605682181?s=20
They have one of the youngest squads at the tournament, with many bidding to play their first major international cup competition. It has been nine years since that infamous final defeat to Spain at Euro 2012, and Mancini and co. will be desperate to prove that their overhaul is no fluke by having a superb run. In that regard, FootTheBall analyzes the strengths and weaknesses of the Italian national team.
STRENGTHS
CURRENT FORM
If the Euros were to be determined based on form heading into the tournament, Italy would win it like yesterday. They are undefeated across their last 23 matches and have kept clean sheets in 16 of them. That includes a run of 25 goals and zero conceded in the last nine matches alone.
⛔ Just a single goal conceded in the last 12 matches.

⛔ Eight consecutive wins without shipping any goals.

⛔ 20 clean sheets in 32 matches since Roberto Mancini took charge.

The #Azzurri putting up big defensive stats 🔝🧱#ITACZE #VivoAzzurro pic.twitter.com/03xejrj9Qd

— Italy ⭐️⭐️⭐️⭐️ (@Azzurri_En) June 5, 2021
Mancini has made this team into world beaters since day one, and that was even more evident as Italy qualified for Euro 2020 winning all 10 of their group matches. He has lost just two of his matches in charge and using the 4-3-3 formation has enabled the Azzurri to build fast, attack faster. They are going to be serious opponents for any team this time around.
SUPREME MIDFIELD DEPTH
Italy have one of the most talented groups of midfielders at the Euros this time. Names like Nico Barella (Best Midfielder in Serie A), Jorginho (Champions League winner), Matteo Pessina, Manuel Locatelli, Bryan Cristante and others. Their play has been ball dominated and possession based which can rapidly translate to attacks.
The @azzurri's 3 KEYS to success at EURO 2020 🔑🔑🔑

A thread: pic.twitter.com/hLzEed2qVG

— Italian Football TV (@IFTVofficial) June 5, 2021
All of these players are extremely good at ball handling and moving with the ball at pace. Furthermore, their visionary passing and ability to play from box-to-box will be of big help. It is evident that most of their good work will go through this engine room and in scoring the goals they will need.
RED HOT GOAL THREATS
The Azzurri have some of the most prolific hitmen in their front three. The combined trio of Ciro Immobile, Lorenzo Insigne, and Andrea Belotti hit a combined 52 goals and 19 assists in Serie A. They are ably supported down the flanks by Domenico Berardi (17 goals, seven assists) and Federico Chiesa (nine goals, nine assists).
Berardi has now scored five goals in his last six #Azzurri matches 💪#ITACZE #VivoAzzurro pic.twitter.com/aQ7jH16WSo

— Italy ⭐️⭐️⭐️⭐️ (@Azzurri_En) June 5, 2021
Thus, Italy will pose danger for any defence that is tasked with dealing with these goal-scoring behemoths. They are able to play either down the middle or can switch between them seamlessly. Given that only three of these will be starting, Mancini has some great options to call upon later on in matches.
WEAKNESSES
SLOW CENTRE BACKS
Though they have some of the quickest and sharpest players going forward, their defence is…slow. Giorgio Chiellini and Leonardo Bonucci are on the last legs of their career, at 36 and 34 years of age respectively. Francesco Acerbi is 33-years-old.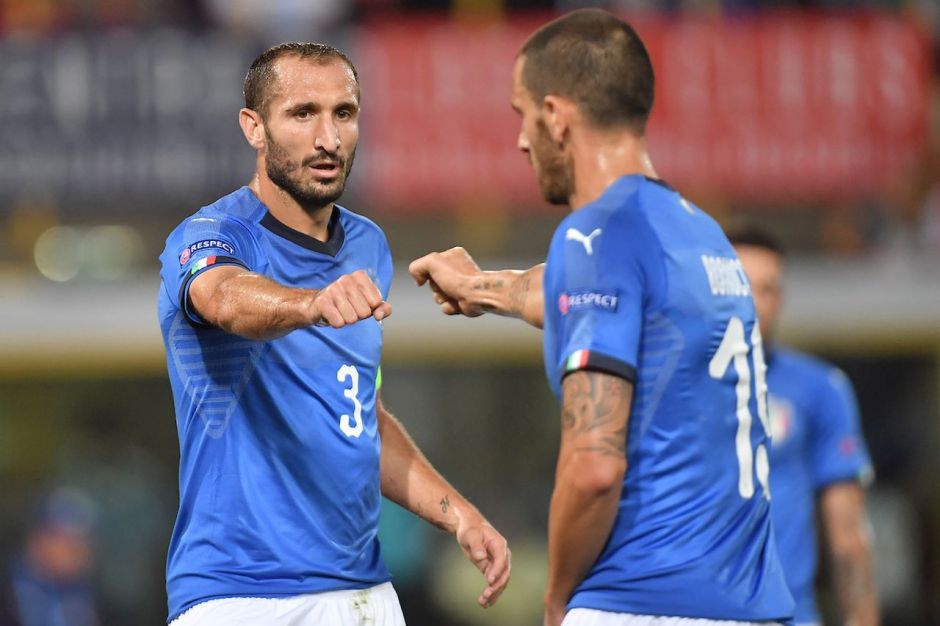 They will not be able to keep up with the pacey strikers that will charge at them knowing this. If Italy can shore up this problem, by dropping in an extra midfielder in front of the back-line or start with 22-year-old Alessandro Bastoni remains to be seen. Neither of the old heads would fancy a footrace one-on-one while tracking back that is for sure.
TOO MUCH YOUTH?
Italy have the youngest squad at the tournament, with exactly half (13) their players having earned less than 20 caps. That kind of inexperience at such a crucial tournament for the Azzurri is a bold move for Mancini. Granted that the players have been performing well for their respective clubs, but the international scene is a different ballgame.
The moment Giacomo #Raspadori made his Italy debut! 🙌#ITACZE #Azzurri #VivoAzzurro pic.twitter.com/hS0UGVUptL

— Italy ⭐️⭐️⭐️⭐️ (@Azzurri_En) June 4, 2021
Facing the world's best and the weight of an entire nation on them, mistakes might inevitably crop up from some of the young Turks. Mancini will need to instill a calm and matured mentality in them to make sure that they go toe-to-toe with the best in Europe.
Italy kick off the Euros with the opening match against Turkey. Along with matches against Wales and Switzerland to come, they will fancy their chances of topping the group. However, this is a tough group to call with the top three being pretty open choices. The Azzurri have enough talent and firepower to have a deep run into the competition based on their improvement over the past few years.