One must wonder about how much influence can a team's defence have in them scoring goals in the other half of the pitch. To understand this situation, we must start off with the fundamental knowledge that sides are built from back to front, not the reverse. Turkey are lucky enough to be blessed with three supremely talented center backs. They could prove vital at Euro 2020.
Turkey will go to #EURO2020 with a trio of defenders from Juventus, Liverpool and Leicester City. Very few European countries have that luxury.

All three of Merih Demiral, Ozan Kabak and Çağlar Söyüncü left Turkey before the age of 20 and played only 30 Süper Lig games combined. pic.twitter.com/m8mFJjy7v5

— Çetin Cem Yılmaz (@cetincem) February 2, 2021
As Sir Alex Ferguson once said, "Attack wins you games, Defence wins you titles," it is not only necessary for a team to score goals, but also need a capable defence can deal with opponent attacks and allow the forwards to score goals in a systematic manner.
The all-conquering Spanish team during the early 2010's is one of the clearest examples of this necessary balance in a side. What everyone sees is Fernando Torres, David Villa, David Silva, Andres Iniesta scoring goals and mesmerising every football fan, but the ones that allow them to do that are those at the heart of the defence, the set of Carlos Puyol, Sergio Ramos, Gerard Pique, Carlos Marchena and Raul Albiol.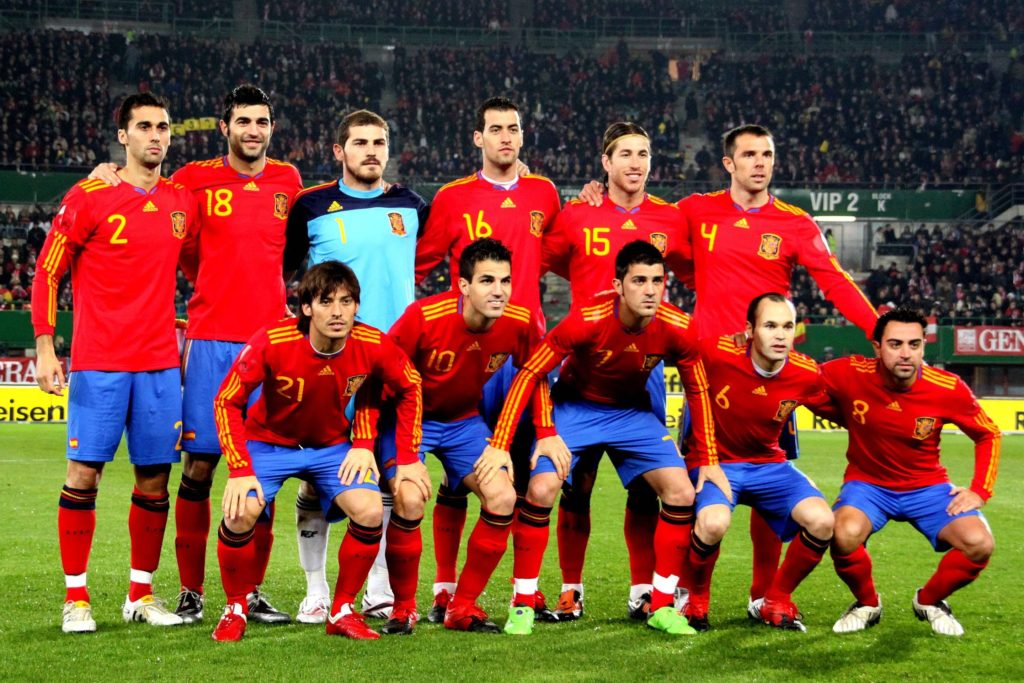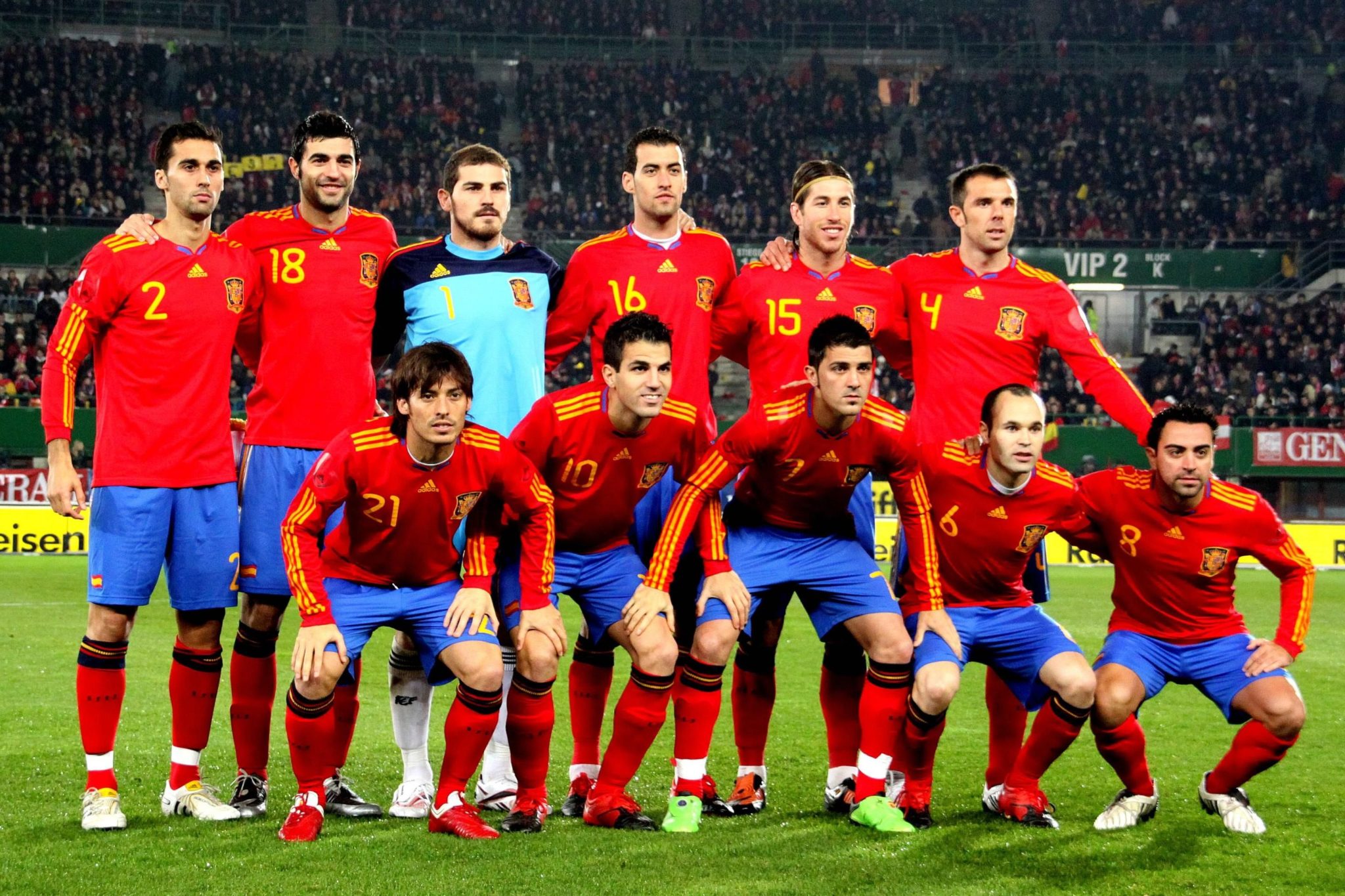 The all-conquering Spain side of 2010. (Image Courtesy: FIFA / Website)
While this article isn't about Spain and its balance, it is on the same line, about how Turkey, who have risen from the ashes and cultivated a talented group of exciting centre backs ahead of the Euro 2020. Although, as seen in our preview, Şenol Güneş plays the 4-4-2 diamond with two centre backs, we look at how Güneş can switch to a back 3, accommodating the likes of Ozan Kabak, Caglar Soyuncu, Mehri Demiral and to an extent Kaan Ayhan.
THE CENTRE BACKS
Turkey is blessed to have such a set of young and dynamic defenders on whom they can not build their side for the Euros but also for the future of Turkish football.
To start off we have Caglar Soyuncu, ever present in Leicester City's heart of the defence. Soyuncu, who left second division club Altinordu for Bundesliga side SC Freiburg in 2016 and subsequently to Leicester City in the Premier League in 2018. Thrust into the side after the departure of Harry Maguire to Manchester United, the 24-year-old has settled in seamlessly and has plugged the hole very well along with Jonny Evans.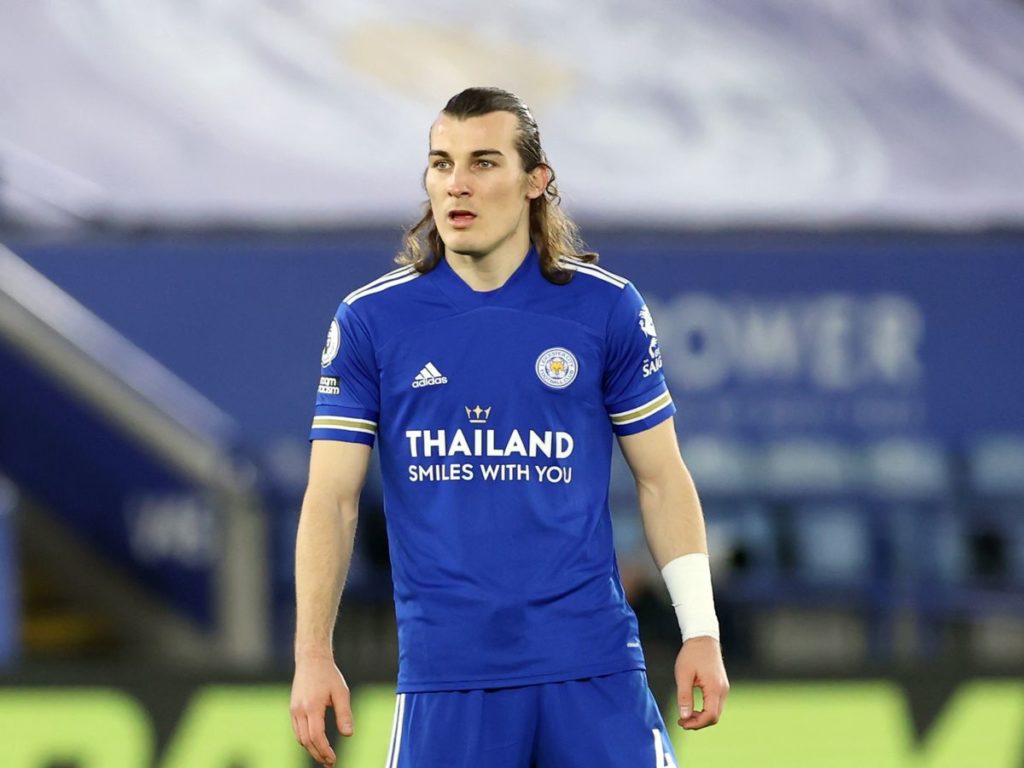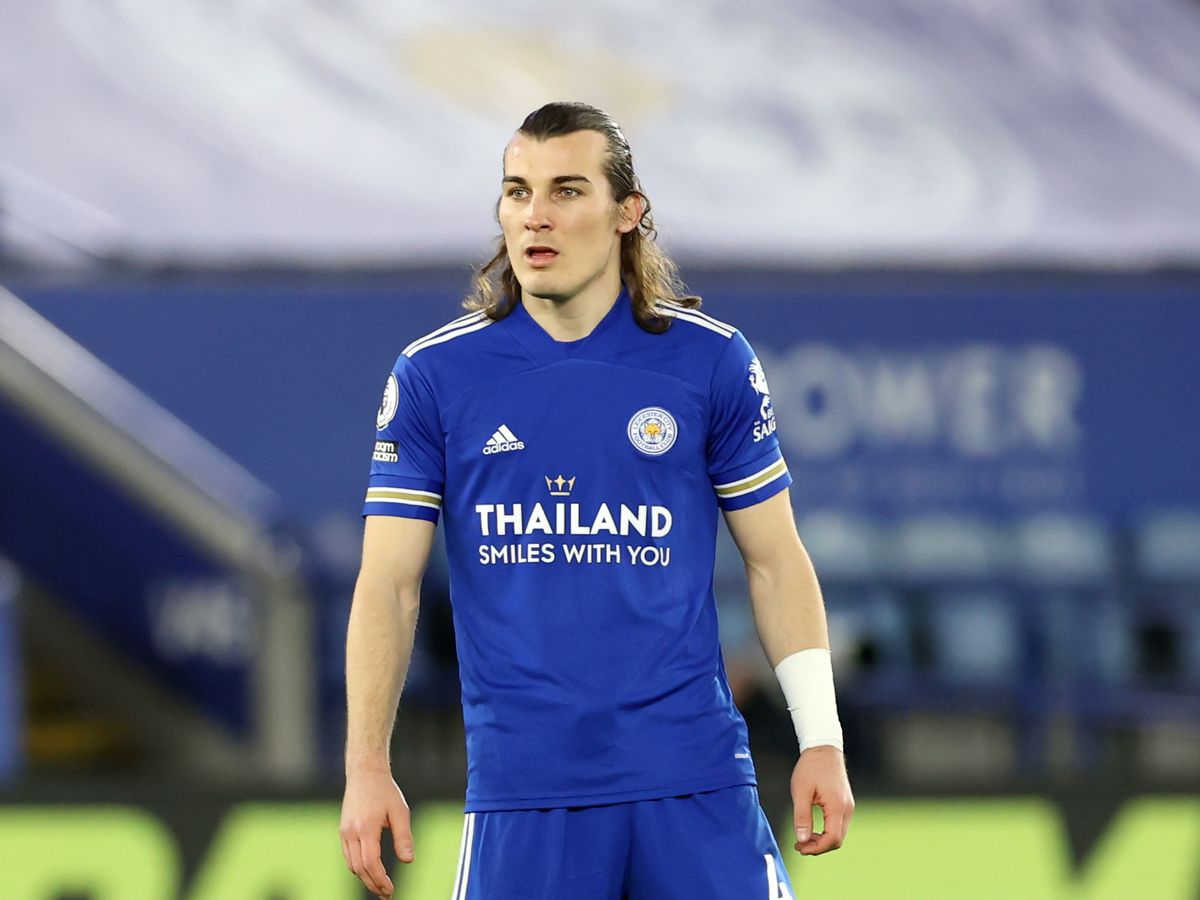 Soyuncu playing for Leicester. (Image Courtesy: Premier League / Website)
Also, he has 33 national caps to his name and is one of the first names on Turkish team sheet. If one looks at the recent games, it is not a surprise that the best chemistry Soyuncu has is with Merih Demiral. Demiral, a Fenerbahce youth product, gave his first impressions at Alanyaspor before moving to Sassuolo in the Serie A where he caught the eye of Italian giants Juventus.
In July 2019, after moving to Turin, Demiral suffered an Anterior Cruciate Ligament injury ruling him out for the remaining season and also the start of the 2020-21 season. Although he has recovered, he hasn't played as much he would have hoped to but is still a regular in the national side forming a strong partnership with Soyuncu.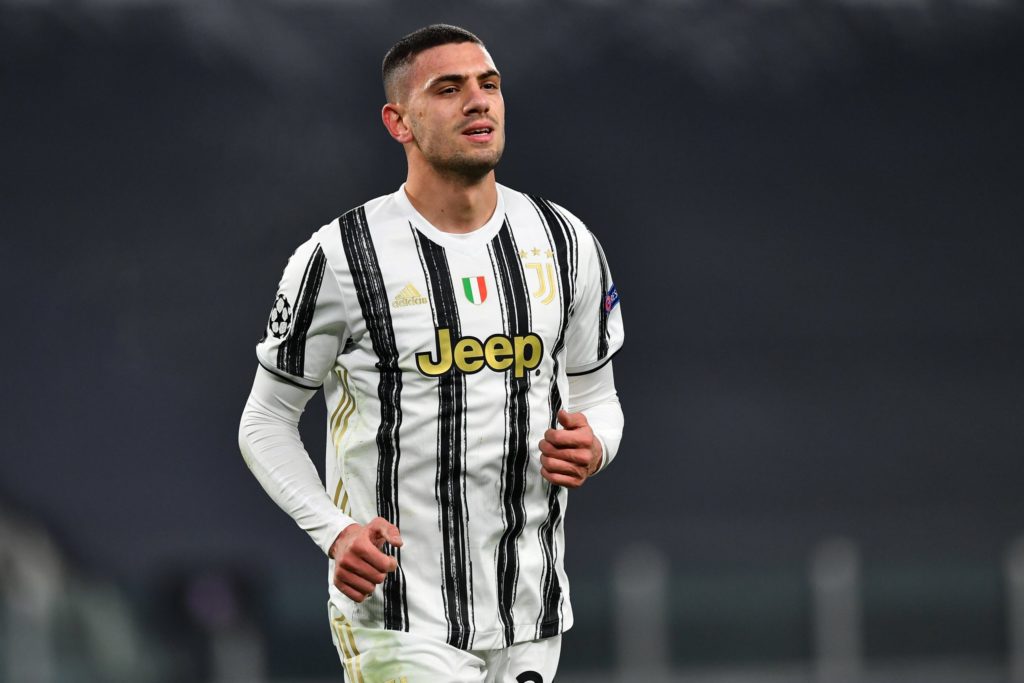 Demiral playing for Juventus. (Image Courtesy: Media Referee / Website)
Even though these two are very skilled defenders in their own right, Ozan Kabak is earmarked as the future of Turkish football and no one can argue with that fact. After moving to Stuttgart from Galatasaray in 2019, Kabak shortly after moved to Schalke where he made his name and displayed the immense potential that is in store.
In a side that struggled to contain goals being scored against them, Kabak was the lone bright star, who had to move away to take his career to new heights and eventually Liverpool came, albeit them being riddled with injuries, with a loan offer in January 2021 and an option to buy at the end of the season.
Analyzing Ozan Kabak's stats, it's clear that he's a substantially more aggressive defender than what Liverpool have. Kabak has 218 pressuring actions per 90 (very high with 36.7% success) contra van Dijk (133), Gomez (151). Kabak has 46 blocks, contra van Dijk (32), Gomez (25).

— Maxi (@MaaxiAngelo) July 27, 2020
Although it took time for the 21-year-old to settle down in Merseyside, he has made a positive impression with the fans, and looks like staying at the club after the season. Güneş gave Kabak his debut in November 2019, and since then he has been a regular in the squad and is being rotated with the other centre backs by the manager.
There is also a fourth defender in this young group, Kaan Ayhan. The 26-year-old has blossomed into a reliable pillar for German side Fortuna Düsseldorf before their relegation after which he moved to Serie A club Sassuolo where he has been sporadic starter. Having made his debut for the national side back in 2016, Ayhan has been in and around the squad and most probably will be on the flight for the Euros.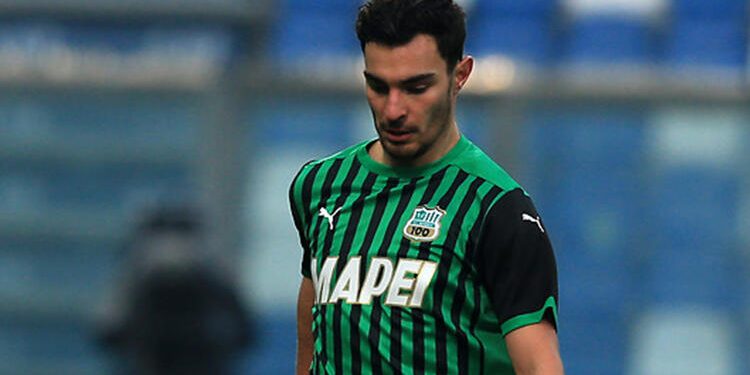 Ayhan playing for Sassuolo. (Image Courtesy: Gardiyanlar / Website)
HOW CAN GUNES SET TURKEY?
With a plethora of young and skilled defenders as discussed above, Turkey head coach Senol Güneş has an option to change into the 3-back formation, utilising the number of centre backs at his disposal. While having Soyuncu, Kabak and Demiral as the three centre backs and Ayhan deputising them whenever required, Güneş can set up his side in a more attacking manner in the other positions, such as playing Hakan Calhanoglu and Yusuf Yazici as the creative forces behind their talismanic striker Burak Yilmaz.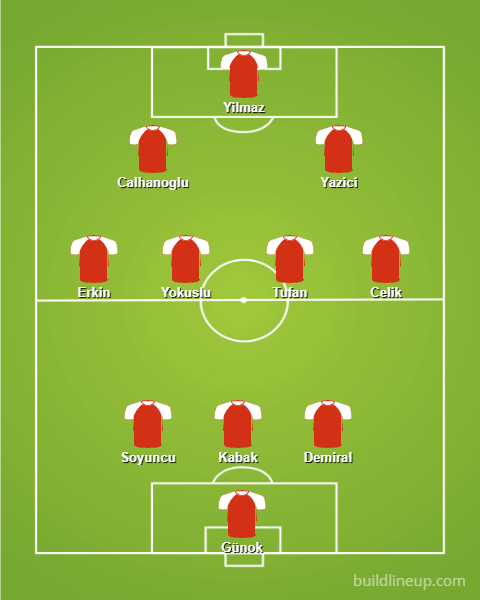 A potential lineup of Turkey with three centre backs.
Turkey, in order to make a strong impact in the Euros, has to maximise the amount of talent that it has, and in regard to that we, at FootTheBall, believe that a defensive line of Soyuncu, Kabak and Demiral is the way to go forward for Turkey in the upcoming Euro 2020 and also in the future. The balance that was talked about earlier comes into the picture as these three can provide the stability for the midfield and attack to go and win the games for the country.