When one looks at Chile, they must be thinking about a rich history with numerous trophies that they would have won with the talent they had. But it comes as a surprise that it took them 99 years since the Copa America was established (earlier as the Campeonato Sudamericana de Football) in 1916. In fact, they won nothing since their inception as the Chilean National Team in 1895.
Finally, the long, unbearable trophy drought came to end with the victory over Argentina in the 2015 edition, and success soon followed as they went to win the Copa America Centenario in 2016.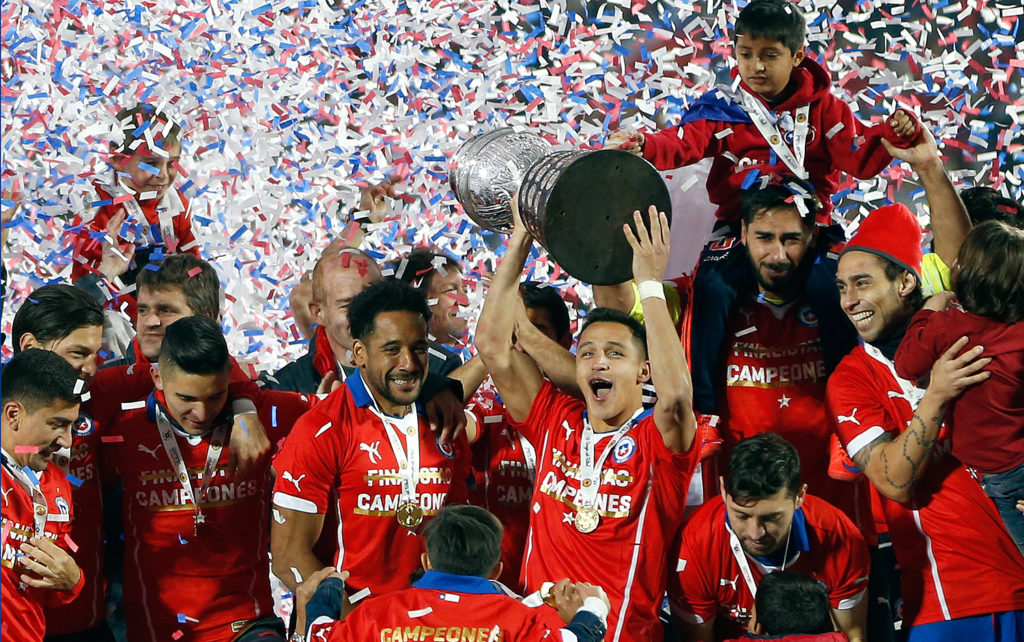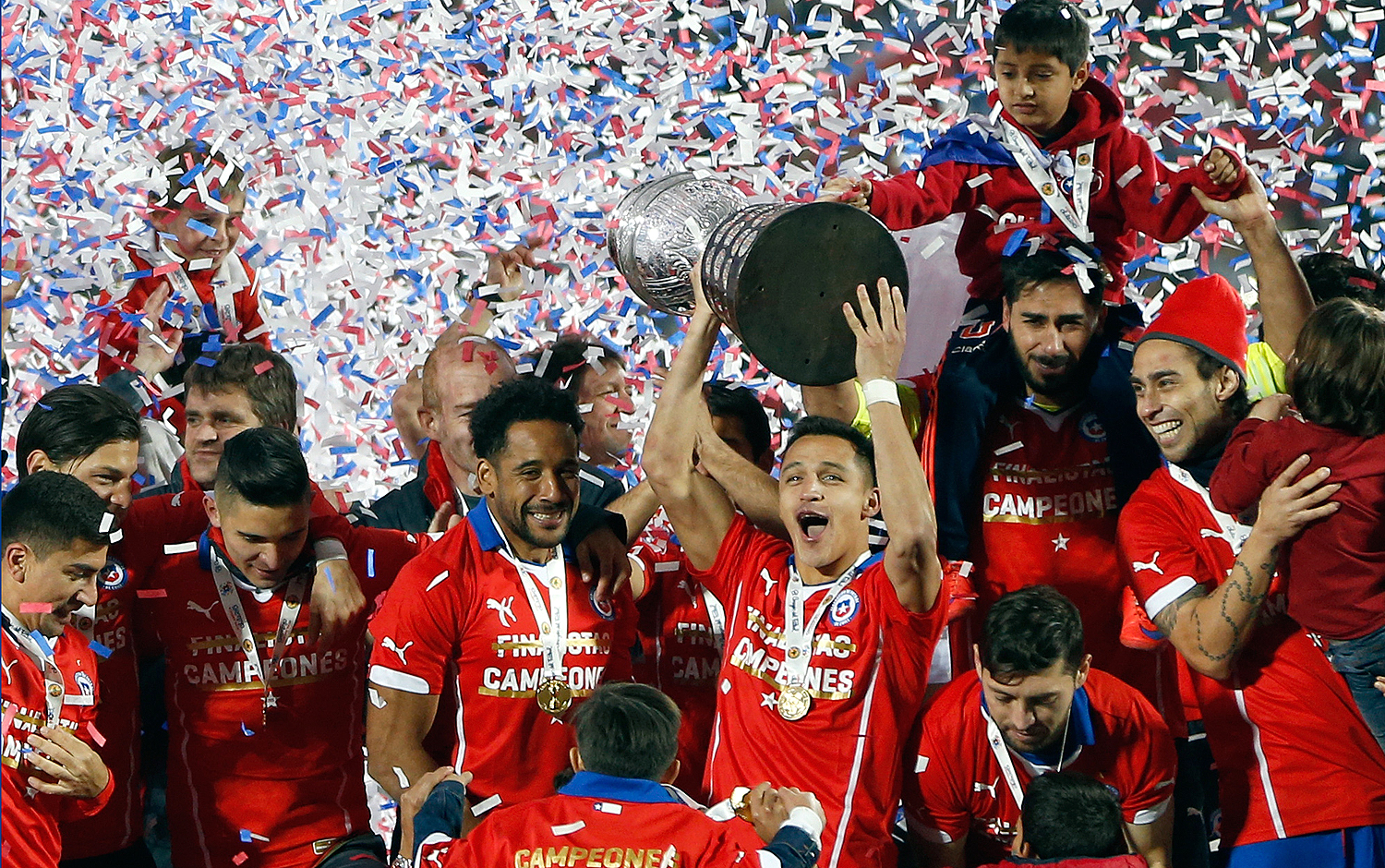 Chile after winning their first title in 2015. (Image Courtesy: CONMEBOL / Website)
Today we look back at both of their triumphs in 2015 & 2016:
CHILE LIFTED FIRST COPA AMERICA IN 2015
The title in 2015, was not just that the wait for a major trophy in 120 years ended, but it was that they won in front of their fans in their capital, Santiago, against star-studded and favourites Argentina who, just a year prior, were playing in a final of the World Cup. Chile were then managed by Jorge Sampaoli, an Argentine and an ardent fan of one Lionel Messi.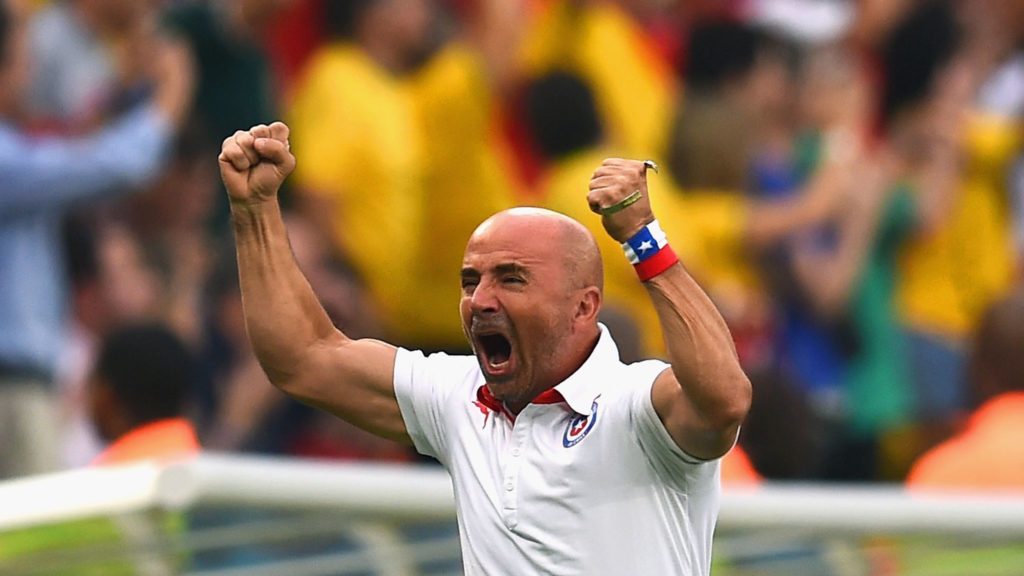 Sampaoli as the manager of Chile. (Image Courtesy: FIFA / Website)
This win was in making since 2007 as the Chilean youth side finished third in the FIFA U20 World Cup, which boasted the likes of Lionel Messi, Luis Suárez, Gerard Pique, Juan Mata, Willian, Angel Di Maria. The Chile youth side consisted future heavyweights Mauricio Isla, Gary Medel, Alexis Sánchez, and Arturo Vidal, who went on feature in the final in 2015. And all of this started when El Loco Marcelo Bielsa was appointed the manager in 2007 and he brought in a playstyle that is still visible with the Chilean national side even after 10 years since Bielsa left in 2011.
This was because he was eventually replaced with Sampaoli whose philosophy was inspired by that of Bielsa's. Prior to his Chile job, Sampaoli was manager at Universidad de Chile and won the Copa Sudamericana in 2011 with a side that included Marcelo Díaz, Charles Aránguiz, Eduardo Vargas, Mauricio Isla, Eugenio Mena, Johnny Herrera, José Rojas, all of whom were part of the 23-man squad in 2015 with Vargas, Aránguiz, Diaz, and Isla featuring in the final.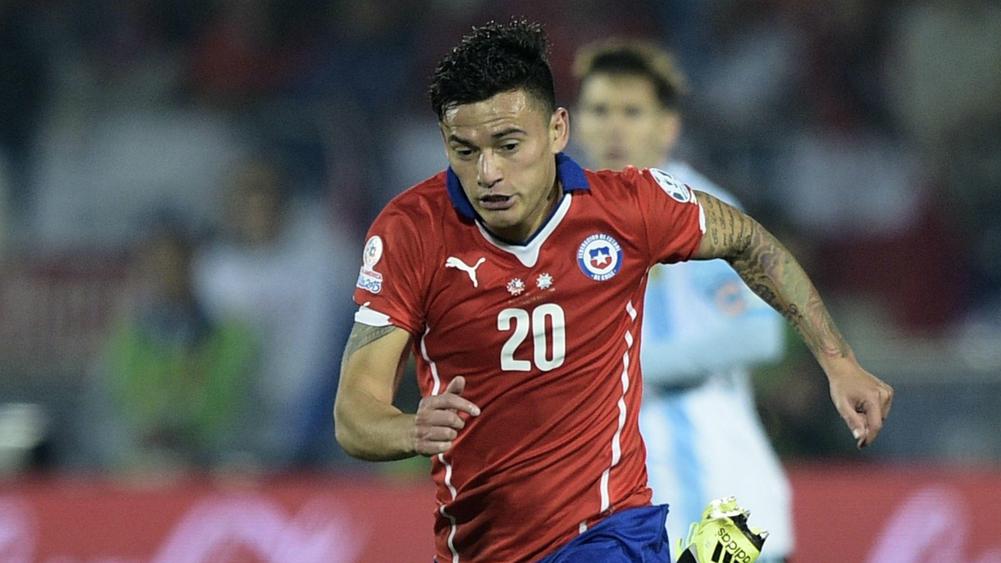 Charles Aranguiz in action. (Image Courtesy: CONMEBOL / Website)
Coming to the tournament itself, Chile were grouped with Bolivia, Ecuador and Mexico and were unbeaten with group, winning against Ecuador and Bolivia while they drew with Mexico in all action 3-3 game. As table toppers, Chile went on to face one of the favourites, Uruguay, in the quarterfinals and defeated them in a cagey affair that ended 1-0 with Mauricio Isla scoring a late winner.
In the semis, Chile faced off against Peru and won that game comfortably with a scoreline of 2-1, even though the scoreline would not suggest that it was comfortable. And in an astonishing final which could not be decided after full time, and not even an extra half hour could find a winner.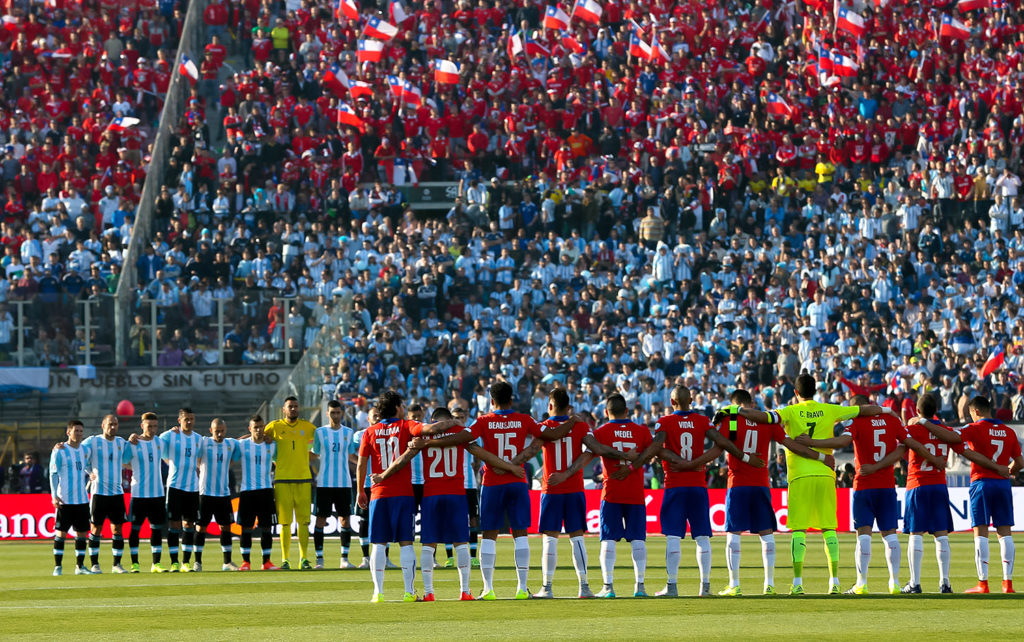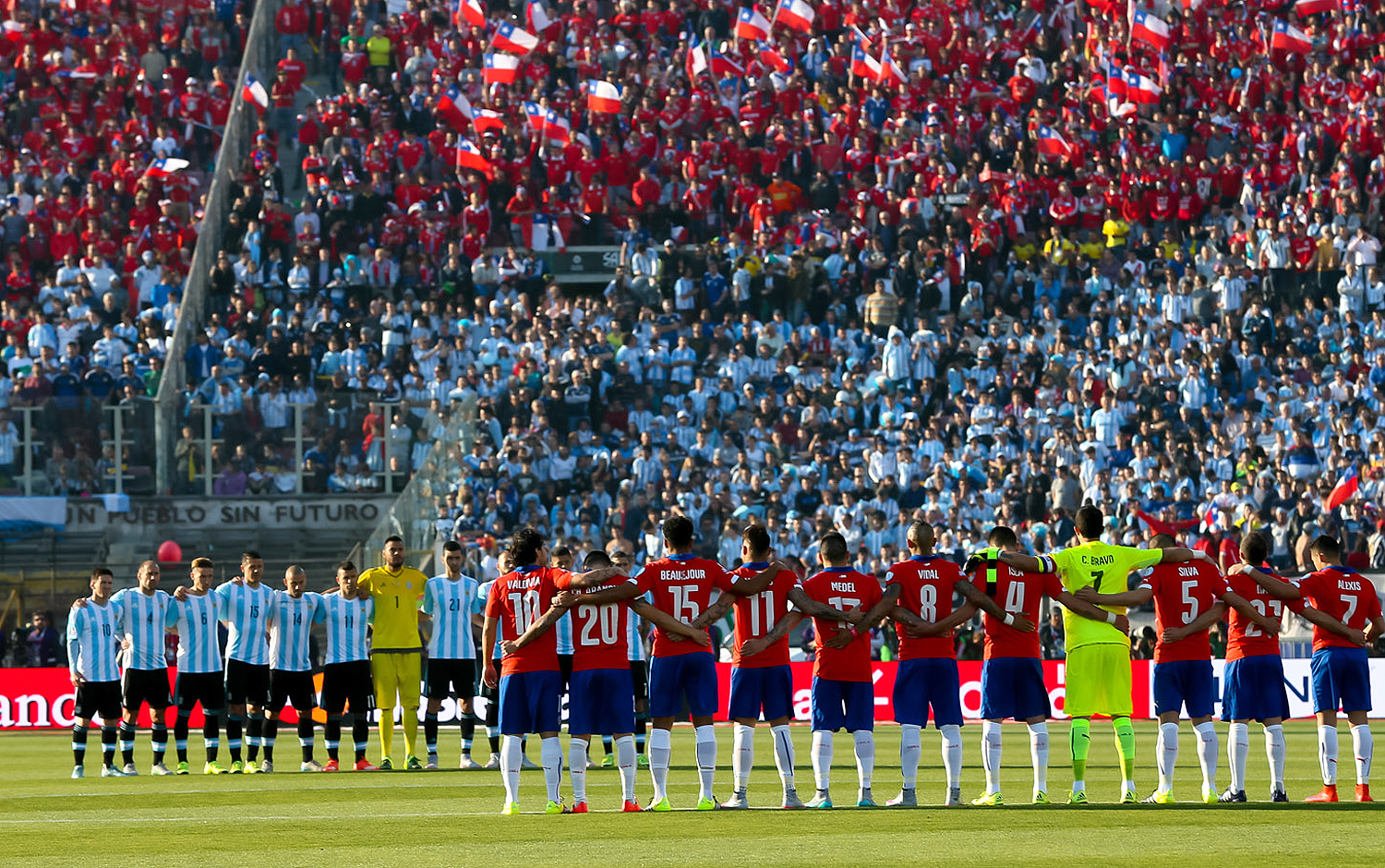 Before the start of the final against Argentina. (Image Courtesy: CONMEBOL / Website)
Led by then FC Barcelona keeper Claudio Bravo, Chile went out all guns blazing in the penalty shoot-out scoring all four of their attempts and Bravo was the hero after saving Ever Banega's spot-kick after which Alexis Sanchez blasted Chile home to a memorable victory in Santiago to lift their first Copa America.
CENTENARIO TRIUMPH IN 2016
Widely remembered for the scenes of Messi shedding tears after the final, the Copa America Centenario was a commemorative version of the Copa America, held to celebrate the centenary of the tournament and its organiser, CONMEBOL. Held for the first time outside of South America in USA, this edition consisted of 16 teams rather than the usual 12 as the CONMEBOL partnered with the CONCACAF to honour the occasion.
Chile went into tournament as defending champions of the Copa America for the 2015 edition and the squad was more or less the same with 16 out the 23 that won in 2015 travelled to USA in 2016.
Now managed by former FC Barcelona striker Juan Antonio Pizzi, they were grouped with eventual finalists Argentina, Bolivia, and Panama, who were making their first appearance in the competition. After losing in the first match against Argentina, Chile defeated the other two teams to reach the knockout stage.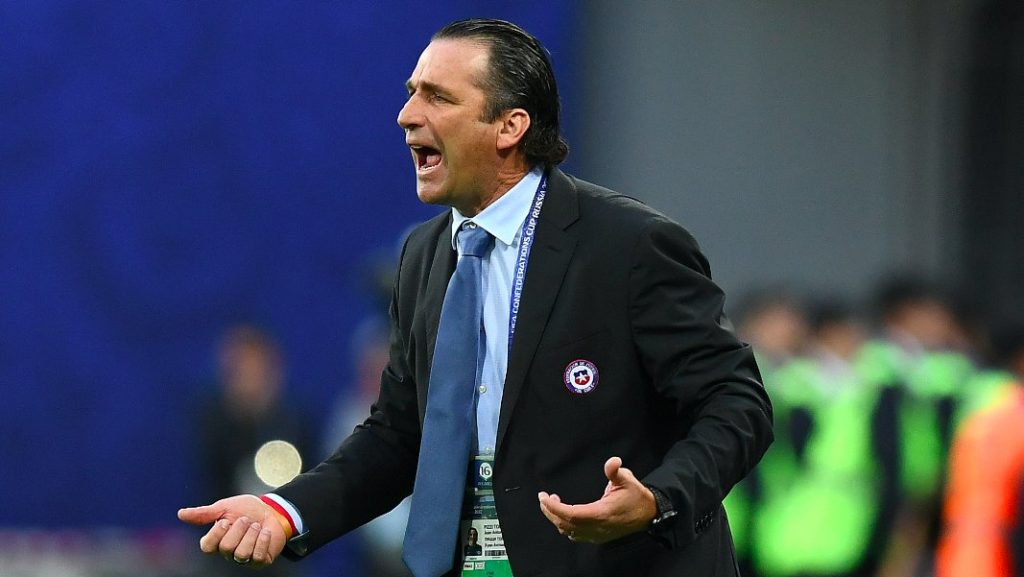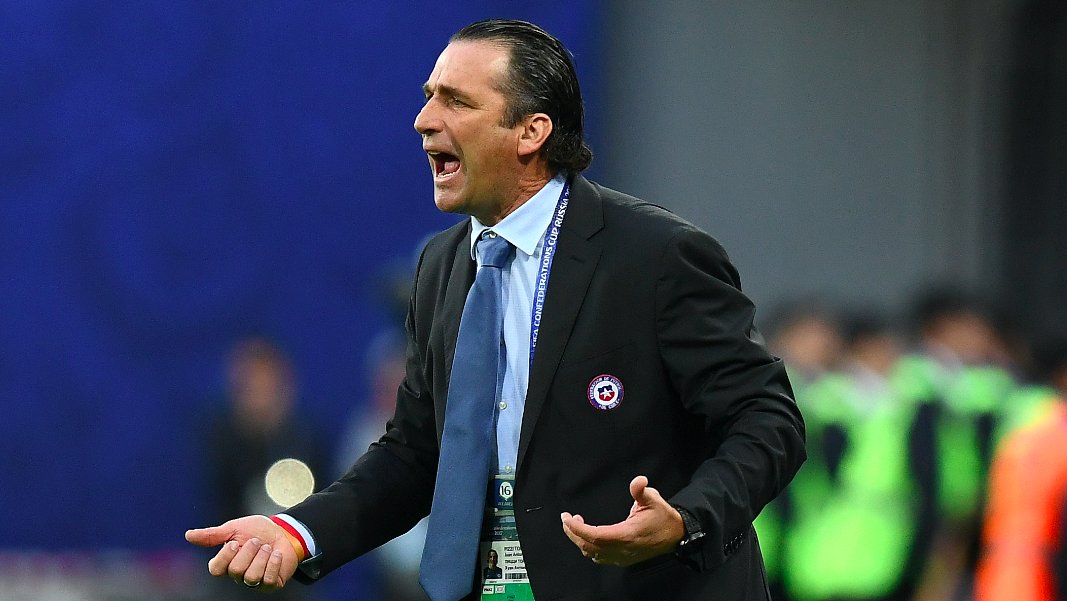 Pizzi as the manager of Chile. (Image Courtesy: FIFA / Website)
As runners-up, Chile faced Mexico in the quarterfinals and demolished them with a score-line of 7-0, which included four goals from the Golden Boot winner Eduardo Vargas. In the semis, they came up against Colombia and won the game 2-0 with 2 early goals sealing the match.
Eduardo Vargas scores four as #CopaAmerica defending champions Chile rout Mexico 7-0! pic.twitter.com/rkggfqB8Bk

— ESPN FC (@ESPNFC) June 19, 2016
The final however, was the same as the previous year, as it ended up 0-0 and once again it took a penalty shoot-out to crown a champion. With 9 of the 11 that started in the prior final, Chile went to beat Argentina 4-2 on penalties that included a miss from Messi.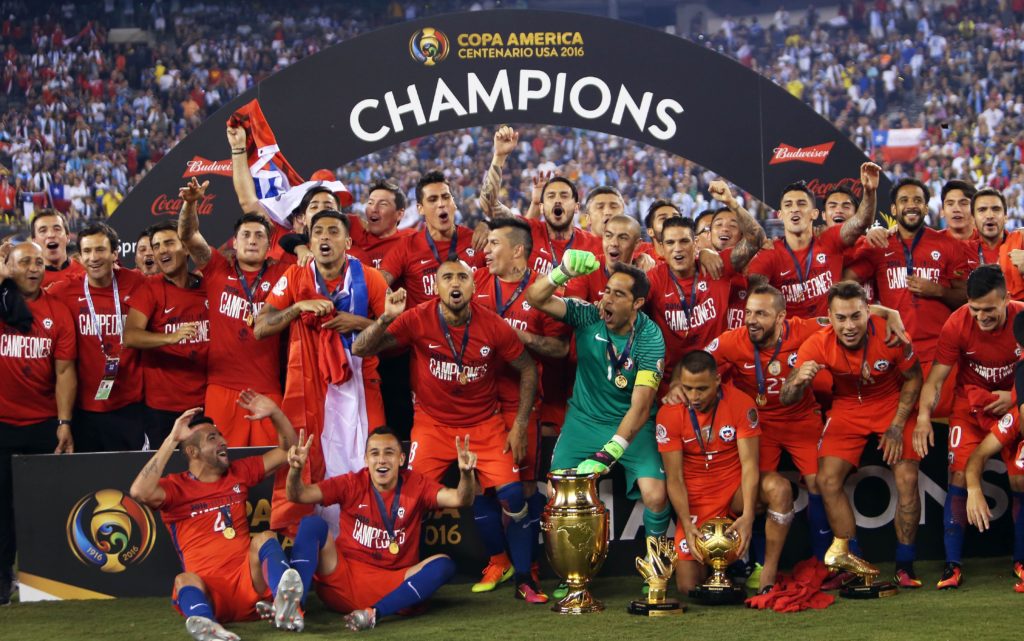 Even though Chile won Copa America 2016, it is still remembered as the one in which Messi announced his retirement from international football after failing to lift a trophy for his country.
However, one should not discount the efforts that were put in by Chile for their two consecutive triumphs and appreciate the foundations that have been placed for them to move over and beyond their expectations.