Jamal Musiala debuted for Joachim Loew's Germany team in 3-0 win against Iceland. The Bayern Munich Prodigy came on for Chelsea attacker Kai Havertz as fans of Germany rejoiced to see the wonderkid dawn the all-black kit.
Jamal Musiala 🇩🇪 pic.twitter.com/cQDHtPwh7U

— Bayern & Germany (@iMiaSanMia) March 25, 2021
 Having already played for the England youth sides Musiala declared he wanted to represent Die Mannschaft at the senior level. Musiala was courted by Joachim Loew himself who seemingly sees him as a long time successor to Thomas Müller. 
The Raumdeuter  who has been pivotal in Loew's Germany setup, will be hoping that Jamal Musiala announces himself at the international stage in this tournament as he also enters the twilight of his career. It'll be a proud moment for the Bavarian side as one unique attacking midfielder passes the mantle onto another emerging attacking midfielder.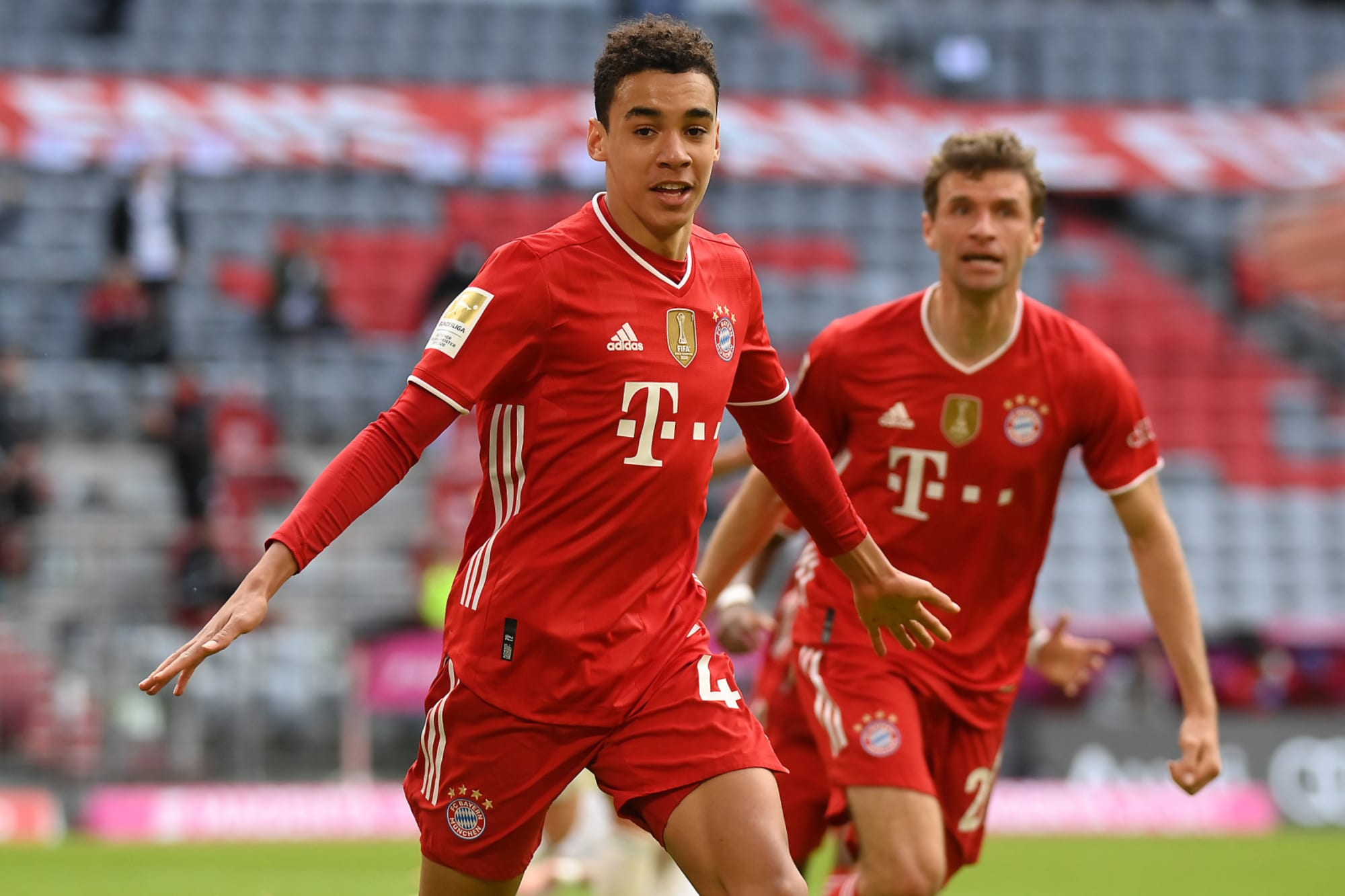 Another meteoric step for the 18 year old as he might prove vital for this German side.Who are looking to recover after the previous two disappointments at international tournaments. The players would love to give a beautiful send off to their beloved manager too, who will step down after Euro 2020.
JAMAL MUSIALA: A FUTURE STAR FOR GERMANY
Musiala was a revelation last season as Musiala came off the bench against Freiburg to become Bayern's youngest-ever player in the Bundesliga at just 17 years and 115 days old.
Although he only played a single game last season his quality was clear to see and Hansi Flick has handed the teenager 21 appearances this season in the Bundesliga. 
Flick on Musiala: "We didn't have much control over the ball at the beginning of the game. But that changed when Jamal came in. He's always making himself available and asking for the ball. What he's showing for his 17 years of age is already very mature." pic.twitter.com/A8Toph2piG

— Bayern & Germany (@iMiaSanMia) December 5, 2020
In his limited minutes this season Musiala's number frankly are superb he has scored 4 in the league and on ein the champions league in 5 appearances.
What really stands out in his numbers is his workrate and his versatility. Jamal Musiala who can play a number positions with ease much like Thomas Müller shows an ability to adapt his game to the needs of the team and the manager.
The prodigy who is most comfortable playing as a No.10, can also fill in as a winger on either flank or as a box-to-box  midfielder. This season Musiala has a non-penalty expected rating of 0.5, which means he is expected to score a goal every two games. 
His dribbling and passing stats are also impressive for such a young attacker. Musiala completes roughly 4.6 dribbles a game , a clear indication of his skill and control. He also completes about 42 passes a game at an astonishing 87.4% accuracy.  
Jamal Musiala has completed 4.6 successful dribbles per 90 minutes, more than any other player in the Bundesliga to make 15 or more appearances this season [WhoScored] pic.twitter.com/YvAkFJQY6i

— Bayern & Germany (@iMiaSanMia) March 24, 2021
The young man loves being on the ball trying to make things happen apparently. He also creates a solid 3 chances a game for the dominant Bavarians, a figure close to Grealish at Villa.
What really stands out about the modern day number 10 is his defensive work rate. For a playmaker who plays in this Bayern setup under Flick is bound to prosper with such a work ethic.  
Musiala who makes 24 pressures a game and makes about 4.4 tackles and interceptions a game, is bound to become a fan favourite. His drive is clear to see for everyone.
As the game molds into a high pressing high intensity version of itself, number 10s like Musiala will surely leave their mark on the beautiful game.  
Jamal Musiala has a very bright future ahead of him. No wonder the Germany boss fast tracked him into the senior squad to make sure he does not play for their bitter rivals England.
What is more painful for England is that Musiala could have possibly been the perfect understudy for Mason Mount who plays a similar role for club and country. Southgate must be sulking on the inside as Mount also does not have a direct replacement for him in this England setup. 
WHAT TO EXPECT FROM JAMAL MUSIALA AT EURO 2020 
Loew will surely take Musiala as Thomas Müller's understudy. He would also expect the young player to be sponge around the likes of Kroos, Gundogan, Müller and Brandt.
Jamal Musiala on his debut: "It's a very big moment for me and my family. That's what you dream of when you're very young. I'm very proud and just happy to be here. The team has received me well, I feel good here" [@kerry_hau] pic.twitter.com/YRitVNYW8J

— Bayern & Germany (@iMiaSanMia) March 25, 2021
Hopefully Musiala will get some playing time at Euro 2020 as he would be a world class player that Germany could bring on from the bench, knowing that he could possibly change a game if need be.
Let's hope this young German squad can show why they are producing the best young players in the world right now and not France.