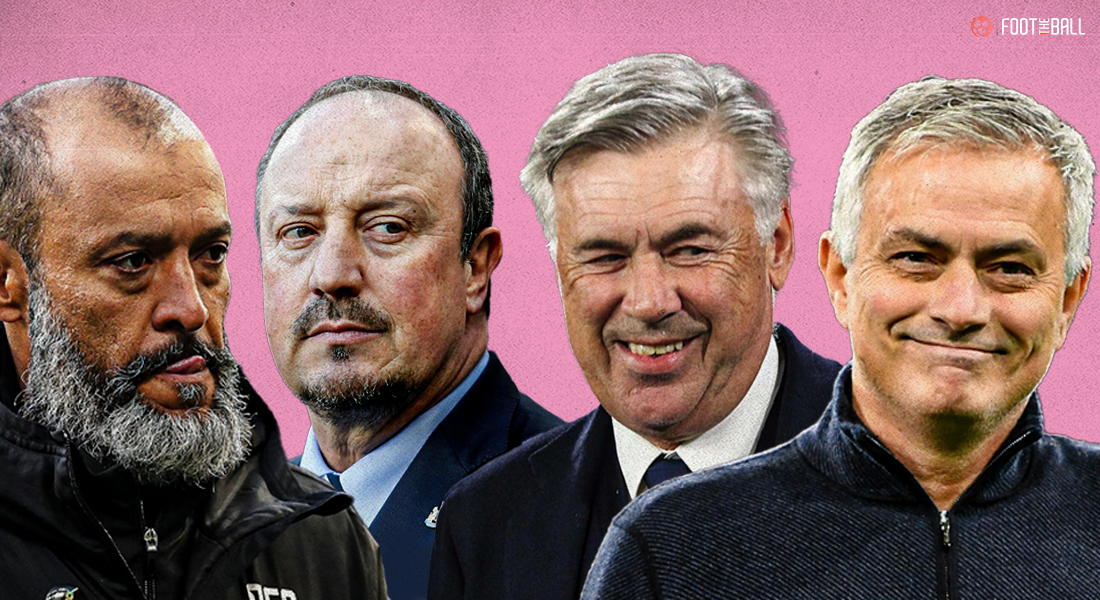 RAFA BENITEZ AND NUNO SANTOS INHERIT A MANAGERIAL THRONE THAT HAD TWO CHAMPIONS MANAGING THEM
While Jose Mourinho was astoundingly sacked by Spurs minutes before a domestic final, Carlo Ancelloti joined hands with former outfit Real Madrid as Tottenham Hotspurs and Everton captured Nuno Santos and Rafa Benitez as their replacements. While Nuno's bravery and Benitez's glorious days trembled around England, the appointment of both these managers could be an underwhelming decision for the English outfits.
Although Rafa Benitez proudly captured the European Throne with Liverpool in 2005, the Spaniard's tenure at Newcastle ended bitterly and is looking for a revival for himself. And Nuno's blueprints could match with Levy's roadmap, but the quality under Nuno's managerial CV can never attain the benchmark set by the Special One.
And though the managerial chairs are filled at both the clubs, the candidates occupying the position can be considered a downgrade rather than an upgrade. With all of this taken into consideration, the appointment of Benitez and Nuno Santos can prove to be an underwhelming decision.
DRAMA BEFORE SHOWDOWN AT WEMBLEY
While the Toffees quest for manager didn't involve a billion candidates, the administrative chair at Spurs saw them juggling between numerous applications. Jose Mourinho's shocking departure from Wembley saw Daniel Levy hiring an inexperienced Ryan Mason to sail Tottenham's ship in the remaining matches.
Harry Kane's teammate a few seasons ago, the inexperience shrouding Mason's CV explained why the English midfielder's managerial adventure didn't last long. A mixed set of results saw the 30-year-old depart from Wembley as soon as the curtains were drawn onto England's top-flight.
And after Mason's tenure ended, Daniel Levy struggled to find the perfect match for their managerial position. From Antonio Conte to Paulo Fonseca, the catalogue of rejections received were endless. While some shut shop because of the lack of funds, the others weren't matching with Levy's blueprint.
After months of delay, Wolves' manager Nuno Espirito was finally appointed the leader of the pack. But the question remained whether the current Portuguese manager is a downgrade to the ex-Portuguese grandmaster that was in charge of the North London outfit.
Official: Tottenham appoint Nuno Espírito Santo as their new head coach on a contract until 2023. pic.twitter.com/lg4ekL1pMY

— ESPN FC (@ESPNFC) June 30, 2021
Although the quality surrounding the 'Special One' has declined in the past few campaigns, the experience under Mourinho's basket puts to shame numerous Premier League managers. While Jose Mourinho carried a championship pedigree with himself, the Portuguese grandmaster could have revamped the situation at Wembley if he would have been given freedom and time by Daniel Levy.
Take the example of Old Trafford. Since Sir Alex Ferguson's departure, the Red Devils have had a few shambolic European and domestic evenings. While the English crown has eluded the Theatre, United have been disastrous in the Champions League on several occasions.
Ask Ole Gunnar Solskjaer how difficult it is to conquer the Europa League and he'll be prepared with a 10 point explanation. But Jose Mourinho led the same Red Devils to European glory a few years back, elaborating why he's been the perfect manager at the Theatre after Ferguson's retirement.
FT: Ajax 0 #MUFC 2. We've won the UEFA Europa League! #UELfinal pic.twitter.com/dROsganZDm

— Manchester United (@ManUtd) May 24, 2017
Also, Tottenham's biggest headache in the last few seasons has been defending the advantage awarded to them. When your forward battery consists of Harry Kane, Heung Min Son, and Gareth Bale, the opposition's frame will be called into action. But the depleting defenders at Wembley leaked goals spoiling their party.
And one thing that Jose Mourinho can perfectly do is preserve an advantage. The Portuguese could convert a 1-0 lead into three points within the blink of an eye.
Lastly, Nuno's inexperience in coaching England's Big-6 could hamper Tottenham's resurrection. David Moyes perfectly managed the Toffees' but faltered at the Theatre, and the Portuguese signing could be following Moyes' footsteps. The Premier League is an ocean full of unpredictability with Tottenham being one of them, but Nuno's arrival at Wembley could see the outfit in white become the small-fishes swimming in an enormous ocean, dropping down in the Premier League's food chain.
EVERYTHING ISN'T GOOD AT GOODISON
While the managerial post was filled early at Goodison Park, the situation of the Toffees' mirror that of Nuno's brand-new adventure. A familiar face to the spectators at Merseyside, the hiring of Rafa Benitez sent shockwaves throughout the world. The manager who once coached rival outfit Liverpool was now in charge of guiding Everton to the big boys' table.
We can confirm Rafael Benitez has been appointed as our new manager.

— Everton (@Everton) June 30, 2021
While replacing Carlo Ancelloti at Everton would be a questionable job for anyone, Rafa Benitez could prove to be the worst chosen candidate. During his Anfield tenure, Benitez conquered the European throne, capturing triumphs in 126 games out of the 228 he managed. But the star-studded Liverpool squad won't be available at his fingertips when he dictates the movement at Goodison.
Gylfy Sigurdsson and Andre Gomes would be substituting for Steven Gerrard's and Xabi Alonso's midfield magic. Liverpool and Chelsea haven't found the perfect replacement for Fernando Torres, leave aside Benitez to find a look-alike of the Spaniard at Everton. Although the Toffees are packed with quality, Benitez's inexperience in leading a mid-table outfit could be exposed this summer.
Happy Birthday to serial #UCL winner Carlo Ancelotti!

The @realmadriden boss is 62 today 🥳 pic.twitter.com/AI7oxnzarZ

— UEFA Champions League (@ChampionsLeague) June 10, 2021
Worth-mentioning is the fact that Ancelloti like Mourinho contained a winning ancestry. Los Blancos would be aware of the Italian manager's Champions League heroics, elaborating why Florentino Perez was keen on capturing the Dons signature this summer. But Benitez's glory days are behind him, with the Spaniard forgetting the roadmap to silverware with each passing day.
🇨🇴 | It's official… @jamesdrodriguez is a Blue! 🔵#AlóJames pic.twitter.com/hNDsLvtqtT

— Everton (@Everton) September 7, 2020
Finally, Ancelloti's name carried authority in England something Benitez's title could lack. James Rodriguez departed from Real Madrid only because of Ancelloti brunch in charge of Everton, and the lack of signings this summer have proved how Everton could be galloping toward a shambolic campaign of football.
The end of the season could prove why the appointment of Rafa Benitez and Nuno Santos could prove to be an underwhelming managerial choice for Everton and Tottenham Hotspurs respectively.