Last summer, fans of football were treated to one of the greatest transfer windows in history. Not only did we see the return of Cristiano Ronaldo to Manchester United, but the crazy saga of Lionel Messi's shock move from Barcelona – something we never thought we'd see – we saw Jack Grealish, Jadon Sancho and Romelu Lukaku move in deals for astronomical fees.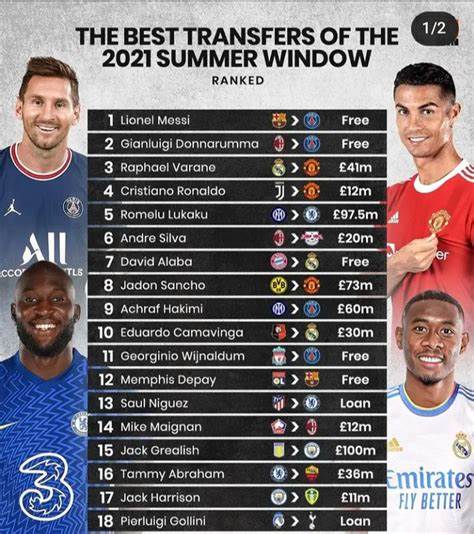 What's especially crazy is we could see an even more bumper transfer window this summer. In this article we look at the biggest potential deals in the summer of 2022, with the odds of those potential moves, according to operators found on Compare.bet.
Kylian Mbappe
The future of the french wonderkid striker has been in doubt for some time now, with multiple teams in the hunt for his signature. Mbappe's deal runs out in the summer, making him available for a free transfer.
According to the bookies, the favourite to win the race for Mbappe is Real Madrid, with odds at 14/1. Others believed to be in with a chance at securing one of the world's best players are European champions, Chelsea, at 16/1, Liverpool at 18/1, and Manchester United at 20/1. The reason behind Madrid being the favourites are multiple reports that it is the Frenchman's dream to play for Los Blancos.
Kylian Mbappé wants to join Real Madrid. This summer or next summer as free agent, he wants to make his childhood dream come true. That's why he's turning down PSG new contract bids. ⚪️ #Mbappé

NO English clubs in the race. Real offered €160m. NO green light from PSG as of now. pic.twitter.com/TS82SsTOl8

— Fabrizio Romano (@FabrizioRomano) August 24, 2021
Mbappe released a comic book autobiography called "Je M'Appelle Kylian" in collaboration with illustrator Faro in November, which made it very clear that his dream as a child was to play for the Spanish giants. This is made even more clear by one part of the book where he is visited in a dream with Real legends Zinedine Zidane and Cristiano Ronaldo and Zidane gifts him a Madrid kit.
ESPN reporter Julien Laurens spoke on Canal Supporters' Twitch live stream and said while an offer from PSG is on the table, and it can't be ruled out that he stays at PSG, the chances of Mbappe making the move to Real Madrid are higher than the chances of him remaining in Paris.
Kylian Mbappe adds some to context to his transfer saga 🗣 pic.twitter.com/gCkP7MZ52M

— International Champions Cup (@IntChampionsCup) October 4, 2021
Even Zlatan Ibrahimovic has had his say on the potential deal, saying to the French newspaper L'Equipe: "Only Kylian can answer this question, it depends on what he wants and what he thinks, "It is true that one day he asked me and I replied, 'If I were you, I would go to Real Madrid.' I had the opportunity to play for different teams in different countries, that's how I learned and grew up. Playing at home your entire career is easy." While fans of the Premier League would love to see the superstar play in England, by far the most likely outcomes seem to be Mbappe either staying at PSG, or heading to Real Madrid.
Erling Haaland
Ever since Erling Haaland burst onto the scene, the Norwegian striker has been one of Europe's most in-demand names for the biggest clubs. His goalscoring record is frankly absurd and has put him as one of the best players on the planet at just 21 years of age. Earlier this month, the Norway international told Viaplay Fotball: "Borussia Dortmund are now pushing me to make a decision about things but I just want to play football.
Erling Haaland reacts to his speculated transfer rumours and transfer value. Will Haaland sign for a Premier League club this season? 👀🔥#Haaland #Transfers #PremierLeague pic.twitter.com/Qp14iDnIXa

— Superpower Football (@SuperpowerFb) July 28, 2021
That probably means that I will soon have to get things started." The favourites to win his signature are Manchester City, a club his father Alf Inge played for, at odds of 12/1. Not far behind are crosstown rivals Manchester United at 14/1 and Bayern Munich at 16/1. The expectation is Haaland leaves Dortmund this summer, and fans will be keeping a close eye on this transfer saga.
Declan Rice
The West Ham and England midfielder has proven himself as one of the best players in the world at his position after consistently excellent performances for both club and country. While it's true that West Ham are certainly a club on an upward trajectory, the expectation is that Rice will need Champions League football to continue his development.
Declan Rice passed Manchester United transfer audition #MUFChttps://t.co/eDAxyDkd3T pic.twitter.com/kcjJVjTPy1

— Man United News (@ManUtdMEN) January 23, 2022
It's no secret that Manchester United are in desperate need for a central midfielder, and they are favourites to win his signature should he move on at odds of 16/1. Rice started his career at Chelsea and it is known there are plenty of admirers of him at the West London club, and they have odds of 20/1 to sign him in the summer.
Manchester United have made West Ham midfielder Declan Rice their top transfer priority next summer. (The Independent) pic.twitter.com/aHYtCaAJac

— Transfer News Central (@TransferNewsCen) September 18, 2021
One thing that may deter potential suitors is his potential fee, expected to be way in excess of £100 million. 
Jude Bellingham
Given how established he is as one of the world's best midfielders, it's insane to think Jude Bellingham is still just 18 years old. While he is reportedly still very happy at Borussia Dortmund, there are many reports that he could be set for a move this summer, which would attract a monster fee. While there aren't odds on offer for who he could sign for in the summer, there are for who his next club will be whenever he leaves Dortmund. 
No way did Bellingham laugh at the Liverpool transfer rumor 😭😭#BVB pic.twitter.com/PHGlDleCdA

— 𝙁𝙎 🐝 (@Fs_BVB) November 2, 2021
The favourites in that market are Liverpool at 7/4, and it has been reported that they are expected to spend big in the summer, and Bellingham would certainly be a signal of their intent. With Bellingham expected to return to England at some point, it would be no surprise to see Chelsea, Manchester United and Manchester City firmly engaged in the race to win Bellingham's signature. 
Romelu Lukaku
Romelu Lukaku's return to Chelsea has not gone to plan so far. After his £97.5 million move to the Blues, many expected him to be among the Premier League's top scorers, but he has struggled to find form in Thomas Tuchel's system.
Romelu Lukaku GOES OFF in a recent interview, explaining the regrets surrounding his summer transfer 🗣 pic.twitter.com/PR1z73omfQ

— International Champions Cup (@IntChampionsCup) December 30, 2021
After his much-derided interview with Italian media where he said he was unhappy at the club, some are suggesting he could be on the move in the summer. Bayern Munich and Inter Milan are both 14/1 on to land the Belgian, with Liverpool an outside bet at 18/1. 
Conclusion
This time last year very few people would have expected moves like Ronaldo, Messi, Grealish and Lukaku to happen, so it's very hard to tell what we are in for this coming summer. It could be an incredible transfer window, with some of the world's best players possibly on the move, and fans from around the world will be keeping a close eye and many markets to see how the odds change on potential transfers between now and the opening of the summer window.