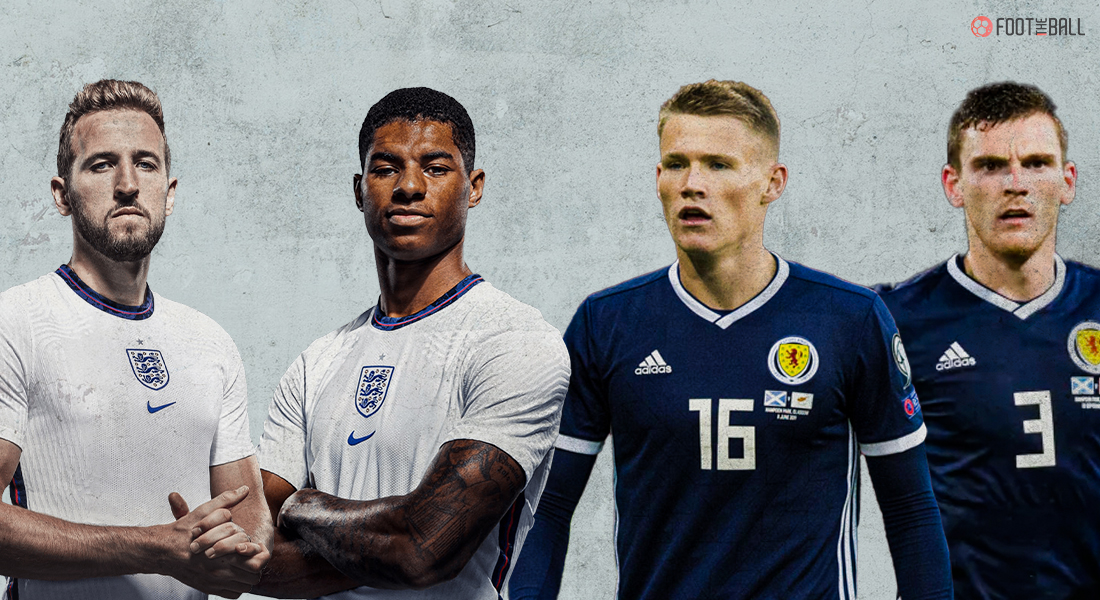 GARETH SOUTHGATE'S ENGLAND LOCK-HORNS WITH STEVE CLARKE'S SCOTLAND ON MONDAY; WITH IMMENSE AMOUNTS OF HISTORY INVOLVED WHILE THE MIND GAMES PLAY SPOIL SPORT OR WILL THE PLAYERS BRING THEIR A-GAME TO WEMBLEY?
Winning a piece of silverware is a momentous occasion for a country. Seeing the trophy being wrapped around with your jersey's colour, parading the whole nation showing off the silverware and a gold-medal hanging high on the mantle.The rivalry that gave birth to international football, England and Scotland the two pioneers of the game take each other on in Euro 2020.
But sometimes redemption positions above a gold-medal. While sometimes bashing out your noisy neighbours satisfies the soul. Try asking Greece who is tired of North Macedonia's relentless efforts to abandon peace.
When Gareth Southgate's England and Steve Clarke's Scotland lock-horns on Monday, two boisterous neighbours will come face-to-face. Three points for Southgate and the Three Lions roared their way into the knockouts whereas Scotland's European future could be dented if they fail to register a single point on Monday.
With a ferocious encounter on the cards, Wembley could be awaiting a sensational 90 minutes of football. With pride in their eyes and history in their minds, the troops will know that dropping points isn't an option.
GOING DOWN THE MEMORY LANE
The history of the rivalry between England and Scotland is nothing short of a movie plot. A roller-coaster ride with one getting the upper hand soon to be demolished by the other. A rivalry that started in 1872 has seen its fair share of ups and downs.
England v Scotland 1928
'The Wembley Wizards' pic.twitter.com/TbB57zbSBj

— The League Magazine (@Theleaguemag) November 26, 2018
The 'Wizards of Wembley' commanding an English side lacking flair and creativity or the 'Battle of Wembley' where Scottish fanatics brought down the whole stadium, Wembley is ready to witness a new chapter. Though the number comes nowhere close to the 149,000 fans popping in at Hampden in 1937, Wembley's 40,000 fans won't stop the drum rolls and the Scottish squad will have a hostile atmosphere to deal with.
⏪ It's a Rous Cup victory over England at Hampden for today's #Scotland1985 throwback.

⚽️ – Gough, 70'

➡️ Full match info: https://t.co/YcTUeBG0BA pic.twitter.com/bUYwATSZnO

— Scotland National Team (@ScotlandNT) February 28, 2019
Does anyone remember the Rous Cup? The Tartan Terriers and the Three Lions scrounge together to establish the single lucrative match in an official festival, dubbed the Rous Cup. But Scotts managed to lift the only piece of silverware as a 1-0 victory guided them home. The last meeting between the two neighbours exemplified who the dominant squad is. A 3-0 thrashing of the Scottish neighbours and exemplary England paraded on. The Euro 2020 match-up will be the 115th time the two teams cross swords and the battlefield is prepared for action.
THE SCOTTS ARE BACK ALIVE WHILE ENGLAND STILL FIGHT.
Scotland though has given a few reasons to smile. Does anyone remember Robertson's contribution to Jurgen Klopp's title-winning Premier League season? Ole Gunnar Solskjaer's midfield maestro Scott Mctominay or Thomas Tuchel's midfield magician Billy Gilmour is ruling England. And if we are talking about the Red Devils, Sir Alex Ferguson is a household name at the Theatre. Teaching United fans to watch dreams and convert them into reality, the Scottish manager was out of this world.
Whereas the Three Lions have a list of their own. Gareth Southgate being spoilt for choices explains why England have the best squad. Harry Kane, a Premier League legend could rack up with some goals. Mason Mount and Phil Foden, are England football's golden youngsters. Jack Grealish's exquisite passing, Kyle Walker's pace, Harry Maguire's defensive abilities, Rashford's leadership and Declan Rice's domination. The squad is truly legendary.
Come this Monday, the fight will be re-ignited. The two teams last met in 1996, a jaw-dropping Alan Shearer display tore down a depleted Scottish side. The Scottish squad were left with their heads down, falling on their knees, and with tears in their eyes, as the squad believed they had let their nation down. England faltered against Germany soon after as they were sent home back-packing. Although the Tartan Terriers haven't played major football for almost 2 decades they have the same international number of trophies as the Three Lions.
#onthisday 1996: England beat Scotland at Wembley with Gazza scoring that famous goal pic.twitter.com/dUbOKPBfNP

— Classic Football Shirts (@classicshirts) June 15, 2018
The two teams would be looking to turn around their fortunes this summer but England's redemption against Croatia bolstered their hopes while dream goals by the Czech Republic demolished Scotland's dreams.
CAN'T WAIT FOR MONDAY?
The two teams would be geared up for this one-off match.Both managers also understand the significance of the rivalry between England and Scotland .The Lord's test match, the hard-fought rugby games, and an amazing 90minutes of football, the history between the two teams date long back.
"For me, it is going to be another game," Raheem Sterling says. "Of course, there is history but, at the same time, in football, you can't get too drawn into the history. You have got to be focused on the task ahead. We can't be going in there fighting old battles."
The solid English squad are ready for another challenge. The outing against Croatia proved why England are the dark horses to win silverware. Finding new heroes in Kalvin-Phillips and Sterling resurrecting his form the Three Lions' have just gotten started. Whereas Scotland looked shaky. Conceding world-class goals but unfortunately never really settling into the game, something they would want to change on Monday. Will, it be 'coming home' or will the 'Scotts be going home'