Los Blancos have won the Champions League! Los Blancos have won La Liga!
These lines have become one of the most common lines in football commentary, mainly due to Real Madrid becoming a serial trophy-winning machine. However, have you ever wondered why Real Madrid are called Los Blancos? It has got a really interesting history behind it and we're here to explain it!
Real Madrid are arguably one of the most famous football clubs in the world, a brand that is recognized globally. 
Also read: All of Real Madrid's Champions League wins revisited
The undisputed kings of Europe, Real Madrid were founded on March 6th 1902. Since the day it was founded, the pristine white jersey has become synonymous with the club. The white jersey has been donned by them since the beginning. They had the title real or "royal" bestowed upon them by King Alfonso XIII in 1920, thus the crown is part of their emblem.
Los Blancos has a rich history behind its name and so does their royal white kits
Be part of the Real Madrid royalty and get your hands on their brand new jerseys
click here

Today marks four years since the passing of #RealMadrid legend Raymond Kopa. pic.twitter.com/9yKHwjkzeZ

— Real Madrid C.F. 🇬🇧🇺🇸 (@realmadriden) March 3, 2021
League football was introduced in Madrid in 1920.  During the 'good old days', to participate in a match, players had to take off their regular clothes and were forced to play in their white undershirts and white shorts. Coloured bands were put on the shirts to differentiate between the two sets of players which was a hassle.
Thus the idea was scrapped very early on. The Madrid club were the only ones who were allowed to play in an all-white uniform and that's where the term 'Los Blancos' comes from which literally means 'The Whites'.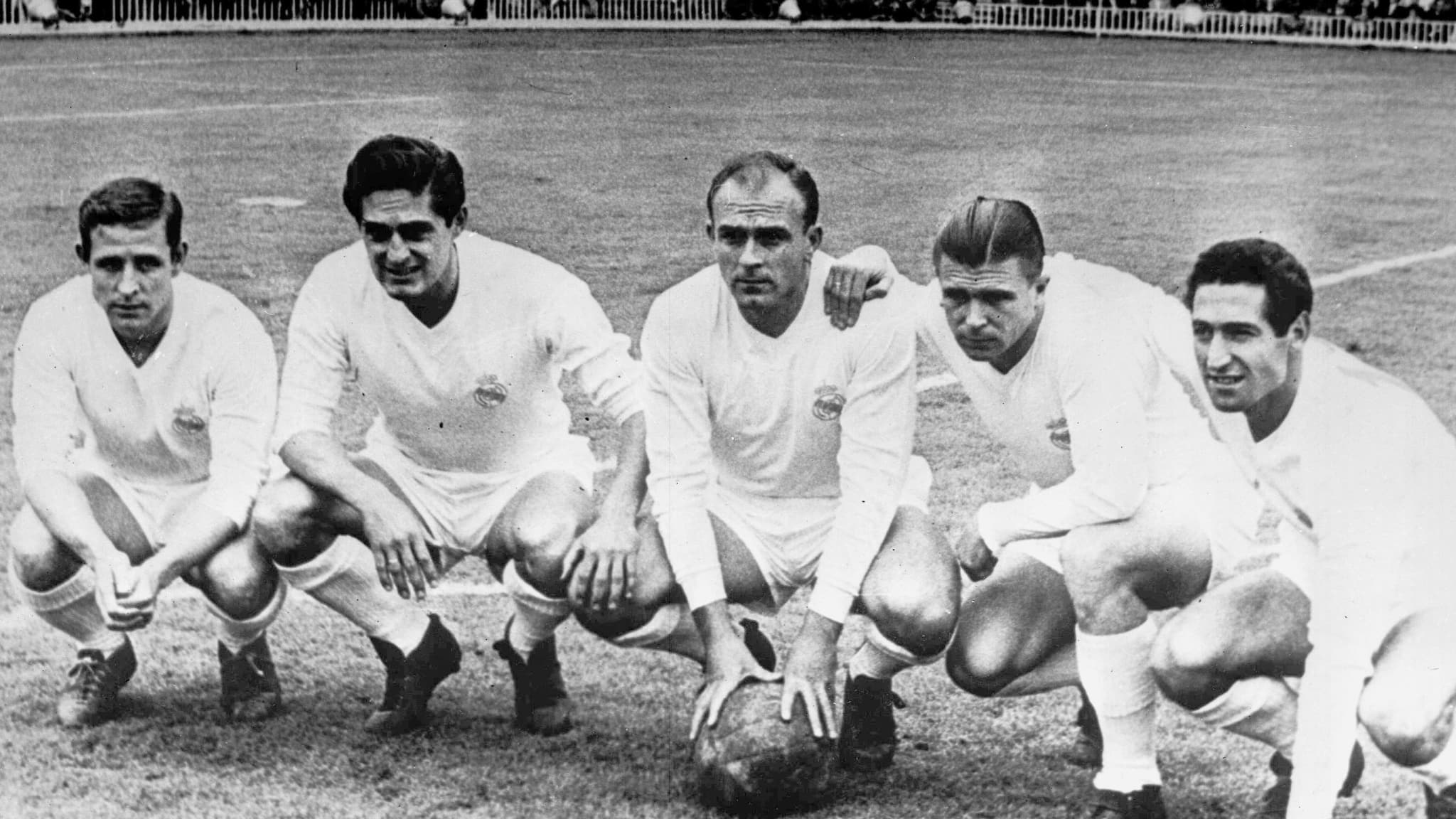 This gave rise to more nicknames referring to the all-white kit that has now won 14 Champions Leagues and  35 La Ligas, nicknames such as 'La Casa Blanca' (The White House) and 'Los Merengues'(The Meringues). Such brilliant nicknames truly showcase the prestige, history, delight and of their beautiful white jerseys.
Real Madrid's home shirts 1902-2014/2015 [@mbalderas] pic.twitter.com/ObNYqRCd9V

— SB (@Realmadridplace) June 12, 2014
We sure hope that the current and future crop of 'Los Blancos' can emulate legends like Alfredo Di Stefano, Zidane, Puscas, Ronaldo, Cristiano Ronaldo and many more who have donned the white jersey and gone on to become legends of the game. 
Why is there a crown in the Real Madrid crest?

The crown in the Real Madrid crest represents that Los Blancos are the undisputed kings of Europe as they have won 14 UCL titles, more than any other club. With the latest signing of Tchouameni, Carlo Ancelotti's men look to secure their 15th in the upcoming season.