Just when you thought that this monumental transfer window couldn't get any wilder, football throws us another reality check. While people around the world were sleeping, Real Madrid apparently awoke from its transfer hibernation to submit a €160 million ($188.1 million) bid for Paris Saint-Germain starlet Kylian Mbappe.
Confirmed. Real Madrid have made a formal bid for €160m to sign Kylian Mbappé immediatly. NO green light from Paris Saint-Germain yet. ⚪️🇫🇷 #Mbappé #RealMadrid

Kylian Mbappé has turned down more than three different proposals from PSG to extend the contract. He's waiting too. pic.twitter.com/cGTAmYVhdb

— Fabrizio Romano (@FabrizioRomano) August 24, 2021
In this frenetic summertime for a number of clubs, Manchester City have already smashed the English transfer record for Jack Grealish and might be ready to break it again for Harry Kane, and, perhaps most surprisingly, a melancholy Barcelona has said adieu to one of the game's all-time greatest players with Lionel Messi's switch to PSG.  
With only one week left in the summer transfer window, Real Madrid's approach for the Frenchman suggests that there will be plenty more drama in the coming days.  
The Parisiens, who has been outspoken in its desire to keep Mbappe and lock him in Paris to a massive contract extension, is said to have rejected the first bid and will refuse any higher bid. Nevertheless, the last week of the transfer period is setting itself up to be the perfect ending to a summer of pyrotechnics across the beautiful game. 
However, the last time a giant Spanish club attempted to entice a superstar from PSG, things did not go as planned.
BARCELONA'S INTEREST IN VERRATTI
The summer of 2017 began with a slew of rumors surrounding some of football's biggest superstars. With Barcelona searching for successors for its midfield virtuosos, Xavi and Andres Iniesta, the Barcelona management team put a lot of effort to reach an agreement with PSG to acquire Marco Verratti.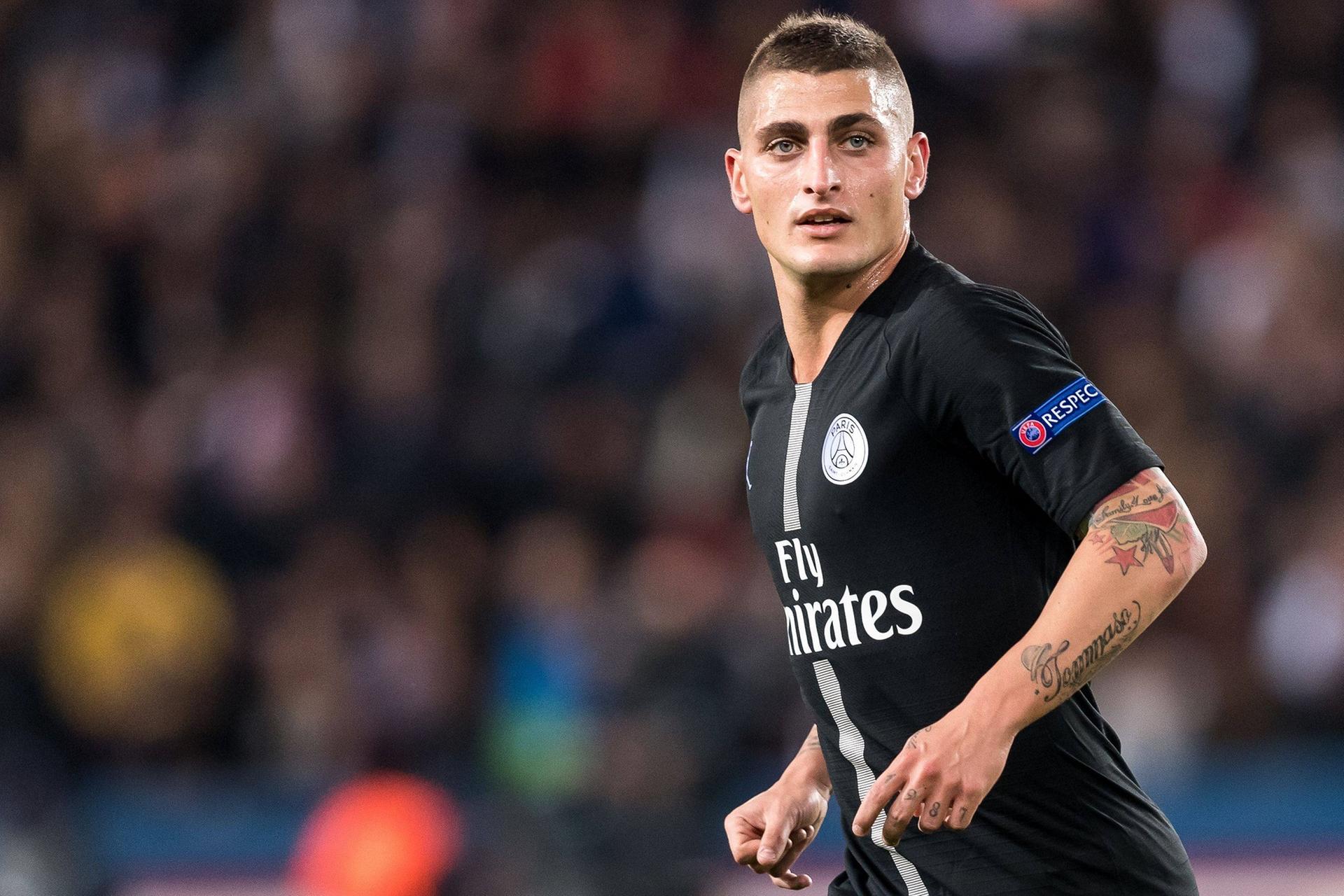 Blaugranas were keeping a close watch on the talented Marco Verratti, who might have had a major impact and helped Barcelona preserve its legendary status. He might never have been able to be exactly like the Spanish maestros, but he is unquestionably one of the best in his position.
The Italian, a metronome and creator in one, might have been a perfect player for Barcelona, fitting in into their possession-based style like a glove. During the midweeks of the transfer window, the Barcelona board stated that they will do all possible until the last day of the transfer window to acquire Verratti and will try to persuade the Italian to bring his talents to Camp Nou. 
🇦🇷 LEO 👟 MARCO 🇮🇹 pic.twitter.com/WeTI83wePL

— Paris Saint-Germain (@PSG_espanol) August 17, 2021
Strong words came from Catalan daily Ara, stating that Barcelona had "unconditional love" for Paris Saint-Germain's Marco Verratti, and was prepared to "die for" the midfield star. The way the Italian midfielder plays, as well as his ability on the ball and on the field, he would have been an excellent addition to the Catalan giants. However, all of those efforts and attempts to persuade the Italian playmaker were futile, as PSG issued a harsh rebuke. 
BARCELONA LOSES NEYMAR TO PSG
Following all of those continued attempts for Verratti, all Barcelona and the Cules encountered was humiliation at the hands of PSG. When Manchester City displayed interest in acquiring Blaise Matuidi in 2014, Nasser Al-Khelaifi issued a stern warning to any club considering signing one of PSG's best players. 
"I am not concerned because they fully understand that if they approach one of our players, we will oppose them and contact their players," Al-Khelaifi stated. "All clubs are respected by us. However, if they try to sign one of our players, they will suffer consequences."  
Barcelona may well have crossed this line, with the Spanish club expressing interest in Marco Verratti throughout the summer transfer window. PSG made it quite clear that they would not let the Italian end up leaving under any circumstances, and Barca truly faced the consequences Al-Khelaifi mentioned in the form of Neymar leaving Camp Nou for the French heavyweights. 
PSG's retort to Barcelona's pursuit for its player was to recruit one of Barcelona's finest players without even negotiating with the club and instead, paying the Brazilians buy-out clause.
Welcome to Paris, @neymarjr 🔴🔵#BemvindoNeymarJr 🇧🇷 pic.twitter.com/2EF6E8zdWC

— Paris Saint-Germain (@PSG_English) August 6, 2017
PSG paid a record transfer fee of €222 million ($270.02m) for Neymar, and Al-Khelaifi certainly walked the talk when he said the clubs will face repercussions. Fair to say, The Catalans have been stuck in a rut since Neymar's exit, failing to find a suitable successor for the winger. 
REAL MADRID HAVE TO BE CAREFUL
Mbappe's contract expires in a year, and he reportedly turned down at least three separate contract renewal offers from PSG. Nasser Al-Khelaifi earlier stated that Mbappe had "no reason" to depart the French giants, and also citing Lionel Messi's arrival as evidence of the team's competitiveness. 
PSG chairman Nasser al-Khelaifi believes there is 'no reason' for Kylian Mbappe to leave the club after Lionel Messi signed a two-year deal with the French side.

— SuperSport 🏆 (@SuperSportTV) August 11, 2021
But, unlike Neymar, who signed a new four-year deal for about €30 million each campaign in May, Mbappe has taken his time figuring where to go from here. In January, the 22-year-old stated that he would only make a long-term commitment to PSG if he puts his pen to paper on a new contract.  
Now, with Real Madrid apparently launching a bid for Kylian Mbappe, PSG has turned down their €160 million offer and forewarned the Spanish heavyweights that they will decline any further bids in the future. Real Madrid will undoubtedly have to proceed cautiously in the aftermath of this, drawing lessons from the Neymar/Barcelona fiasco. PSG and Nasser Al-Khelaifi can certainly pull out moves that the rival elite clubs will be least expecting. 
The French club has gone above and beyond with one of the most remarkable transfer windows in living memory. To assemble a fearsome preseason frontrunner around Mbappe and Neymar, they recruited a plethora of experienced Champions League victors in Messi, Sergio Ramos, Georginio Wijnaldum, and blossoming young talented players in Gianluigi Donnarumma and Achraf Hakimi. 
Although Mbappe has frequently mentioned his admiration for Real Madrid and wants to play for them to fulfil a boyhood ambition, Los Blancos are now in shambles. Aside from allowing Ramos, the club's long-time skipper and legend, to depart on a free transfer to PSG, Real Madrid has also sold Raphael Varane and Martin Odegaard. 
Kylian Mbappé wants to join Real Madrid. This summer or next summer as free agent, he wants to make his childhood dream come true. That's why he's turning down PSG new contract bids. ⚪️ #Mbappé

NO English clubs in the race. Real offered €160m. NO green light from PSG as of now. pic.twitter.com/TS82SsTOl8

— Fabrizio Romano (@FabrizioRomano) August 24, 2021
Since a result, the club will have to exercise patience in pursuing Mbappe, as forcing anything may cause Real Madrid to face the consequences at a time when they will be least expecting it.