Defending Spanish champions Atletico Madrid have confirmed the signing of Brazilian attacker Matheus Cunha from Hertha Berlin. The deal is reportedly worth 30 million Euros plus add-ons as Diego Simeone's side look to not only defend their domestic crown but also hunt for European glory.
Welcome, Matheus Cunha! 🇧🇷 pic.twitter.com/7fnD2o1kSb

— Atlético de Madrid (@atletienglish) August 25, 2021
The 22-year-old, who recently won gold at the Tokyo Olympics with Brazil, had also been on the radar of Everton but Atletico managed to get their man in the end. Cunha has long been a prospect for top European clubs with a spell at RB Leipzig already to his name.
His time at Leipzig was somewhat underwhelming but the attacking midfielder or winger has since re-established himself as a potent option at Hertha. He scored 12 goals in 38 games for the German capital side – a decent return as a secondary attacking player in a middle to lower Bundesliga club.
PLAYER QUALITY
Cunha already has three full seasons in the Bundesliga at just 22 years of age – a testament to the exceptional talent that he possesses. 20 goals plus assists in 38 games for a struggling Berlin side shows that he is fulfilling his promise as well.
Majestic Math in full flight ✈️#Cunha #hahohe pic.twitter.com/4ctdidLOOf

— Hertha Berlin (@HerthaBSC_EN) August 27, 2020
He is what may be called a typical modern Brazilian (or South American) attacker. Cunha can beat his man, carriers the ball a lot, has got the legs to track back and has decent goal output. Richarlison, Vinicius Jr, Joaquin Correa, Giovani Lo Celso and Rodrygo are others who have joined Europe's biggest clubs that fall into the same category.
Berlin will struggle to replace him given his form over the last season and a half but the hefty transfer fee should help.
VALUE FOR MONEY
Atletico have reportedly paid 30 million Euros for Cunha's services with more add-ons to come. In a pandemic hit market, this fee seems to be a little steep for an up-and-coming player. Over time, if Cunha hits the heights that he can, this amount may look small.
Agreement in principle between Hertha BSC and Atlético Madrid for a transfer of Matheus Cunha!

Hertha accepted 30m€ plus bonuses – nothing is signed though.

Everton tried to hijack the deal in the last hours, but the player prefers a move to Spain!#TransferUpdate

— Max Bielefeld (@Sky_MaxB) August 23, 2021
However, this is a time when Raphel Varane reportedly cost 35 million Euros while other clubs too have shied away from spending big. Atletico may be looking to cement a long term talent but they could have gotten a better deal for the forward.
FIT AT THE CLUB
It will be interesting to see how Cunha is used by Diego Simeone. He usually plays in off the left or as a number ten but can play as the outright striker too. One can assume that he will be used in a variety of positions as Yannick Carrasco or Angel Correa have been over the past couple of seasons. Can Cunha do for Simeone what the players before him have done?
The stats certainly seem to say so. Attacking, Cunha does better than any who have played a similar role for Atletico over the last couple of seasons. As seen in the graph below, he takes more shots per 90 and has more shot-creating actions per 90 as well as a higher Non-penalty xG (size of the mark) than any of Carrasco, Correa, Lemar or Llorente.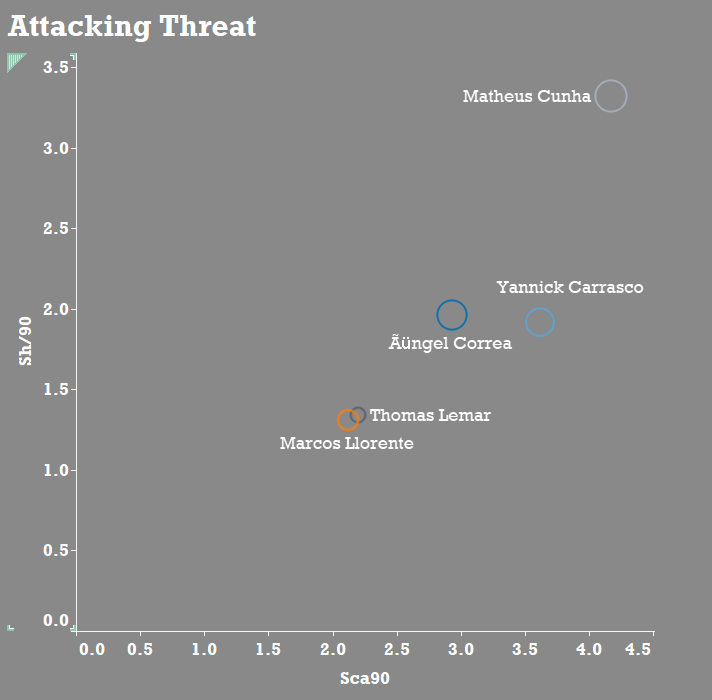 But playing in a Simeone side is not just about what you can do attacking. Every player on the pitch has to pull his weight defensively and Cunha seems to have the capacity to do that. He intercepts more than his future colleagues while only Lemar and Llorente tackle more than him. Llorente of-course plays in multiple positions, most of them more defensive and thus his higher tackles are understandable.
Interestingly, Cunha also presses more than any of the other players (size of the mark). This could be down to the fact that Bundesliga as a whole gives more importance to pressing than any other top league but it certainly shows that Cunha can do the dirty work along with his flair.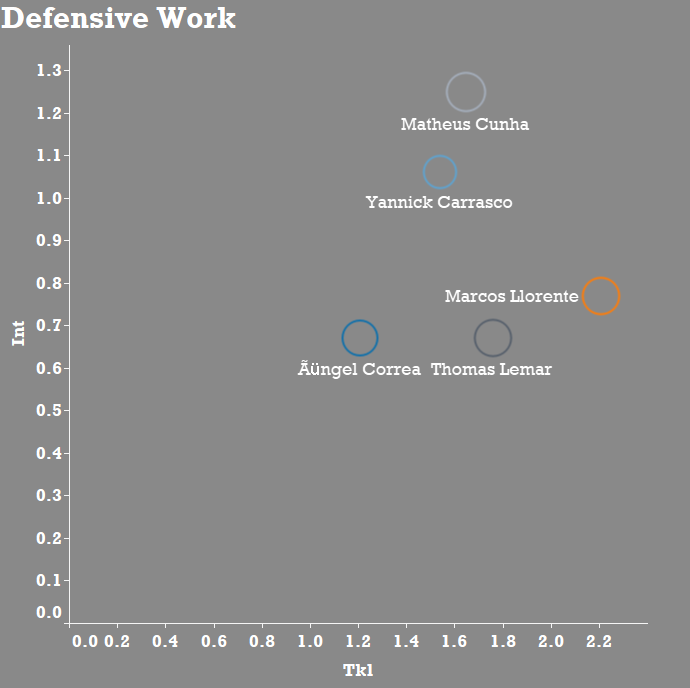 The role of the attackers playing behind Luis Suarez is of-course to service him and as a team, Atletico rely a lot on ball carrying to progress their play. While Carrasco's progressive carries per 90 (size of the mark) are exceptionally high, Cunha does not do too bad either. Only Lemar carries the ball into the final third more while only Carrasco has more carries into the penalty area.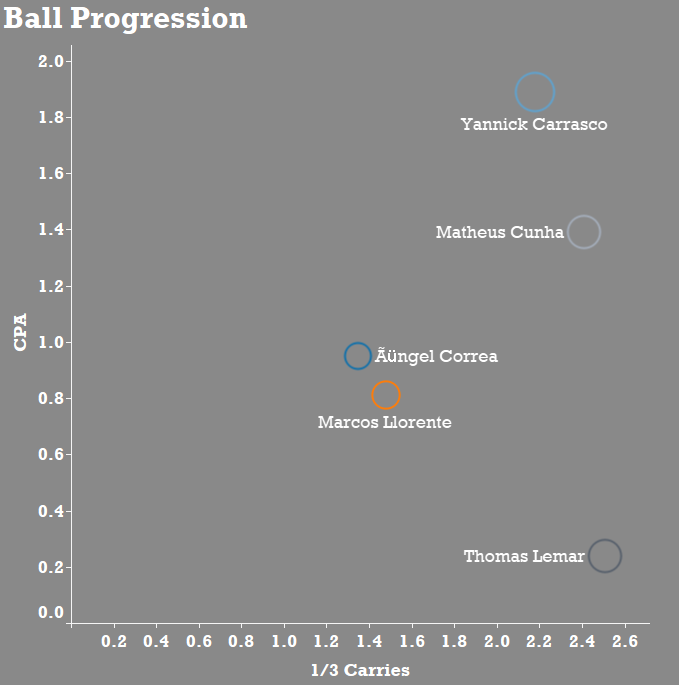 Overall, Cunha's playing style quite fits Simeone's Atletico. He has the creativity and strength to be a positive attacking influence while also being reliable defensively. Cunah is as good, if not better, than any of Atletico's current options to supplement their strikers.
EXPECTATIONS
It remains to be seen whether Cunha will be a part of the starting eleven straight away or not. Correa has started his season in red-hot form. Suarez's delayed return to the fold could mean that Cunha gets some game time as the furthest man forward but that too is likely to be off the bench.
The Cunha Show continues 🎩

45 minutes to go 💪

(46') #HaHoHe #BSCBVB 1-0 pic.twitter.com/ocbr9c8nKD

— Hertha Berlin (@HerthaBSC_EN) November 21, 2020
He is an able replacement and for this season it seems he will be the backup rather than the star. However, as age catches up with Suarez, Carrasco and co, he could be the face of the new Atletico alongside the likes of Joao Felix. There is little doubt in his quality and one would put his money on Cunha to be a success at Atletico.
OVERALL TRANSFER GRADE: B+