Kylian Mbappe is on the verge of a blockbuster move to Real Madrid. According to many reports from Spain, Paris Saint Germain have accepted Real Madrid's latest offer of €170 million. This comes as the end result of the Mbappe saga that ran throughout the summer. At one point, Mbappe looked certain to stay in Paris. But the recent developments and the usual deadline day tension and the perseverance of Real Madrid president Florentino Perez are making the deal happen.
Confirmed. Real Madrid made a new official bid to Paris Saint-Germain for Kylian Mbappé. €170m guaranteed + €10m add ons. ⚪️🚨 #RealMadrid #Mbappé

Real Madrid sources feeling is that it will be the final bid. Mbappé only wants Real Madrid, now or next summer. pic.twitter.com/xRhVUsYDlt

— Fabrizio Romano (@FabrizioRomano) August 26, 2021
Rarely a team can have a transfer window as successful as the Parisians. They have assembled a host of stars like Gianluigi Donnarumma, Achraf Hakimi, Georginio Wijnaldum, Sergio Ramos and of course the best of the lot Lionel Messi. These additions to their already star-studded roster meant that PSG had the best squad in Europe. Their president Nasser Al-Khelaifi was bullish that Mbappe would stay beyond this window.
The new campaign resumed amidst this talk and Mbappe was performing brilliantly again. He registered one goal and two assists in three matches. But the dominos were set in motion in the background. Real Madrid who were assumed to be cash strapped, pulled a rabbit out of their hat. Through a flurry of sales and cutting of the wage bill, the Los Blancos have filled their coffers. They have tested the resolve of PSG and have presumably got their luck back.
Nos vemos a las 12 de la noche @elchiringuitotv pic.twitter.com/Ob4f2aM6M0

— Josep Pedrerol (@jpedrerol) August 24, 2021
Mbappe's potential departure would only bruise PSG's ego and would undermine their sensational window by a little. PSG are often not considered as a part of the European royalty due to their instant success following the takeover by the Qatar investment group. Further, their league success isn't counted for much as shown by the UEFA co-efficient. The governing body recently demoted the French league to the sixth position in European football pedigree.
A FAN'S DREAM COME TRUE
Kylian Mbappe grew up as a Real Madrid fan idolizing Cristiano Ronaldo and his incredible feats in Madrid. He had the talent and determination to be the next big thing in football. Subsequently, he burst onto the world scene with Monaco as he played a scintillating role in their league triumph in 2017. Mbappe's pace, skill and finishing instantly made him a fan favourite. PSG immediately made a move for him in the summer transfer window. They signed him on loan with an obligation to buy.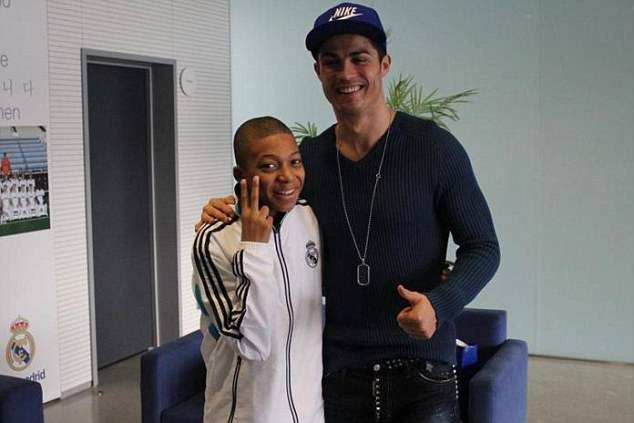 Mbappe broke all kinds of scoring records in the French capital and even made his debut for his national team. He became the youngest French player to score at a World Cup and finished as the joint second-highest goalscorer for the Les Bleus as they won the title. Back in the domestic leagues, he won three league titles and many cup titles. However, the failure on Europe's biggest stage bugged Mbappe. He came the closest to winning the Champions League in 2020. A crushing defeat to Manchester City in the semi-finals last season only broke his heart further.
https://twitter.com/FootTheBall/status/1430578921313951745
Despite having the best squad and the best shot to win the Champions League now he wants to leave. With his current contract running out next summer, Mbappe's didn't put pen to paper on a lucrative new deal by PSG. He further told the media in June that he doesn't feel like playing in the league anymore and played only out of obligation as an emblematic player. When the chance to live a childhood dream came through Real Madrid he is more than happy to take it rejecting PSG's riches.
PSG'S EGO TAKES A HIT
PSG president Nasser Al-Khelaifi is a strong and demanding figure. He wants the absolute best for his club at any cost. Hence keeping Mbapppe became a matter of personal interest for him. After securing Neymar's contract renewal the club shifted its focus towards Mbappe. He was given multiple offers which were all rejected. PSG were in fact bettering each contract in an attempt to make him sign the deal.
https://twitter.com/FootTheBall/status/1430998337856053249
Yet the club failed to turn his head. Mbappe promised the club he wouldn't go on a free. It meant that the club had to sell him this summer. Real Madrid's frequent knocking on the door might have forced PSG's hand. An initial offer was outright rejected by PSG as they wanted to make a statement. But the European giants came back with another offer which PSG presumably had to consider.
Mbappe though has made a decision and stood by it. He knows the benefits of playing in this PSG side. It'd guarantee him few more trophies for sure and at the end, he would take away a handsome pay packet every week. But the riches and the side cast in a star team weren't enough for him. Mbappe chose to be a part of the European royalty with Real Madrid.
PSG president Nasser Al Khelaifi to BeIN Sports on Kylian Mbappé deal with Real Madrid: "I've been very clear, we've been very clear. The club's stance is clear. We will NOT change it or repeat it". 🚨🇫🇷 #PSG #Mbappé pic.twitter.com/26qLll7jBc

— Fabrizio Romano (@FabrizioRomano) August 26, 2021
Florentino Perez promised Mbappe that he would be the face of the club in their rebuild. The Madrid side is peaking and is in need of a full rebuild which would now be centred around Kylian Mbappe. A move to the newly renovated Santiago Bernabeu would infuse the club with new life along with the returning fans. Mbappe was attracted by this proposition. Who wouldn't be if they had the chance to be the protagonist in their childhood dream?
BLOW AFTER BLOW
A poll conducted by L'Equipe in 2019 revealed that PSG is the most hated club in France. Though a number of reasons like a lack of derby, pride of citizens can be quoted, the real one would be their unparalleled success. PSG was like any other team in France till the Qatari group decided to invest in them in 2011. Since then, the club was flushed with money which made them buy the best players in world football. Zlatan Ibrahimovic, David Beckham, Neymar Jr were all lured to the city by those riches.
Due to the latest UEFA coefficient rankings, Ligue 1 is no longer considered a 'top five league' pic.twitter.com/fHBpD7HMYk

— FootballJOE (@FootballJOE) August 26, 2021
With these star players, they got success on the field which was directly linked to buying the success by the people of France. In a short span, PSG became the most successful club in France and became a symbol of hate. There are claims that through their buying power, they have made the playing field uneven. Lille captain Jose Fonte recently expressed his displeasure over PSG spending limitlessly when fellow French clubs are struggling for survival.
José Fonte: "I just want to understand the Financial Fair Play in France. Every single club is restricting their spending. They can't buy a lot, they can't get players on big wages but then PSG comes and it looks like there's no law." [@talkSPORT] pic.twitter.com/Hs5gtt56Nc

— Zach Lowy (@ZachLowy) August 11, 2021
The club suffered another blow when the French league was overtaken by Portugues Liga NOS in the UEFA coefficient. It means PSG are no longer a part of the top five leagues in Europe. The lack of competition to the club in France is clearly evident and it takes the shine of the league titles they win. Champions League is the only place they can earn some respect. Having not won a single title, they need to win it at any cost without Mbappe to prove they're worthy of being European royalty.