Barcelona have been hampered by financial mismanagement for a while now. Joan Laporta and the board are struggling to cover up the misdeeds of the previous regime. In fact, they are having to find innovative ways in order to sign players and remain competitive.
This is because La Liga has very strict financial rules on how much a club can spend in any given season. Moreover, the regulations of a club's entire budget and operating income also determines their spending limit.
The mismanagement has also been criticized by former Barcelona Presidential candidate Victor Font: What did he say?
What are spending caps?
Spending caps are a form of financial control that is currently used by Spain's La Liga to forbid clubs from spending extravagant amounts of money that would lead to unsustainable levels of investment in transfer fees and wages.
Named the 'Economic Cost Control' measures – they are aimed at checking clubs' spending over the past three seasons to tailor out a budget that is sustainable for that club to spend over the next season.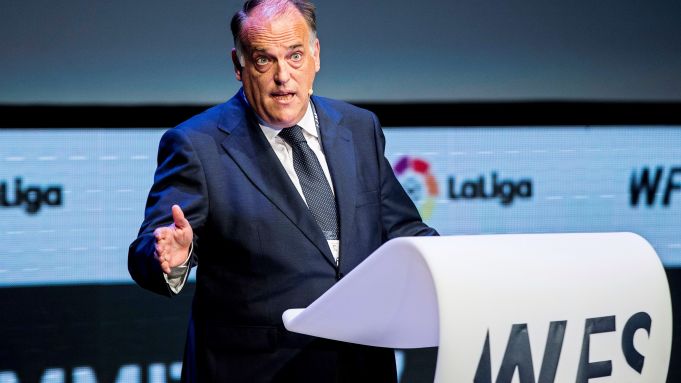 But how does it work? How is the ideal budget amount determined for each club in the Spanish top-flight? And how does it affect clubs' spending patterns in the long run?
FootTheBall will be analysing the spending cap measure in detail for those who wish to gain more insight into the concept of financial fair play in football.
How do La Liga financial rules work?

Barcelona's financial troubles are well-documented in sports media and the spending caps in La Liga do not help the Catalans at all. The Spanish club struggle to register new players unless they generate more revenue or make more savings. 
This conundrum led to the limbo state of Messi's contract and almost prevented the Blaugrana from registering the likes of Sergio Aguero and Memphis Depay in 2021. Messi eventually left, which freed up some money. However, other senior players also had to take paycuts, in order for new signings to come. 
Before a new season begins, each club in La Liga submits financial data relating to its estimated revenue and spending that is then analysed by a team of financial experts before arriving at that particular club's maximum allowed spending budget for the concerned season.
Incase you missed it – Inside scoop of Gerard Pique's off-the-pitch football life. 
A club's spending takes two forms – transfer fees and wages (including the academy, first-team coaches and physios). Therefore, to increase its spending budget for say the 2021-22 season, a club can either sell players or release them after terminating their contract(s).
Both these scenarios will help the club in recouping money, either in the form of transfer fees received or savings made as the wage bill is lowered. 
For this very purpose, La Liga has an elaborate system that requires players to register players on an online application named 'La Liga Manager'. The application oversees that no club spends obnoxious amounts of money without earning a significant sum to justify its massive outlay.
This is a far more effective system of financial fair play as compared to UEFA's Financial Fair Play Rules. La Liga's spending cap is forward-looking, as it analyses financial data in advance to prevent clubs from overspending.
Meanwhile, UEFA's FFP rules can only facilitate retrospective action being taken against clubs that violate the regulations around sustainable spending.  More often than not, clubs can escape by paying fines as the stakes have been pretty much decided during the business part of the season when such overspending was actually going on.
In stark contrast, La Liga believes in taking preemptive action to stop clubs from overspending by determining the spending budget for the season that a club cannot violate.
Barcelona's woes caused by La Liga FFP
The most notable example of the application of La Liga's spending caps has been the case of Barcelona. The Catalan club were unable to register players before they make amends for the enormous losses they have incurred during the Bartomeu era.
La Liga will not allow #FCBarcelona to register its new signings unless the club makes savings of over €200m. These signings include Sergio Aguero, Eric Garcia, Memphis Depay and Emerson Royal. These are mainly free transfers, but Barca still cannot complete the transactions.

— Swiss Ramble (@SwissRamble) July 26, 2021
Joan Laporta and company are in a situation where their wallet has effectively been confiscated by La Liga authorities in accordance with the system of spending caps. They are having to find creative ways in which to add new players, and even convince the present ones to decrease their respective salaries. 
Tebas noted, "When a club goes over its salary cap, it can only include players who represent 25% of the savings." This means that teams are allowed to use 25% of transfer profits to cover new costs, but 75% must be used to pay off money owed.

— Swiss Ramble (@SwissRamble) July 26, 2021
The Catalan club responded by either selling or loaning players to other clubs in Europe, including Francisco Trincao's loan move to Wolves and Junior Firpo's sale to Leeds United to recoup their losses.
But, it was not enough as the club's wage bill currently disallows them to spend even a meagre amount on transfers. That is why all their signings have been free transfers to prevent paying transfer fees that would add to their troubles.
The main problem with Barcelona is that the players was their deadwood players, who were eating up huge portions of the salary. The Catalans have made some progress in removing them. Philippe Coutinho was sold to Aston Villa. Clement Lenglet is nearing a loan move to Spurs. AC Monza are interested in Oscar Mingueza. Dani Alves has left. 
Just a couple of seasons ago, Barcelona had the highest spending budget in La Liga after adjusting for spending caps, but now they are struggling to even register new signings in their squad.
Sergio Aguero and Memphis Depay agreed to take pay cuts in order to play for Barcelona. Aguero's early retirement freed up some room, and Adama Traore joined on loan in January 2022 on low wages. It is very likely that Ferran Torres and Eric Garcia have also taken significant wage cuts. 
But all of this would amount to nothing if Barcelona cannot find a way to reduce their current wage bill given the strict cap on spending that has been enforced by La Liga.
Moreover, there is no doubt that Franck Kessie and Andreas Christensen are also joining on reduced wages.
Spending cap and economic control in other leagues
Currently, other top 5 leagues in Europe do not follow the strict and stringent measures that are in force in La Liga. The Premier League, however, has its own form of financial control – dubbed the 'Profitability and Sustainability' rules.
Under this system, clubs are allowed the leeway to incur a maximum loss of £15 million before tax over a rolling three-year timespan. But, certain costs are left out of the equation (academy, community, women's team and infrastructure) along with owners being granted the option of contributing a further £90 million by issuing shares over the same three-year period.
These rules, even though aimed at reducing lavish spending by the financially well-off clubs, do have one flaw – it is, like UEFA's FFP rules, backward-looking in nature. This means that even if clubs violate regulations, they will face sanctions only after the season has ended.
Relegation battles and the vying for Champions League qualification will have ended by the time the Premier League decides to levy fines on a club for breaching the regulations. But as of now, there is no immediate clamour within England for the introduction of a stricter financial control system.
For any new system to be rolled out in the Premier League, there will have to be a due voting procedure in which two-thirds majority (14 clubs) must be achieved for the current financial fair play system to be replaced with stricter, newer norms.
Regardless of whether the rules are being changed or not, clubs employ lawyers and accountants who are adept at finding loopholes irrespective of a forward-looking or backwards-looking financial fair play system.
Therefore, to change the rules in the Premier League an independent regulator is a must and they should be expecting to smooth out the demerits and loopholes in the financial fair play system as and when they arise.