Last night's heavyweight clash between PSG vs Real Madrid had two standout moments that define football currently. Lionel Messi missed a penalty just past the hour mark and Kylian Mbappe scored the winner seconds before full-time. It just highlighted the contrast between the two players at this point of their career. Messi had a poor game by his exceptional standards, with three blocked shots and just 82% passing accuracy while putting in just one accurate cross.
✅Mendes & Hakimi stretched the pitch high & wide to pin Real Madrid back
✅Messi as a false 9 to feed Mbappé's runs
✅Aggressive man v man pressing
✅Danilo tucking in as an extra CB to stop Real Madrid transitions thru Vinícius

This 4-3-3 was Poch's best tactical setup at PSG pic.twitter.com/UbYjRlsPgQ

— Premier League Panel (@PremLeaguePanel) February 15, 2022
Mbappe was, of course, the star with 80% shot accuracy (4/5) and troubled the Madrid backline right from kickoff. The Argentine's struggles this season have been well-documented, having scored just twice in the league so far and not seamlessly fitting in with his new side yet. His great rival Cristiano Ronaldo has fared better but scored his first goal of 2022 yesterday as well, having gone scoreless in his previous five games (that too just seconds after Messi's miss!).
Messi misses a penalty…

One minute later.

Ronaldo scores… pic.twitter.com/h0IpGh6dZs

— ESPN FC (@ESPNFC) February 15, 2022
He has also been bogged down by the problems around Manchester United which have been difficult to solve. With the exponential rise of Mbappe and Erling Haaland at Borussia Dortmund garnering headlines, is it time to move on from the old G.O.A.Ts?
New environment, newer problems
Messi and Ronaldo have been on-field rivals for a long, long time as part of one of the finest derbies in world football. Even after Ronaldo left for Juventus, the rivalry continued in terms of scoring for their respective teams. The 2020-21 season perfectly encapsulated the intertwined story of these two as Messi netted 30 times and Ronaldo scored 29 goals. Both were the leading marksmen of their respective leagues, and just highlighted the years of dominance they have had.
Cristiano Ronaldo and Lionel Messi stats while they were both in Spain. This will never be topped. 🐐 pic.twitter.com/IZdAAIvk1p

— TCR. (@TeamCRonaldo) August 6, 2021
Over the last five campaigns, the gap is seen to be a little bigger with 162 league goals for Messi vs 132 league goals for Ronaldo. Then the summer transfer window of 2021 came which brought some major changes for both players. Messi left Barcelona as the club's financial problems prevented him from signing a new contract. Ronaldo returned back to Old Trafford after his Juventus deal expired. Both players were expected to have a strong impact but that has been lacking for some parts.
Messi vs Ronaldo in all competitions [20/21] pic.twitter.com/UR9eJ4Supm

— infosfcb  (@infosfcb) June 3, 2021
Messi has been hampered due to injuries, COVID-issues, tiring international duty which has warranted some patience for him to grow into the team's setup. Meanwhile, Ronaldo hit the ground running, scoring twice on his debut and notching up important goals in both the Premier League as well as in Europe. However, he has been quiet in recent times as the team have been dismal collectively in trying to grind out results against opponents that they should be comfortably beating.
Lionel Messi with 8 assists in 14 Ligue 1 matches for PSG. He has 1 goal and 3 assists in his last three league matches. pic.twitter.com/PJelXDshAp

— Roy Nemer (@RoyNemer) February 11, 2022
There's still enough time left for both maestros to score plenty more goals but the age factor is certainly a dangling sword. Indeed, they are the greatest players of this generation and have a good few years left in the tank but the next wave of superstars is already here.
Our time is now, old man
The player most likely to carry the baton for the future is definitely the 23-year-old Mbappe. With over 200 senior goals already, including 12 goals and 10 assists this season, the Frenchman is one of the most exciting players to watch right now. He was the most dangerous man all night long against Los Blancos, and deservedly got his goal, setting records in the process, though his potential future suitors did not enjoy it. Mbappe's stats over the past one year read like a dream as he has excelled in almost all relevant categories illustrated by the chart below.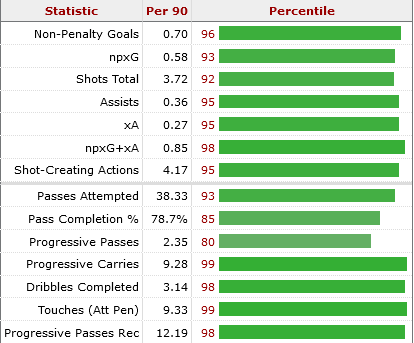 Not only his goals but the amount of magical moments that Mbappe can produce on the pitch is astounding. His incredibly quick feet and ability to leave defenders was on full display against Dani Carvajal and Lucas Vasquez. Both defenders will have nightmares about him for some time and despite knowing what Mbappe is going to do, it is almost impossible to prepare in advance.
7 – Kylian Mbappé has been involved in at least 1 goal in each of his last 7 games in the Champions League (5 goals, 4 assists), equalling the record for a 🇫🇷 French player in the competition since Opta collects this data (2003/04) set by … himself in May-December 2017. Crack. pic.twitter.com/hUBQ6zZsgZ

— OptaJean (@OptaJean) February 15, 2022
That just goes to show how singularly unique Mbappe is right now and having already won a host of trophies at such a tender age, he can justifiably break the current scoring records set by his idols.
The other contender with Mbappe in terms of scoring is Haaland, who is scoring at a freakish pace in the Bundesliga. 16 goals and six assists in just 14 league matches just shows how consistent he has been ever since arriving in Dortmund. However, his style of play is different in a lot of ways as Haaland likes to hold the ball up, spin defenders, and run in big strides before finishing expertly.
Kylian Mbappé's club career:

🏟️ 258 games
⚽ 177 goals
🎯 80 assists

Erling Haaland's club career:

🏟️ 172 games
⚽ 129 goals
🎯 35 assists

Both certain to dominate football for the next decade, but which of the two will win a Ballon d'Or first? ⚔️ ⚔️ pic.twitter.com/E1sjS6GzWy

— Football Tweet ⚽ (@Football__Tweet) January 28, 2022
That last part is extremely similar for both players and it has contributed immensely to their success. Both players will most likely be changing clubs this year and whichever team gets them will be a formidable force for years to come.
Who else can be included?
In terms of sheer name recognition and consistency of a superstar, there are a few candidates trailing the Mbappe-Haaland duo. Phil Foden is developing into a fine finisher and is raw enough to develop in a multi-pronged manner. Florian Wirtz has exploded onto the scene in the Bundesliga with Bayern Leverkusen over the past 18 months, and is even younger than Haaland. He looks set to become a mainstay for Germany in the coming years.
If you're not on the Florian Wirtz wagon, you're missing out. But don't worry, there's still time.

10 goals & 13 assists across all competitions for @bayer04_en this season 🙌

Poetry in motion.

— Sacha Pisani (@Sachk0) February 12, 2022
Nevertheless, no matter how many young talents come through in the next few years, it certainly looks like the age of Messi-Ronaldo power is slowly coming to an end. Of course, they are still safe as houses when it comes to getting the goals but the excitement is as always, with what is to come in the future and who can dislodge the two greats of this era.