The world champions France got knocked out of Euro 2020 at the hands of a resilient Switzerland side.
It's over. Switzerland win 4-5 on penalties #FRASUI #FiersdetreBleus #FRA pic.twitter.com/akFozmD8PJ

— French Team ⭐⭐ (@FrenchTeam) June 28, 2021
The star studded squad of France succumbed to the energy shown by the Swiss. France looked in control for large parts of the game but the Swiss never gave up. A game that had raw emotions and so many ups and downs that left the fans absolutely breathless.
The game has raised a lot of concerns regarding what went so wrong for France in the match against Switzerland and Euro 2020 in general. France were seen as one of the favourites to lift the trophy.  Thus it is necessary to understand the problems that caused the world champions to falter.
We are here to analyze these concerns. Hopefully we can offer much needed insight as to what this France squad led by Deschamps could have done better at Euro 2020.
THE FIRST PROBLEM- SQUAD SELECTION
France probably had the deepest pool of elite players to choose from going into Euro 2020.
Their squad depth is frankly terrifying, the number and quality of options at Deschamps' disposal were verging on insane before going to the tournament.
France's current squad depth is frightening..

😳😳😳 pic.twitter.com/OKRvgLBeSY

— Oddschanger (@Oddschanger) September 10, 2019
Deschamps' 26 man squad consisted of 3 goalkeepers, 9 defenders , 7 midfielders and 7 attackers and on paper the squad looked balanced.
Although there were two surprising exclusions, especially that of Tanguy N'Dombele and Theo Hernandez. These exclusions possibly cost France the game against Switzerland.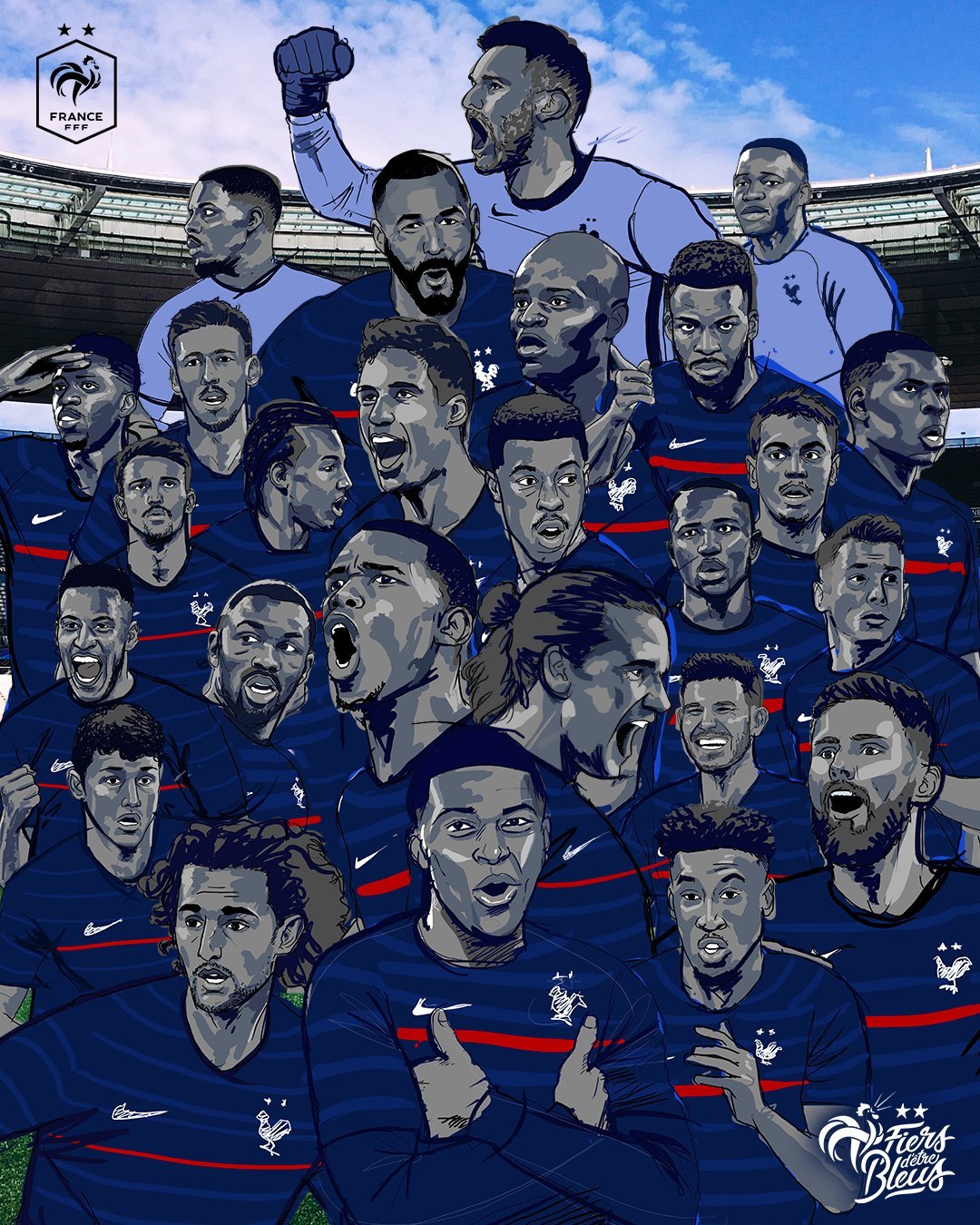 Out of the 9 defenders taken by Deschamps only four were capable of playing in the full back or wing back position. Benjamin Pavard ,Lucas Digne,Lucas Hernandez and Leo Dubois.
Just before the Euros the World Cup winning manager had experimented with Jules Kounde as one of the full backs. It showed very little success. Kounde who has emerged as a highly coveted young central defender this season at Sevilla seemed out of place playing as a full back in those games. It was baffling to see him being played out of position. But perhaps Deschamps had only thought of it as a last resort.
But his worst nightmares came true at Euro 2020. Both Lucas Hernandez and Lucas Digne got injured in the same game leaving France's left back berth absolutely vacant, Deschamps threw on Rabiot in that game as cover and credit the Juventus midfielder he played like an average full back but France still looked like a really lopped sided team. There was no one providing natural width, support and cover to Kylian Mbappe from then on.
This eventually led to them shifting to a back 3 in the game against Switzerland and the rest is history.
Here's how the boys in Bleu line up tonight 🇫🇷🇨🇭 #FiersdetreBleus #FRASUI #FRA pic.twitter.com/WlCXXnO11h

— French Team ⭐⭐ (@FrenchTeam) June 28, 2021
This obvious hole in their squad for a marauding left back could have been solved with ease. Only if Deschamps had decided to take Theo Hernandez. The former Real Madrid star was spectacular for a Scudetto chasing AC Milan side when he was fit, which was not rare because he only missed a handful of games at the end of the season.
8 – Theo Hernandez is involved in eight goals in Serie A 2019/20 (6 goals, 2 assists), no other French 🇫🇷 defender did better in the Top 5 European leagues. Brother. pic.twitter.com/VIlfIFvN2A

— OptaJean (@OptaJean) July 13, 2020
But before his injury the full back was in phenomenal form for the Rossoneri. Imagine him and Mbappe flying down France's left wing at the Euros. They would have caused havoc together; it might have even got Mbappe's best out of him, but more on him later.
#PORFRA #EURO2020#Deschamps : Merd!! I need a left cornerback😡@TheoHernandez : pic.twitter.com/jlCBVfAqAq

— Davide Cavaglieri (@89Kaep) June 23, 2021
The next shock exclusion was that of Tanguy N'Dombele. The Spurs man seemingly found his feet in the EPL last season in a very one dimensional Mourinho led Tottenham. He was excellent for the Lilywhites at the start of the season.
57 – Netted after just 57 seconds, Tanguy Ndombele's strike was the earliest Premier League goal scored from outside the box since Kenedy netted after 39 seconds for Chelsea v Norwich in March 2016. Sweet. #WOLTOT pic.twitter.com/O5xxxP4l8x

— OptaJoe (@OptaJoe) December 27, 2020
His sheer quality on the ball and his all round midfield displays should have made him the obvious candidate for the spot that was awarded to the likes of Thomas Lemar and Moussa Sissoko. Both of whom had very underwhelming seasons and have a very limited repertoire when compared to N'Dombele.
Also if Deschamps had taken Kounde he should have clearly started over Kimpembe, whose stock has taken a major hit in the last 18 months. He was below average for the majority of PSG's season and lacked judgement at Euro 2020.
THE SECOND PROBLEM- TOO MUCH PRAGMATISM! AND NOT ENOUGH CONVICTION

Didier Deschamps is not the first manager to rely on a pragmatic approach in an international tournament and he won't be the last. It is also true that a pragmatic approach tends to suit tournament based competitions.
During the game vs Switzerland, ugly scenes for France (EDS):

– Rabiot & Pogba insulted each other – Rabiot unhappy with Pogba's defensive efforts
– Varane insulted Pavard, unhappy with his defending
– Pavard blamed Pogba, for doing no defending, Varane later backed Pavard up

— Get French Football News (@GFFN) June 29, 2021
But if you arguably have the deepest squad in international football maybe your tactics should suit your team's strengths and weaknesses. But then again Deschamps pragmatic approach did lead them to a World Cup triumph.
#Questions will be asked in #France of why a team boasting a plethora of attacking talent were unable to beat #Hungary and #Switzerland, with #Deschamps' tactics #Mbappe #Euro_2020 #UEFA_Euro https://t.co/NNfCVNZIQR

— Prothom Alo (@ProthomAlo) June 29, 2021
Yet they were clearly the second best side when they faced 'lesser' oppositions at Euro 2020. French fans would have been hoping that the draw with Hungary was enough of a wake up call for Deschamps but sadly not. It really took them a while to get going in all the games they played as well.
France had every chance to win Euro 2020 but Didier Deschamps blew it | By @ericdevin_ https://t.co/iKDERo3iu1

— Guardian sport (@guardian_sport) June 29, 2021
Their play really seemed to lack conviction and precision in the first half of games leaving them all to do in the second half. It was clearly not a personnel problem as Deschamps' tactics were holding this vibrant France squad back.
THE THIRD PROBLEM- A MISFIRING MBAPPE
Arguably the most talented player in world football and definitely a future Ballon D'or winner, the young Frenchmen really misfired at Euro 2020. The prolific attacker who led a Benzema-less France to World Cup glory in 2018 had a terrible Euro.
6 – Kylian Mbappé contre la Suisse🇨🇭 :

6 tirs, 0 cadré – aucun joueur n'a plus souvent tiré sans cadrer sur un match de #EURO2020.

8 duels, 2 remportés.

5 centres, 0 réussi.

Loupé. #FRASUI pic.twitter.com/rnQJTiP9fQ

— OptaJean (@OptaJean) June 28, 2021
Mbappe was instrumental for France in 2018 and much the same was expected of at Euro 2020, as France were dubbed the favourites by many.
It just was not the PSG wingers tournament apparently. He was still amazing on the break and linked beautifully with Benzema throughout the Euros but could not get on the scoresheet. Mbappe kept getting into great positions but his finishing was just awful. He missed more than a few 'sitters' in respect to his lofty and deadly standards. When he walked up to take the decisive penalty against Switzerland all the revelations came crashing.His penalty although was struck with venom had very little direction and Sommer dealt with it with ease.