While football can be extremely profitable for some club owners, it can be a cruel mistress to others as well. Even giants like Barcelona and Inter Mian are facing financial troubles despite the resources at their disposal.
The club's board of directors has issued a statement this evening.#DCFC

— Derby County (@dcfcofficial) September 17, 2021
With Derby County going through financial turmoil and facing relegation to the English 3rd tier, we bring you 10 big clubs with a rich history that went bankrupt due to financial mismanagement.
1) PARMA FC
Parma have officially been declared bankrupt and will start next season in Serie D. A sad day for Italian football. pic.twitter.com/o5tZSnF1d3

— Football Tweet ⚽ (@Football__Tweet) June 22, 2015
Parma used to be the team to beat back during the 90s' since they won 8 major trophies including a Serie A title in 2002. In 2015 the unimaginable happened as a club of their pedigree went under. Due to poor ownership and management, the club had accumulated debt of around 105 million euros over the years and hence the Italian club was dissolved and had to make a fresh start from Serie D, Italy's fourth tier of football. The club was even willing to sell their hared earned trophies to get some cash in at some point. A lot of players weren't paid salaries but despite their downfall, the club fought their way after a series of major investors helped them back to the top tier in 2018. They are currently in Serie B, the second tier.
2) GLASGOW RANGERS
FULL-TIME: Rangers 4-0 Aberdeen

☑️ Unbeaten @spfl season
☑️ 100% Record at Ibrox
☑️ 102 Points

— Rangers Football Club (@RangersFC) May 15, 2021
Rangers FC won the Scottish Championship last season without losing a single game under the guidance of Steven Gerrard. Rangers was pushing for European glory back in the early 200s and to do so, they mindlessly spent large sums of money on new players in every window. By 2009, they had a debt of 30 million pounds. Their debt worsened due to the taxation of the Employee Trust Fund. Even though their chairman, David Murray sold the majority of his assets, the club was demoted to the 4th tier of Scottish football.
3) CHELSEA
Ken Bates bought Chelsea for £1 but also took on the debt at the time. Roman Abramovich bought the club in 2003 for £140 million. Today Chelsea are worth £2.8 billion. pic.twitter.com/hjRPvb0inF

— Frank Khalid (@FrankKhalidUK) July 19, 2021
Chelsea is one of the biggest clubs in Europe thanks to their massive Russian Investor, Roman Abramovich, but it wasn't always like this. Chelsea were about to be dissolved in the 1980s had it not been for Ken Bates who purchased the club for just 1 pound. Bates paid off their debt avoiding relegation to the third tier and gave enough resources for them to rebuild their squad and chase glory once again.
4) PORTSMOUTH
ON THIS DAY 2010: Portsmouth became the first premier league team to enter administration #POMPEY pic.twitter.com/2vlV27nWhc

— FootballAwaydays (@Awaydays23) February 26, 2021
Portsmouth might just be the worst-case for mismanagement by the club board football has ever seen. The club used to be one of the biggest football teams in the world in its time a few decades ago but right now they sit in EFL League one. Due to financial issues, they gradually got relegated to the 4th division in 1978. There was a glimmer of hope among the club's supporters when they won the FA cup in 2008 but that didn't improve their financial conditions by any means. In 2010, the club was put into administration and they were close to being liquidated but the fan owned Portsmouth Supporters Trust bought the club they love and strive to keep it going.
5) FIORENTINA
Since #Fiorentina went bankrupt in 2002, 153 Italian clubs have had to be refounded, merged with other clubs, or disappeared altogether. https://t.co/5G31oY2VaM pic.twitter.com/bxGkzG5IWz

— footballitalia (@footballitalia) July 18, 2018
The other Italian club on our list is Fiorentina whose financial incompetence came to light in 2002. Although the club was performing very well on the field having won the Coppa Italia in 2001, financially they were in tatters and had a debt of 32 million pounds. Like Parma, even Fiorentina had a debt that pushed them into Serie D and it took them 10 years to win their promotion back to Serie A.
6) LEEDS UNITED
WE ARE BACK!!! @PremierLeague

— Leeds United (@LUFC) July 17, 2020
Leeds United were title contenders in the 90s and also reached the Champions League semi-final in 2001. Since they became one of Europe's finest, they started spending like a club of their strength setting off a chain of events. They failed to qualify for the Champions League the following season and hence lost the commercial income. Over time they started accumulating debt due to their high player wages and in 2007 entered administration and were relegated to EFL League One. In 2020, they made their way into the English top tier and had a wonderful promotional season in the Premier League.
7) COVENTRY CITY
YES!!! WE'VE DONE IT!!!💙

Coventry City confirmed as League One Champions and promoted to the SkyBet Championship! 🏆⬆️ #PUSB pic.twitter.com/Tm528mKkdC

— Coventry City (@Coventry_City) June 9, 2020
Coventry City won the FA cup final against Tottenham Hotspur once but have come a long way down since then. What was once a respected English club was relegated to the EFL League One in 2013. The club owners couldn't even pay the rent of their stadium and were forced out of their fortress. The club's new stadium was 100 miles away from their home town in Northampton and they played there for over a year. Coventry has gradually risen through the ranks and is now unexpectedly fighting for promotion from the Championship, sitting 4th.
8) WIMBLEDON
2002: AFC Wimbledon are formed after Wimbledon became MK Dons

2018: AFC Wimbledon finish above MK Dons in the league for the first time#AFCW pic.twitter.com/5AdpZ7OWhJ

— William Hill (@WilliamHill) April 25, 2018
Wimbledon's rise and fall is an interesting story for passionate fans of football. A reputed club in the 90s, they won the FA cup in 1998 and achieved elite status by doing so. The club made a controversial decision of moving their home stadium to Milton Keynes which is 50 miles away. Their fan following drastically decreased and like a final nail in the coffin, they changed their name to Milton Keynes Dons and completely lost their old supporters. A small group of fans who loved them started their own club called AFC Wimbledon in 2002, a phoenix club which is now sitting near the playoff positions in League One.
9) WIGAN ATHLETIC
🤝 Our new chairman @Talalalhammad32 with the vice president of the Bahrain FA, Shaikh Khaled bin Salman Al Khalifa (@KhaledAlkhalifa).

Thank you for your support – we look forward to working together in the future.#wafc 🔵⚪️ pic.twitter.com/97GGLMFLrA

— Wigan Athletic (@LaticsOfficial) April 1, 2021
One of the more recent instances of a club going under would be the story of Wigan Atheltic as they fell into administration shortly after the onset of the Covid 19 pandemic. They were in the Championship in the 2019/20 season but entered administration and continue playing their football in EFL League one after facing heavy losses and losing important players from their main squad and the youth academy. Earlier this year Wigan Athletic was taken over by Abdulrahman al Jasmi, a Bahrain Bussinesman as they start their rebuilding project.
10) ACCRINGTON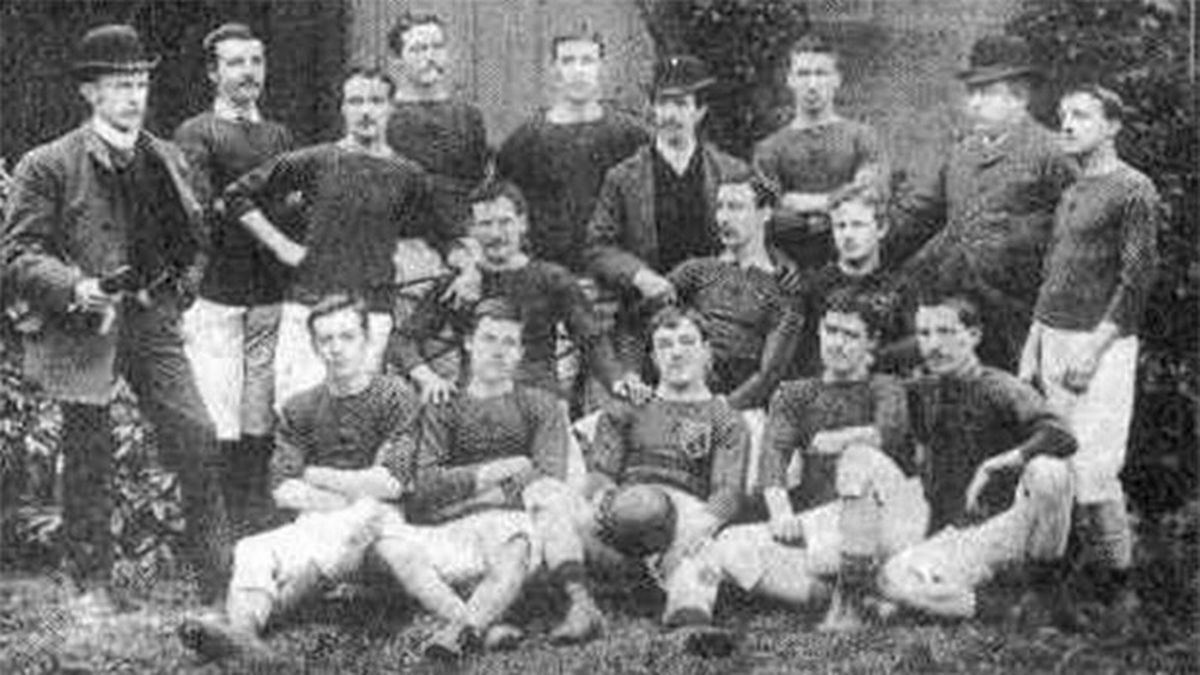 This one is off the history books since the club was one of the founding members of the English football league and were founded in 1876. The club had a fallout with other founding members of the football league and started playing in the second division since 1893. Later they tried to get back into the football league due to financial difficulties but failed to do so. The club was dissolved in 1896 and the town didn't have any football club for a while. In 1968, Accrington Stanley was founded who became the biggest club in town but had completely different owners to their predecessors.