Coventry City have had one of the most tumultuous decades a club can have in any league. The Championship regulars joined the Football League back in 1919, spending years across all four divisions. They were promoted to the top-flight for the first time in 1967 and stayed for 34 years till 2001.
📷 PHOTO OF THE DAY:

Cedric Roussel celebrates his opening goal alongside strike partner Robbie Keane, in our 2-2 draw with Chelsea in January 2000. #PUSB pic.twitter.com/6flTFHObMD

— Coventry City (@Coventry_City) August 26, 2020
Consequently, the Sky Blues were a founding member of the Premier League in 1992 with their only major trophy coming five years prior. The 1987 FA Cup remains their pinnacle in terms of silverware, while they have also played in Europe. Their years among the big boys was punctuated with a few top-ten finishes, their best coming in 1970 (6th) while in the Premier League it was 11th.
Furthermore, they would regularly make the later stages of the domestic cup competitions. That 1997-98 season contained more than its fair share of highlights, including reaching the sixth round of the FA Cup as well as club legend Dion Dublin winning the Golden Boot (18 goals). Having battled with relegation over a few years, the end of their stay finally came at the turn of the millennium.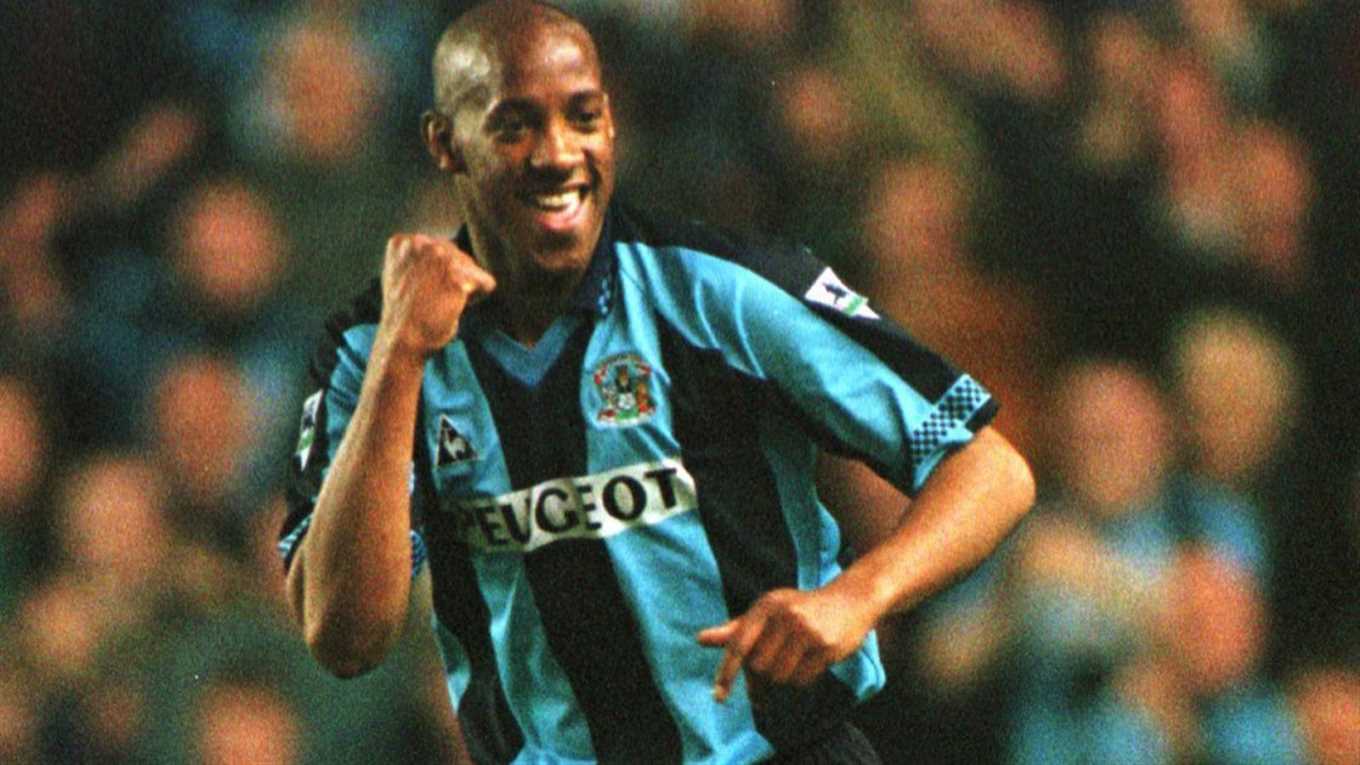 Their stay in the second division would run well for the first six years before the first signs of trouble cropped up. Coventry were almost put into administration due to their financial troubles in 2007, in a season that saw three managerial changes.
However, a late bid from footballer-turned-businessman Ray Ranson on behalf of hedge-fund group SISU Capital. Though their onfield future was secure, the reluctance to spend wisely or have a settled group of players and coaches saw them relegated to League One in 2011 for the first time in 48 years. Then came the even worse news.
PROBLEMS DEEPEN FOLLOWED BY RELEGATION
In 2013, a long running dispute between the owners' SISU and Arena Coventry Limited (ACL), the owners of the stadium Ricoh Arena came to the fore. The hedge fund group had defaulted on their rent payments for more than a year which led to several court battles between the two parties.
Coventry were placed in administration and docked 10 points for their troubles all but ruining their hopes of a playoff push. However, another worry came in the form of having to leave their home ground for the season and play at Sixfields Stadium (home to Northampton Town) for the 2013-14 season.
These years in the third division were dismal for all involved, with a rotating door of managers as well as vociferous protests against the owners which had little to no effect in truth.
After protesting outside SISU headquarters, the fans are now campaigning outside the EFL in London. Letters have been handed in at all locations emphasising the importance of the club to the city pf Coventry pic.twitter.com/riGSgZ80Ym

— Matt Ratcliffe (@mratcliffeitv) March 21, 2019
Spending had dropped off a cliff which intensified problems while new owners were hard to find over differences in valuation of the club. Just four years on from administration came silverware and more sadness together however. Under current manager Mark Robins, they won the EFL Trophy at Wembley against Oxford United- a first trophy in 30 years.
Mark Robins joined Coventry City in March 2017

•Bought 2 players in 3 yrs- rest frees/loans
•Sold McCallum,Bayliss,McNulty, Thomas,Stevenson+Harries to Championship/PL clubs
•Net spend-minus £7.2m
•2 promotions-League 2 to Championship

One of the best jobs in England👏#ccfc pic.twitter.com/ku0I3lJx3X

— Premier League Panel (@PremLeaguePanel) June 9, 2020
Nevertheless, he was powerless to stop the slide to League Two for the first time since 1959. That was considered the nadir of the club, a Premier League regular back in the day, but whose glory days were long in the past. 
THE START OF THE RISE
Coventry's academy, established in 2004, has long been a source of some enviable talents amongst the Football League. Callum Wilson, the Newcastle United striker and James Maddison, the current Leicester City and England star, were sold in 2014 and 2016 for £3m each respectively, and then followed the trend with George Thomas for £500,000.
6 years ago today I was in my first ever professional matchday squad as a 16 year old for @Coventry_City how time flies⚽️ pic.twitter.com/5lsNo6cvfW

— James Maddison (@Madders10) October 5, 2019
The 2017-18 season saw them finish 6th before gaining promotion via playoffs to rejoin the third tier at the first attempt. Such was their financial condition that they had to sell top scorer Marc McNulty to Reading before the new campaign.
Nevertheless, a steady stream of academy graduates along with faith in youngsters from across the divisions held them in good stead. However, another cruel blow came in the form of another stadium shift.
🏆 #PUSB pic.twitter.com/uwmN4TYLLz

— Coventry City (@Coventry_City) May 28, 2018
A breakdown in talks between SISU and Wasps, the Rugby team which owned Ricoh Arena led to Coventry having to play the following two years at St. Andrew's. Nevertheless, a solid 8th-placed finish was followed by storming the title in the pandemic-hit 2019-20 campaign where they got in players who remain integral pieces to this day.
YES!!! WE'VE DONE IT!!!💙

Coventry City confirmed as League One Champions and promoted to the SkyBet Championship! 🏆⬆️ #PUSB pic.twitter.com/Tm528mKkdC

— Coventry City (@Coventry_City) June 9, 2020
Ben Wilson, Kyle McFadzean, Michael Rose, Matt Godden (their top scorer that year) remain central pieces along with the addition of several fresh ones. Their first season back in the second division in eight years saw them finish a respectable 16th, including winning five of their last eight matches. 
PRESENT DAY HEROES
2021 marked the return of fans along with the team to their home stadium, now named the Coventry Building Society Arena. Spurred on by raucous support and new life in the Championship, the Sky Blues have started the season swimmingly well.
Reached 15 points in nine games fewer this season than last. ✅

One point off the top of the Championship table. ✅

Won four home games out of four. ✅

Viktor Gyokeres is scoring for fun. ✅

Mark Robins and Coventry City, 𝐭𝐚𝐤𝐞 𝐚 𝐛𝐨𝐰! 🔥#CCP | #PUSB pic.twitter.com/3OrnkbGR1y

— The Championship Chat Podcast (@Champchatpod24) September 17, 2021
They are currently in 4th with 16 points from eight games. Sitting just two points off league leaders Bournemouth, they also remain the only side yet to taste defeat at home.
The gloom seems to have lifted a fair bit with owner Joy Seppala also talking of building a new home for the club in the near future. Their players have responded to the manager's call in brilliant fashion, spearheaded by Swedish striker Viktor Gyokeres.
Coventry City's Championship record since returning to the Coventry Building Society Arena this season:

Played: 3️⃣
Won: 3️⃣
Goals scored: 6️⃣
Goals scored beyond the 90th minute: 3️⃣

𝑻𝒉𝒆𝒓𝒆'𝒔 𝒏𝒐 𝒑𝒍𝒂𝒄𝒆 𝒍𝒊𝒌𝒆 𝒉𝒐𝒎𝒆! 🏡🥰#CCP | #PUSB pic.twitter.com/VIAjjwpX1L

— The Championship Chat Podcast (@Champchatpod24) September 13, 2021
A remarkable fact of the whole team is they are one of the youngest in the league. Coventry only have four players above 30-years-old with the average age of the squad being around 23-25 years. This kind of emphasis on young players is a distinct style of Robins who knows he has a team that can play well consistently. Gyokeres has five goals and two assists already, providing the spark in front of goal.
Keep 'em coming, Viktor! 🇸🇪#EFL | #SkyBetChampionship | @Coventry_City pic.twitter.com/FXLFnOYR6G

— Sky Bet Championship (@SkyBetChamp) September 15, 2021
His goals have come from just 13 shots on-target along with creating 18 chances. Another mainstay of the side has been Gustavo Hamer, with a dribbling success rate of 70% and a passing accuracy of 80%.
Coventry line up in a 3-4-1-2 formation, with the two wing-backs able to run up and down the pitch as needed. Callum O'Hare plays in behind the two strikers. O'Hare came from Aston Villa last season and has seen his offensive game grow under Robins.
Ben Sheaf, another promising midfielder from Arsenal's Hale End, joined this year to provide cover for the defence. There is no doubt that a few of these players will draw attention from the Premier League even if Coventry do not get promoted next year. It has been a lot of struggle to get to where they are right but everyone around the club can heave a sigh of relief.