Both Pep Guardiola and Jurgen Klopp are considered to be some of the best managers in the world in modern-day football and have been battling it out since their days in Germany.
Guardiola recently said, "Klopp has made me a better manager" since the heated rivalry has brought the best out of both the tacticians and has forced them to up their game and outdo themselves in each encounter.
"He put me at another level"

Pep Guardiola credits Jurgen Klopp and Liverpool for making him a better manager pic.twitter.com/fcjdUPKg1N

— The Sun Football ⚽ (@TheSunFootball) October 2, 2021
As of now both Klopp and Guardiola have won 9 games each against each other and the Premier League game this Sunday would decide who is superior if the game doesn't end up as a draw. Here are 5 of the best games played between Jurgen Klopp and Pep Guardiola, two of the greatest minds in modern-day football.
1) STARTING OFF ON THE WRONG FOOT (2013)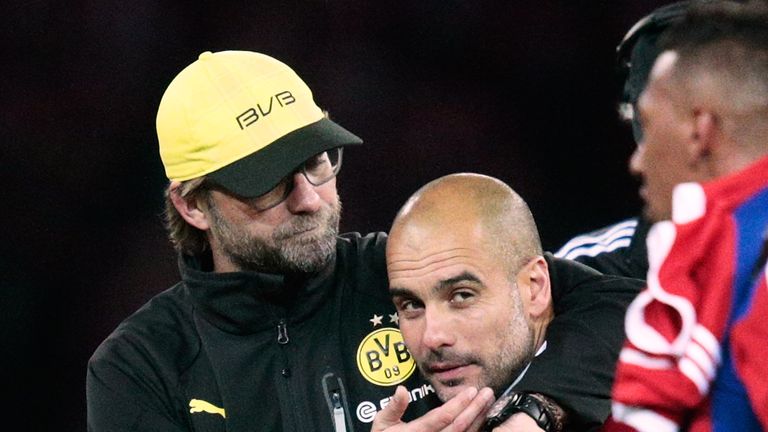 Pep Guardiola's first competitive game in charge of Bayern Munich was against Borussia Dortmund in the German Super Cup. Bayern won the treble last season and had beaten Dortmund in the Champions League final but the script wasn't the same for Guardiola as Klopp demolished the German Giants 4-2 at home.
Big things were expected of Guardiola after his success at Barcelona but Jurgen Klopp stole the spotlight from the Catalan tactician on his first day. The world could see a heated rivalry brewing between the 2 managers back in the day and we have surely not been disappointed.
2) DEMOLITION AT ETIHAD (2017)
Throwback to our 5-0 thrashing of Liverpool back in 2017 🔥

📆 #OnThisDay
🔷 #ManCity | https://t.co/axa0klD5re pic.twitter.com/9t32qTttHv

— Manchester City (@ManCity) September 9, 2021
It was still early in Guardiola's spell in Manchester City when they welcomed Liverpool at home but no one expected City to devour a solid Red side. Sadio Mane received a red card in the 37th minute of the game because of a high boot offence on Ederson. After that, the whole game was played in Liverpool's half as City won 5-0 early on in the course of the league.
3) REDS BEAT THE INVINCIBLES (2018)
Well played lads! 🔴 pic.twitter.com/nTR0n4halI

— Liverpool FC (@LFC) January 14, 2018
Manchester City were close to having an unbeaten 2017/18 season and had the chance to become the next 'Invincibles like Arsenal were back in 2014. The game was level at halftime but Liverpool blew City away by scoring 3 goals in 9 minutes between the 59th and the 68th minute.
Salah, Mane and Firmino. The holy trio scored a goal each making sure they don't let the home fans down. Although City became centurions that year, their dream of having the perfect Premier League season was crushed by Jurgen Klopp and his side.
4) CHAMPIONS LEAGUE ENCOUNTER (2018)
📅 Liverpool beat Manchester City at Anfield, #OTD in 2018 🔴

⚽️ Salah, Oxlade-Chamberlain, Mané @LFC | #UCL pic.twitter.com/L6FU1avp3E

— UEFA Champions League (@ChampionsLeague) April 4, 2021
Just a few months after ending City's unbeaten run, Liverpool also crushed their Champions League title dreams as they defeated them 3-0 in the second league of the Quarter Final. All 3 goals were scored just in the first 31 minutes of the game and City had no chance of coming back having already lost the first leg 1-2 at Etihad.
Guardiola has been long criticised for not having won the Champions League with City and maybe if it weren't for Klopp, City could have gone all the way and won the title especially looking at the domestic season they had.
5) EARLY TITLE DECIDER (2019)
Close. *VERY* close.

Man City 0-0 Liverpool (30 mins)#MCILIV pic.twitter.com/5eF5HAhzn5

— Premier League (@premierleague) January 3, 2019
In 2019, both Manchester City and Liverpool were indulged in a cut-throat title race for the majority of the 2018/19 season and when the teams met in January, Liverpool were 7 points ahead of Manchester City cruising towards the Premier League title.
Guardiola stopped them in the tracks by winning a closely contested game 2-1 at home which helped them stay in the title race. Liverpool had nearly equalised buy John Stones made a heroic goal-line clearance and Liverpool were just 1.12 centimetres away from drawing the game which would have won them their first Premier League title