Jahkeele Marshall-Rutty is the teen sensation from MLS everybody in the footballing world is talking about. He is 16 but is way more matured than his peers both on and off the pitch. After Alphonso Davies, Jahkelee is the second Canadian who is showing great promise and might make it big in Europe in a few years. Here is everything you need to know about this youngster from Toronto FC, who might just be the next big player out of the MLS.
1) MAKING HISTORY AT 16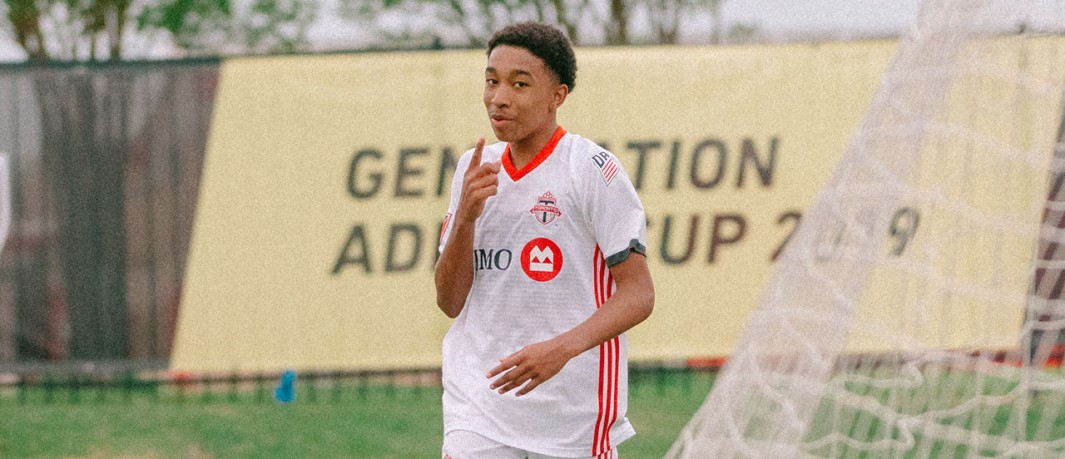 He is the youngest player in the history of Toronto's youth squad to sign for the senior team. Jahkeele Marshall-Rutty signed his contract at the age of 15 making him the youngest player to sign a professional contract and he also was the youngest player to make a first-team debut for Toronto FC. He also recently got his first cap in his national team, Canada. Alphonso Davies was the youngest player for Canada before this but Jahkeele broke the record by 10 days.
2) HOW HIS CAREER TOOK OFF
His first try-outs for the youth academy was at the age of 12 when he showed up wearing Basketball sneakers rather than wearing football boots. After getting selected, he played in the Dallas cup where he faced youth teams from La Liga. At 14 he joined Toronto FC's second team and had massive growth during that year. At 15 he signed a senior team contract and in January 2021, he made his first-team debut against Philadelphia Union in the MLS.
3) WHAT MAKES JAHKEELE MARSHALL-RUTTY SPECIAL
Ok Jahkeele. https://t.co/jRXh5PqBrM

— Toronto FC II (@TorontoFCII) April 20, 2019
Jahkeele Marshall-Rutty has shocked everyone who has seen him play. It seems like he has years of experience and training. His first touch is unreal and he has also been improving his dribbling and passing at a commendable rate. The most important quality about him is that even though he has individual prowess, he doesn't get carried away and plays for his team rather than himself. He has a decent understanding of the game and his teammates which makes him even more special.
4) CLUBS INTERESTED IN HIM
Jahkeele Marshall-Rutty only recently made his first-team debut for Toronto FC's senior team as a substitute and the top clubs from Europe have already lined up and are getting ready to fight for his signature in the future. Manchester United, Manchester City, Juventus, Porto and of course Bayern Munich. Bayern Munich has scouted and mined a lot of potential players from the USA in recent years. Jamal Musiala, Chris Richards, Alphonso Davies are a few players who Bayern Munich got hold of and they have been doing amazing. Bayern Munich is on a mission to make a solid team for the future and it is highly probable that Jahkeele Marshall-Rutty will be looking forward to being part of that squad.
5) HE IS A FEARLESS YOUNG LAD
@TorontoFC ✅❤️ pic.twitter.com/wZWVzGjoAr

— jahkeele marshall-rutty (@jahkeelerutty) March 4, 2020
Jahkeele Marshall-Rutty is a risk-taker. On his first day at training in the Canadian camp, at one point he had a ball coming over his shoulder. Rather than playing it safe and getting a touch to control the ball before shooting, the youngster smashed a volley into the goal. He was surrounded by senior players who were left in awe after witnessing the greatness of this fearless young man. We might see his daredevil personality come into play in the future when he decides the club he will sign for in Europe.
6) TORONTO'S CURRENT GM ON JAHKEELE MARSHALL-RUTTY
Welcome to Toronto, Ali Curtis 🔴#TFCLive | #AllForOne pic.twitter.com/q4xxJCf2dA

— Toronto FC (@TorontoFC) January 3, 2019
Toronto's current manager, Ali Curtis has stated, "He had interest from many clubs in Europe. It's important that we remain patient. He has the potential to be an incredible player moving forward." He also added that Jahkeele Marshall-Rutty is the best player in his age group across USA and Canada.
7) A FEW WORDS FROM HIS MENTORS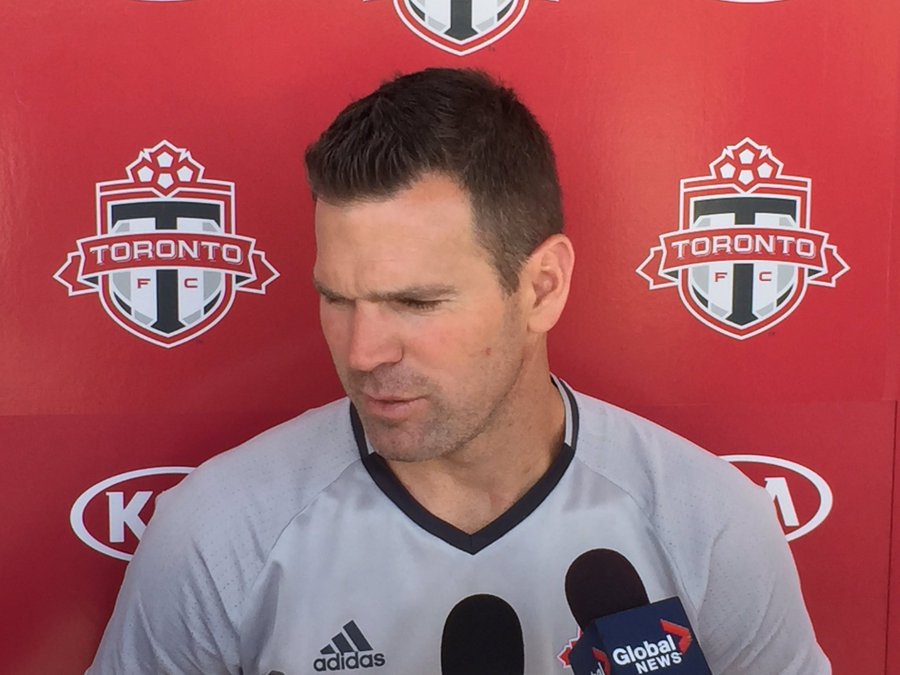 Greg Vanney, the former coach of Toronto FC has seen the youngster in action up close and he believes that Jahkeele Marshall-Rutty has learned the basics really well and has great respect for the sport. Vanney added by saying he makes the right plays at the right time and is a great asset to have in a squad.
Canada's current national team coach, Jhon Herdman feels that Jahkeele Marshall-Rutty does really well even when he is under extreme pressure. This quality is going to be helpful for the youngster if he moves to Europe.
8) JAHKEELE MARSHALL-RUTTY ON ALPHONSO DAVIES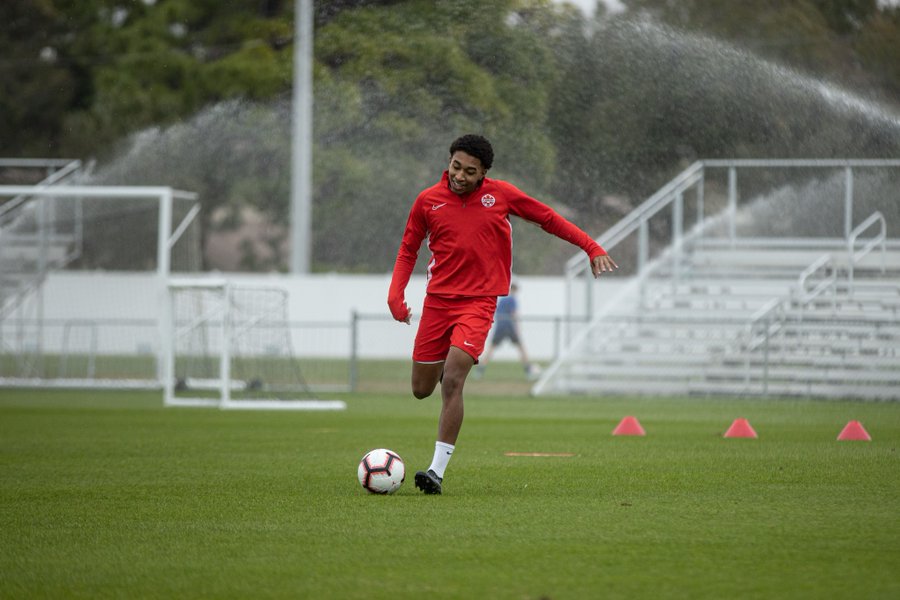 Jahkeele has said that he feels honoured to be compared to the Bayern Munich superstar but is nowhere near to what he has achieved. He believes that Alphonso Davies has paved the way for youngsters like him and now they know it is possible for them to play for European Giants. It would be interesting to see if Jahksheele joins Bayern Munich and actually gets to play alongside his senior.
9) JAHKEELE MARSHALL-RUTTY ON HIS FUTURE
Jahkeele Marshall-Rutty felt that after signing a first-team contract, his main goal was to make a debut for his country and club but he never expected it to happen so soon. He also said he tried his best to be humble. Right now he is just looking forward to continue working hard and focus on developing his skill. Jahkeele agreed that he knows European clubs are watching him and he surely wants to play in Europe. He won't be going anywhere until he is 18, which means he has 3 years now to prove his worth in the MLS. Anything can happen and he might change his decision about going to Europe. What's important right now is that he maintains his gradual growth. There are a ton of challenges and obstacles waiting for him in these coming years and Jahkeele Marshall-Rutty looks like he is ready to take them on.
10) JAHKEELE MARSHALL RUTTY ON THE FUTURE OF CANADIAN FOOTBALL
Get em' @jahkeelerutty!

Toronto FC's youngest ever signing has received his first senior international call-up!#TFCLive | (via @MichaelSingh94) https://t.co/TfY6SoRMY1

— Waking the Red (@WakingtheRed) January 9, 2021
The young lad believes that the Canadian football scene has surely grown by many folds since the last decade. More opportunities are knocking on the door for the youth players especially after the success of Alphonso Davies. Clubs from throughout the world have started taking the MLS seriously as they have started seriously scouting the youth in USA and Canada. With Canada also hosting the 2026 Fifa world cup, football is surely going to explode in the country and more and more players are going to be recognised throughout the world in a few seasons.