Major League Soccer (MLS) has been making some serious strides of late. The league, often derided for being a retirement home, is producing some excellent players. Ricardo Pepi joined Augsburg in January for a record-breaking deal. Indeed, the biggest European clubs are looking across the continent for new signings.
Become a fan before Slonina becomes a bonafide superstar- Here are some Gabriel Slonina facts you don't know!
So it was no surprise when Fabrizio Romano initially reported a few months ago that Chelsea are trying to sign 18-year-old goalkeeper Gabriel 'Gaga' Slonina from Chicago Fire. Though they failed in their pursuit, Real Madrid became the new suitors. However, the bidding war wasn't to end there. After Real Madrid's bid was rejected, Gabriel Slonina was again close to completing his Chelsea move, and is now set to join Blues on a permanent deal.
Welcome to Chels, @GabrielSlonina! 😎 pic.twitter.com/95F9qsCfhX

— Chelsea FC (@ChelseaFC) August 2, 2022
Explained: Why are Real Madrid called Los Blancos?
Moreover, Slonina had been generating quite a buzz in Europe for a lot of reasons and it was only a matter of time before he came over. Chelsea now have someone who is probably the best young goalkeeper in the world.
Playing career so far
Gabriel Slonina was born in Addison, Illinois to Polish parents who had immigrated to the States. He has a brother, Nicholas, who was also a youth player for Fire. Even at an early age, the first thing that strikes about him was his dominating frame.
Thereby, it was by default that he was designated to play in goal growing up. Recalling those days, Slonina told GOAL, "The goals are so small, so I was covering the whole goal. Penalties for me came so easy because the kids had nowhere to shoot!"
Also read: 'All or Nothing: Arsenal' – What to expect, Release Date, Where and When to watch, Trailer
Gabriel 'Gaga' Slonina wins Goalkeeper of the Tournament @academieimpact pic.twitter.com/FczGt7khYm

— Chicago Fire Next (@ChicagoFireNext) July 1, 2018
Therefore, it was obvious that Slonina had found his calling. He soon moved to Chicago to join Chicago Fire's youth academy in 2016. He started playing for the U14s, U15s, and U17s, making 54 appearances in the U.S. Soccer Development Academy (USSDA) league. In 2019, Slonina became the second-youngest player in MLS history to sign a professional contract.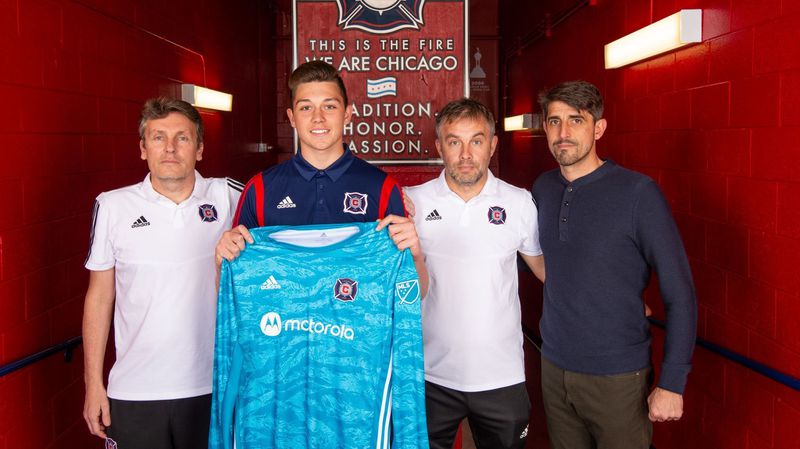 Team president Nelson Rodriguez pointed to his "high potential" and said, "While we would always prefer not to sign players at such a young age, a convergence of factors made his signing the right course of action." Though he had to bide his time, Gaga Slonina finally made his long-awaited debut in 2021.
He broke two further records in the process- the youngest goalkeeper to start a match and keep a clean sheet, in a 0-0 draw against New York City FC.
Big day for Gabriel Slonina, who makes his Chicago Fire debut in goal against New York City FC.#cf97 #cffc #vamosfire https://t.co/QFGiGEiEyX

— Jeremy Mikula (@jeremymikula) August 4, 2021
Nowadays, he has become a regular for Chicago Fire and a senior debut is on the horizon. Slonina has featured for every age group from the U15s to U20s and was included in a senior training camp in January 2022.
Gabriel Slonina stats
This is where Gabriel Slonina has been distinguishing himself as one of the best. In 2021, he featured in 11 games, conceding just 16 goals from an xG of 19.07. No doubt Slonina's 6'4″ stature has been coming to his aid more often than not. He had 46 saves and saved 1/2 penalties faced to go with four clean sheets.
Only want more with this Club. Not just a personal achievement, but one I have to thank the entire team for. Honored 🙏🏼, but only going to use it as motivation to push myself and everyone for even more this year. TRADITION HONOR PASSION ❤️🔥 @chicagofire pic.twitter.com/1pVgDgvRcl

— GAGA (@GabrielSlonina) March 14, 2022
Gaga Slonina had made an even better start to life in 2022. There were three clean sheets in his first four games, becoming the sixth-ever player to achieve that feat. That ties in with his ambition of "keeping 17 clean sheets this year," an unthinkable feat. He is still on route to achieving that, with 10 clean sheets so far in 23 games. However, form book has taken a hit with Fire struggling to win. The following chart explains just how excellent he has been since coming to the league.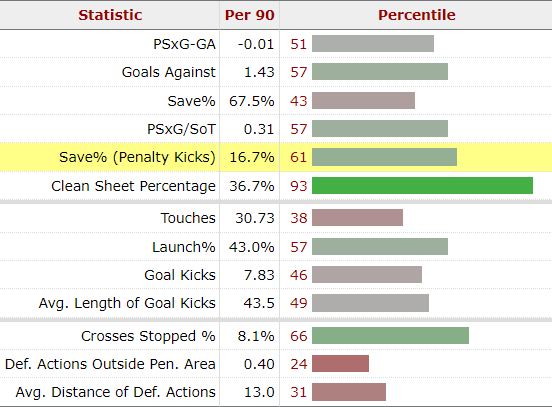 Some numbers immediately pop out. Like having shutouts in more than 1/3rd of his matches or stopping 8% of crosses. This kind of performance has put Slonina amongst the best goalkeepers in MLS, and he is still only a few months past his 18th birthday!
Moreover, Slonina is averaging almost 97% passing accuracy over short and medium distances. That is why there is genuine hype regarding how high Slonina's ceiling can go.
Gabriel Slonina scout report
The amount of confidence and self-belief Gaga Slonina carries is extraordinary. He has already been likened to Gianluigi Buffon and Manuel Neuer, two of the all-time greats. Slonina's response?
"I'm already getting compared to them so why can't I be at that level?

They've accomplished so many big things that I hope to accomplish in my career."
Slonina is regularly taking on players many years his senior and going head-to-head. His mentality of putting in full commitment in every match has been emblematic of the rise.
Most important is the next one. ❤️🔥 Proud but locked in on recovery and DC now 🧤 https://t.co/BgF9qB8amW

— GAGA (@GabrielSlonina) March 6, 2022
"Everyone wants to score the perfect goal, but something inside me just wants to save the perfect shot, make that perfect save," Slonina revealed to MLS. "That mentality of you're all alone back there is something that sticks out to me. I like to have the game on the line, make a big save."
Kids from MLS are ruling Europe now- Here are 10 Ricardo Pepi facts you don't know
Naturally, there are a few areas to improve including dealing with opponents closing down quickly and coming out to act as a sweeper. Slonina has enough time on his hands, given how quickly he has taken to the game and is sure to make a big name.
What makes him special
Gabriel Slonina has done a lot of things correctly so far. The more he plays, the more he can develop into a bonafide superstar. Commentators have heralded him as the best young goalkeeper to ever play in the MLS.
Slonina's decision-making and command of his area are astute. He is vocal, confident, and not afraid to get scrappy from set pieces. That makes his defence more comfortable with the sort of protection they have behind them. Slonina is sure to become a top-class goalkeeper who knows how he wants his backline to perform.
Moreover, for someone so tall, he is extremely agile and quick on his feet. Slonina can make low stops very effectively and is not shy to clear passes the first time instead of holding onto them.
Gabriel Slonina potential
So far, so good for Slonina. He has been one of the shining lights of MLS already and a move to Chelsea is now official. Slonina's current contract expired at the end of the 2022 season with Fire having an option to extend by another year. However, once Chelsea came into the picture, that was always going to be a long shot. Slonina has signed on a six-year contract, with Chelsea making their faith in the goalkeeping prodigy clear.
He's been described as the next Manuel Neuer.. 👇 #CFC https://t.co/XfgmUq8LS4

— Chelsea FC News (@Chelsea_FL) March 26, 2022
While he would have been the understudy to Mendy, and even possible Kepa at Chelsea, the decision to loan him back to Chicago is an astute one. Kepa Arrizabalaga has struggled to impress since his world-record move. His wages have made it difficult to ship him off. While Edouard Mendy has been a calming presence but Slonina undoubtedly has a higher ceiling. Slonina will keep getting first-team experience in an MLS that is getting increasingly better in quality. He will no doubt take his chance with both hands once it arises. He is set to be the next big goalkeeping transfer from MLS following Matt Turner's move to Arsenal.
"I strive to want to be the greatest goalkeeper in the world," Slonina said. "So I think I'm just going to keep putting in that work, making sure I take the right steps toward that direction every single day."