The news (more of a bombshell) that Lionel Messi would not be continuing at Barcelona has stunned the world of sports, despite the fact that his contract renewal had been so close prior to Thursday evening. After 17 spectacular years of exhibiting pure skill and magic on the ball in the blue and red outfit, the biggest football romance in history has come to an end. As Messi waves goodbye to Barcelona, we reminisce on some of the incredible world records he set or broke during his wizardly spell at Camp Nou.
Thank you, Leo. pic.twitter.com/cdS9xWe8Me

— FC Barcelona (@FCBarcelona) August 5, 2021
In a beautiful journey that had many ups and downs (mainly ups), Lionel Messi set a threshold of world records to his name.
MOST BALLON D'OR WINS
No player in the history of the game has lifted the Ballon d'Or more than Lionel Messi. The Argentine sorcerer has received the coveted award six times, in 2009, 2010, 2011, 2012, 2015, and 2019. He is also the only player to win the award for four consecutive years.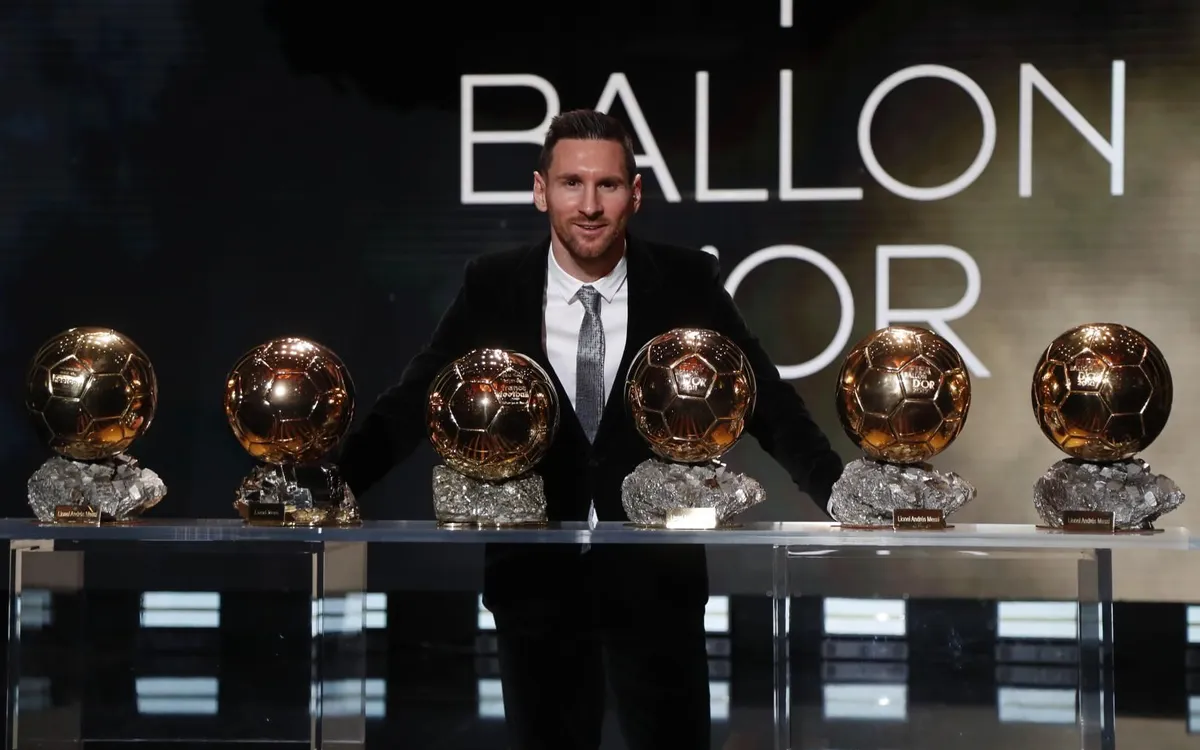 Messi is one clear of his long-time rival, Cristiano Ronaldo, who has won the accolade five times. Both players have had a stranglehold on the prestigious award, having won 11 of the past 12 Ballon d'Or crowns.
HIGHEST NUMBER OF GOALS IN A DOMESTIC SEASON
Messi's ultimate goal-scoring prowess has been highlighted by a slew of world records. He holds the record of scoring the highest number of goals in official competitions in a domestic season, with 73 in 2011/12 season. He scored 50 in La Liga, 14 in the Champions League, three in the Copa del Rey, three in the Spanish Super Cup, one in the European Super Cup, and two in the Club World Cup. 
The last time Lionel Messi played a full season under Pep Guardiola 🤯

Games: 60 🏃
Goals: 73 ⚽
Assists: 33 🎯 pic.twitter.com/mpKTnCTBWv

— ESPN FC (@ESPNFC) November 19, 2020
During Guardiola's reign, the Camp Nou was a furnace in which an exquisite combination of world-class players at their prime, the supervision of a master tactician, and the greatest player the world has ever seen. Although 2011/12 will be regarded as the final episode of that great squad, what Messi accomplished in that campaign will not be repeated for a long, long time. 
MOST GOALS SCORED IN A CALENDAR YEAR
Messi also holds the record for most goals scored in a calendar year (January to December). In 2012, he tallied an unprecedented 91 official goals: 79 with Barcelona (59 in the league, 13 in the Champions League, 5 in the Copa del Rey, and 2 in the Super Cup) and 12 with Argentina.
🔙 On this day in 2️⃣0️⃣1️⃣2️⃣…

🙌 Leo #Messi broke Gerd Muller's record of 86 goals in a calendar year.

He ended that year with 91 goals. 🤯 pic.twitter.com/P3HlfQSGp6

— FC Barcelona (@FCBarcelona) December 9, 2020
The Argentine topped Gerd Muller's 1972 record of 85 goals. If we also include the 24 assists he provided throughout the course of that year, Messi contributed to a total of 115 goals in 2012. 
ONLY PLAYER TO WIN FOUR PRESTIGIOUS AWARDS IN A SINGLE SEASON
Messi is the only player in history to have won the Ballon d'Or, FIFA World Player of the Year, Pichichi Trophy, and Golden Boot all in the same season. This historic feat transpired during the 2009/10 season.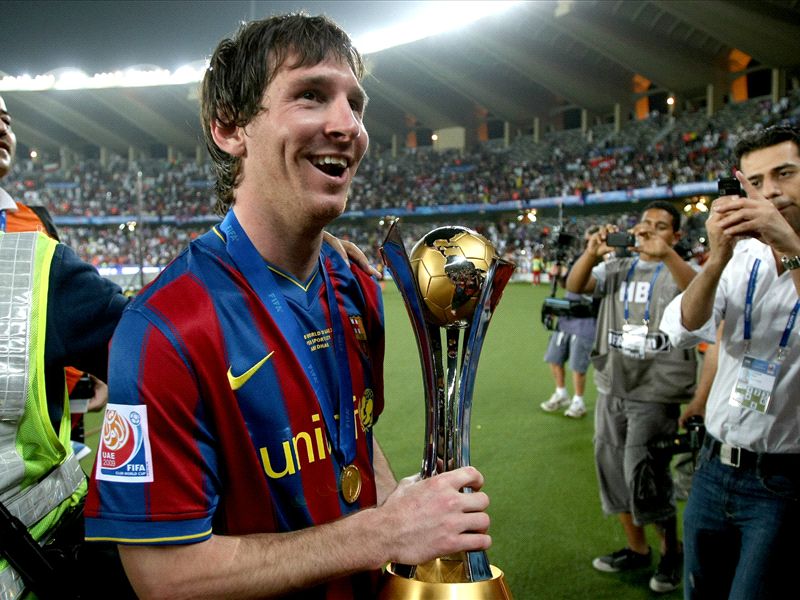 Copa del Rey, Liga, Champions League, Spanish Super Cup, European Super Cup, and the Club World Cup to top it all off. Barcelona concluded the most incredible year in its history, capturing all six possible trophies, spearheaded by none other than Lionel Messi.
MOST GOALS SCORED FOR A SINGLE CLUB
As everyone knows, Messi has been a one-club man throughout his illustrious career, therefore there seems to be no doubt that he also holds the record for most goals scored for a single club. He shattered the 643-goal benchmark set by the Brazilian legend Pele for Santos between 1956 and 1974, which few people thought would ever be surpassed.  
December 22, 2012: Breaks the record for most goals in a calendar year

December 22, 2020: Breaks Pelé's record for the most goals for a single club

A special day for Messi 🐐 pic.twitter.com/j6lQBkDt17

— ESPN FC (@ESPNFC) December 22, 2020
As of today, Messi has scored an unrivaled 672 goals in his 17 seasons with Barcelona. And Messi has his sights fixed on another Pele record.
Lionel Messi scores his 76th career goal for Argentina and is now 1 shy of Pelé for the most goals by a South American player in men's senior international history.

Record break loading … pic.twitter.com/V7hEfOyB69

— ESPN FC (@ESPNFC) July 4, 2021
The Brazilian's 77 goals for his country remain a South American record. Messi, on the other hand, has 76 for Argentina and needs only one more to match that total.
LONGEST GOAL-SCORING STREAK EVER
Messi also holds the record of the longest goal-scoring streak in the history of the beautiful game. During the 2012/13 campaign, the diminutive wizard scored in 21 consecutive La Liga appearances, became the only player to score consecutively against all the teams in a professional league, and tallied 33 goals in that process. Messi had 46 La Liga goals in just 32 appearances by the end of that season.
🔙 — Throwback to when Messi set the all-time world record by scoring in 21 consecutive matches finding the net 33 times! Pure madness! [pic via br] pic.twitter.com/fwnuqcv22h

— Barça Universal (@BarcaUniversal) April 5, 2020
Scoring 21 goals in a single campaign is noteworthy.  It's much more incredible to score in 21 games in a single season. However, scoring in 21 consecutive matches and bagging 33 goals in the process is a phenomenal plus mental feat. The only player who comes close to Messi's absurd record is Gerd Muller who scored in 16 consecutive matches for Bayern Munich during the 1969/70 campaign. 
MOST GOALS IN A EUROPEAN LEAGUE CAMPAIGN
Messi holds the world record for most goals scored in a European League campaign since the Golden Shoe award was established in 1966/67. He cemented his place in footballing history with a magnificent campaign in which he missed only one league match due to suspension. He got off to a firing start in 2011/12, scoring 10 goals and dishing out six assists in the first seven games. 
#OnThisDay in 2⃣0⃣1⃣1⃣…

Messi scored a hat-trick for @FCBarcelona during his record-breaking 50 goal season! 💙🎩❤️#LaLigaHistory | #YouHaveToLiveIt pic.twitter.com/UpYoQXV2lz

— LaLiga English (@LaLigaEN) September 17, 2020
In March 2012, he eclipsed Brazilian legend Ronaldo's La Liga goal record of 34. A week after manager Pep Guardiola's departure from Camp Nou was confirmed, Messi scored four goals against Espanyol to reach the 50-goal milestone with one match remaining. Fair to say, another Messi record that may never be broken. 
MOST ASSISTS IN FOOTBALL HISTORY
Aside from Messi's unrivaled goal-scoring ability, the Argentine wizard's playmaking expertise is without a probably the greatest the world has ever seen. Messi holds the world record for the most assists in football history, which speaks volumes about his playmaking skills. 
With 358 assists for club and country, he tops the all-time assists chart by a country mile, with former Barcelona teammate Luis Suarez coming in second with 275 assists. 
40 GOALS IN 10 CONSECUTIVE SEASONS
Messi has yet another incredible world record that will make you question your existence. He is the first player in history to have scored more than 40 goals in ten consecutive seasons. From the 2009/10 season to 2018/19, Messi reached or surpassed the figure of 40 goals in these ten campaigns. 
🔝👏 Leo #Messi reaches 40 goals for the 10th season in a row! 🐑
2009/10 ✅
2010/11 ✅
2011/12 ✅
2012/13 ✅
2013/14 ✅
2014/15 ✅
2015/16 ✅
2016/17 ✅
2017/18 ✅
2018/19 ✅ pic.twitter.com/BbKKnEQ7bJ

— FC Barcelona (@FCBarcelona) March 30, 2019
In the 2009/10 season, he managed 47 goals in all competitions (2008/09 saw 38), and he has always scored at least 40 goals until the 2019/20 season (31 goals).
60 GOALS IN TWO CONSECUTIVE SEASONS
Lionel Messi is the only player in history to tally 60 goals or more in two consecutive seasons. In 2011-12, he scored 73 goals in 60 games, and the next season, he bagged 60 goals in 50 matches.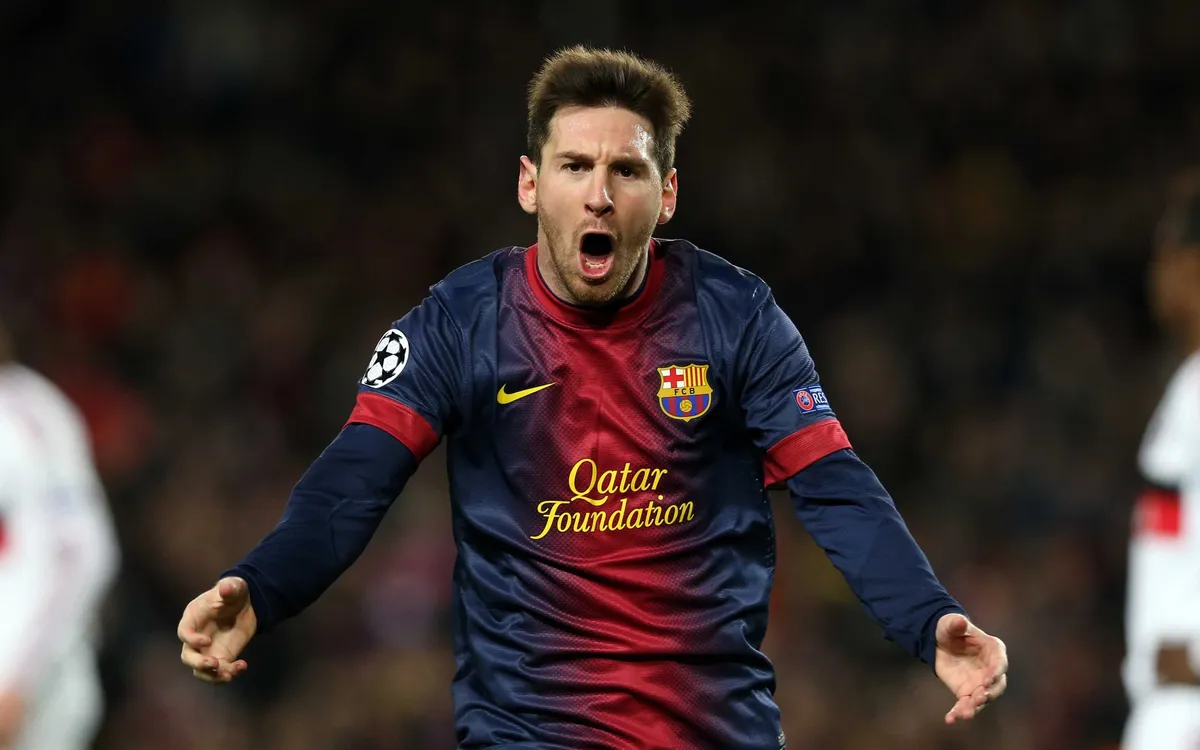 Ronaldo, like Messi, has scored 60 goals twice in his career, but not in consecutive seasons. He tallied 60 goals in 55 games in 2011-12 and 61 goals in 54 games in 2014-15.