Determined, Stubborn and Eccentric would be the three words to perfectly describe Juventus boss Massimiliano Allegri. You may sing praises about him or hate him but the former legendary AC Milan manager is incredibly successful. From time to time people have branded Allegri as lucky. There had been arguments whether his successful journey as a manager and his prolific achievements are truly his, or perhaps he was always present at the right place and in the right time – where he was gifted with a bunch of match winning players.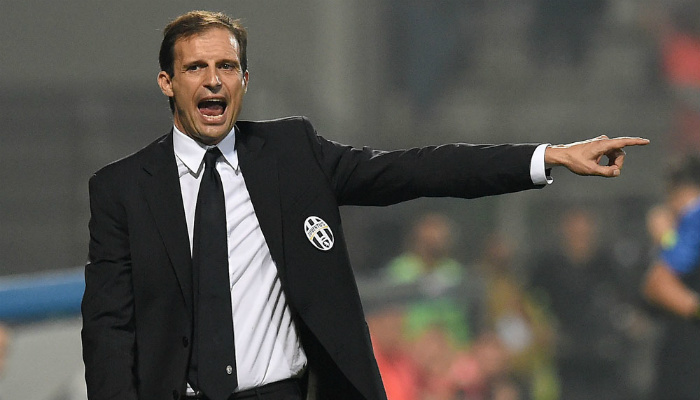 However, one cannot deny all that he has achieved in such a short span – and as the saying goes – 'A successful man is a critics' best friend'. Here are some facts that you should know about the legendary Milan manager.
Simple Yet Classy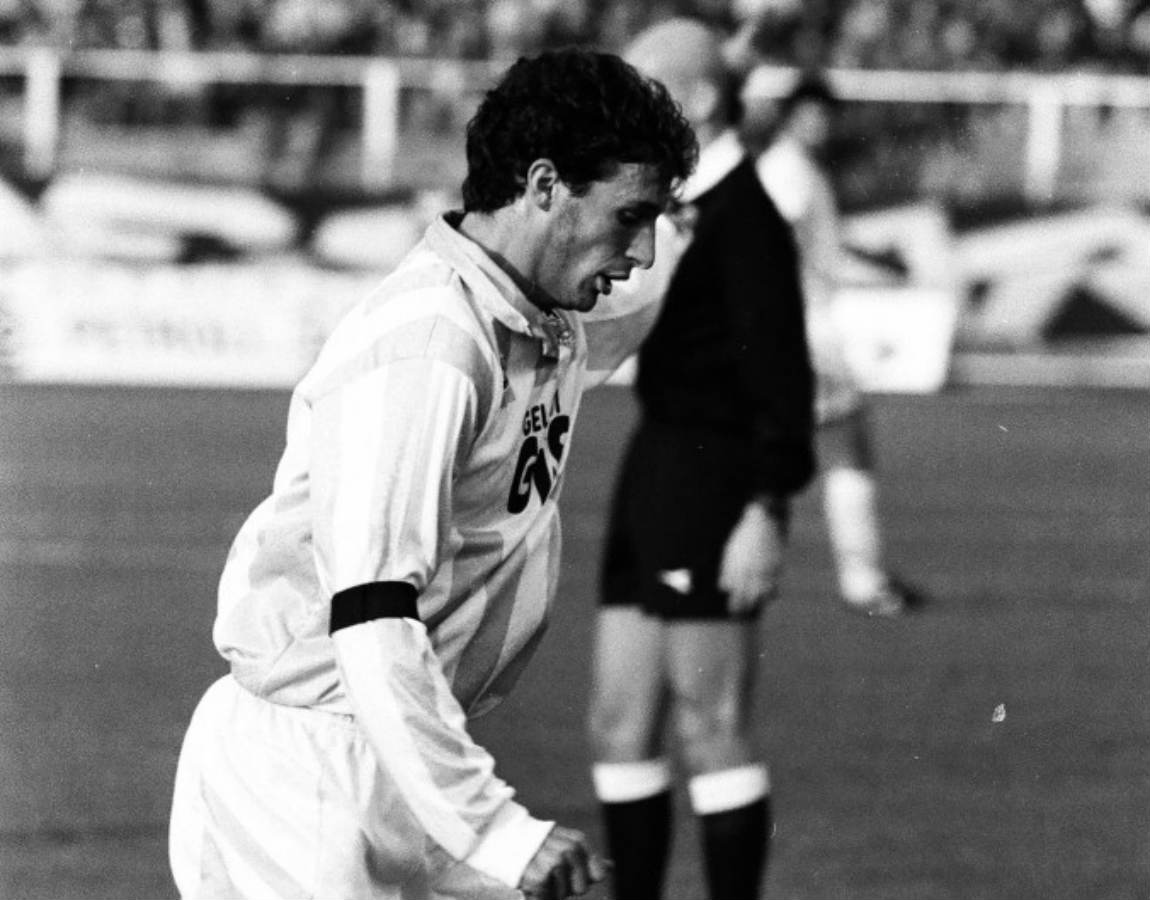 His playing career can be described as relatively less colourful if we look at his mammoth achievements as a prolific manager.
Allegri hails form Livorno and during his early days he played in lower leagues as a midfielder until the age of 24, when he signed a deal with Pescara in 1991-92. He played a pivotal role in the first season itself as Pescara earned promotion to the prestigious Serie A league. Things went downhill for Pescara in the next season as they were relegated after finishing last on the points table but Allegri had proved his mettle and documented his name among the elite group of midfielders in Serie A after scoring 12 goals that season. Football pundits have from time to time stated that his impact as a player in Pescara was similar to what Nocerino had done at Milan in his debut season.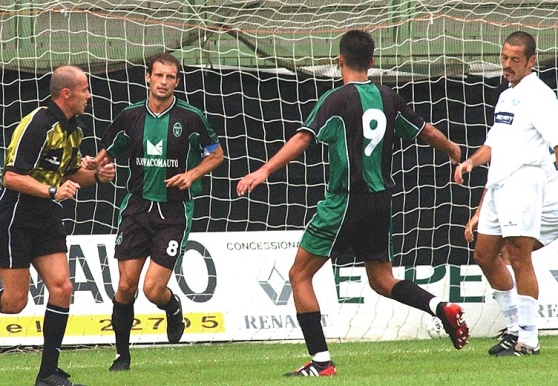 The following season he made a switch to Cagliari, where he enjoyed two successful seasons at Cagliari followed by two more seasons at Perugia. Allegri then moved on to Padova for six months, followed by another brief spell of six months at Napoli and then back to where it all began – Pescara, for two more years. He finished his playing career at lower seeded teams – Pistoiese and Aglianese, before calling it quits in 2013.
The Black Spot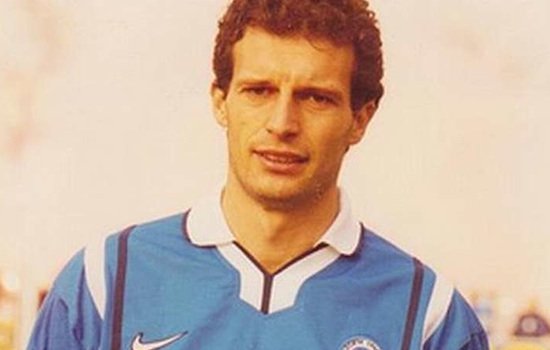 In an otherwise bright and sunny playing career, Allegri was charged for his involvement in match fixing for a Coppa Italia match in 2000, and he had to serve a one year ban in 2001.
 The Man Above The Law?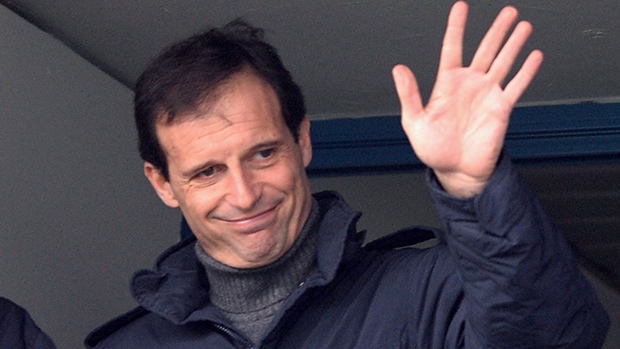 Allegri started his coaching career with Serie C2 side Aglianese – where he had ended his playing career. His early days as a manger was more of a roller coaster ride. After leaving Aglianese he joined Serie C2 side Grosseto, but he was axed during his initial days at the club. He then moved on to Udinese but not as a head coach but as a coaching staff – but he was handed a three-match ban because he switched to Udinese while his contract with Grosseto hadn't expired. He drew a lot of criticism for such actions and critics even proclaimed that Allegri thought himself to be above the laws of the game. On the contrary, many believed that the bans were due to flaws in his character while some felt that he was unlucky. Whatever might be the case, there are few players or coaches who rose to fame and fell again to serve bans. Allegri had seen it all both as a player and a coach, but his indomitable passion and dedication always saw him rising to the top.
"GOLDEN BENCH" LEGA PRO PRIMA DIVISIONE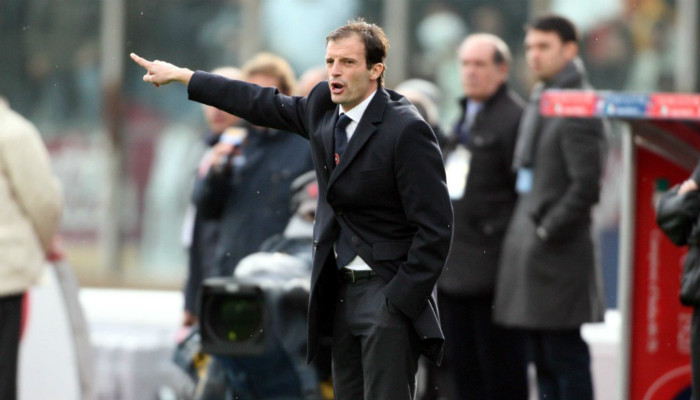 Allegri shot to fame as a manager after joining the Serie C1 side Sassuolo in the 2007-08 season. In his debut season itself, Allegri led Sassuolo to their first promotion to Serie B in the club's history, despite remaining off the grid due to that three month ban during the middle of the season. He also guided the side to clinch the SERIE C1 SUPER CUP title against Salerno after beating them 1-0 defeat  on penalties at home in Sassuolo and later winning the away fixture with the same scoreline. In November 2008, Allegri earned the "Golden Bench" award as the best coach of Lega Pro Prima Divisione for his successful spell as the Sassuolo amanager.
Panchina d'oro Award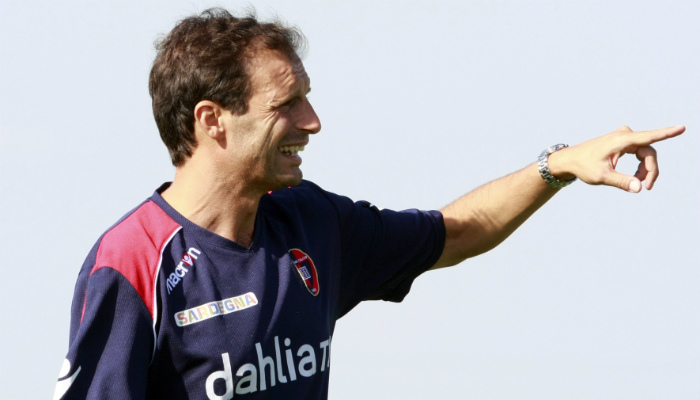 Allegri's successful spell at Sassuolo caught the attention of the Serie A side Cagliari and he officially joined them as their new manager in 2008 – where he earned the prestigious Panchina d'oro, or golden bench award which is handed to the best Serie A manager every year. He was chosen the winner by the vote of fellow Serie A and Serie B, as the best coach of the 2008-2009 season. With no big names present in the squad, Allegri guided his side to a 9th place finish in his first season followed by a 12th place finish in Serie A the next season. However, for some abstruse reason he was sacked in April that let the doors open for AC Milan, who roped him at the end of the season in 2010 and the rest is history – an incredible journey of success and failure.
The Incredible Journey Of Indomitable Passion And Dedication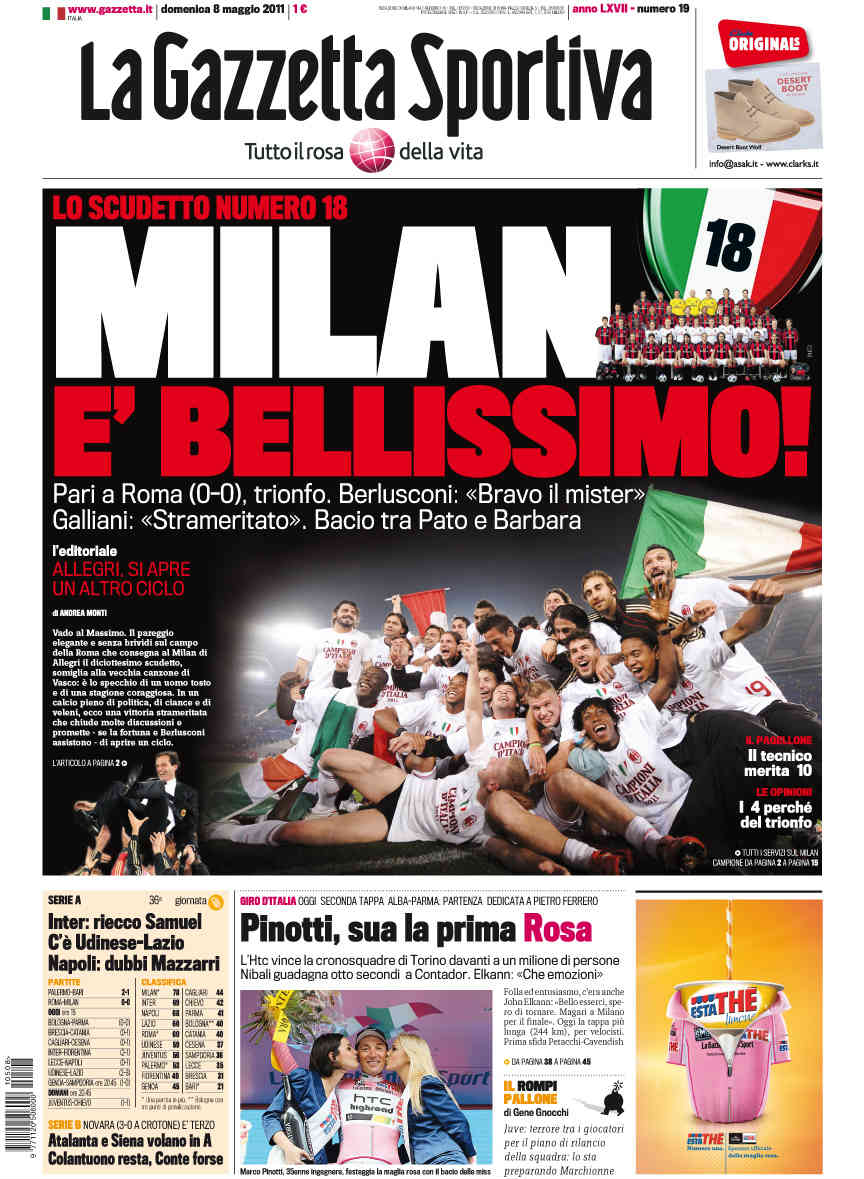 After taking charge at Milan, Allegri had acess to a star studded line up and he guided the club to their first Scudetto since 2004 after shattering the hopes of the defending champions Inter Milan, all thanks to a goalless draw against AS Roma on 7th May 2011. Allegri became the third youngest coach to win the title after Roberto Mancini and Antonio Conte.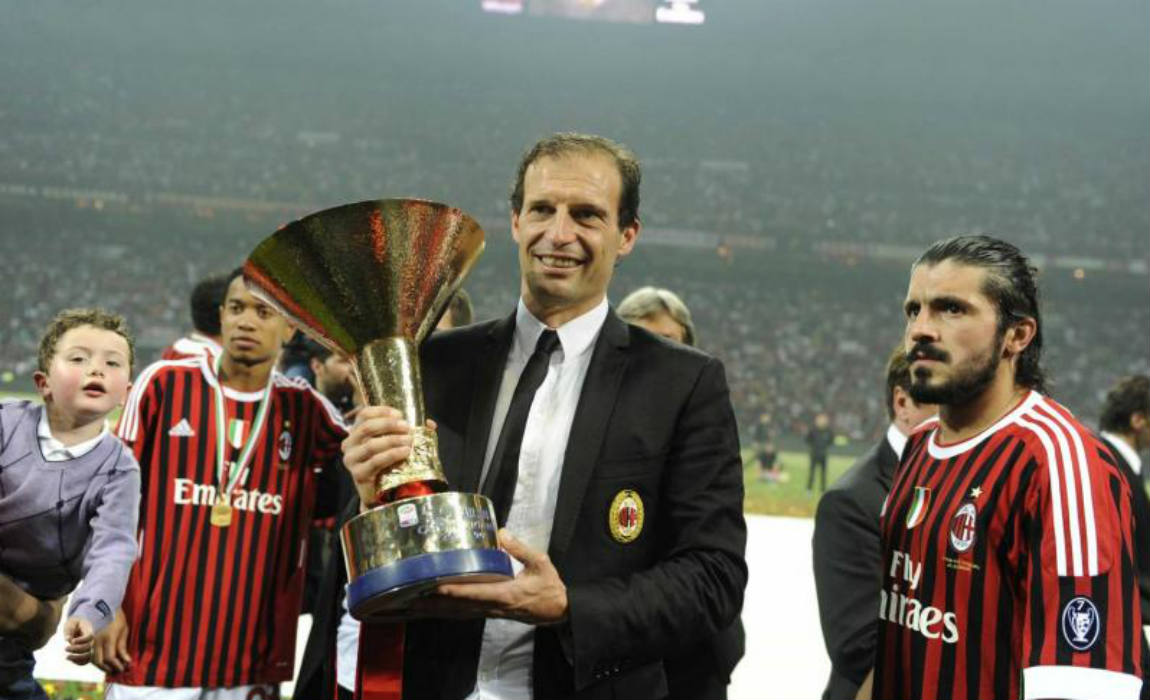 Success continued for Allegri in his second season at the club, when he guided Milan to their sixth Supercoppa Italiana title after they fought their way back to clich a 2-1 victory over fierce rivals Inter Milan at the Beijing National Stadium on 6th August 2011. However, they were knocked out of Coppa Italia after losing to Juventus and failed to move past the quarter-finals in the Champions League after losing to Barcelona. It left Allegri with a single purpose at the end of the season – the Scudetto. But Milan finished second to Juventus despite an Injury Armageddon.
The Talent Drain And The Cover Up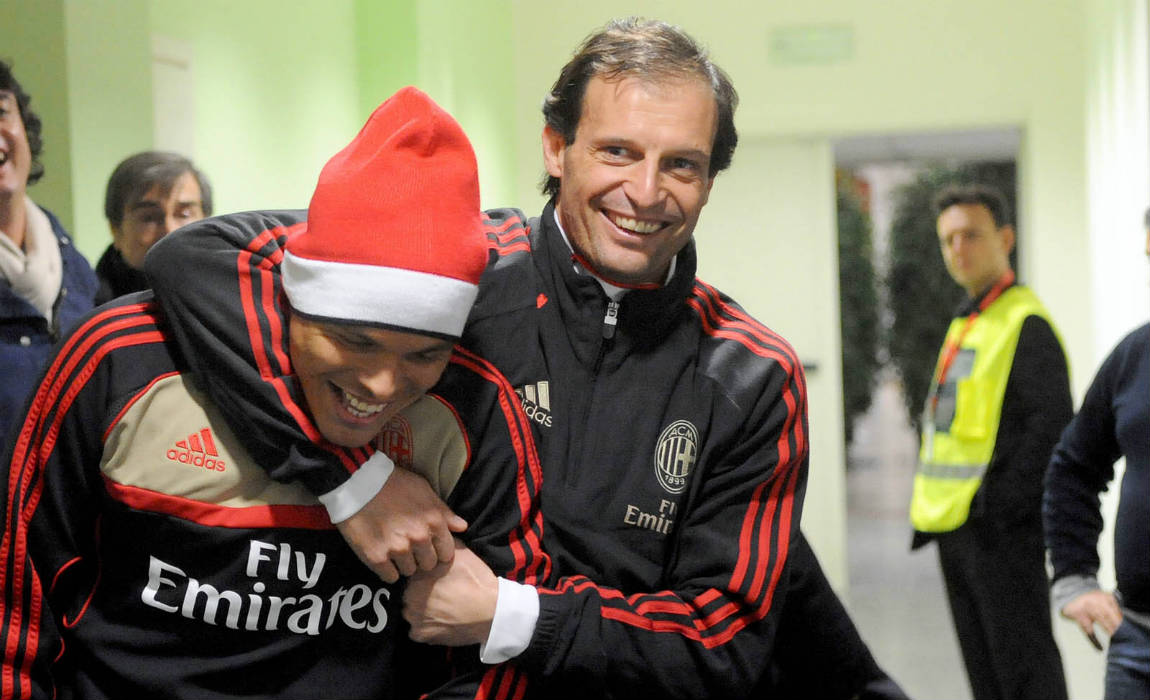 Things went haywire for Allegri in his third season at AC Milan. Vice-president and CEO of AC Milan Adriano Galliani and Allegri himself drew in a lot of criticism for letting star footballers leave – starting with Pirlo's move to Juventus in 2011, where he guided the Old Lady to consecutive Serie A titles. The talent drain continued as AC Milan offloaded Ibrahimovic, Thiago Silva, and Nesta in 2012 and so on.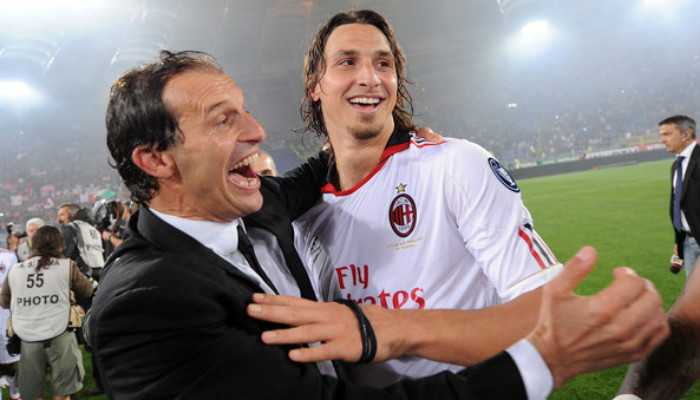 On January 2102, Allegri agreed to extend his contract with AC Milan till the end of 2013-14 season. However, after the departure of most of the key players, Milan struggled to hold on to their form from the very beginning of the 2012-13 season and managed to earn just d 8 points from their first 7 league games. Allergri was under the scanner for Milan's disastrous start to the season and many feared that he would be sacked early on. But despite all the speculations, Milan opted to have faith on their manager, who nurtured some of the younger players like Stephan El Shaarawy, Mattia De Sciglio and Mario Balotelli, who helped Milan to make a dream comeback. Allegri managed to pull up Milan from 16th place to a 3rd-place finish at the end of the season.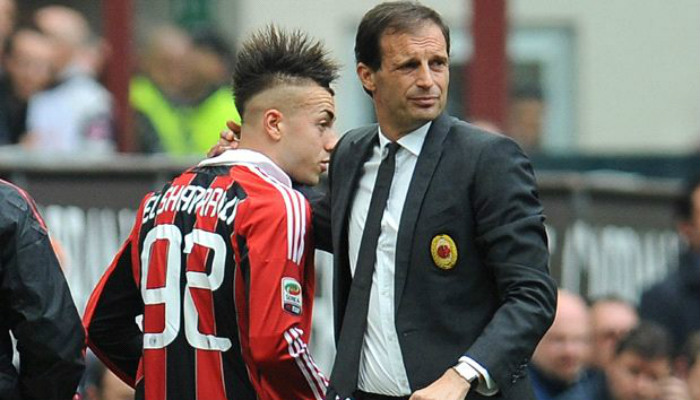 Things got worse for Allegri in his fourth season at Milan after a miserable start to their league campaign. On 31 December 2013, Allegri announced that he would leave the club at the end of the season. However, on 13th January 2014, Milan officially announced the sacking of Allegri along with his coaching staff after they lost 4-3 to minnows Sassuolo – taking down Milan to 11th place on the league table with 30 points behind leaders Juventus.
"GOLDEN BRIDLE", "SCOPIGNO AWARD" – "TROPHY MAESTRELLI" And BEST COACH AIC 2011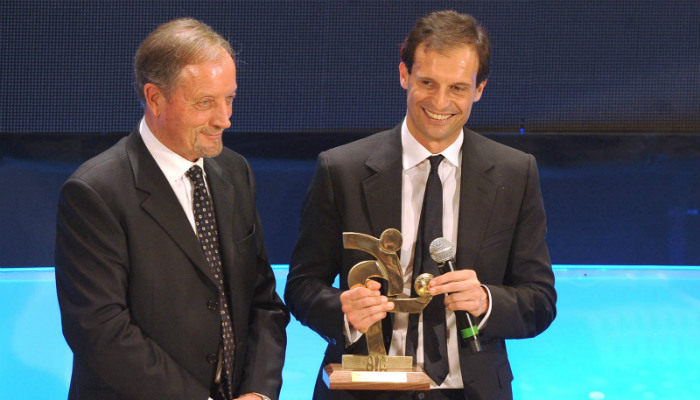 On 23 January 2012, he was awarded the prize for Best AIC coach of the year 2011. In 10th March 2012, he won the "Premio Scopigno" and "Maestrelli Trophy" as the best coach in the 2010-2011 season. On 14 May 2012 he was awarded by the Section of Siena Italian Soccer Coaches Association with the prize "Golden Bridle." During his managerial stint at Milan in the 2013-14 season, Allegri reached the milestone of 100 wins as a Serie A manager after beating Atalanta at home.
 The Casanova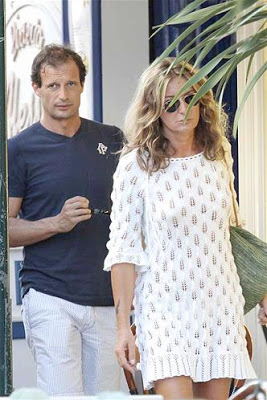 Coming to his love life – the former AC Milan man has been a true Casanova. He jumped on from one relationship to another, like he did in his initial days, when he began his managerial career – swapping to a new club without serving his entire contract with the previous one. Allegri was married to Gloria Allegri, who is the mother of his first child, daughter Valentina. But before talking about Gloria Allegri let's move on to his first girlfriend Erika.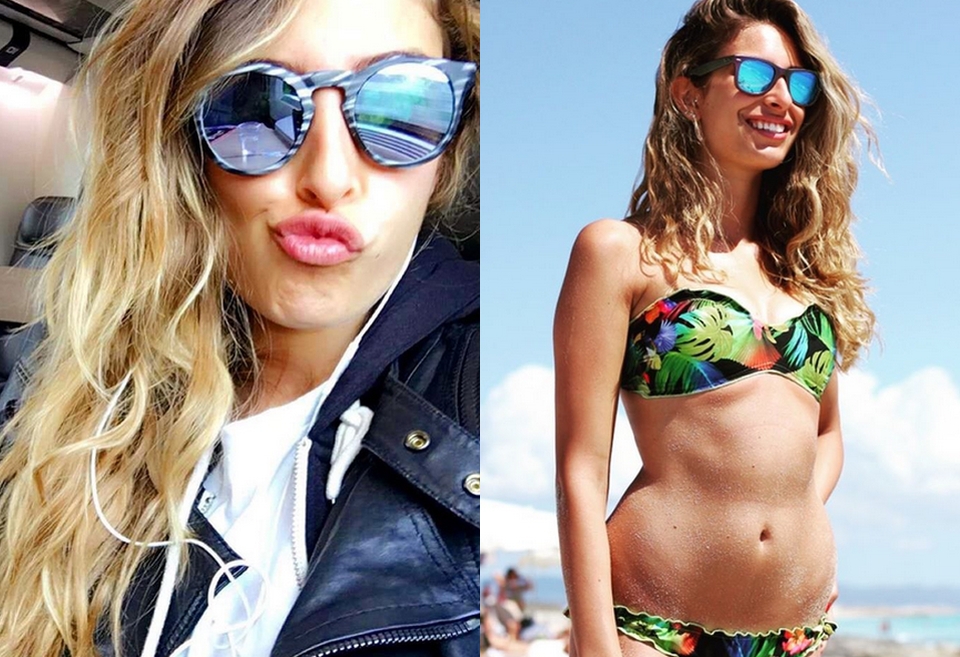 Erika had his worst nightmares during her relationship with Allegri. They went as far as getting agent but Erika received the greatest shock in her life when Allegri dumped her just few days before the wedding. Allegri was 25 then and was in a newly promoted team in Serie A. The stage was set – church decked with flowers, people invited, a grand lunch and a luxury honeymoon trip already paid for, but Allegri decided to quit at the very end.
Erika was already engaged to Allegri for four years. She was in college at that time and decided to kept mum and supported his decision to call it quits.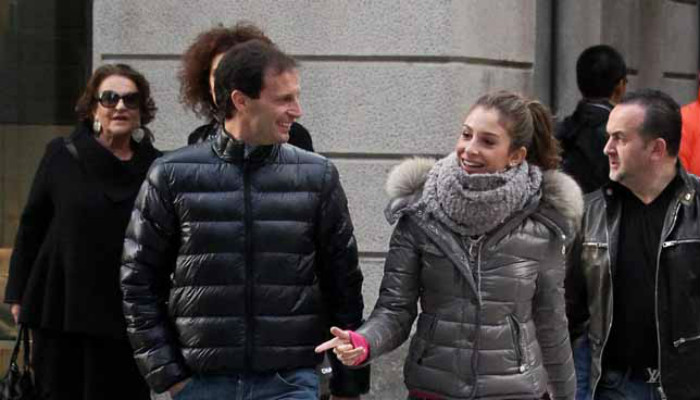 Then we come to Gloria Allegri, who was married to Allegri and the mother of his daughter Valentina. However, Allegri messed up again and the relationship didn't work. The legendary Milan man then moved on to his new love interest Claudia.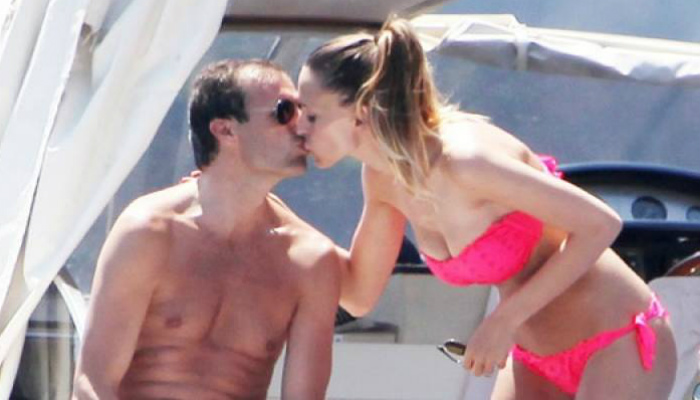 With Claudia he had his second child, son George in 2012. But Massimialiano and Claudia ended their eight-year long relationship while she was still pregnant. There were a series of allegations of betrayal on him when he was spotted with his new love interest Gloria Patrizi. But Allegri made it clear in an interview with Vanity Fair that he was loyal and he never cheated on Claudia.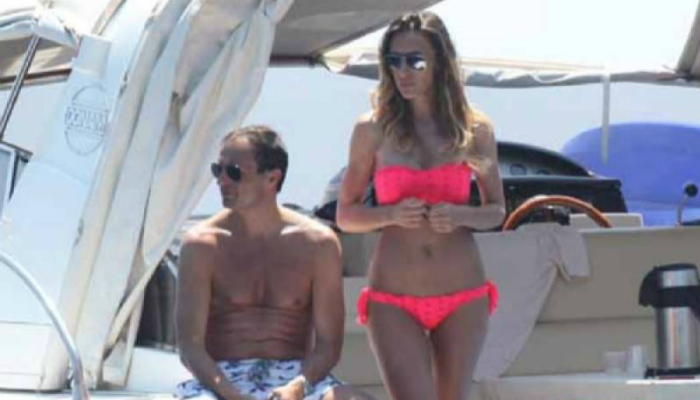 Gloria Patrizi, who is a former 2009 Playboy Playmate, was first spotted with Allegri in 2012 and at that time she was 24 – almost the age of Allegri's daughter. Both Patrizi and Allegri were bold enough when it came to PDA and having fun on a number of romantic vacations.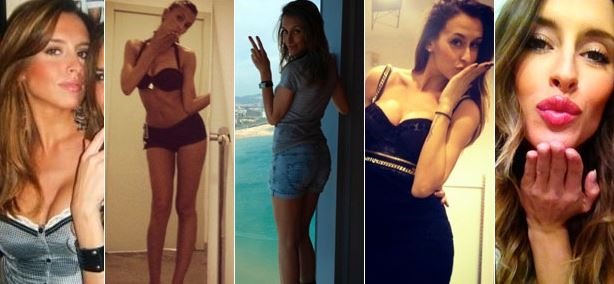 However, reports claimed that the couple were not in good terms after a recent fight and the relationship has finally met the dead end.
"The Manager's Role According to My Experience"
The former legendary Milan manager and current Juventus boss penned down an excellent essay – "The Manager's Role According to My Experience" – which brings together his perspectives on a role of a football coach at both the youth and professional levels. The tech savvy man also launched an app on Google Play – 'Mr. Allegri Tactics' – an unique coaching education tool. Allegri understands the importance of technology in the footballing arena and thus he created a product to share his philosophy. In the essay he talks about various issues like – the manager as an educator especially for children, On not being a Big Brother – the manager may hold a higher role but he should always respect the player and vice-versa, On what a modern manager needs to know, On the manager as a leader – who not only helps one to become a better footballer but also a better human being, On how to communicate, On how to teach players to lead healthy lifestyles. On a promotional site for his app, Allegri summed up his coaching philosophy by stating a Leonardo da Vinci quote – "If I had to express the philosophy behind my football in only a phrase. I would say:'Simplicity is the ultimate sophistication'."
Tactical Intelligence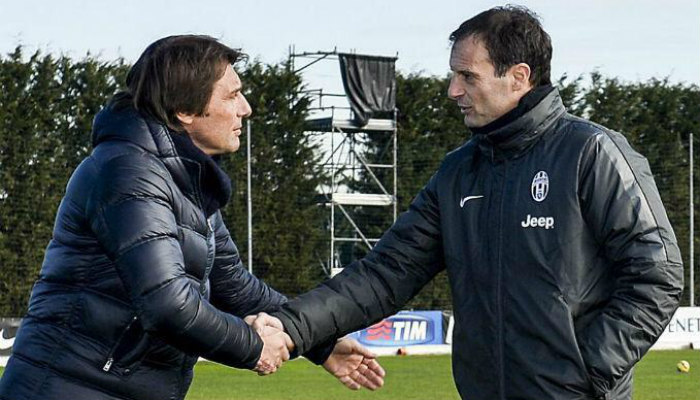 Allegri has been praised by all and sundry for his tactical intelligence and for seamlessly regulating his methods and philosophy in accordance to the new Biaconneri set up as he replaced Antoni Conte. Initially after taking charge at Juventus, he capitalised upon Antonio Conte's winning mentality and successful tactics but in a less punctilious manner. He began his journey in the new set up by adopting Conte's signature 3–5–2 formation, but later he used a four man back-line, especially in the UEFA Champions League.
Under Allegri, Juventus switched their game style and became way less aggressive in their pressing style and they started focusing more on dominating possession and keeping the territorial advantage – the exact tactical strategy that he had used in AC Milan.
Allegri's methods have been successful at Juventus and the side has been brilliant in winning balls in midfield and scoring from fast counter-attacks. His attacking concept has been a slow build-up play – juxtaposition of short passes with few long balls. He has also been applauded for his versatility in switching between different tactical formations during his debut season at Juventus – the 4–3–1–2, the 4–4–2, and the 4–3–3 formations. On 14 December 2015, Allegri won the Serie A Coach of the Year award and later on 7 March 2016, his second ever Panchina d'Oro.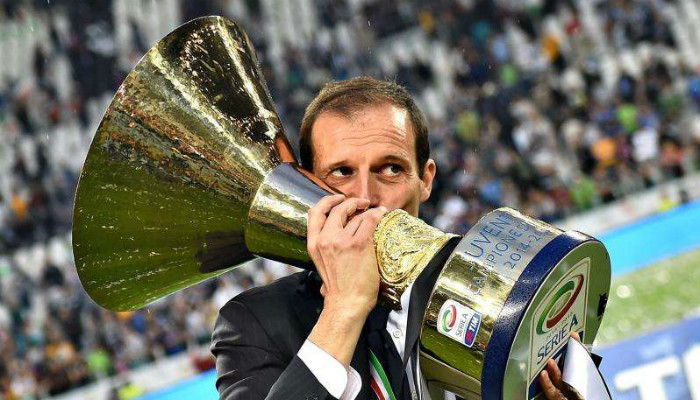 Antonio Conte had worked wonders at Juventus after clinching three consecutive Serie A titles and Allegri was the icing on the cake. He took control of the side quite smoothly and won two concecutive league titles – taking The Bianconeri's tally to fifth straight Serie A title. He also clinched two consecutive Coppa Italia titles – The Old Lady last won the trophy in 1995 and Allegri played a pivotal role in breaking their twenty-year drought.
Allegri also led Juventus to the Champions League final by defeating holders Real Madrid in the semifinals, 3–2 on aggregate but faced a disappointing 3-1 defeat at the hands of Barcelona in the finals.