Football is a sport much more than 90 minutes on the field. Team spirit, sportsmanship and fair play go a long way in determining success. But winning trophies always adds that extra shine to the player.
Dani Alves, by winning the gold medal at the Tokyo Olympics, has added one more winner's medal to his illustrious cabinet. With 43 trophies now, Dani Alves continues to be the most decorated player of all time in football.
Brazil captain Dani Alves said his dream had come true after winning an Olympic gold medal at the age of 38 with a 2-1 extra-time victory over Spain in Saturday's final. https://t.co/pk6WPgEgdP

— Daily Dispatch (@Dispatch_DD) August 8, 2021
Lionel Messi who recently left Barcelona, added one more trophy to his name this summer. He has won an international trophy for the first time in his career with Argentina at the Copa America, taking him over to 38 trophies in his career.
We at FootTheBall trace the top 10 most decorated players of all time in the wake of Alves and Messi's recent successes.
10) XAVI – 33 TROPHIES
Another product from La Masia, Xavi Hernandez was considered as one of the best midfielders of all time. A deep-lying playmaker, ball retention and passing were his trademark traits. Xavi had exceptional positioning sense and an eagle's eye to pick the forward pass.
Nicknamed the puppet master he formed one of the best midfield trios the world has ever seen along with Sergio Busquets and Andres Iniesta.
Xavier Hernández Creus' trophy cabinet is insane!
.
1x World Cup
4x Champions League
2x Fifa Club World Cup
8x La Liga Winner
3x Copa Del Rey
2x Uefa Super Cup
6x Supercopa de España

.
Xavi signed memorabilia now available!
.
.
#Xavi #FCB #FCBarcelona #Barca #NouCamp #Spain pic.twitter.com/yLQQ4XW7xr

— A1 Memorabilia (@a1memorabilia) March 16, 2021
A majority of his 33 trophies were won at FC Barcelona. He won the La Liga eight times and the Champions League four times. After leaving Barcelona, he went to the Qatari club Al Sadd where he won a further of four trophies. He turned into a manager at the same club and kept on winning trophies.
Xavi also played a crucial part in Spain completing the international hattrick between 2008 and 2012 winning the Euros twice along with a World Cup.
9) VITOR BAIA – 34 TROPHIES
Goalkpeers are extremely blessed to have long careers. Baia was also fortunate to play at the highest level for 20 years. The Portuguese international represented Porto and Barcelona on club levels. His Porto side dominated the league in the last decade of the 20th century. He also spent two years at Barcelona – a period that saw him win five trophies. A return to Porto followed in 1999.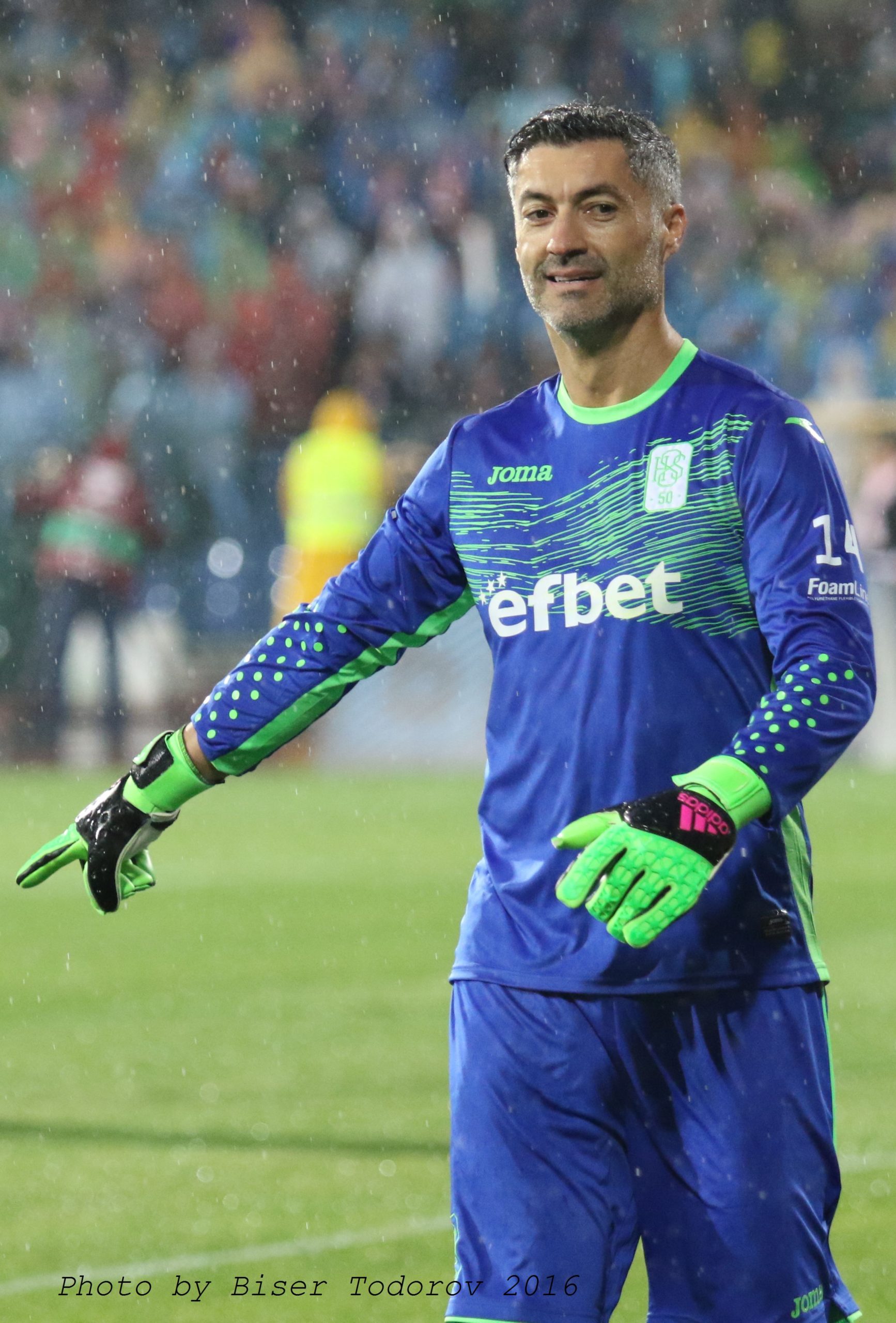 He peaked under Jose Mourinho as they won the league and Champions League in 2004. Standing at 6ft he had the right frame for a goalkeeper. Extreme reflexes and close up saves were his trademark features. Baia kept adding trophies to his collection till the time he hung up his boots in 2007.
8) CRISTIANO RONALDO – 34 TROPHIES
No words can quantify the legendary Portuguese international's drive for perfection. Undeniably one of the best players to play the game, he wants to be the best in everything he does and win every trophy available. A man for big moments and big games Ronaldo delivered many times in finals to help his side win trophies.
His pace, dribbling, trickery and finishing made him impossible to defend. Ronaldo ran circles around John O'Shea against Manchester United whilst at Sporting which convinced Sir Alex Ferguson to get him to Old Trafford.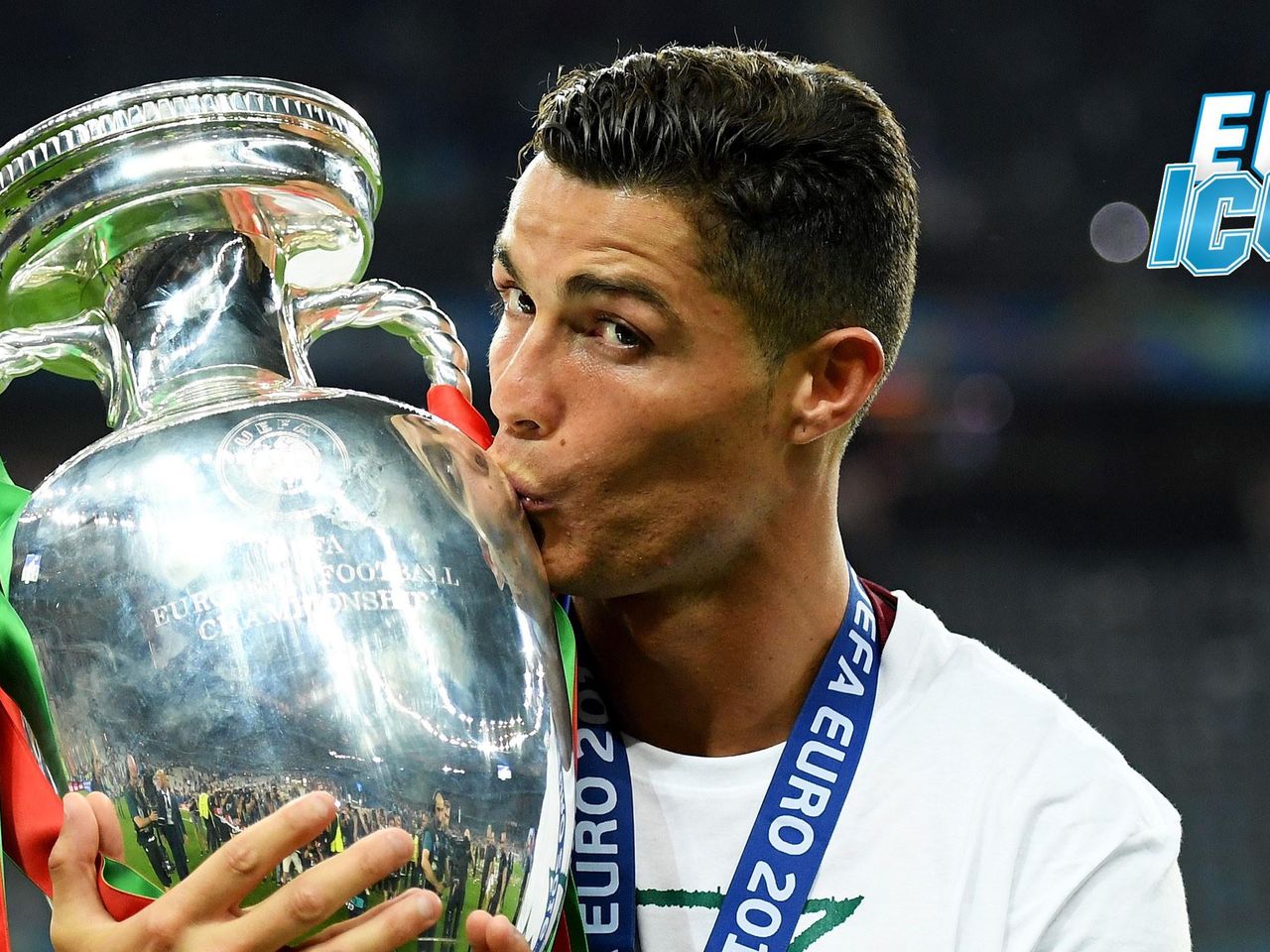 He was moulded into a dangerous winger by Sir Alex Ferguson as he won nine trophies at United. He then moved to Real Madrid as a galactico in 2009 for a world-record fee. Ronaldo played as a striker for the Los Blancos as helped Madrid scale new heights. His peak saw him wage a legendary battle with Lionel Messi in the league. Ronaldo delivered in the Champions League final in 2014 as they won the La Decima. Mr Champions League then relentlessly drove Madrid to a three-peat between 2016 and 2018.
He then moved to Juventus in search of a new challenge in 2018. He has won five trophies in Italy to move onto 34 trophies. Ronaldo also saw international success with Portugal by winning the Euros and Nations League.
7) GERARD PIQUE – 35 TROPHIES
Pique might be synonymous with Barcelona in the present day, but it was Manchester United that won him his first major honour. Pique decided to leave La Masia to join Manchester United as a youngster in 2004. He was a defensive midfielder who was converted into a centre-back. Pique broke out at United as he won the Premier League and Champions League with the Red Devils. His talents were noted by Barcelona who decided to bring him back.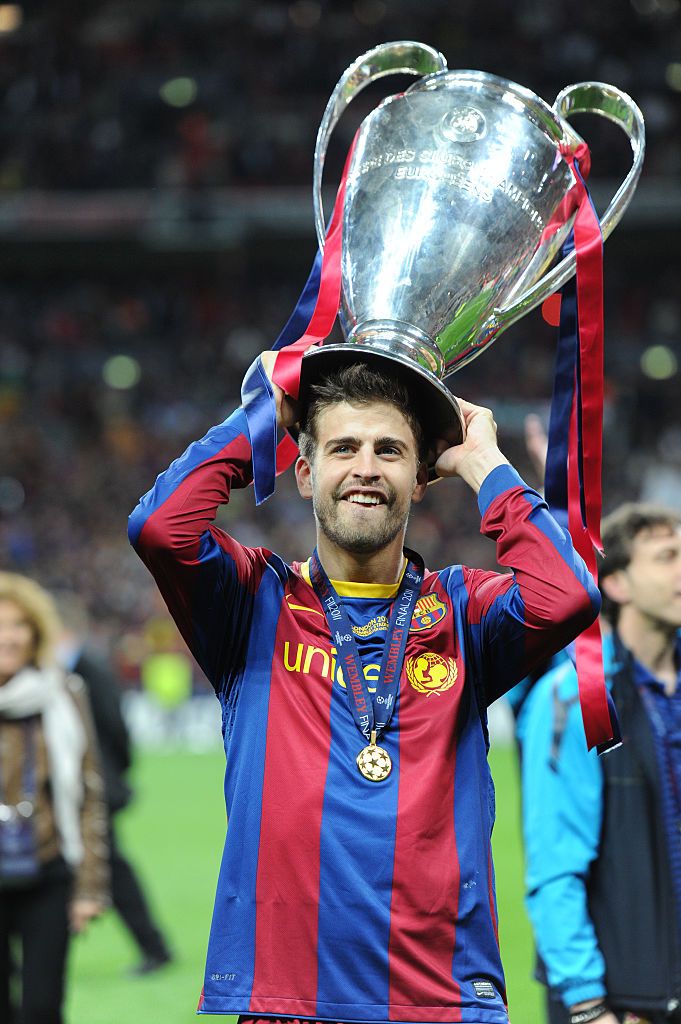 A return to Barcelona went smoothly as Pique grew into the legendary centre-back he is today playing alongside Carles Puyol initially and learning his trade to perfection. He went onto win the Champions League three more times with Barcelona while also winning the league eight times and the Spanish cup seven times.
Pique was a part of the Spanish national team and formed a rock-solid centre-back partnership with Real Madrid legend Sergio Ramos. They helped Spain win the 2010 World cup and 2012 Euros together. Pique is looking to add more trophies to his name with Barcelona before hanging up his boots.
6) KENNY DALGLISH – 35 TROPHIES
The legendary Scottish striker was named the greatest striker in post-war British football by the 442 magazine in 2009. Such was his impact on the game at Celtic and Liverpool. Liverpool fans still worship him and call him King Kenny lovingly. Dalglish was a fearsome striker in his day with pace and finishing of world-class standards. He was also incredible in the air and had great passing.
Kenny Dalglish ● Liverpool FC Player 1977-1990
515 Games ● 172 Goals ● 164 Assists ● 15 Major Trophies
FWA Footballer Of The Year 1979 & 1983
PFA Player Of The Year 1983
A Liverpool Number 7 Legend
Liverpool's Greatest Ever Player
King Kenny #KennyDalglish #LFC #GOAT pic.twitter.com/Zli09QfCrr

— Liverpool FC L4 (@LiverpoolFCL4) April 22, 2021
Dalglish started his career in Scotland with giants Celtic in 1971. He went on to win four Scottish league championships, four Scottish Cups and one Scottish League Cup with the club. Bob Paisley, the then Liverpool manager paid Celtic the British transfer record of £440,000 for Dalglish's services. With his wonder goals, Liverpool enjoyed a golden period as they won six English league championships, the FA Cup, four League Cups, five FA Charity Shields, three European Cups and one European Super Cup.
He became a manager later in his career and led Liverpool to league and cup glory.
5) RYAN GIGGS- 36 TROPHIES
Regarded as the best player of his generation Giggs was a delightful player on the pitch. The Welsh midfielder was a mainstay of Sir Alexander Ferguson's legendary Manchester United team that won 13 Premier League titles. That golden era at Old Trafford saw him amass 36 trophies on a whole. Giggs was a prodigy from a young age as he won the PFA Young Player of the Year twice in a row in 1992 and 1993. He has brilliantly managed to translate that success into his senior career.
Happy Birthday to @ManUtd and @FAWales legend Ryan Giggs!

Prem: 🏆🏆🏆🏆🏆🏆🏆🏆🏆🏆🏆🏆🏆
FA Cup: 🏆🏆🏆🏆
League Cup: 🏆🏆🏆🏆
UCL: 🏆🏆 pic.twitter.com/BUSt3HV1Cb

— Lovefootball (@Lovefootball) November 29, 2016
The Welshman was a dynamic left-footed midfielder who had technique beyond one's imagination. His versatility and skill helped him play him all over the midfield and forward positions.  Giggs turned to management after a long and wonderful playing career.
4)ANDRES INIESTA – 37 TROPHIES
The Spanish midfield maestro was the crown jewel of La Masia. Blessed with impeccable passing, technique and vision he was part of a Barcelona side that ruled the country and continent for years. Iniesta formed a special bond with compatriots Messi and Xavi to dominate the pitch. He won 30 trophies at Barcelona which included league titles, Champions Leagues and cup titles.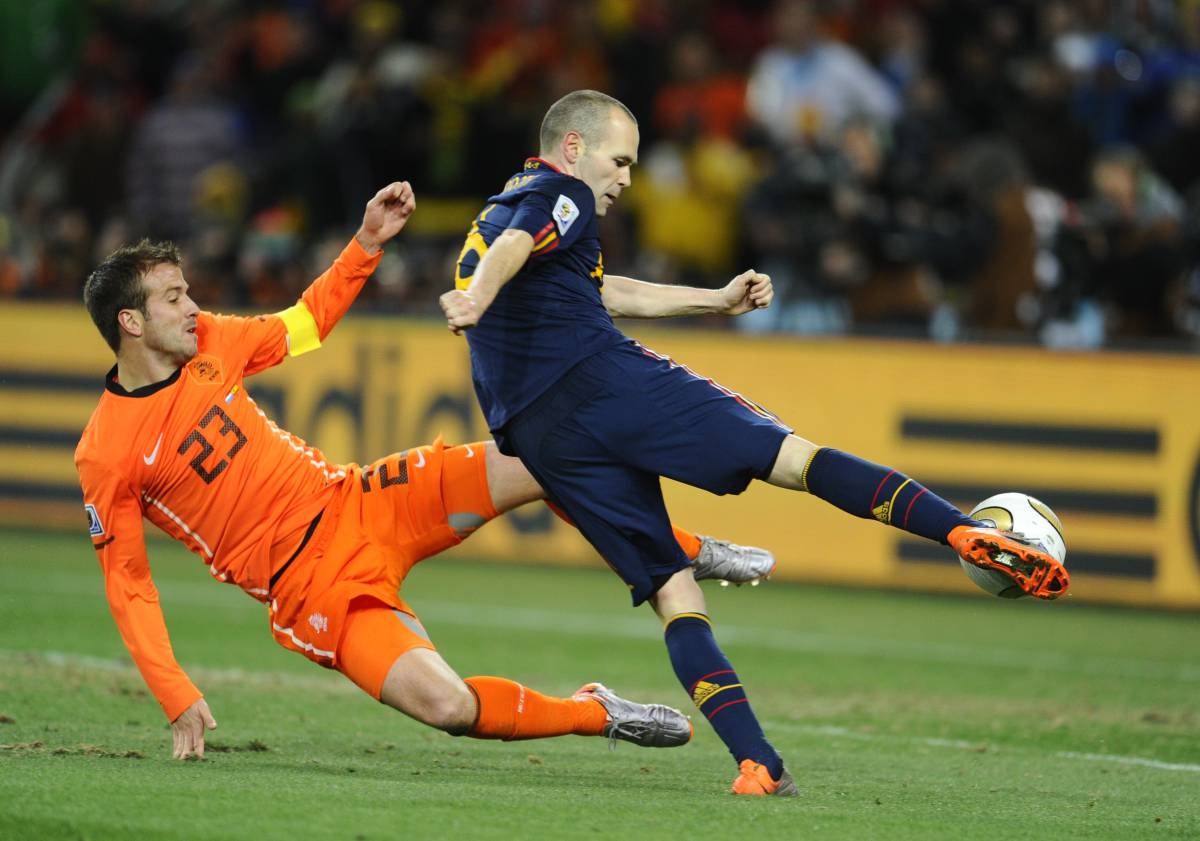 Iniesta was also a core member of the legendary Spain side that swept international football. The don played a key role in winning the 2008 Euros. He then had the final say in the 2010 world cup as he swept home Spain's winner against the Netherlands. The international hattrick was finished in 2012 as Spain humbled Italy in the European championship finals. Iniesta left Barcelona for Japan in 2018.
He even had great success in Japan with Vissel Kobe as he won the Emperor's Cup and Super Cup in 2019 and 2020.
3) MAXWELL – 37 TROPHIES
The versatile Brazilian left-back would always be remembered for his consistency at the top of his game. He was a regular member of champion teams like Ajax, Inter, Barcelona and Paris Saint Germain. After winning his first trophy in his native Brazil with Cruzeiro he left for Europe. The left-back then went for a roller coaster journey covering many elite clubs with Ajax being his first destination.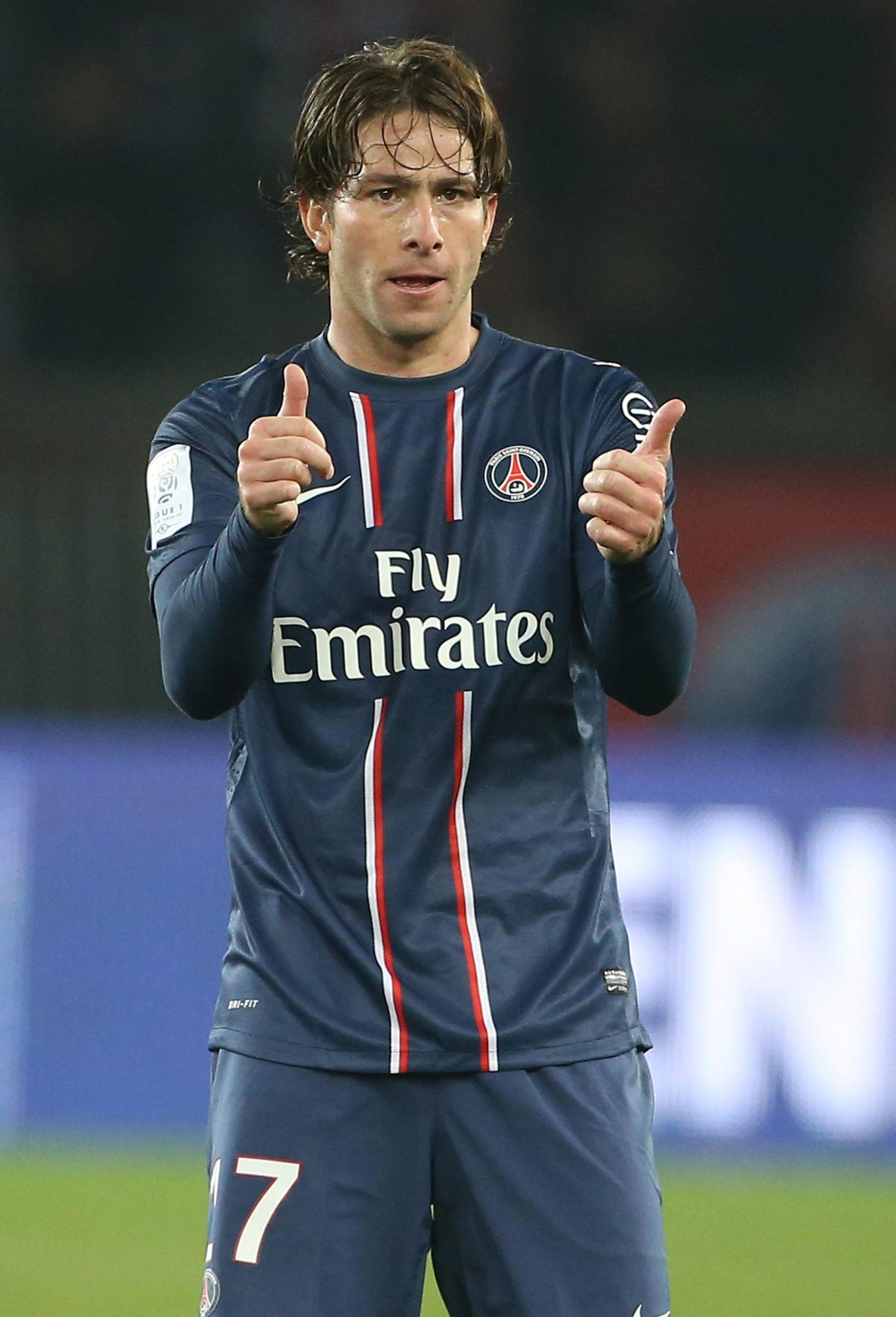 Maxwell was a left-back who was known for his ball-winning capabilities and great pace. He was nonchalant going forward and would always engage the full-back with his trickery and crossing. Maxwell also played at times as a wide midfielder. He won 15 trophies at PSG which made him retire in style at a tally of 37 trophies.
2) LIONEL MESSI – 38 TROPHIES
Widely regarded as the best player ever to play the game, Messi's trophy collection is incredible. While team honours are quantifiable, one can simply give up numbering the individual honours. Messi who recently turned 34, added the most important trophy to his cabinet this summer. The 2021 Copa America triumph ended his long wait for an international trophy as it became the 38th feather in his cap. Messi was phenomenal throughout the tournament and was awarded the best player award as well.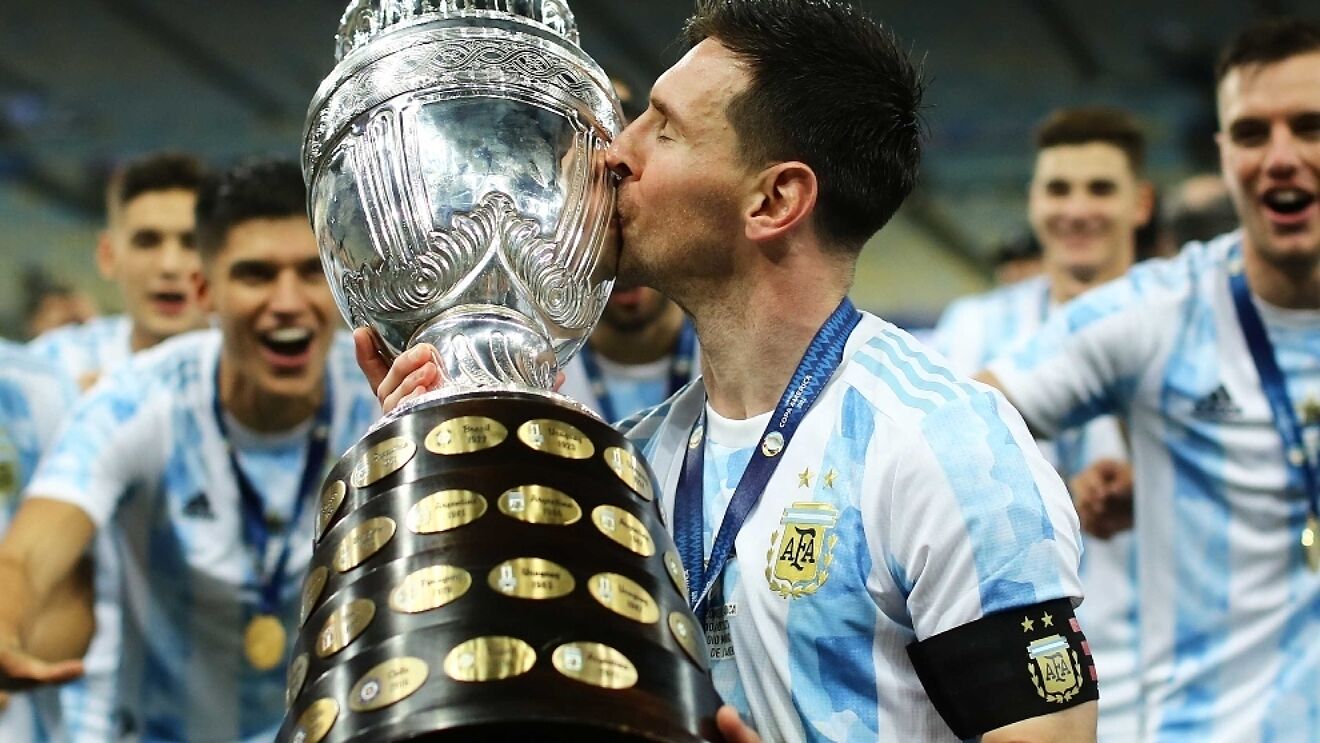 An astonishing 35 of Lionel Messi's trophies came with FC Barcelona. The Argentine international won the league 10 times with them and further lifted the Champions League trophy four times. It was during that peak period he was awarded Ballon d'Or six times. With Messi leaving Barcelona, a 21-year-old relation is being broken.
PSG is rumoured to be his next destination. The Parisian club might help Messi win more trophies and let him catch up with Dani Alves in the near future.
1) DANI ALVES – 43 TROPHIES
The legendary right-back was already clear of Lionel Messi in the second position. His hunger for trophies always keeps him pushing. Even at 38 years of age, he pressed for a spot in the Brazil Olympic squad. He was granted his wish and sent to Tokyo. The swashbuckling full-back captained Brazil to glory as he laid the assist for their opener in the final against Spain. With an Olympic medal, he has nearly completed football's trophy collection.
Brazil win and Dani Alves has now completed football:

6 x La Liga
5 x 🇪🇸 Super Cup
4 x Super Cup
3 x Champions League
3 x Club World Cup
2 x Copa America
2 x UEFA Cup
2 x Ligue 1
2 x Confed's Cup
2 x 🇫🇷 Super Cup
1 x Serie A
1 x 🇮🇹 Cup
1 x Olympic Gold Medal 🥇#OptusSport pic.twitter.com/StavaMB7f9

— Optus Sport (@OptusSport) August 7, 2021
Alves tasted first blood in 2002 as he won the Copa do Nordeste for the first time. Ever since the hunt for trophies kept him ticking. It was in Catalonia where the Brazilian shone the brightest. Even after Barcelona, winning 23 of his 43 trophies with the club. He went on to have trophy-laden spells at Juventus, PSG and Sao Paulo. With Brazil, he won the Copa America twice and a solitary confederations cup. Though he missed the Olympic triumph in 2016, he returned for it in 2021.
Alves, the most decorated player in football is now trying a different role at Sao Paulo as he's playing as a number 10.