Owning a football club is a dream, and owning a Premier League club is the pinnacle.
From being a board member to being the ultimate boss of a Premier League club, it's a fantasy that most of us football fans have thought about on more than one occassion in our lives.
However, in reality only a handful can afford to follow the dream and buy a football club, let alone a Premier Club.
These handful are also some of the most powerful and influential people in the world, and they come from across the globe too.
Some from Russia, others from the USA, Some from middle-east, while some are former refugees.
FootTheBall brings to you the 20 Money-banks for our favorite Premier League clubs.
Arsenal
The complete shareholder in the club is the American Stan Kroenke through Kroenke Sports Enterprises UK Inc. Kroenke bought out Russian Alisher Usmanov's stake in August 2018 to take sole ownership.
Stan Kroenke was the biggest and majority shareholder of Arsenal since 2011. The 69-year-old is the 55th richest American and also owns sports teams in the US, including NFL franchise LA Rams, NHL outfit Colorado Avalanche and MLS side Colorado Rapids.
Kroenke bought out Usmanov's shares in 2018 and the Russian subsequently bought a stake in Everton, which had to be relinquished due to the Ukraine-Russia conflict.
Arsenal are one of the top Premier League sides.
Aston Villa
Thank You Nassef Sawiris & Wes Edens! 👏 #Avfc #utv pic.twitter.com/BIgoI8ZvhR

— Beard Of The Match 💭 (@BeardOfTheMatch) August 9, 2018
After nearly going bankrupt under their previous Chinese owner, Egyptian businessman Nassef Sawiris came together with US mogul Wes Edens to take sole ownership of the club through their holding company NSWE Group. The price at which they bought the club from Tony Xia remains undisclosed.
Bournemouth
Maxim Demin is the sole shareholder of Bournemouth through his company AFCB Enterprises Ltd, owning a 100% stake in the club.
Demin became co-owner of the Football League side A.F.C. Bournemouth with Eddie Mitchell, reportedly paying £850,000 for his 50% share of the club. He later bought Mitchell's shares too, taking full shareholding in the club.
Brentford
16) In a sport that has historically refused the analytical revolution, Matthew Benham decided to shake things up.

He saved his childhood team from bankruptcy, used his experience in analytics to create a competitive advantage & turned a $700k loan into $300M+.

That's amazing. pic.twitter.com/X3vsjFkxIe

— Joe Pompliano (@JoePompliano) June 3, 2021
Matthew Benham, founder of sports betting analytics firm SmartOdds took control of Brentford in 2012 for only half-a-million Euros. Becoming one of the smartest clubs in Europe since, the club is now valued at more than 300 million Euros.
Brighton and Hove Albion
Tony Bloom's blue and white army! 🏆🐎#bhafc pic.twitter.com/kdONtewMbA

— Samuel Murray (@Samuel26Murray) March 16, 2022
Graham Potter's overachieving club is owned by Anthony Grant Bloom, commonly known as Tony Bloom. Bloom owns 93.6% of the club's shares. He made his fortune through betting on sports events using the art of data analytics.
Chelsea
Todd Boehly with Sam Kerr and Erin Cuthbert at Stamford Bridge watching #CHETOT pic.twitter.com/23dIluGrX8

— CHELSEA WOMEN TEAM (@Chelseawomen_) August 14, 2022
Todd Boehly is the face of consortium that took ownership of Chelsea from Roman Abramovich. The consortium is backed by Clearlake Capital, an investment firm, and includes billionaire Hansjorg Wyss.
The Russian billionaire bought Chelsea in 2003 and has since transformed the Blues into not just Premier League but a European powerhouse.
However, Abramovich was forced to relinquish control of the club due to the Russia-Ukraine war. Todd Boehly, who owns Los Angeles Dodgers in in MLB led a consortium which purchased Chelsea from him.
Crystal Palace

John Textor owns the majority shares of the club after investing $121.3 million for his stake. Former majority owners Steve Parish and David Blitzer retain minority stakes in the club. 
Textor is a very reputable businessman and the founder and CEO of Facebank, a virtual entertainment company He is also the chairman of the club.
David Blitzer is an American businessman who is also part-owner of New Jersey Devils and Philadelphia 76ers.
Steve Parish is still one of the voices of the club, with him being most vocal against the European Super League project.
Everton
Farhad Moshiri owned Blue Heaven Holdings Ltd owns 94.1%, Bill Kenwright owns 1.3%, while others own 4.6% of Everton FC.
Moshiri is a close aide of Arsenal shareholder Alisher Usmanov and earned his fortune working with the Russian.
Farhad Moshiri sold his shares in Usmanov's Red and White securities and then went on to become the largest shareholder in Everton. When Usmanov was driven away from UK due to the war, Moshiri bought out his shares to consolidate his control of Everton.
Bill Kenwright is a lifelong Everton fan and the second single largest shareholder of the Merseyside club. He is also a theatre and film producer.
Fulham
What a year for Shahid Khan. His NFL team, the Jaguars, make the AFC Championship. His English soccer club, Fulham, earns Premier League promotion.

Not too shabby. pic.twitter.com/yjzPEDig3k

— Roger Gonzalez (@RGonzalezCBS) May 26, 2018
Pakistani-American businessman Shahid Khan took over full control of Fulham in 2013, buying 100% of the shares, debt-free. Khan is the founder of Flex-n-Gate, an automotive company in the US and also owns Jacksonville Jaguars team in the NFL.
Leicester City
The Srivaddhanaprabha family owns the Leicester City Football Club through the King Power International Company LTD, with Vichai Srivaddhanaprabha owning 51%, while Voromas Srivaddhanaprabha, Apichet Srivaddhanaprabha, Aiyawatt Srivaddhanaprabha and Aroonrong Srivaddhanaprabha own 10% each and Aimon Srivaddhanaprabha owning 9% of the company and club.
The Foxes had a dream run in 2015/16 season and so did their owners when they won the Premier League.
Vichai Srivaddhanaprabha was the largest stakeholder in the parent company King Power operations until his tragic death in a helicopter crash in 2018. He generated his fortune through monopolizing duty-free outlets in Thailand.
His son, Aiywatt, has since become the Chairman of the club, hoping to keep his father's legacy flourishing.
Leeds United
On This Day: In 2017, Andrea Radrizzani became co-owner of Leeds United after buying a 50% stake in the club from Massimo Cellino. 👏https://t.co/sbxOfiIPd1 | #LUFC pic.twitter.com/RybhnyFLYZ

— LUFCDATA (@LUFCDATA) January 4, 2022
Italian businessman Andrea Radrizzani is the majority shareholder of the club, owning 56% of the club's shares. Radrizzani is the chairman and founder of the broadcasting group, Eleven Sports. The rest 44% if owned by the York Family – via 49ers Enterprises Leeds SPV LP, a company registered in Delaware.
Liverpool
Fenway Sports Group owns Liverpool FC through NESV I, LLC. Shareholders with an interest larger than 10% are John W Henry, Tom Werner and Mike Gordon.
In 2010, after the Liverpool board voted to oust then club owners Tom Hicks and George Gillett 3-2, American investment group Fenway Sports Group bought the English giants.
The Fenway Sports Group also owns the Boston Red Sox in the USA, but the investment firm had to recently deny rumours of an impending sale of the Reds.
John Henry is worth £2 billion while partner Tom Werner, a former screenwrite and TV producer has a personal wealth of over £400 million.
Manchester City
Sheikh Mansour Bin Zayed Al Nahyan owns the majority share in the club through his company the City Football Group Limited in which he is a 77% shareholder while CMC Football Holdings Limited is a 13.79% shareholder. Rest 10% was sold to US equity firm Silver Lake for £389 million recently. 
Sheikh Mansour Bin Zayed Al Nahyan is the deputy PM of UAE and the ultra-rich Arab has turned City into a Premier League giant.
The 46-year-old has a personal wealth of over £20 billion, while also having stakes in Virgin Galactic, Daimler and Sky Arabia.
Manchester United
Glazer family own Manchester United Fc through their company the Red Football LLC. MUFC are also registered on the New York Stock Exchange.
Highly prudent Malcolm Glazer bought the club in 2005, having first ventured into sports ownership in 1995 with the Tampa Bay Buccaneers.
Joel Glazer and Avram Glazer took over the day-to-day running of the club in 2006. Though all 6 of the Glazer siblings own 15% stake in the club, while 10% is active in the New York Stock Exchange.
Manchester United are however a record-breaking 20 time Premier League Champions.
Newcastle United
Amanda Staveley will remain a key part of Newcastle's future after her management contract at St James' Park was reaffirmed by the club's majority shareholder, Saudi Arabia's public investment fund. pic.twitter.com/cEwu8vUtqu

— Abraham Adamson (@AdamsonAbraham) August 19, 2022
Saudi Arabia-backed PIF (Public Investment Fund) owns 80% of the club's shares after finally agreeing to a deal with Mike Ashley in 2021. PCP Capital Partners and RB Sports and Media group own 10% each. Amanda Stavely is the face of the ownership, through PCP Capital Partners. With this deal, Newcastle United became the club with richest owners in football.
Nottingham Forest
Greek businessman Evangelos Marinakis is the majority shareholder of Nottingham Forest after taking over the club from Kuwaiti businessman Fawaz al Hasawi in 2017. Marinakis also owns Olympiacos in his homeland and has invested more than £200 million in the club since taking over.
Southampton
Sport Republic owns 80% of the club's shares. Dragan Solak, a Serbian business, founder of United Group media house is the chief investor in Sport Republic. They bought the 80% of shares from Chinese businessman Gao Jinsheng for £100 million in 2018.
Katharina Liebherr retains her minority ownership of 20%.
Tottenham Hotspurs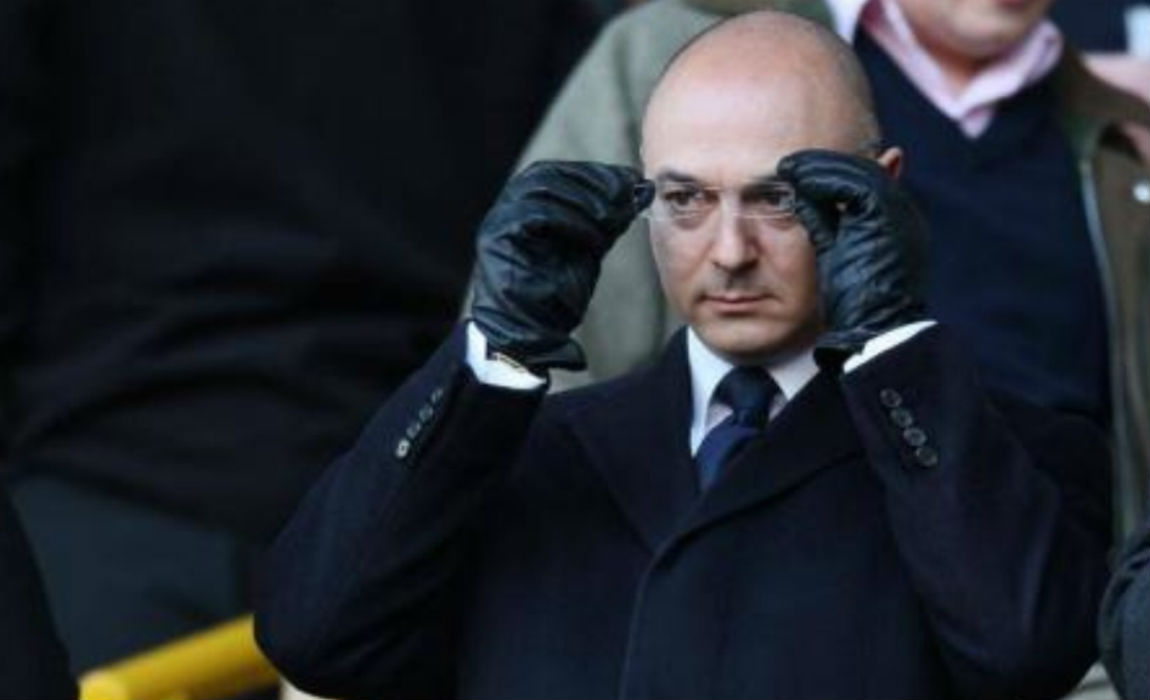 Bahamas based ENIC International Ltd owns 85.55% via ENIC Sports Inc while others own 14.55%. Joe Lewis and chairman Daniel Lewy own 70.6% and 29.4% each of ENIC.
Joe Lewis was born in East London but the billionaire now lives in the Caribbean.
Lewis' personal wealth is estimated to be around $5.4 billion. The 79-year-old started out by helping his family set up a catering business before he ventured into currency trading.
Daniel Levy runs the day-to-day business of the club and is believed to be a very firm negotiator.
West Ham United
David Sullivan owns 38.8% stakes with David Gold owning 25.1% stakes. Daniel Kretinsky bought a 27.1% stake in the club in 2021 for nearly £200 million.
David Sullivan and David Gold bought the club in 2009, fulfilling Gold's lifelong dream of owning the Hammers.
Sullivan is a former adult movie producer and has also been an active investor in properties.
Wolverhampton Wanderers (Wolves)
Jeff Shi has revealed this brilliant conversation he's had with Wolves owner Guo Guangchang

"I asked him, 'If Wolves win everything in the world will you sell it for a good price?'
"He said: 'No, no, I will keep Wolves in Fosun forever.'"#WWFC pic.twitter.com/t9NWezfjtM

— Wolves Live (@WolvesFC_latest) May 17, 2019
Wolves is owned by Fosun International, a Chinese company with Guo Guangchang and Jeff Shi being the publicly visible figures in the ownership structure. They have come under the microscope since it was revealed that Gestifute, super-agent Jorge Mendes' agency also has a stake in Fosun International.