At a delicate juncture for German football, Die Mannschaft's most experienced and successful pillar announces his withdrawal from the national team. Toni Kroos announced his retirement from international football following Germany's elimination from Euro 2020 at the hands of England. 
😢 @ToniKroos has announced his retirement from international football.

Thank you for everything, world champ! 👏🇩🇪🏆#DieMannschaft pic.twitter.com/Y0RceFLf7S

— Germany (@DFB_Team_EN) July 2, 2021
Early tournament exits are an unfamiliar sight for serial winners like Toni Kroos but in these past few years, he's had to go through two such events. First the 2018 World Cup, and now the Euros. But he has had his fair share of legendary moments with his country, making him one of the greatest to ever step on the football pitch.
One of the greats 🇩🇪#DieMannschaft @ToniKroos pic.twitter.com/GKYN4BxoHN

— Germany (@DFB_Team_EN) July 2, 2021
As Toni Kroos bids farewell to the German national team, we reminisce on some of the best moments of his international career.
1. WINNING THE 2014 WORLD CUP
The most iconic and crowning moment of Toni Kroos' international career came in 2014 when Germany won the 2014 World Cup, beating Argentina 1-0. Kroos' emergence into an already world-class German starting lineup is what really made Loew's side so frighteningly powerful, relentless, destructively lethal, and dominant.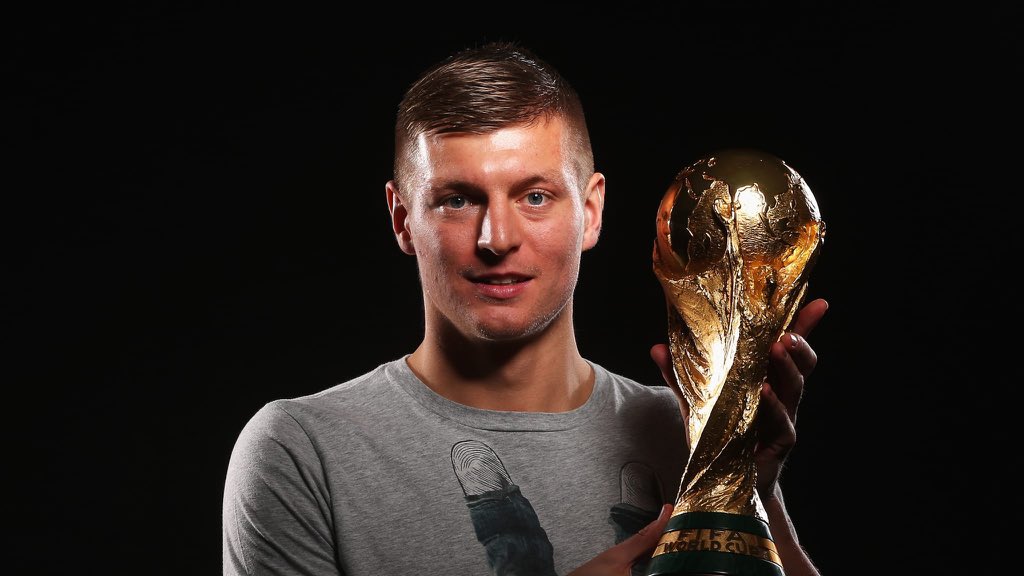 Germany's central midfielder with the least experience at the time turned out to be their finest. Given the freedom to attack, Kroos made the most of it, scoring twice and assisting three times to finish as his team's most prolific offensive threat from the midfield and leading his side to glory. His brilliant display at the World Cup earned him a transfer to his current club, Real Madrid. 
2. CLUTCH BANGER AGAINST SWEDEN
Despite the fact that Die Mannschaft's 2018 World Cup campaign ended in a dismal fashion as they didn't make it past the group stages, they had their share of memorable moments. One of them was scripted by Toni Kroos' venomous right foot. 
Throwback to THAT Toni Kroos' goal in the 95th minute to beat Sweden at the 2018 World Cup.

Clutch.

— DW Sports (@dw_sports) July 2, 2021
In Germany's second Group F encounter against Sweden, things were tied up at 1-1 as full-time approached. Germany appeared to be obliged to cross a freekick from a very tight angle in the fifth minute of stoppage time. Instead, Kroos executed an ingenious dummy freekick routine, laying it short to Reus, getting it back, and curving it wonderfully past Sweden's keeper and into the top bin. 
The list of players who could come up clutch at that moment can probably be counted on one hand, and Toni Kroos is one of them.
3. SLAYING THE SELECAOS
Germany's ruthless 7-1 annihilation of Brazil in the 2014 World Cup semifinals is without a doubt the most iconic match in World Cup and German football history. And Toni Kroos was at the epicenter of it all.
⏱️ 69 seconds#OTD in 2014, Toni Kroos scored the fastest brace in World Cup history during Germany's 7-1 win over Brazil. ⚡️ pic.twitter.com/muEIFB5oY0

— DW Sports (@dw_sports) July 8, 2020
Toni Kroos had the Selecao pleading for mercy in Brazil's capital city. With the midfielder bagging two brilliant goals in a space of 69 seconds and assisting on another, and completely dominating the midfield, he left a distinctive mark in the opposing half. His world-class outing earned him the man of the match honors and a ticket for Germany to the World Cup final. 
4. EURO 2016 TEAM OF THE TOURNAMENT
Toni Kroos orchestrated Germany's midfield in characteristic style throughout Euro 2016, serving as a rhythmic presence for Joachim Low's team. The German midfielder, when performing at his most spectacular level, is both a joy to watch and almost impossible to defend against. And that was showcased during Germany's march to the semifinals.
Honoured and thankful to be in the @UEFAEURO-Team of #EURO2016. pic.twitter.com/1Gf09lsUf6

— Toni Kroos (@ToniKroos) July 11, 2016
Die Mannschaft were defeated in the semi-finals at the hands of France, but their performances up to that point had been brilliant, which Kroos helped exercise, being a significant factor for their success. A string of brilliant performances earned him a place in the Euro 2016 team of the tournament. 
5. TOPPED CASTROL PLAYER INDEX FOR 2014 WC

Toni Kroos was a key figure in his country's successful quest for a fourth World Cup title in 2014. As an additional treat, Kroos topped FIFA's Castrol Index, which was used throughout the tournament to evaluate players based on their statistical influence on matches.
The criterion for the final score included passes, tackles, distance covered and, of course, goals.
Toni Kroos tops the final @Castrol Index, find out who joined him in the top ten – http://t.co/lQNm7GHCUB pic.twitter.com/8Q5qMCFHye

— FIFA World Cup (@FIFAWorldCup) July 14, 2014
The midfield maestro put on a show at the World Cup and achieved a stunning score of 9.79 out of 10 for his performances in Brazil. He was ranked first, ahead of France's Karim Benzema and Netherlands winger Arjen Robben, who netted three goals in the tournament.
6. LEADING THE CHARGE AGAINST BELARUS
A 4-0 win over Belarus in the Euro qualifiers saw Germany qualify for Euro 2020 with Toni Kroos leading the German offensive and midfield charge. The Germans opened the scoring through Matthias Ginter's brilliant finish with Leon Gortezka doubling the lead after a beautiful pass from Kroos set him up. 
Toni Kroos' game by numbers vs. Belarus:

6 accurate long balls
5 chances created
5 shots
2 goals
1 assist

Complete performance. 👏 pic.twitter.com/YMB2m0t7OM

— Statman Dave (@StatmanDave) November 17, 2019
After dominating the midfield with his aesthetics and technique, Kroos activated his striker trigger and scored a stunning brace to seal the victory for his country.  
7. 2014 GERMAN PLAYER OF THE YEAR
Toni Kroos was named German Player of the Year in 2014 for his outstanding performances and contributions to his team's World Cup triumph. The midfielder finished above World Cup record goal scorer Miroslav Klose and national team's goalkeeper Manuel Neuer.
Kroos saw off competition from his teammates in an online voting poll conducted on the German Football Federation's website. He was a pivotal player for that German side, as his penetrative line-breaking passes or switches, coordinated with the attackers' runs, were a winning recipe for Joachim Low.
8. INTERNATIONAL DEBUT
Toni Kroos was called up to the senior Germany team for the first time after a spectacular youth international career. His exploits with the German U17 and U21 teams paid off, as the midfielder emerged as one of the greatest promising talents at the time.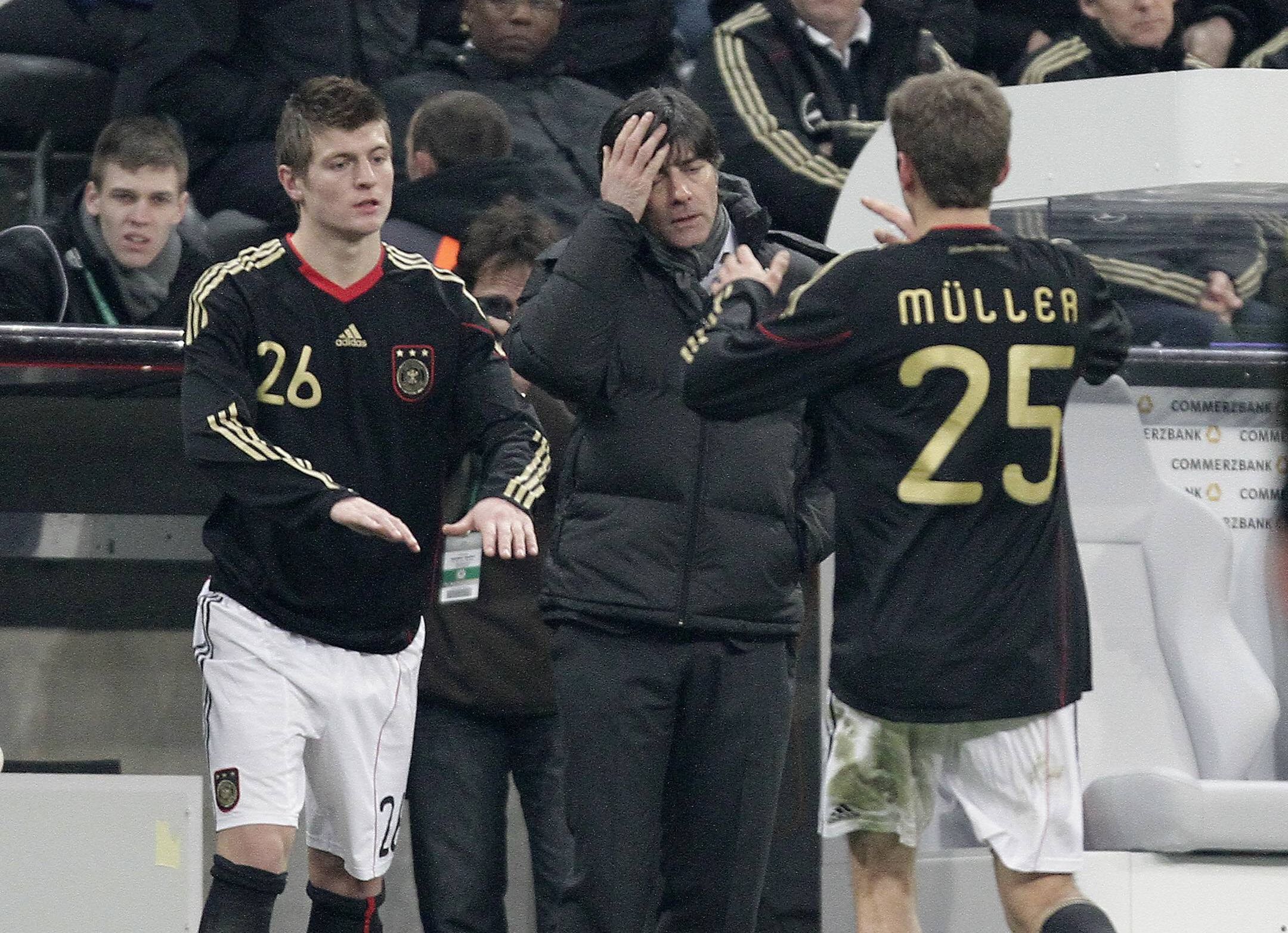 Following his first training session with the senior side, he was named in the squad for the following match, a friendly against Argentina in March 2010, in which he subsequently made his international debut. A young Kroos' lifelong dream was fulfilled, and the rest, as they say, is history.
9. 100 INTERNATIONAL APPEARANCES
Toni Kroos achieved a historical feat on October 13, 2020, when he made his 100th appearance for Germany in a 3-3 draw against Switzerland in the Nations League Matchday 4 match.
After more than a decade of engagement with his national squad, the Los Blancos man became the 16th German player to achieve the milestone.
10. STUNNING BRACE AGAINST IRELAND
In 2012, in the 2014 World Cup qualifiers Germany completely demolished Ireland, hammering them 6-1. And once again Toni Kroos dictated the game with his midfield dominance and delivering yet another exhibition. 
After pulling the strings from the midfield and helping his side go 4-0 up, the then 22-year-old opted to get himself as well on the scoring column. A left-footed volley and a right-footed curler, both from outside the box had Germany 6-0 up and Ireland in shambles