There is a new generation of talent emerging in Europe's top leagues, but it is not emanating from the traditional suspects. Ajax, Barcelona, Manchester United, and other teams' academies continue to generate highly competent prospects, but now USA has emerged as a new supplier of dazzling elite prospects.
The enthusiasm surrounding the USMNT is well-deserved. The strength of their youthful nucleus is obvious in the teams those players play for, which includes Barcelona, Juventus, Chelsea, and Borussia Dortmund.
Following on from our discussion on the United States' rise as a producer of talented players, here are the top ten active American players.
1. CHRISTIAN PULISIC
Pulisic is a pure footballing genius from the United States. He isn't concerned with going from point A to point B in the most visually appealing manner. He is just concerned with getting from point A to point B as quickly as possible. It is a subject of what is the quickest and most efficient manner of eliminating a defence in his opinion. 
https://www.instagram.com/p/CPwma25J9JK/
Pulisic challenges opponents head-on, attacking their shoulder and flying straight past them with his blistering pace and ball control. His outstanding technical skill enables him to receive and control when under heavy pressure.
His body orientation is always on point, as he moves his waist and prepares his foot for one-touch, then spins around and begins driving the ball ahead in a fraction of a second. Many have praised the American as a future world-class star owing to his tremendous talent, as the 22-year-old continues to not just meet, but surpass expectations. 
2. SERGINO DEST
Barcelona haven't been able to fill the massive void left by Dani Alves since his departure from the club.  However, Sergino Dest may have finally solved many of Barcelona's difficulties as they have secured themselves a top gem for over a decade. 
Dest is someone to look out for in the future. He is a prodigy hence Barcelona must exercise the patience that his talent deserves. With time and confidence, he will develop into an excellent right-back, since he possesses all of the necessary characteristics.
With technique, personality, imagination, and pace, Dest has it all to be a world-class attacking full-back at some point. His capacity to dribble in crowded areas is unique and that's what makes Dest's ceiling terrifying. He has infinite resources, can use any part of his boot, can go inside or outside, and is extremely adaptable.
3. WESTON MCKENNIE
Weston McKennie exemplifies the versatile box-to-box midfielder. He has the stature, talent, and drive to play as a No. 6 if that is what you want. He possesses the stamina, athleticism, and determination to be a No. 8 if you want him to be. Do you want to be bold and use him as a No. 10? Not an issue as he possesses the necessary cunning attitude and savvy passing. 
With every passing fixture at Juventus, he has been gaining importance and regularity until he became one of their most important players. His privileged talent, virtuous technique, tactical intelligence, magnificent reading of the game, and versatility to operate in attack and midfield should make him any coach's dream footballer.
4. TYLER ADAMS
Tyler Adams of Leipzig can do it all. The defensive midfielder,  who is five feet nine inches tall, has a low centre of gravity, which helps him to maintain outstanding balance and cover territory across the entire pitch. The 22-year-old is well-known for his ability to impede the opposition's game tempo by winning back balls and making crucial tackles.  
An honour to captain my country. The perfect way to cap off a brilliant week! pic.twitter.com/ybCufF7ISG

— Tyler Adams (@tyler_adams14) June 10, 2021
What stands out the most is Adams' versatility as he was deployed across the midfield as well as a wing-back on the right side of the pitch last season. His quickness, intellect, and vision enable him to be effective regardless of where he is on the field. 
5. GIOVANNI REYNA
Giovanni Reyna's undeniable talent at 18 is one of the main reasons why both the USMNT and Borussia Dortmund have a promising future. Physically powerful and technically skilled, he often plays as an attacking midfielder, frequently finding space on the left.
At Dortmund, Reyna has been given the freedom of movement, to drop in front of the defence, move between the lines, go to the wing or attack the half-spaces.
His extraordinary game understanding is what makes him continuously involved regardless of the job or space he takes up. A total creator, his initial position is more meaningless since he constantly adapts to the needs. His high-ceiling talent is the reason him being an important first-team player is non-negotiable. 
6. JOHN BROOKS
John Brooks, who conquered the hearts of Americans seven years ago with his game-winning goal against Ghana in the 2014 World Cup, has transformed from a 20-year-old prodigy to a 28-year-old Bundesliga powerhouse. The center-back started 31 of Wolfsburg's 34 Bundesliga matches this season, helping Die Wolfe finish fourth and qualify for the Champions League.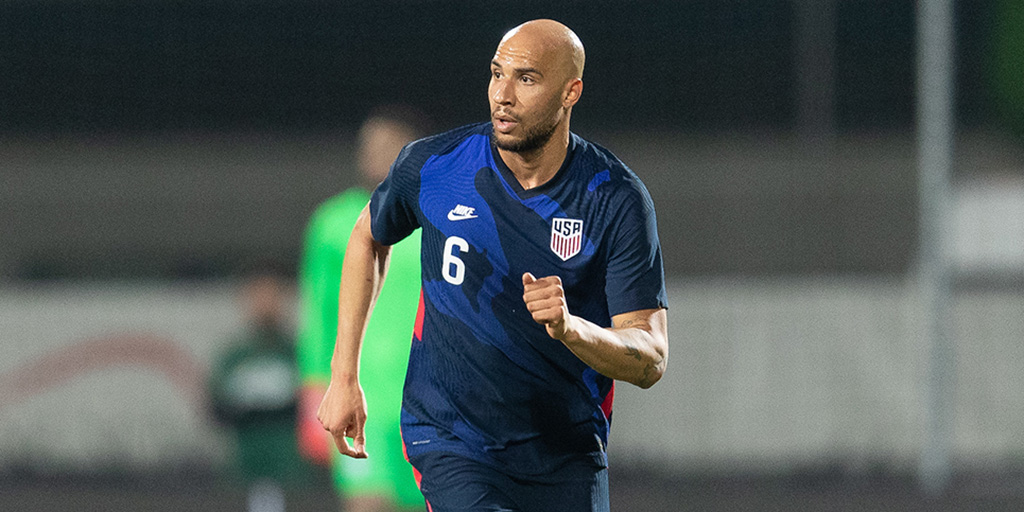 Brooks is a no-nonsense defender who is fast, clever, physically imposing, and a delight to see on the ball. The 1.93-meter-tall American possesses all technical, tactical, and cerebral talents. In 1v1's, his game reading is outstanding and is a constant aerial threat.
7. ANTONEE ROBINSON
Antonee Robinson is a defensive rock as well as an attacking machine for Fulham. The 23-year-old full-back possesses great acceleration and burst speed, which he has demonstrated in basically every match he has played. 
Robinson is a fantastic player that wingers do not want to face. He is a tireless tackler who never misses a step or a single meter of space. His ability to defend one-v-ones is arguably his most amazing trait. His reliability in offense and strength in defense does wonders for USMNT and Fulham. 
8. JOSH SARGENT
Josh Sargent was one of Werder Bremen's bright lights throughout their disappointing season. The 21-year-old striker did all he could to save his club from relegation with his clutch goal-scoring exploits, but they were eventually relegated after finishing 17th in the Bundesliga standings.
The youngster boasts exceptional positional awareness and is a clinical finisher with a right foot out of the top drawer. Sargent is an all-around striker. Standing 1.85m tall, the youngster is strong but quick and agile enough to mess things up for the opposing defenses. With 5 goals already in 16 appearances for his nation and a regular starter for his club, Sargent's future seems quite promising ahead.
9. DEANDRE YEDLIN
The Galatasaray right-back, Deandre Yedlin is defined by his directness, immense pace and explosiveness. He has a unique blend of technical and physical traits. His change of rhythm, even when being still, and the speed of his feet are unmatched.
Putting in the work💪 pic.twitter.com/UiRHU5lGYb

— Premier League USA (@PLinUSA) August 28, 2020
He is a very powerful right-back who gets into the final third with ease and excellent timing. He is also extremely strong in defensive duels. He has gotten more selective in his runs over the years, and he possesses the skill set and unique pace to slice rival defences to pieces.
10. TIMOTHY WEAH
Lille's Timothy Weah is categorised as a centre forward, but his wing game is so polished that you could just easily label him a versatile striker, owing to his ability to create from wide angles. With his tremendous speed, the young American can be seen sprinting up and down the touch line, and can even cut inside to great effect.
Weah, like any effective striker, can combine his passing skills with a slew of individual, defense-wrecking skills and maneuvers. His dribbling prowess, along with his speed, certainly annihilates opposing defenders. Although Lille conquered Ligue 1 this season, Weah didn't get much action and was just Christopher Galtier's second-choice striker. Despite the fact that he is still young and extremely raw, the 21-year-old is a golden talent.