There is something about underdog stories that makes the readers keep coming back and relive the experience of that unforeseen glory. And there would never be another underdog story like the 1992 Euros where Denmark astonished everyone by firstly making it to the tournament in unusual circumstances and then going all the way to defeat two of the best European sides, The Netherlands and Germany in the semi-final and final.
As Denmark prepare for the semi-final of Euro 2020 against England and stands on the verge of rewriting history, we, at FootTheBall, look back at the starting XI of their iconic 1992 semi-final win against the Netherlands and where they are now.
PETER SCHMEICHEL
The legendary goalkeeper is fondly remembered by the fans of a certain red club from Greater Manchester where he spent some formidable eight years and won everything along the way. He famously led them to a historic treble win in 1998/99.
Apart from Manchester United, he is a Danish legend who was a key member of THAT 1992 squad which created the greatest underdog story in international football. And as we look back at the semi-final against the Netherlands, he was certainly the hero of the night who saved the crucial Marco van Basten penalty that took them one step closer to glory.
Schmeichel currently works as a pundit on various channels including BBC Sport's famous Match of the Day programme and Danish channel TV3+.
JOHN SIVEBAEK
Another former Manchester United player, famously known for scoring the only goal in Sir Alex Ferguson's first win as a Manchester United manager. John Sivebaek was a sturdy right-back who was up for any challenge that came his way.
And he certainly did keep up the challenge of defending the Dutch captain and legendary Ruud Gullit in the 1992 semifinal, helping his team keep the scores level before winning it on penalties. Sivebaek spent the majority of his career outside Denmark, playing in England, France and Italy unlike most of his teammates.
Post-retirement, Sivebaek became a professional football agent with Proactive Scandinavia and currently runs his own sports agency called Sivebaek Sports Management.
TORBEN PIECHNIK
Piechnik spent most of his career in Denmark playing for several clubs like Kjobenhavns BK, Ikast fS, and B 1903 before moving to Liverpool under Graeme Souness but couldn't make a mark and left after spending two seasons at the Merseyside club. He made 15 appearances for the national side and was a backup defender at the start of the tournament but played a big role when he got the opportunity in the most important matches.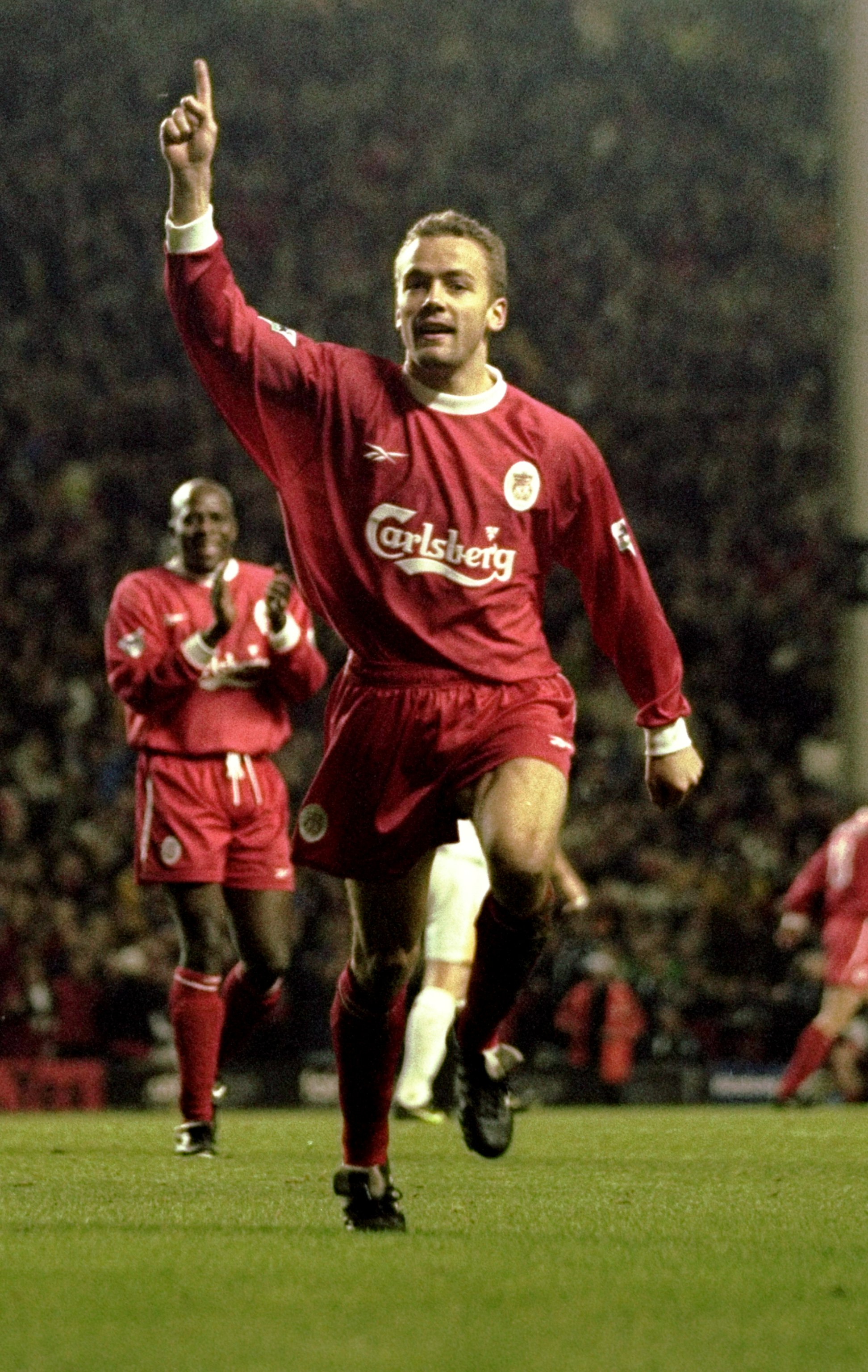 After retiring from professional football, Torben Piechnik became a real estate agent for some time before setting up his own massage company where he works as a sports therapist for the past 17 years. He has been playing Old Boys football in Denmark while also featuring in some charity games.
LARS OLSEN
A legendary defender and captain of the Danish national side for a record number of 69 matches including the triumphant 1992 European Championship. He stood at the heart of the defence that kept the world-class Dutch forwards in check before keeping a clean sheet against then World Champions Germany in the final. Olsen was also a Brondby legend where he played more than 200 official matches. Apart from Denmark, he played for clubs in Turkey, Belgium and Switzerland before retiring in 1996.
After retiring as a professional player, Olsen went into the coaching stream. He coached at various levels at Brondby before becoming a first-team manager at Randers. The 60-year old managed the Faroe Islands at the international level for eight years and his last job was at Esbjerg fB.
HENRIK ANDERSEN
A Great Dane, Henrik Andersen was a key part of the 1992 squad until the semi-final where a severe injury to his knee caused by a collision with Marco van Basten forced him out for 11 months, including the final against Germany.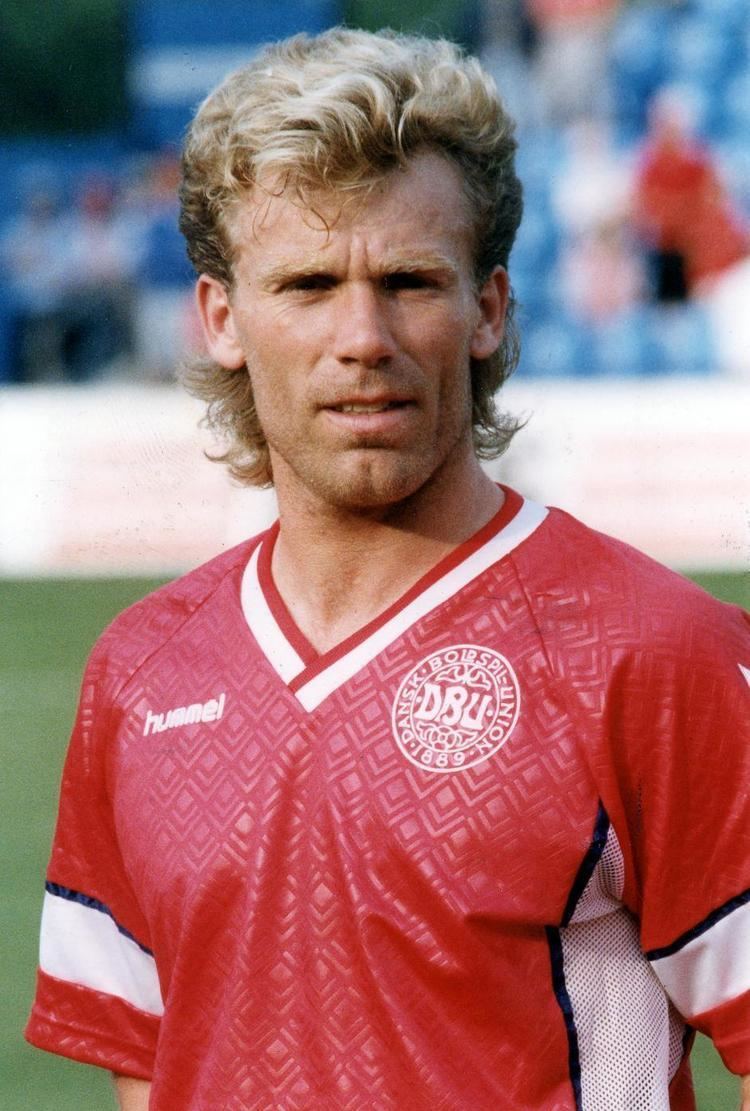 He spent most part of his club career in Belgium with RSC Anderlecht and later moved to German club FC Koln. Repeated injuries to his knee kept him out for another couple of years and eventually forced him to end his playing career.
Henrik Andersen retired from football at the age of 33 and became a sports agent thereafter.
KIM CHRISTOFFE
A highly technical player who came back to the national side in 1992 aged 32 after a seven-year gap and became a first-choice starter for coach Richard Moller Nielsen. Christoffe was a versatile player who could play as a left-back, centre-back or midfielder.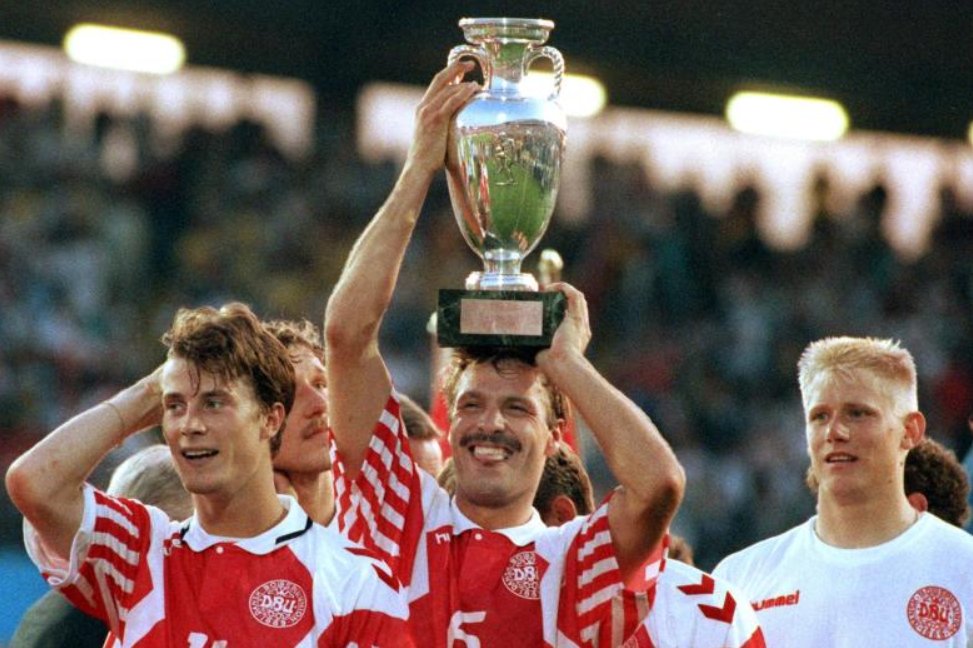 He started the semi-final against the Netherlands as a left-midfielder and famously scored the winning penalty past Hans van Breukelen providing evidence for his well-known composure and technique.
He went back to play for his childhood amateur club Olstykke FC after retirement and also represented the champion Danish side in the televised Party Poker Football and Poker Legends cup.
JOHN JENSEN
Denmark's hero of Euro 1992 who scored the first of two goals against Germany in the final and iconic midfielder John Jensen was an essential part of the team. Jensen played as a central midfielder for both his national and domestic sides.
After starting his professional career with Brondby, Jensen moved to Germany and played for Hamburger SV before returning to Brondby. He also had a four-year stint at Arsenal before again returning to his childhood club. He ended his career as a full-time footballer in 1999.
Jensen later moved to Herfolge BK as a player/manager and began his career as a professional football manager. His last job was with the Danish national side as a caretaker manager in 2018.
KIM VILFORT
One of the most emotional stories of the tournament was that of a lifelong Brondby player and legend Kim Vilfort.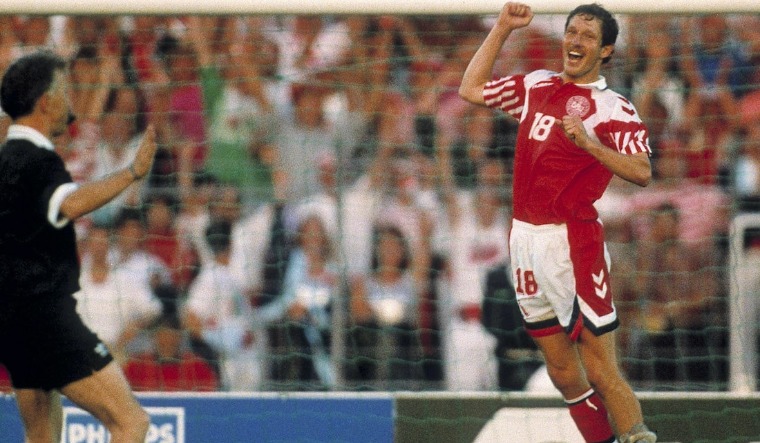 The iconic central midfielder scored a stunning goal against Germany in the final making the scoreline 2-0 with just 12 minutes to go, sealing the historic triumph for his country while his daughter was battling for life back home, suffering from Leukemia. Vilfort travelled back to Sweden after every game to be with his daughter and returned to the team at the request of his family and ended up becoming a cult hero. Unfortunately, his daughter passed away later that summer.
Brondby fans named the home stadium after the legendary midfielder, who became the head of their youth system after retiring in 1998. He is currently the head talent scout at Brondby IF.
HENRIK LARSEN
A brilliant success story with the national side who started the campaign as a backup option and ended up as the joint top-scorer of the tournament. Larsen had the game of his life against the Netherlands on that semi-final eve, where he scored two crucial goals and have his side the lead twice in the game. He came up first to take the first penalty and slotted home, giving a perfect head start to his team.
Larsen became a manager post-retirement and started his managerial career with Olstykke FC and went on to manage few other Danish clubs. He was last the manager of Lyngby BK in the Danish league.
BRIAN LAUDRUP
The lesser-known of the legendary Laudrup brothers, Brian Laudrup is considered one of the greatest Danish players of all time. In 2004, Pele named him on the list of 125 greatest living footballers alongside his brother Michael.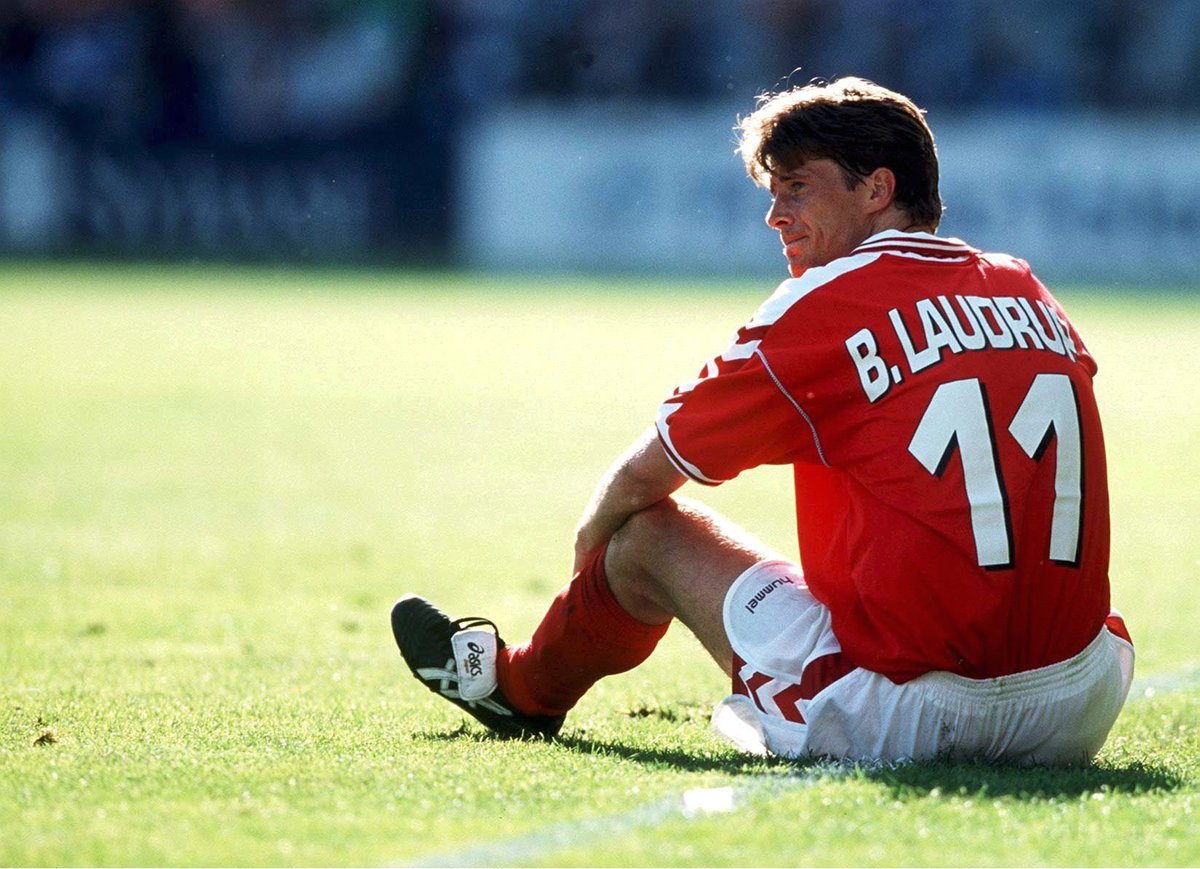 Brian was one of the best players at Euro 1992 which saw Denmark create history. Starting his career as a midfielder, Brian could play well as a striker and as a winger too. He was one of the two players from Denmark selected in the team of the tournament for the 1992 Euros, along with Peter Schmeichel.
Brian Laudrup ended his playing career in 2000, aged 31. He currently works as a pundit and co-commentator with Danish channel TV3+ and Discovery Networks Denmark.
FLEMMING POVLSEN
Povlsen was a leading figure in the Danish attack capable of causing harm to any defence in the world. He scored his spot-kick in the semifinal and made sure that Peter Schmeichel's save of van Basten's penalty remained the differentiating factor in the game.
Povlsen spent his prime years in Germany, playing for FC Koln and Borussia Dortmund apart from a short stint with Dutch club PSV Eindhoven. His shining career was cut short after recurring injuries to his knee and he finally retired at the age of 29.
After retirement, Povlsen took up various coaching roles across Denmark and last worked as an assistant manager at Odense BK. Currently, he works as a football pundit on television.