Aside from the foundation of a competitive squad, finding the right balance of fullbacks to implement a system is indeed extremely important. But, as the game has evolved through the years, the full-back position has evolved as well. Old-school full-backs had a more robust defending role, but modern-day full-backs must perform more offensive tasks for their side while still guarding their flank. 
Even the finest coaches in the 1970s and 1980s did not adequately use the fullback position. A fullback's position in the game has progressed from being referred to as "wide centre-backs" to becoming one of the most aggressive and flexible players on the pitch. 
We've had some outstanding right-backs and left-backs beautify football over the decades. Several of them have even progressed on to form excellent full-back partnerships. In that case, FootTheBall has compiled a list of the best 10 full-back pairings ever to grace the beautiful game.
1. ROBERTO CARLOS AND CAFU (BRAZIL)
Roberto Carlos and Cafu are one such full-back partnership that will forever be tied together, their careers having transpired concurrently, with the legendary names of both Brazilian full-backs now eternally interwoven. It is a rarity that one is stated without mentioning the other. Both the full-backs never starred for the same club but were pivotal in Brazil's World Cup glory back in 2002.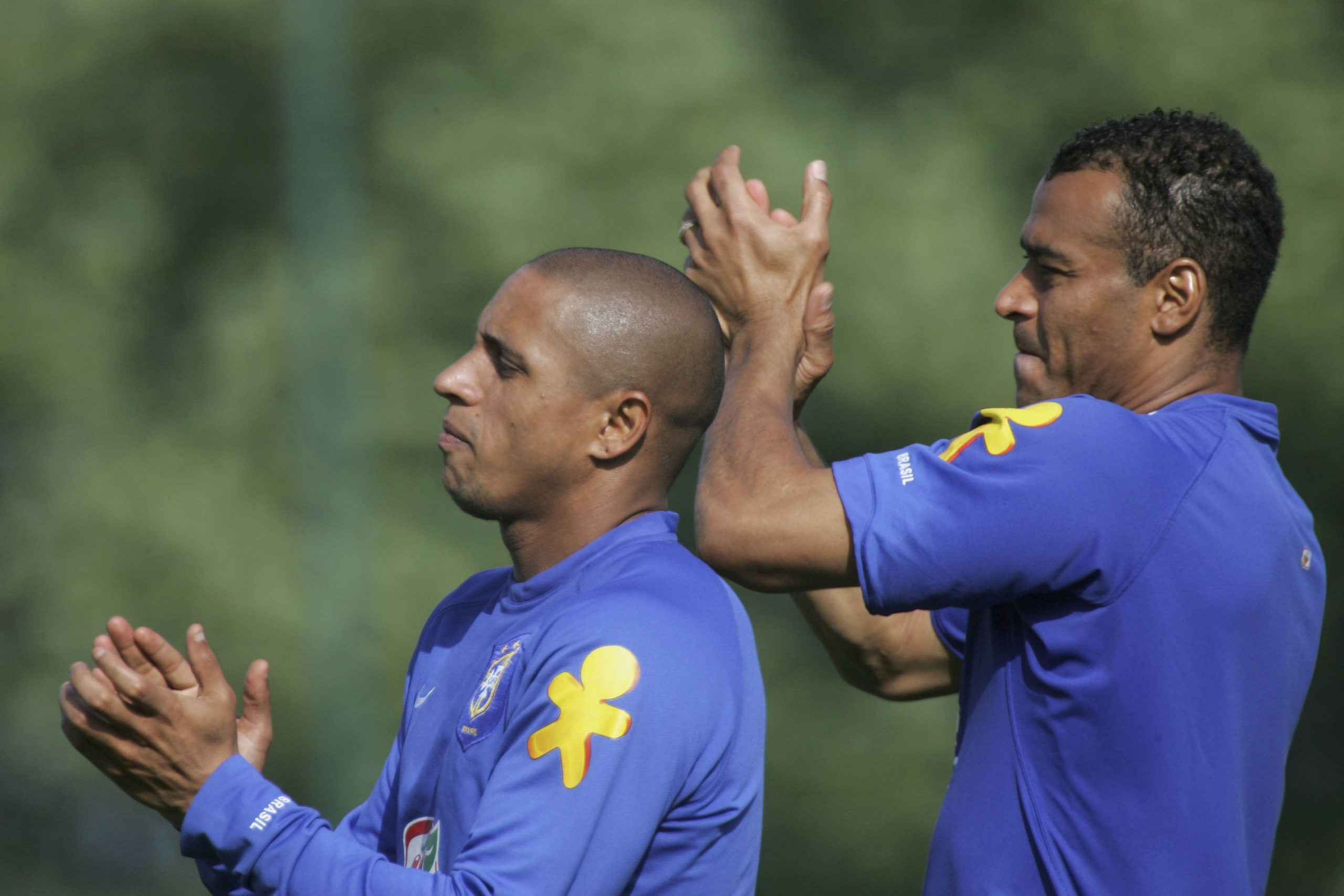 Cafu's defensive tenacity is sometimes overlooked in favour of his offensive brilliance. The legendary Brazilian captain was relentless enough to run up and down his flank for a whole game without getting tired. In contrast, Roberto Carlos was the most flashy of the two. Few players in the present era have a highlight reel as visually appealing as Carlos', a footballer whose predilection for exerting full force often resulted in stunning results. 
Cafu and Roberto Carlos transitioned from just being two fantastic full-backs to two terrific defenders as a full-back partnership. They could neutralize any attacker and almost any type of offence.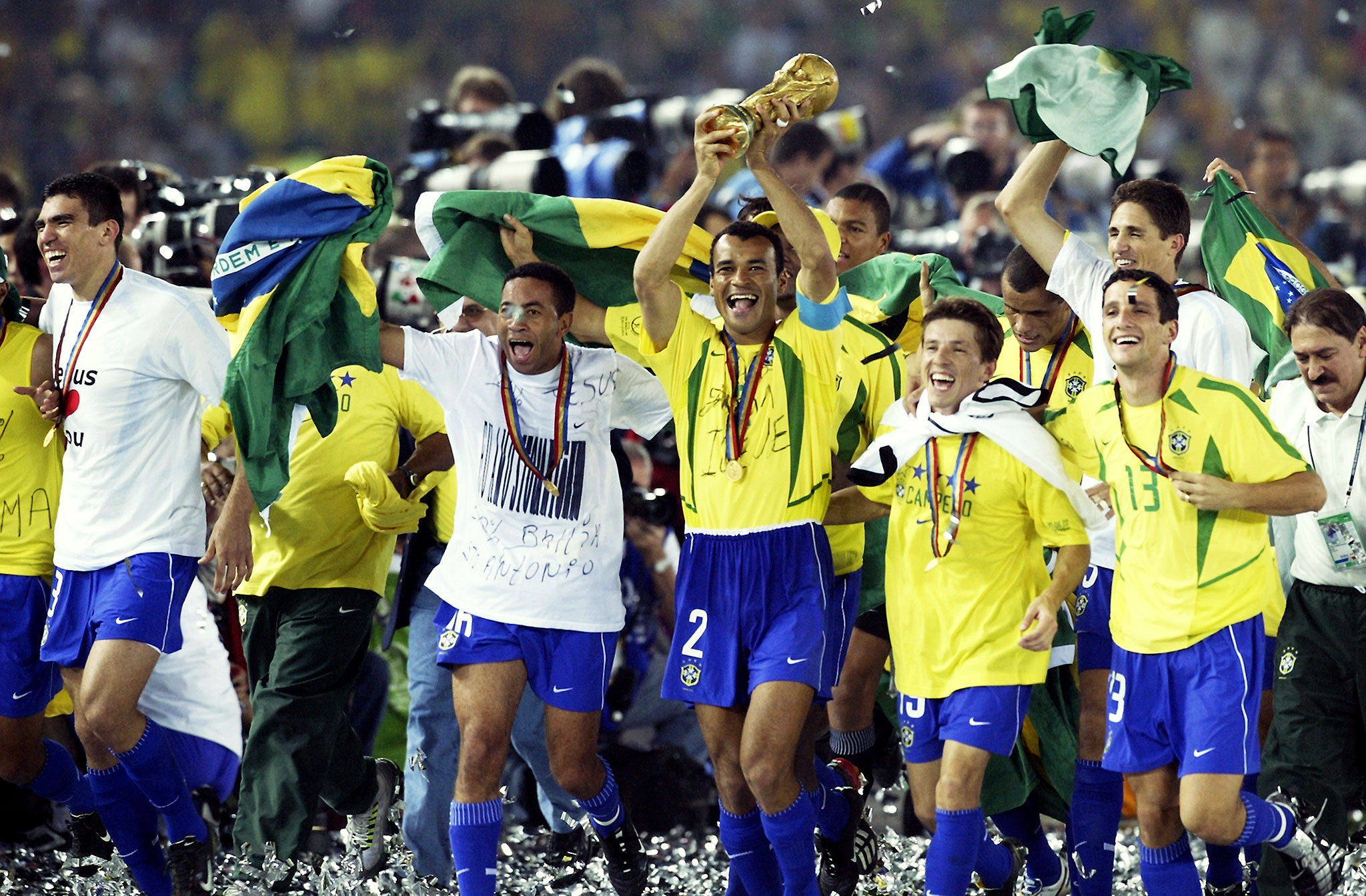 As the two players with the most caps for Brazil, they retired from international football following the 2006 World Cup. For a number of years, these two Brazilian legends have been and will continue to be the gold standard for full-backs.
2. PAOLO MALDINI AND MAURO TASSOTTI (AC MILAN)
Paolo Maldini was quite an outstanding left-back for AC Milan before moving to the middle of the defence. Mauro Tassotti, who was the right-back during the European Cup-winning seasons of 1989 and 1990, was his comrade at the full-back position. The Maldini-Tassotti tandem was an instantaneous smash, complementing each other's no-nonsense and robust defensive approach.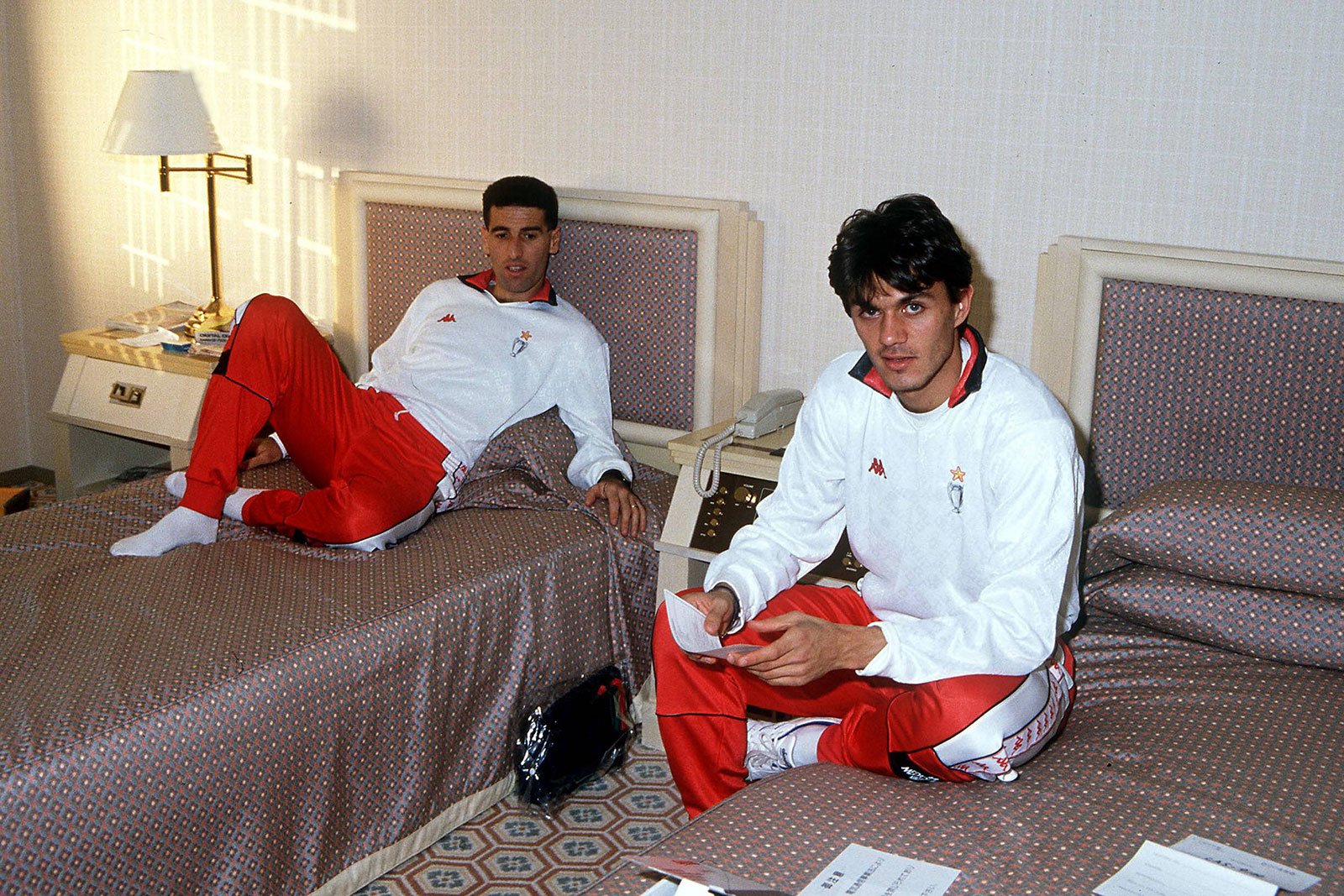 While Tassotti was the forceful defender, Maldini's ball skills helped AC Milan to break down the opposing team's game and set up fast counter-attacks. Such thrilling defensive performances enabled Rossoneri to capture 17 trophies in an eight-year span, including five Serie A crowns and three European Cups. 
The Maldini-Tassotti full-back pairing also led their club to an undefeated league campaign in 1992, and the Rossoneri embarked on a 58-game undefeated run from 1991 to 1993.
#OnThisDayInFootball in 1994, @acmilan beat Barcelona 4-0 to win their 5th 🆑🏆🤯 pic.twitter.com/wUBDtWGpYy

— 433 (@433) May 18, 2020
The zenith of this great legendary full-back pairing occurred in the 1994 Champions League final versus Barcelona when both Baresi and Costacurta were ruled out. Fabio Capello had to count on Paolo Maldini and Mauro Tassotti to come up with something good, and they did it in spectacular fashion. Their tandem extended AC Milan's reputation of a rock-solid defensive prowess in the tournament final, hammering the Spanish giants 4-0 in Athens. 
3. GARY NEVILLE AND DENIS IRWIN (MANCHESTER UNITED)
Gary Neville and Denis Irwin, two of Manchester United's most prominent players during their heyday, were dependable full-backs who showered every game with their consistency for the Red Devils.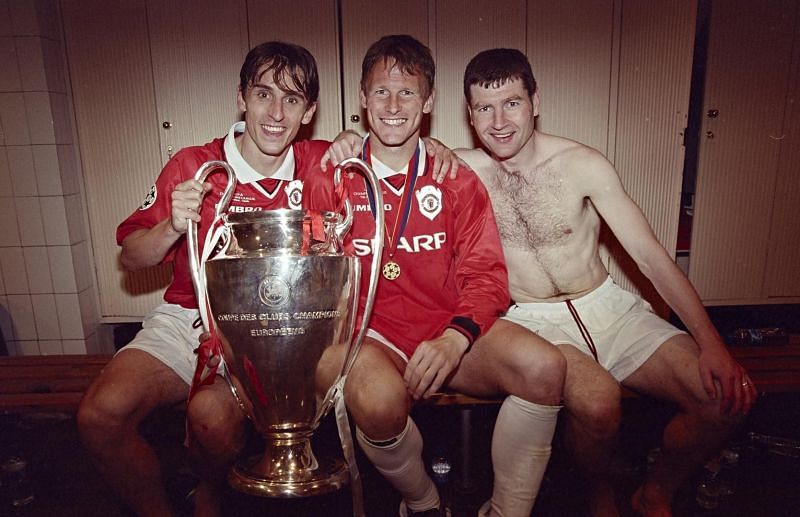 Neville emerged from Red Devils' illustrious youth system, while Irvin joined the party from Oldham Athletic in 1990. The phenomenal pairing of the full-backs combined for almost 500 appearances in all competitions. 
Neville was a tenacious, combative right-back noted for his passion and leadership abilities while Irwin was known for his calmness. Irwin became a Manchester United cornerstone throughout the club's most prosperous time, thanks to his ability to distribute the ball beautifully, flexibility that allowed him to operate on either wing and a degree of consistency that is exceedingly unusual even today. 
"But they never give in – and that's what won it." – Sir Alex Ferguson.

Today marks the anniversary of that magical night in 1999 – Ole's injury-time goal won us the #UCL to complete the Treble.

History was made. ✨🏆🏆🏆✨ pic.twitter.com/nMlXqtDJyw

— Manchester United (@ManUtd) May 26, 2020
The supremacy of the full-back partnership of Neville and Irwin speaks for itself, as the tandem collected 7 Premier League crowns in the 9 seasons they were together.
4. MARCELO AND DANI CARVAJAL (REAL MADRID)
Several fine full-back pairings have emerged in the previous decade, but none measure up to Marcelo and Dani Carvajal's flawless connection. The last several seasons have delivered tremendous success to Santiago Bernabeu, and their tandem deserves a lot of credit for that.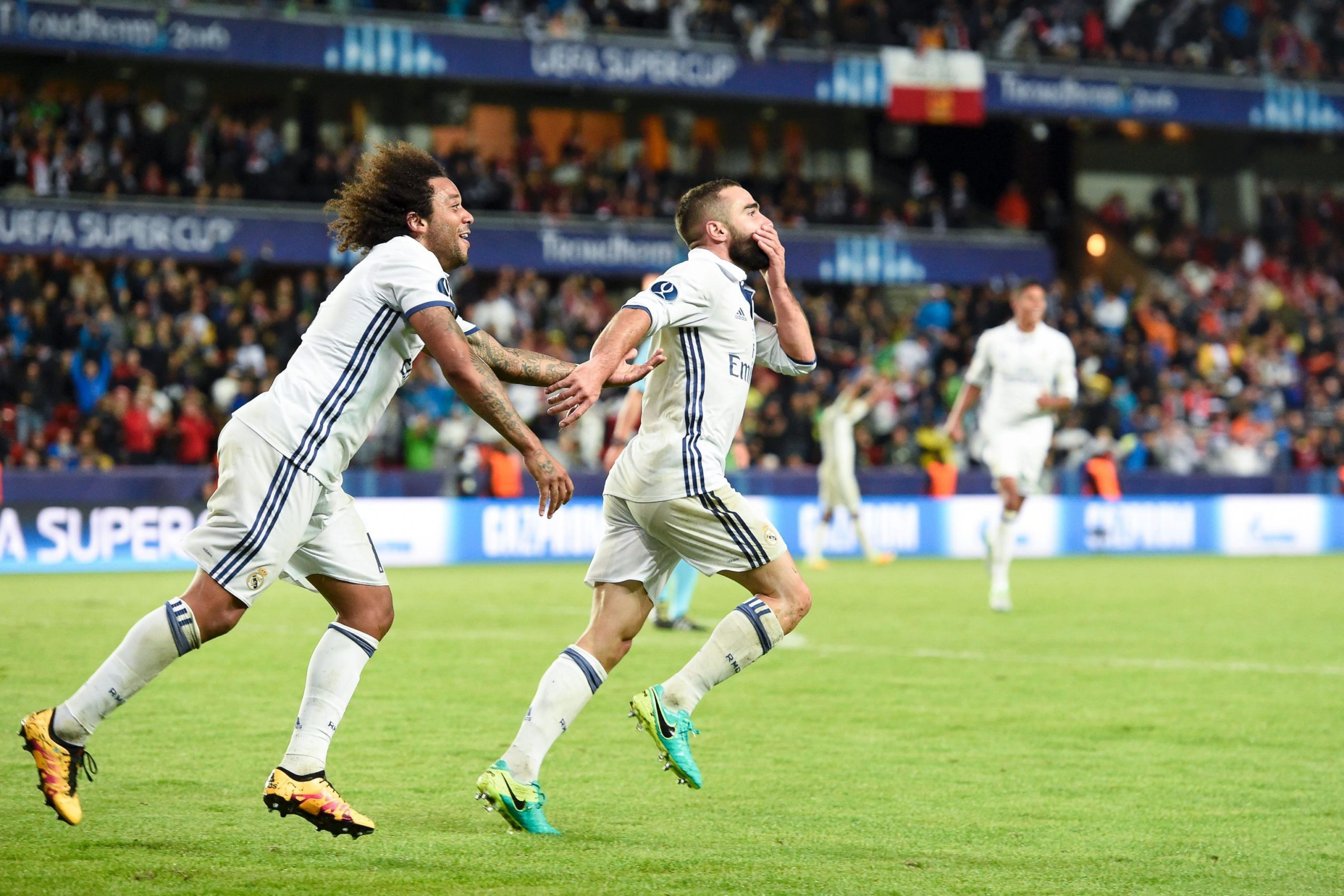 Until the 2013-14 campaign, Real Madrid's silverware collection was dominated by prior triumphs. However, it is no accident that Los Blancos began to command European football and had their most glorious years when the Carvajal-Marcelo combo started to mesh.
Of course, their formidable attacking trio and midfield wizards stole the spotlight, but their partnership was instrumental in adding five Champions League trophies to their already illustrious trophy cabinet. 
🗓️ #OnThisDay in 2014

🔴36' ⚽️ Godin
⚪️ 92' ⚽️ Ramos
⚪️ 110' ⚽️ Bale
⚪️ 118' ⚽️ Marcelo
⚪️ 120' ⚽️ Ronaldo

Sergio Ramos nets a late equaliser to force the 2014 Champions League final to extra time before Real Madrid make light work of rivals Atletico to lift the trophy pic.twitter.com/zvqlto0xYQ

— WhoScored.com (@WhoScored) May 24, 2020
The most remarkable feature of the Carvajal-Marcelo pairing is their propensity to consistently provide quality balls into the box throughout the game, as they bombarded the opposing penalty box with accurate deliveries. Now that the years have flown, the two may not play together as frequently as they once did, but they will undoubtedly be remembered as one of the finest full-back duos of all time.
5. TRENT ALEXANDER-ARNOLD AND ANDREW ROBERTSON (LIVERPOOL)
Trent Alexander-Arnold and Andrew Robertson came to prominence with Liverpool, delivering attacking brilliance and trophies to Anfield, things which had been lacking for years. Since Alexander-Arnold's emergence from the Liverpool youth academy and the signing of Andrew Robertson from Hull City in 2017, there has been a positive momentum shift for The Reds.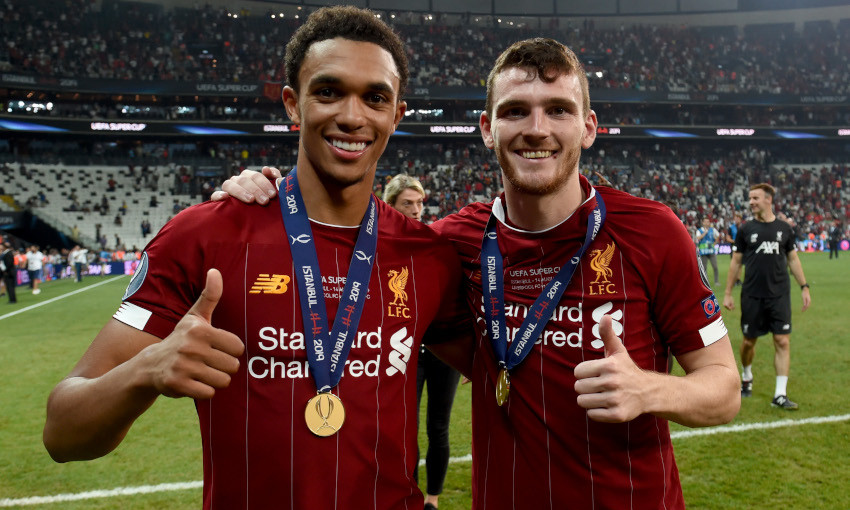 Both players are dynamic and speedy footballers who play with the character required to adapt seamlessly into Klopp's electrifying style. The full-back pairing spent most of their time in the opposing half and are heavily used in possession. Both players are brilliant passers with the composure and creativity on the ball typical of a midfielder.
Most Premier League assists since the start of the 2018/19 season…

• De Bruyne: 34
• Alexander-Arnold: 32
• Robertson: 30
• Son: 26
• Salah: 23

What is a modern full-back? What advantages do they give a team tactically? Who are the best? 🔋💫#LFC

— The Coaches' Voice (@CoachesVoice) July 27, 2021
During their years at Anfield, the duo has amassed a total of 72 assists, an exceptional achievement. Alexander-Arnold also holds the record for most Premier League assists by a defender in a single season (13). 
With both still quite young and at the pinnacle of their game, there is little to no doubt that these two are far from finished.
6. ASHLEY COLE AND BRANISLAV IVANOVIC (CHELSEA)
Chelsea supporters still cherish the days of the full-back pairing of Ashley Cole and Branislav Ivanovic vividly. For almost six years in the Premier League, the duo formed a strong defensive tandem at Stamford Bridge. 
Branislav Ivanovic – £9m

Ashley Cole – £5m

Definition of incredible business.. 🐐 pic.twitter.com/tfWNptXdiV

— Conn (@ConnCFC) August 10, 2020
Cole made the short journey to the other side of North London, joining Chelsea from adversaries Arsenal in 2006, while Ivanovic joined from Locomotiv Moscow in 2008. They both brought different strengths and expertise to the pitch, allowing Chelsea to be much more versatile at the back and a more formidable force as a whole.
Ivanovic was renowned for his immense power, leadership, mettle, and aerial prowess. Despite being a more defensive-minded full-back, the Serbian had a tendency to often be involved in scoring for his side. Cole, on the other side, was noted for his determination, great character, quickness, and exceptional passing and crossing.
Defenders are just as important as strikers. These 3 players Ashley Cole, John Terry & Branislav Ivanovic played such an important role in our 2012 Champions League win. Goal line clearances, putting body on the line every time, scoring important crucial goals. pic.twitter.com/ihekZaFVJt

— Frank Khalid (@FrankKhalidUK) November 19, 2020
 During the pair's illustrious spell at Stamford Bridge, they added a Champions League and a Europa League title, a Premier League crown, and two FA Cups to The Blues' trophy cabinet. 
7. DANI ALVES AND ERIC ABIDAL (BARCELONA)
During Barcelona's dominant years, when Pep Guardiola was at the helm of Camp Nou, Dani Alves, and Eric Abidal were two of the many cornerstones of the Spanish club. During their spell together, the tandem established themselves as one of the best full-back pairings in the world by combining their tactical acumen, defensive tenacity, and offensive prowess.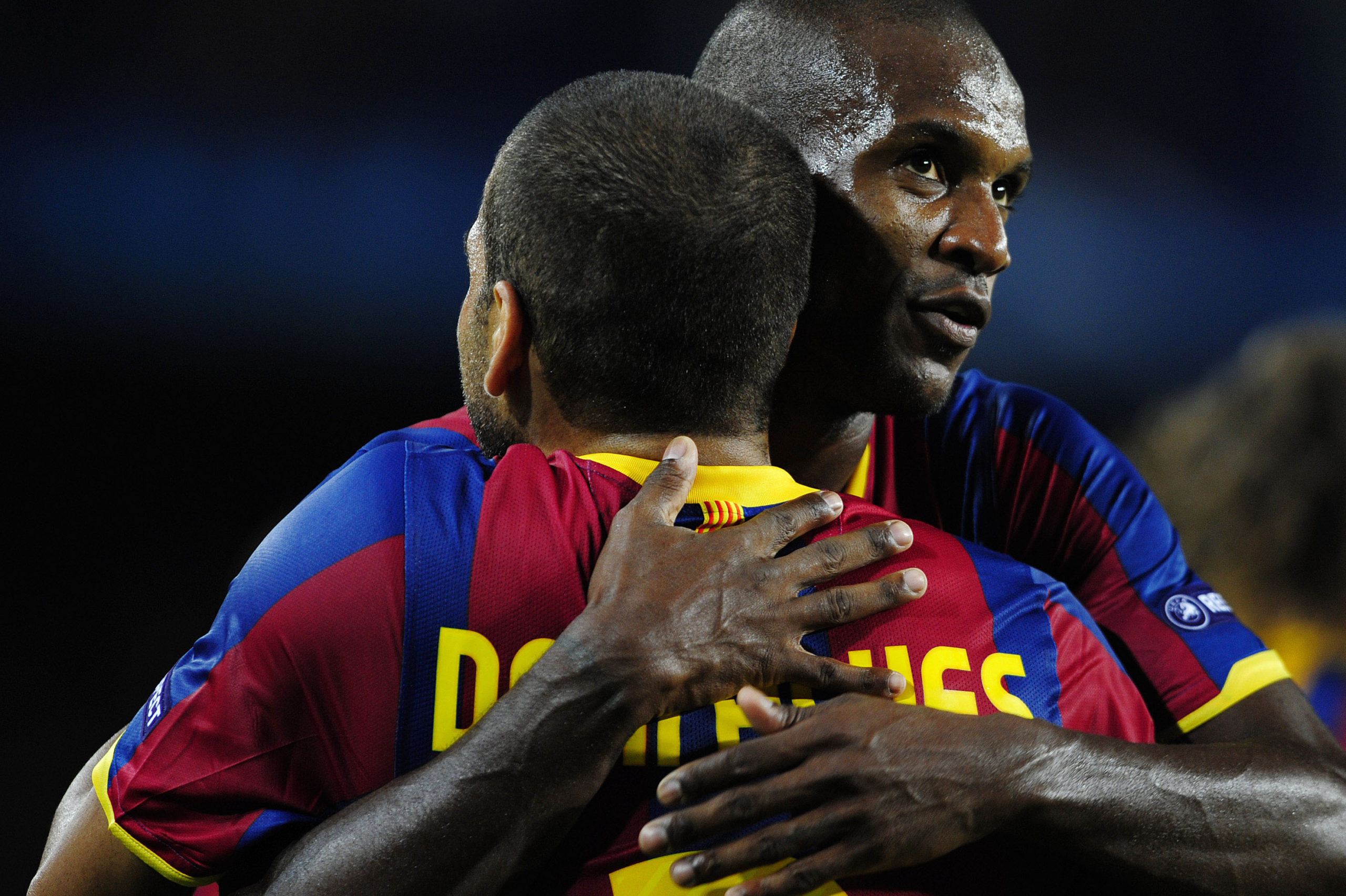 He was one of Pep's first signings at Barcelona and was on his way to becoming one of the world's best right-backs ever. Alves was the perfect Guardiola Esque right-back. He had the attacking nature of a wing-back or winger combined with the tactical astuteness that made him an instant fit in Guardiola's system.
But Eric was the opposite: reserved, reliable at the back, and comparatively less gifted than Alves. Still, he managed to make himself very useful for a possession-based team like Pep's. While Alves is the prototype Blaugrana full-back, Guardiola had both the Frenchman and the Brazilian at his disposal, and they all performed at a very high level. 
Eric Abidal: Barcelona team-mate Dani Alves offered me his liver. http://t.co/V0HyRe1oG6 pic.twitter.com/IaJQcNg5ya

— Eurosport (@eurosport) May 6, 2015
If Dani was a full-back that was more of a wing-back, or even winger, Abidal was a full-back that could often be deployed as a centre-back. This was especially beneficial when Pep began deploying a back three consistently or primarily during build-ups in 2010/11 and 2011/12.
Today, Barcelona would still prefer having two offensive full-backs, but, most importantly, those who are tactically intelligent. That's the key, and what Dani and Abidal, as opposed as they were, had in common. 
8. PHILIPP LAHM AND DAVID ALABA (BAYERN MUNICH)
Philipp Lahm and David Alaba, an incredible pairing of a promising Austrian and a seasoned German, both products of the Bayern Youth System, were essential in Bayern's massive triumphs in Europe and domestically.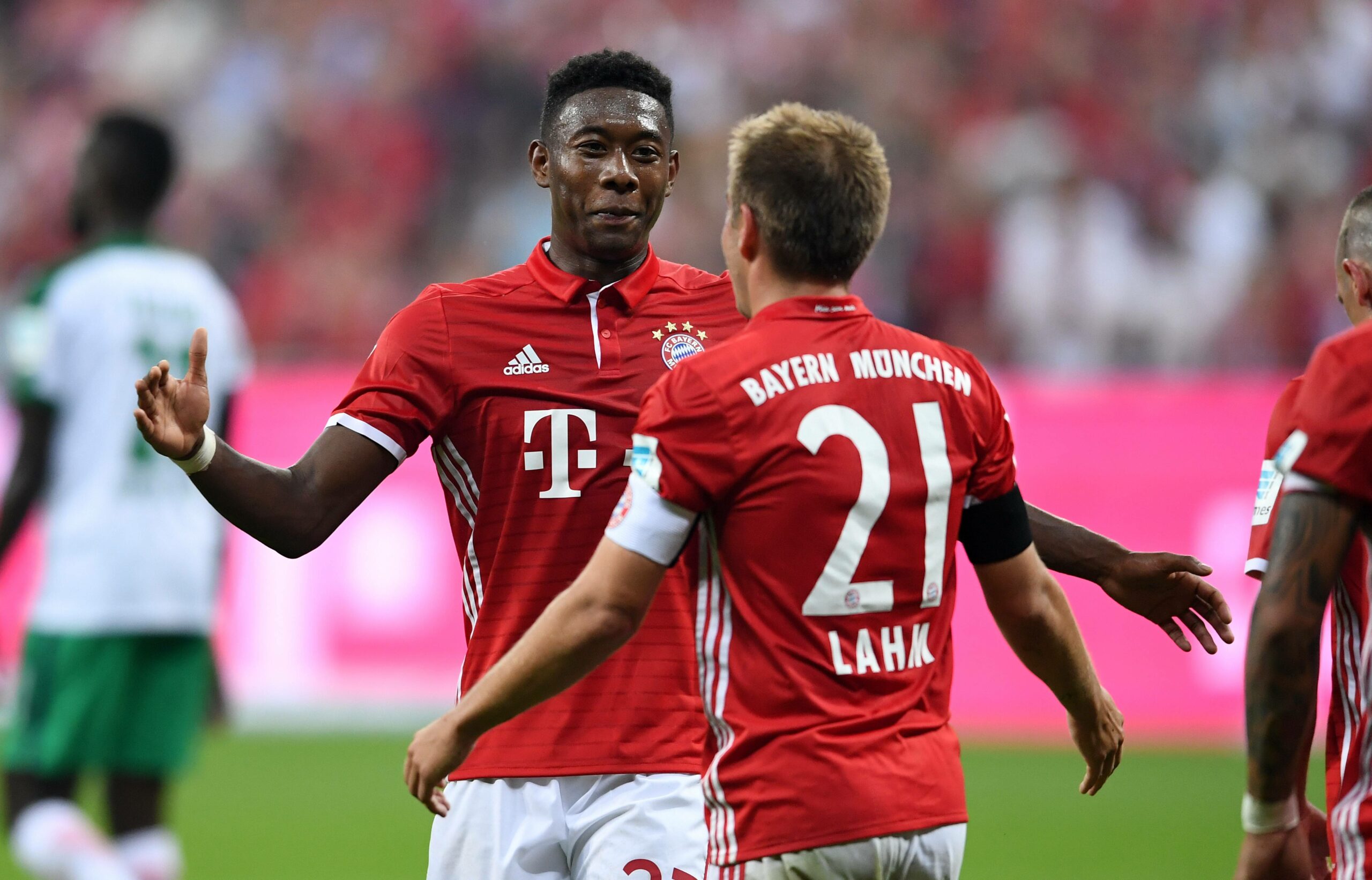 Bayern Munich's tactical brilliance during Jupp Heynckes' tenure was stretching the opponent and efficiently and quickly cycling possession from one flank to the other. The Lahm-Alaba pairing would serve as a mediator in this move, creating gaps between the defence and midfield, pressuring the opponents to make errors, and obtaining a man advantage. 
This full-back pairing is arguably the most versatile on this list. Two of those footballers who offer their managers an infinite palette with all technical, tactical, cognitive, and physical aptitudes to experiment with, as Pep Guardiola found out.
He was the first to deploy Philipp Lahm as a deep-lying playmaker, where he excelled, and he was also the first to use Alaba, a natural left-back, as centre-back as well deploy him in the midfield and on the wing. 
🎈 @philipplahm 🎈

Happy birthday to Bayern legend Philipp Lahm 🥳🥳🥳

👕 112
🏆 2013#UCL | @FCBayern pic.twitter.com/ngWrgfZCTu

— UEFA Champions League (@ChampionsLeague) November 11, 2019
There are relatively few players that can be considered world-class in the +2 positions, but the Austrian-German tandem defied the mainstream. Their understanding of the game was exceptional and both were differential with the ball at their feet. While the veteran figure of this full-back blend, Philipp Lahm, has hung up his boots, the youth character, Alaba, is at the pinnacle of his game, having already helped Los Blancos to their 14th UCL title. 
9. MARCELO AND DANI ALVES (BRAZIL)
While the players in this pairing shone the brightest for their respective clubs, when they played together, this Brazilian full-back pairing was fearsome. Although they did not win any major international trophies, as did the other Brazilian pair on our list, they made an impression whenever they both donned their national jerseys together.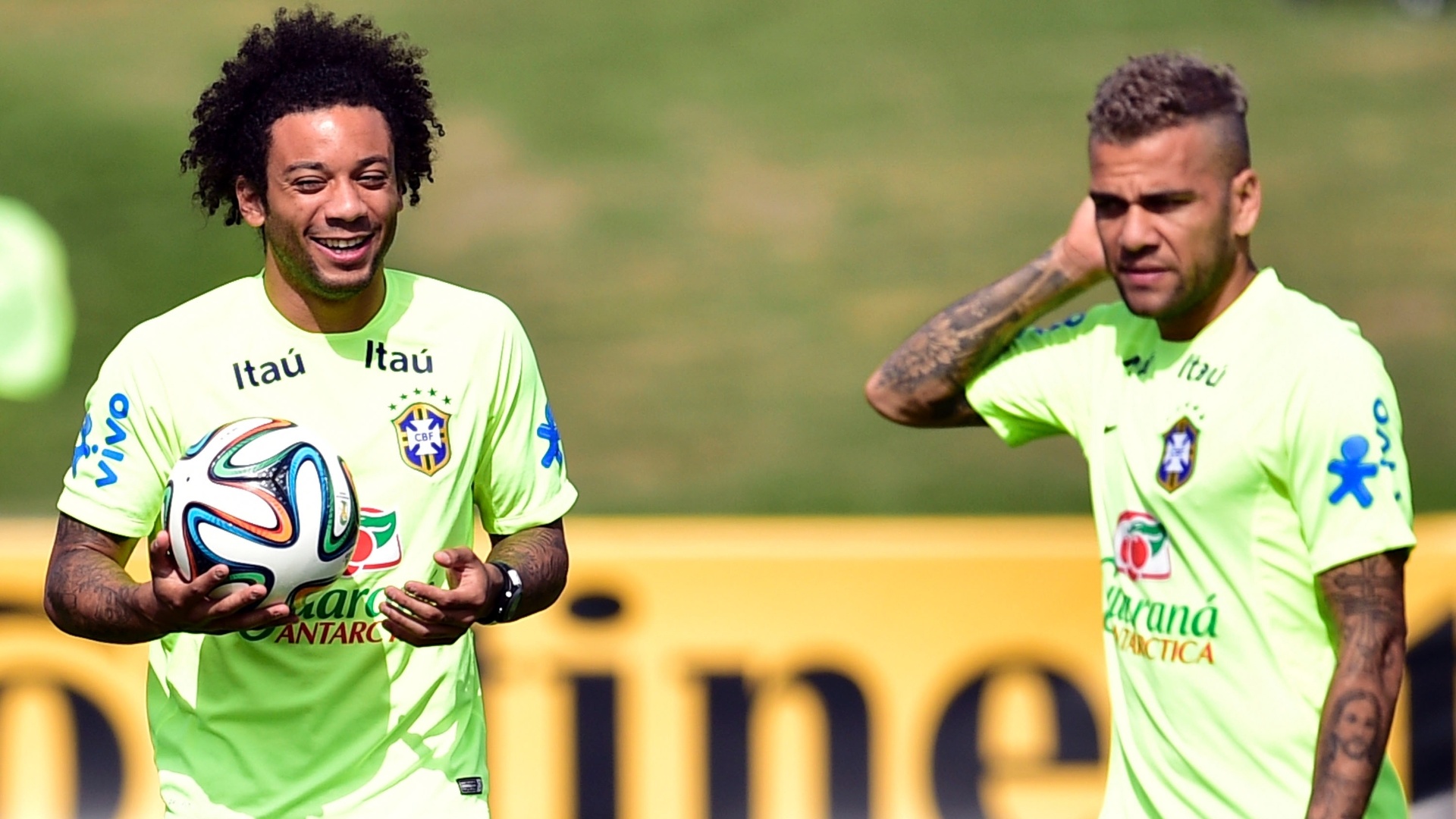 With a lethal combination of defensive grit and offensive flair, both the players were well all-rounded. Apart from having the endurance to cover the entire flank and trackback when caught on the counter, they possessed the attacking character of a winger, with flair, offensive threat, pace, energy, and outstanding dribbling skills.
Both were continually adapting their positions to their teammates' needs. They kept wide if the winger was inside. If the winger was wide, they played more like a midfielder. They tucked in if the ball was on the other side. It was the tactical astuteness of both the Brazilians that made them an instant fit together. They may not have played together much, but their individual qualities are sufficient for them to make this list. 
10. SERGIO RAMOS AND JOAN CAPDEVILA (SPAIN)
Before establishing himself as one of the best centre-backs in the history of the game, Sergio Ramos played as a right-back for the country and club. And during the golden generation of Spain, formed the full-back pairing with Joan Capdevila.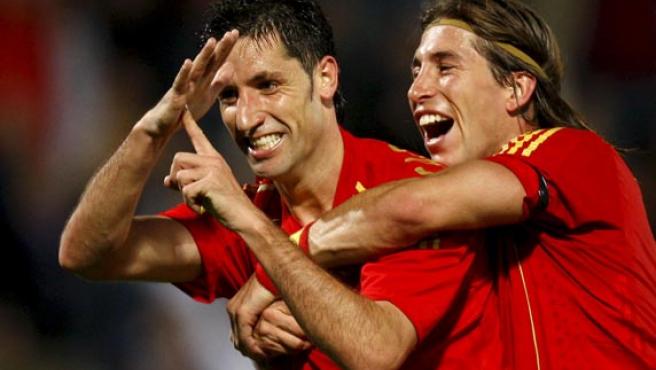 While Joan Capdevila was dependable and at ease with the ball at his feet, many will find it difficult to accept that Sergio Ramos' decision-making from the back was problematic once, especially when he played at right-back, with him being one of the worst performers in Spain's 2008 Euros-winning squad. But with time, his reading of the game increased and improved, and he proved decisive in Spain's World Cup glory in 2010 and Euro 2012. 
While many won't remember Capdevila being a member of that 2010 Spain squad, the left-back did his work silently and effectively. He was renowned for his acceleration and passing range, which allowed him to move forward, make overlapping runs, create space for his team, and connect with the attack. At his peak, he was regarded as one of the finest left-backs in the world.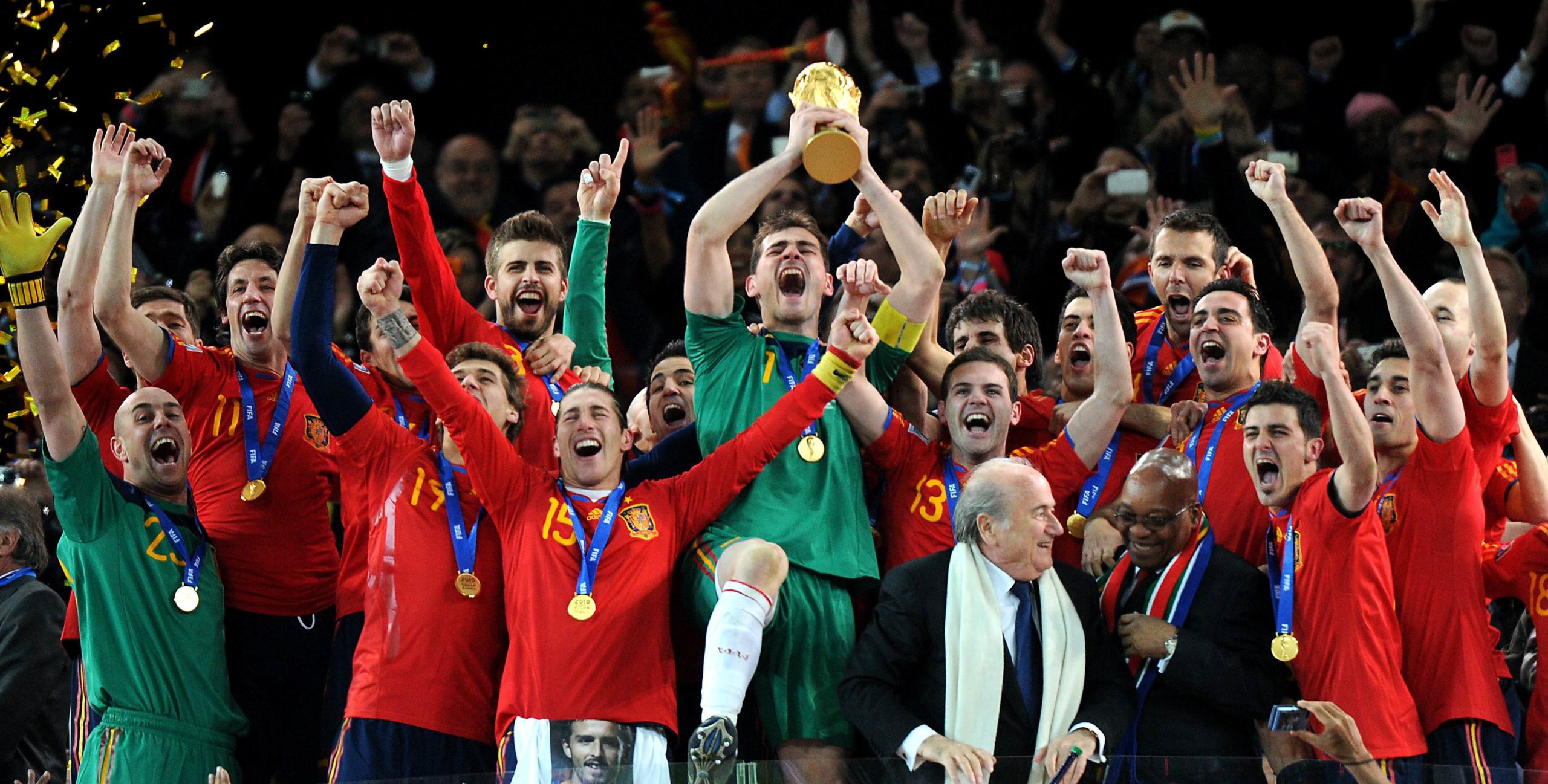 He was not as flamboyant as other players in his position, but his unrivalled consistency did the work for Spain. Of course, both the players were overshadowed by the Spanish midfield artistes, but this full-back pairing was instrumental during their country's golden era.