The winds of change are flowing at Chelsea. After Roman Abramovich's bombshell announcement of him intending to sell Chelsea, the club finally confirmed that an agreement has been reached with Todd Boehly's consortium. While Boehly's name is on the bid, Hansjorg Wyss is a big part of it and a name not known to many.
Chelsea is sold for £3.75 billion.

🔚 Of the Roman Abramovich era

🌞 A new ownership led by Todd Boehly, Clearlake Capital, Mark Walter and Hansjoerg Wyss#Chelsea #Abramovich #chelseasold pic.twitter.com/edGhx02T10

— FootTheBall FC (@FootTheBallFC) May 7, 2022
The Swiss billionaire can be seen as the "Soft Power" of Boehly's consortium. In a consortium led by hyper-capitalistic American billionaire Boehly, Wyss' presence is expected to be of great importance.
View this post on Instagram
So, who's Hansjorg Wyss, and what can Chelsea fans expect from him? Here are 10 things you need to know about Hansjorg Wyss.
1- A humble Swiss
Hansjorg Wyss comes from a fairly humble background. Born in 1935 in Bern, Switzerland, he was the son of a mechanical calculator salesman. Wyss' mother was a homemaker. He had two sisters and was raised in a single apartment. Therefore, while he didn't want for food and money, he certainly wasn't born with a silver spoon in his mouth.
2- An educational prodigy
Hansjorg Wyss had a penchant for studying since his early days. His educational background is one for the elites. Wyss received a Master's degree in Civil and Structural Engineering from the Swiss Federal Institue of Technology, Zurich. Consequently, his aptitude for the business side came into play.
3- Hansjorg Wyss, the Harvard graduate
After completing his Master's in Switzerland, Wyss found his calling. He wanted to learn more about businesses. Therefore, he went to Harvard Business School. In 1965, he completed his MBA from the prestigious institution. Consequently, he went on to work in a number of positions.
4- Hansjorg Wyss- The hustler
After completing his MBA, Hansjorg Wyss was ready to dive into the real world. Aiming to widen his pool of knowledge, Wyss worked at various places in a variety of roles.
These ranged from plant engineer to project manager. At one point, he was selling aeroplanes as a side business! Little did he know, a sale from his side business would change the trajectory of his life.
5- Medical world calling
While selling planes, he met a co-surgeon who was a co-founder of Swiss medical device manufacturer, Synthes. The field piqued his curiosity. True to his hustling nature, Hansjorg Wyss spent two years learning all about this industry. When he was ready and armed with the knowledge, he launched his life-changing venture.
6- The CEO of Synthes USA
Hansjorg Wyss founded and became the President of Synthes USA in 1977. It was the US division of Synthes, based in Switzerland. As the revolutions in medical practice picked pace, this was the perfect time to enter the industry. Wyss presided over a period of rapid expansion for more than three decades. He resigned from the position of CEO in 2007.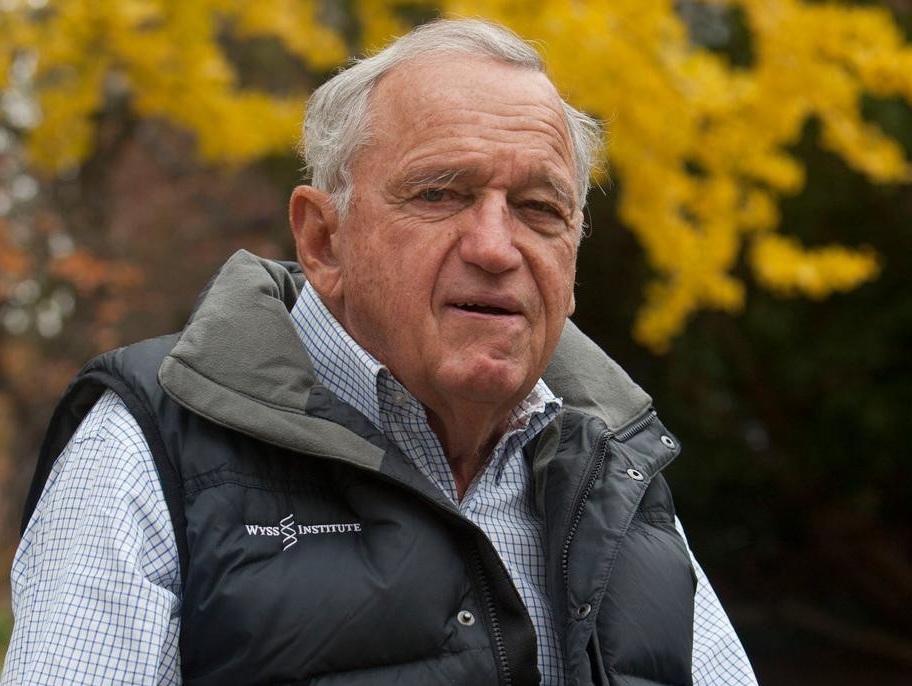 In 2012, Synthes USA was acquired by the giant, Johnson and Johnson. Therefore, as the founder of the company, Hansjorg Wyss must have pocketed a cool amount. However, unlike many billionaires, Wyss would use this to better the world.
7- A great philanthropist
86-year-old Hansjorg Wyss is regarded as one of the great philanthropists in the world. To date, he has donated more than 2 billion USD to various causes. He has also signed "The Giving Pledge", agreeing to part with the majority of his fortune.
"For the sake of all living things, let's see to it that far more of our planet is protected by the people, for the people and for all time." –Hansjörg Wyss#CampaignForNaturehttps://t.co/G2U1bYlPtQ

— Wyss Campaign for Nature (@WyssCampaign) October 31, 2018
Furthermore, he is a big environmentalist. Wyss has donated billions towards the protection of forests and ecosystems. Besides the works of his charitable foundation, Wyss has personally donated more than 300 million USD to date. He is reported to have a valuation of nearly 6 billion USD, with Forbes magazine ranking him at 281 in their list of billionaires in 2017.
8- No criminal grey areas
Perhaps this would come as the biggest relief to Chelsea fans. After years of being taunted by rivals for the origin of Roman Abramovich's money, Hansjorg Wyss' takeover would wipe that criticism. In addition to his philanthropy, Wyss has a clean criminal record. One case on Synthes led to four executives of the company being convicted but Wyss was never indicted. Therefore, if this sale goes through, Chelsea fans can rest easy on moral grounds.
9- A Western sympathizer
Chelsea has been accused of being a sportswashing vehicle for the Russian state since Roman Abramovich took over. That looks set to change. If Hansjorg Wyss-led consortium takes over, that narrative will take a 180-degree turn. Wyss is believed to be a great sympathizer of the USA.
Most of the environmental donations have been to US-based organizations. Moreover, he is a declared liberal, with unwavering support for Democrat policies, including inheritance taxes for the wealthy in Switzerland. Therefore, his philosophy is basically the antithesis of everything Abramovich stood for.
10- Not a sugar daddy!
Unless the other people in his consortium are money-spinners, the days of Chelsea being owned by a "sugar daddy" look set to end. It was famously said that Abramovich parked his tanks and fired off cash at other teams. Chelsea achieved almost overnight success owing to Roman Abramovich's endless spending. Hansjorg Wyss is unlikely to continue this model. A move towards a sustainable model, like at Liverpool, is expected.
Now that Todd Boehly's consortium has agreed to the terms of their takeover, it remains to be seen how much Wyss is involved in the day-to-day running of the club. However, one thing is for certain, Wyss does not fit in the stereotypical image of a billionaire, and that's a good early sign for the club and its fans.