Mark van Bommel looks like the ideal modern day coach on the touchline. With his beard trimmed sharp, sporting a cool black Wolfsburg t-shirt or hoodie with a tight fitting pair of jeans, he fits the archetypal philosopher-cum-big brother role that the younger generation of managers are expected to fulfill.
However, van Bommel's management style is considerably different from both the German school, where he spent a majority of his playing career, and the Dutch school, where he hails from. There is little difference however in between van Bommel the player and van Bommel the manager.
WOLFSBURG'S EXCEPTIONAL START
Wolfsburg exceeded expectations last season, qualifying for the Champions League under the leadership of Oliver Glasner. The European qualification had been building up but it was not expected that they would keep up the same level, especially after Glasner's departure to Frankfurt in the summer.
FINAL

We drop our first points of the season as we draw with @eintracht_eng. #WOBSGE | 1-1#VfLWolfsburg 🟢⚪️ pic.twitter.com/irGSsRdiKF

— VfL Wolfsburg EN/US 🇬🇧 🇺🇸 (@VfLWolfsburg_EN) September 19, 2021
They have proved doubters wrong, making their best ever start to the Bundesliga, winning four and drawing one out of their five matches so far. Van Bommel has built upon the foundation laid by Glasner and his side are currently level on points with Bayern Munich and the challengers-elect to the Bavarians.
INCULCATING HIS PERSONALITY
As a player, van Bommel was a physical defensive midfielder whose primary role was that of a destructor. His on-ball skills were neat and clean if nothing special, and he covered a lot of ground. Seeing Wolfsburg in their opening few fixtures and you can clearly see that the side has been moulded in the Dutchman's image.
Their centre back options of John Anthony Brooks, Maxence Lacroix and Sebastiaan Bornauw are all over 6'2", making it very hard for opposing strikers to go up against them in a physical battle. They are further backed by two tireless defensive midfielders in Maximilian Arnold and Josuha Guilavogui. The defensive midfielders shut up shop in the middle and the tall centre-backs deal with anything coming in from the wings.
ATTACKING PROWESS
Going forwards, Wolfsburg rely a lot on the width provided by full-backs Kevin Mbabu and Yannick Gerhardt. Their wing options too supplement the pace of the full-backs with Lukas Nmecha and Ridle Baku being exceptionally sharp threats to watch out for this year.Xaver Schalger who has been sparingly used by Von Bommel seems like the perfect player for his system and a little bit of form could propel the midfielder into superstardom. He has already provided an assist in 3 appearances this season.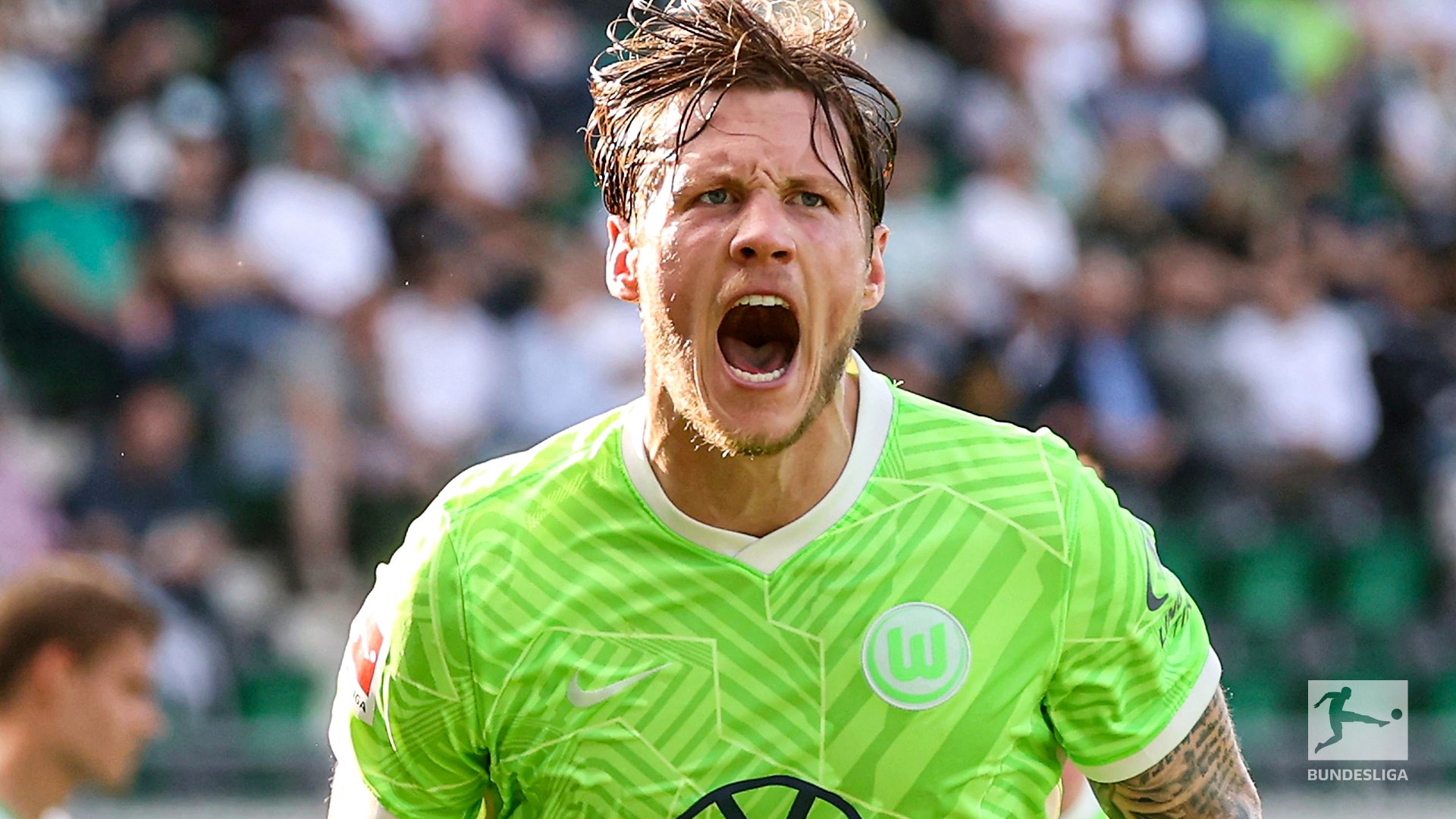 Wolfsburg's attacking plan under van Bommel is simple – get the ball forward into the wide areas and supply crosses for main man Wout Weghorst to attack. Maximilian Philipp and Luka Waldschmidt are tasked with picking up the pieces from his knockdowns or run off him and the system is working well.
PAYING DIVIDENDS
Van Bommel's side have a clear primary game plan and their execution so far has been near flawless. In their five matches in the German league, they have conceded just two goals, one of which was a penalty. One of their three clean sheets have come against RB Leipzig, no mean feat given the Bulls' attacking strengths. Their defensive stability is clearly visible and when breached, the defence has been well backed up by Koen Casteels who has started the season in sensational form in the Wolfsburg goal.
How does your team's keeper match up against other keepers from the Top 5 European leagues? 🧐@koencasteels has stopped every shot he's faced for @VfLWolfsburg_EN in the @Bundesliga_EN 🪨💪

He also stopped all 4 shots yesterday in #LOSCWOB #Bundesliga #UCL pic.twitter.com/InAxmYUgHC

— Bundesliga Analytics (@BuLiAnalytics) September 15, 2021
There are limitations though to this approach, with Wolfsburg having scored just seven goals so far, less than half of any other side in the top four. Football is about finding the right balance but it does seem that they may be erring on the side of safety a bit too much.
HOW CAN WOLFSBURG IMPROVE
The Wolves have been great but their current high-flying form is unsustainable over the course of the season. Van Bommel's side are perhaps overly dependent on Weghorst as their primary goal scorer and need more from the likes of Philipp and Waldschmidt in terms of direct goal output.
It is also to be seen how deep Wolfsburg's squad is, given their Champions League adventures to come this season. They opened their European campaign with a 0-0 draw at Lille and have the advantage in being one of the easier groups which they could progress from. If they are to go on a run in Europe then van Bommel will need to expertly manage his squad to keep everyone fit and fresh.
🛑 FINAL

Whew…😅 We'll take it.

Not our night but we survive with 10 men and get a point on the road to kickoff our return to the @ChampionsLeague. #LOSCWOB | 0-0#UCL | #VfLWolfsburg 🟢⚪️ pic.twitter.com/fpL4e0Oo08

— VfL Wolfsburg EN/US 🇬🇧 🇺🇸 (@VfLWolfsburg_EN) September 14, 2021
There is much to be hopeful about right now for the Wolves. They have a manager who is sure of what he wants to do and has the squad with which fits his requirements. It will be very surprising if Wolfsburg kept up this form over the season but there is promise of something special to come, whether it be this year or in the coming ones.