Barcelona fans, how are you feeling? Cloud nine will be too low a cloud to be on, one can assume. The 4-0 mauling of Real Madrid at Santiago Bernabeu remined Culers of the old days. When Lionel Messi, Andres Iniesta, Xavi, Gerard Pique and more ran the show more often than not. Well, the last two are still present though Xavi is now on the touchline. Xavi has overseen a monstrous turnaround in tactics within 134 days.
Xavi replaced Ronald Koeman on November 8.

Some impact. pic.twitter.com/qjE07lL3Xx

— Sporting Life Football & Infogol (@InfogolApp) March 20, 2022
Barcelona are looking like themselves again, playing a thundering style of play that leaves opponents on the mat. The energy, excitement, and exuberance have all returned to the Camp Nou.
"Xavi-ball" has taken over the Catalans and the results have been overwhelmingly positive. So, how did Xavi effect such a change in fortunes in less than four months?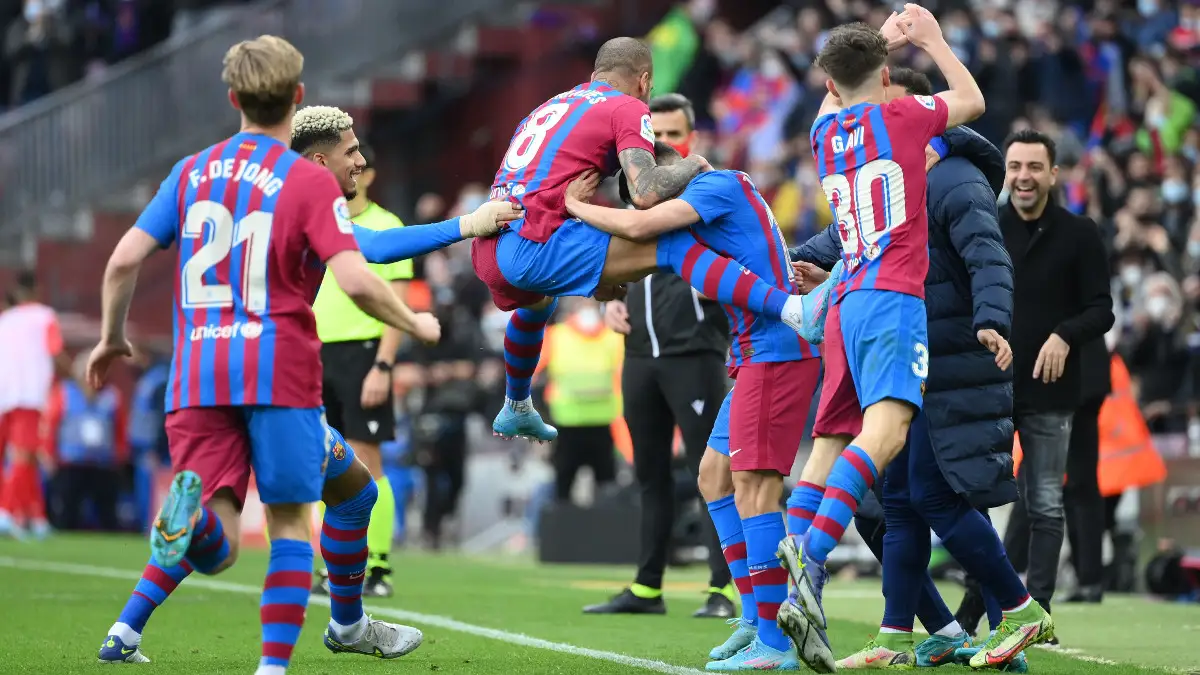 Picking up the pieces
Xavi joined Barcelona on November 8. Ronald Koeman had sucked the joy out of the team on and off the pitch with some dire results. There were underwhelming results against minnows and some heavy shellacking in the Champions League.
🇪🇸 Lose El Clasico at home
❌ Three defeats in four league games
📉 9th in LaLiga, six points off top
📊 7th in Infogol's Expected Position table
🏆 3rd in their Champions League group
🗓 14 months into the job

Ronald Koeman's time as Barca boss is up.
https://t.co/YwlLsjgA8O

— Sporting Life Football & Infogol (@InfogolApp) October 27, 2021
Xavi's arrival was the return of a familiar face, with more tactics and managerial nous this time. Though there were some who questioned his credentials, the feel-good vibe had returned. Xavi was one of Barcelona's most adored sons and taking over at a critical juncture underlined the faith in him.
Barcelona's last 12 games under Xavi Hernandez:

🟢 9 wins
🟡 3 draws
🔴 0 losses
⚽️ 32 goals, 10 conceded
4️⃣ SIX four-goal wins
🥉 Up to 3rd in La Liga
🏆 Into #UEL quarters

Ship = Steered. 🙌 pic.twitter.com/X50XMCz8Jo

— Statman Dave (@StatmanDave) March 20, 2022
Xavi came with a clear mind on what kind of tactics he wanted to implement and how to maximize potential. He knew that reinforcements would arrive in January and till then, he was on his own.
Going back to the Barcelona way
Ah, yes, the 'Barcelona way.' What is that, exactly? Well, Xavi set about getting his ideas and tactics across immediately. He established a firm line of communication with players and made his intentions clear. Only those who wanted to perform for the club will be prioritized.
Every player should be totally committed to get out of this rut. Xavi switched back the formation to 4-3-3, used in the heydays of Barcelona under Johan Cruyff and Pep Guardiola. This formation would bring out the best in the players at his disposal.
View this post on Instagram
Continuing the Catalan tradition, Xavi started placing great emphasis on academy graduates. Pedri is, of course, the crown of the youngsters at the moment. He was joined by Pablo Gavira and Xavi brought in more. Nico Gonzalez, Ferran Jutgla, Abdi Ez, and Ilias Akhomach were all given first-team minutes.
Two goals in 5 minutes for Barcelona.

The youngster Fernan Jutgla 👏 pic.twitter.com/tCEFQ9soTR

— ESPN FC (@ESPNFC) January 5, 2022
The rapport Xavi had built up with these players was clearly visible in how the team performed on the pitch. The doom and gloom of the Koeman era had been lifted. Even Luuk de Jong has found his scoring touch, with four of his five league goals coming under Xavi.
Needless to say that everyone is feeling good for the future with what Xavi has done in terms of tactics already.
The personnel at hand
The 4-3-3 has already been mentioned but no formation succeeds without the right personnel. To that effect, Barcelona edged their way closer to the winter transfer window by keeping things tight. Apart from another defeat to Bayern Munich, they picked up two draws and a win in December. With the budget ever so tight, Xavi and Joan Laporta got creative.
Pierre Aubayemang was proposed to five different clubs in January before Barcelona decided to sign him. Auba also received a bid from Al-Nassr but wanted to wait for a top European club and show his value again. ⚠️ #FCB

Xavi trusted him – huge deal for Barça… on a free. pic.twitter.com/ni9nffx4vo

— Fabrizio Romano (@FabrizioRomano) March 21, 2022
They identified the lack of pace up top and clinical finishing as a key weakness. To that effect, the Blaugrana brought in Ferran Torres, Pierre-Emerick Aubameyang, and Adama Traore on low salaries. Dani Alves joined on a free transfer to further bolster Xavi's philosophy.
The rise in number of goals has been extremely evident since February. 24 goals have been scored in La Liga, including four in their last two games.
2nd Barca goal is an example of Xavi's top structure/rotations. Initially Dembélé stretched the pitch wide, Alves inverted & Pedri in half-space. The trio then rotate roles which creates room for Dembélé to assist in the half-space. It pulled Osasuna apart like poetry in motion. pic.twitter.com/wckssbEq9U

— Premier League Panel (@PremLeaguePanel) March 13, 2022
This run included a 4-2 hammering of defending champions Atletico Madrid. Barcelona also scored four against Napoli in Italy and are through to the quarters of the Europa League. The revamped front three has been performing exceptionally well. Aubameyang has scored nine times in 11 matches while Torres has four goals and three assists.
Of course, Xavi and his tactics have helped a great deal in breaking down opponents.
View this post on Instagram
Frenkie de Jong has been given the license to roam around and play his long range passes. Sergio Busquets remains the defensive anchor. Each player knows his role clearly, so the midfielders dropping wide and the attacks doing defensive work is not new.
The front three has also been switching their positions regularly with all of them equally capable of playing everywhere.
Xavi tactics and style
Xavi has brought several of his tactics from Al-Sadd. Most notable have been the high intensity press and high backline. Each player from attacker to defender knows they have to put pressure on the opponents. Therefore, when the ball is lost, one can see how quickly Barcelona want to win it back. Dominating possession has been a fundamental of Xavi the player and now, Xavi the manager.
View this post on Instagram
Ronald Araujo, an attack-minded centre back is given the license to carry the ball forward often. When that happens, Busquets drops back to cover the gap. The fullbacks take up interesting positions, with Alves coming infield towards the centre.
While on the other flank, Jordi Alba regularly marauds forward to in and around the penalty box. Frenkie de Jong has been freed from his shackles of having to contribute defensively. He is given a free roam to pick up the ball and spray passes around.
😳 Barcelona created six clear-cut goalscoring chances in tonight's #ElClasico. They've not created more in a league match in either of the last two seasons. Against Real Madrid! pic.twitter.com/iwsQeR2eww

— WhoScored.com (@WhoScored) March 20, 2022
Pedri is becoming a jewel in the midfield, able to contribute on both sides of the pitch. However, the most resounding success story has been that of Ousmane Dembele. The much maligned Frenchman who was in a constant tussle with the club over a new contract looks to have turned a new leaf.
Dembele has been beset with injuries ever since his transfer but looks to be returning to his best form.
👀 Ousmane Dembele has nine assists in 12 league matches under Xavi, as many as he managed in his last 65 league outings under Ronald Koeman and Ernesto Valverde combined. Reborn! #ElClasico pic.twitter.com/qIHUxH1of5

— WhoScored.com (@WhoScored) March 20, 2022
He has racked up nine assists under Xavi already since the the end of November and looks set to get more. The confidence in his game, the swagger with which he drives at defenders and dazzling footwork all bear the hallmark of Xavi. He has publicly implored Dembele to shut out the noise and do what is best for the team.
What lies ahead?
A lot more good things, essentially. Barcelona are currently sitting in third-place, ahead of Atletico on goal difference. They also have a game in hand and given Los Rojiblancos' stuttering form, are a shoo-in for the Champions League next year. Now, that is certainly good news for a fanbase that had to go through some truly atrocious moments this season.
Xavi is doing this with varying profiles. He's developing youngsters like Pedri,Gavi & Araújo. He's revived top talents who lost their way like Frenkie & Dembélé. He's got experienced pros like Piqué, Alba & Busquets back to their best. And integrated new buys like Ferrán & Auba.

— Premier League Panel (@PremLeaguePanel) March 20, 2022
Furthermore, Xavi and co. also have a great chance of winning the Europa League. The massive win in the El Clasico has already proved that Barcelona are not light years behind Madrid anymore.
The 12-point gap still remains but in terms of identity, Barcelona have found theirs emphatically.