Ligue 1 giants PSG have now offered under-fire Arsenal boss Arsene Wenger a two-year deal.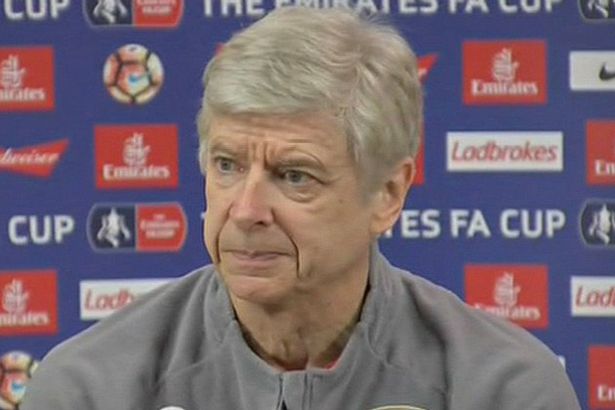 Ligue 1 giants Paris Saint Germain have reignited their interest in Arsenal boss Arsene Wenger.
Sources reveal that the French champions now want Wenger to take over from Unai Emery in the summer.
And this time around the French giants are confident that they can finally rope in their long-term target.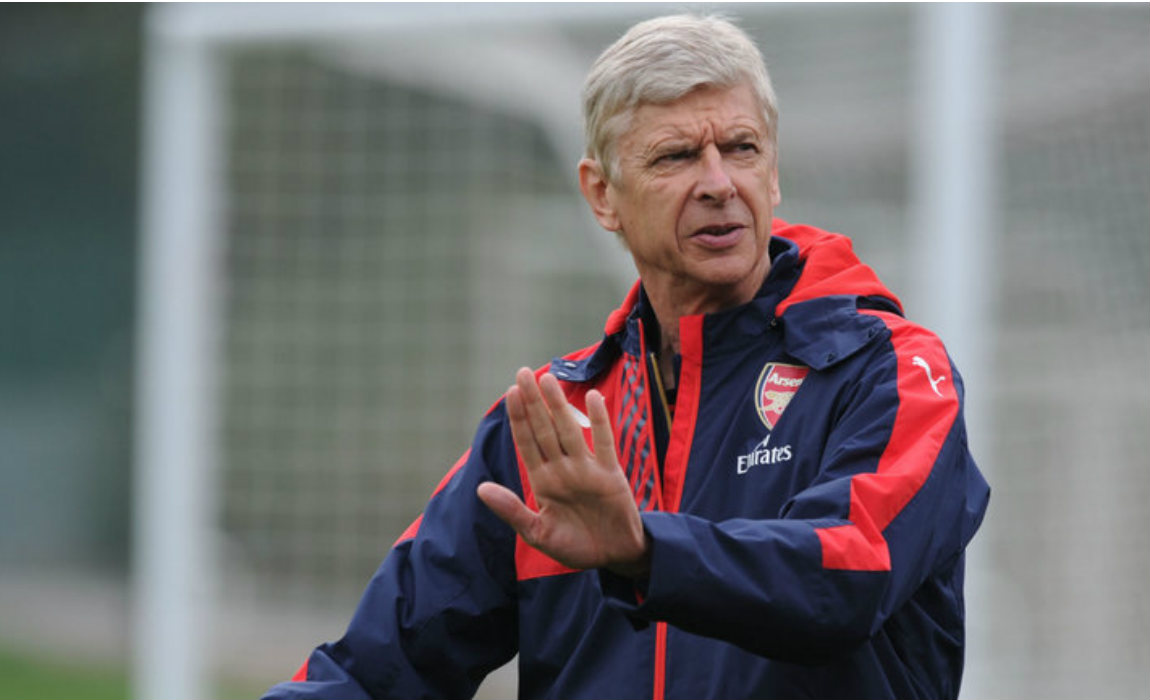 Arsene Wenger has snubbed two offers form the Ligue 1 side PSG in the last 5 years and opted to stay at the Emirates in order to prove his loyalty to the Premier League side Arsenal.
Earlier, Wenger had revealed that PSG had approached him twice within a span of five years. He revealed those previous offers when Arsenal locked horns with PSG in their Champions League group stage opener in September.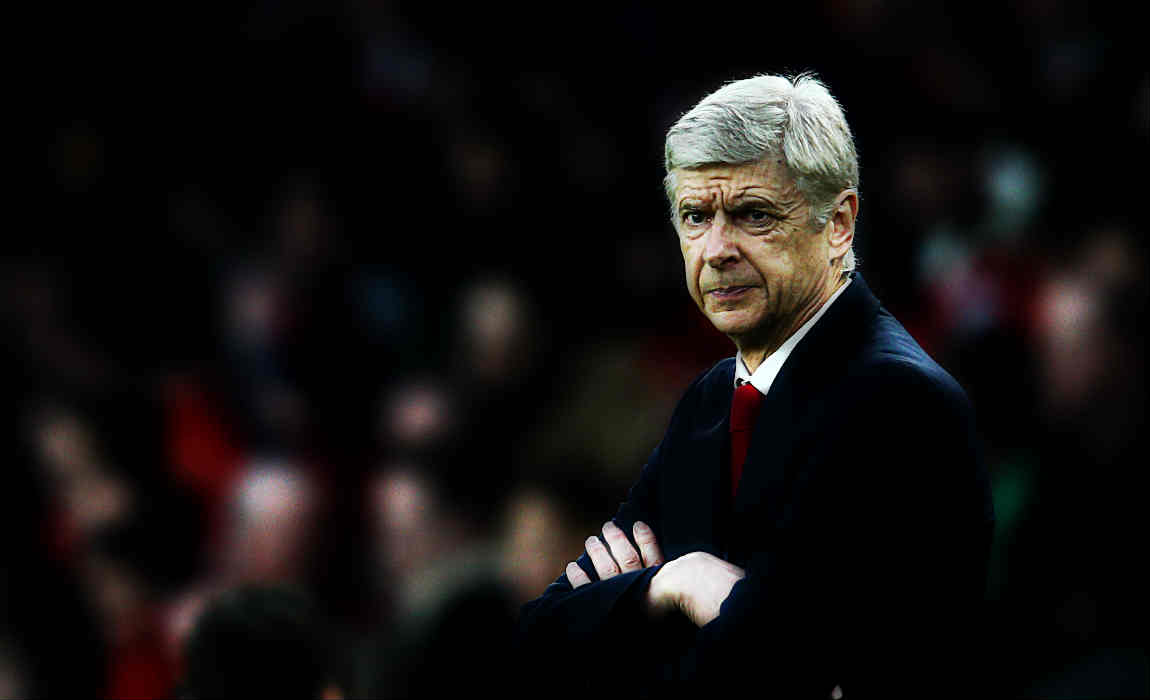 And during that time, Wenger had said: Wenger had said: "I have known Sheikh bin Khelaifi for a long time but I always remained loyal to Arsenal."
"Paris is a city I love in the country I love but I have stayed in England for all this time because Arsenal is a club that has the qualities I like."
Wenger had revealed that he has decided on his future after Arsenal were beaten 3-1 by West Bromwich Albion. And it is now believed that the French manager is set to stay at the club beyond the summer.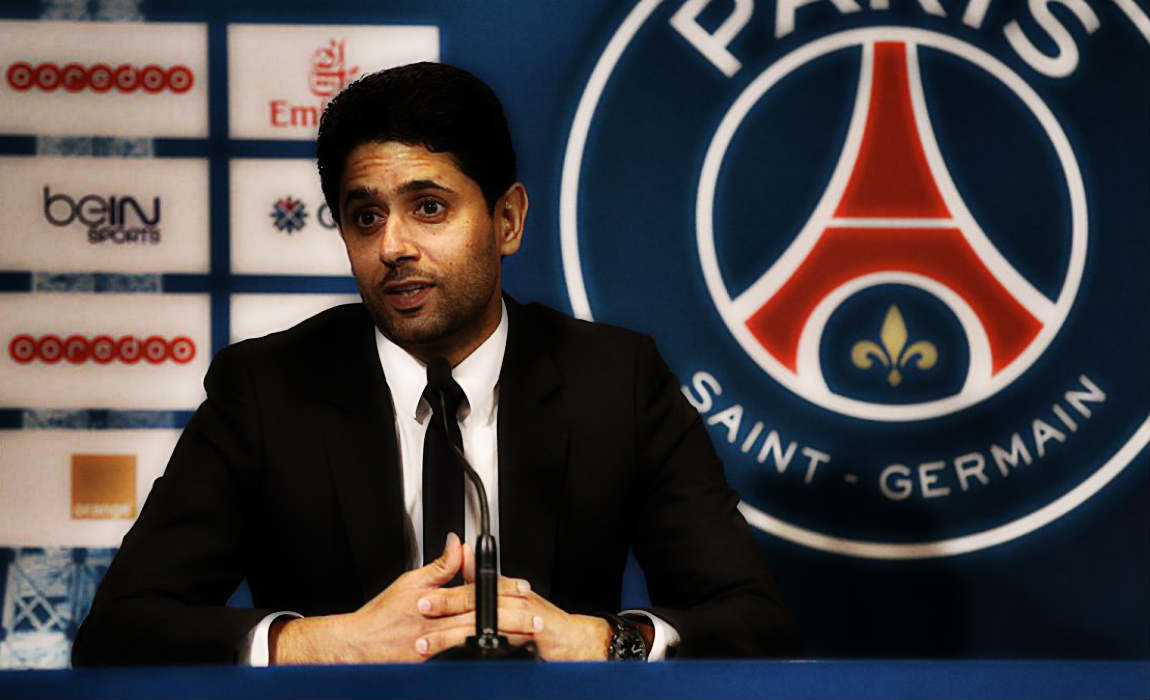 PSG chairman Nasser Al-Khelaifi is confident that Wenger can turn the tables around at PSG after a disappointing season under current boss Emery.
Wenger is facing the heat after they were humiliated 10-2 (on aggregate) defeat to European rivals Bayern Munich over the span of two-legs in the Champions League last-16 round and a 3-1 defeat against West Brom last weekend.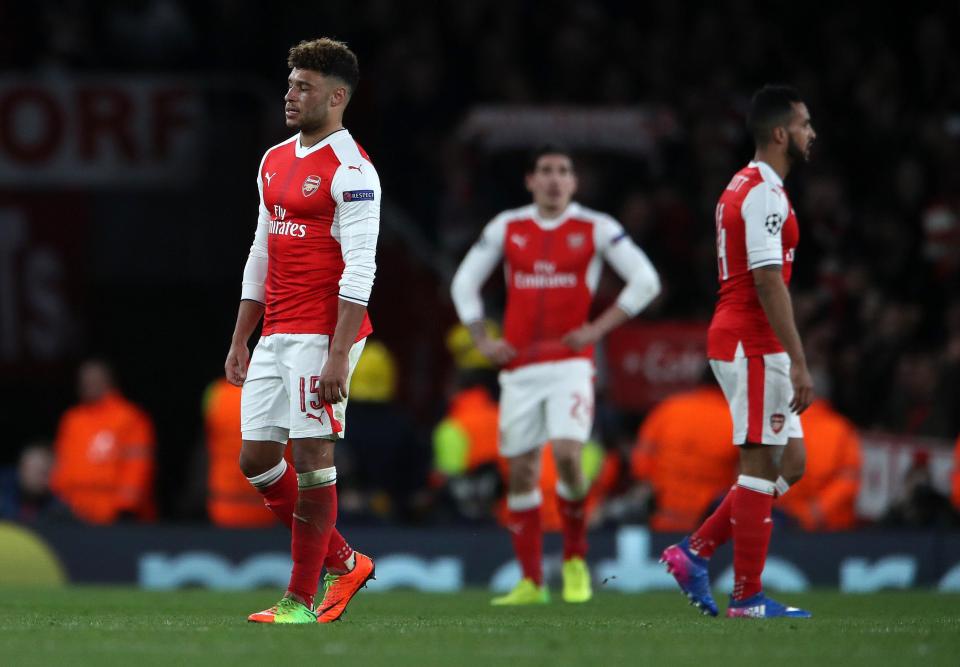 The Gunners bosses are willing to offer the Frenchman a new contract and now it would be interesting to see whether Wenger signs a new deal amid huge protests from fans after a disastrous run of results in both the Premier League and the Champions League.
However, a growing number of Arsenal fans are getting frustrated with the lack of ambition shown by the club under Arsene and #WengerOut signs are flowing in full glory.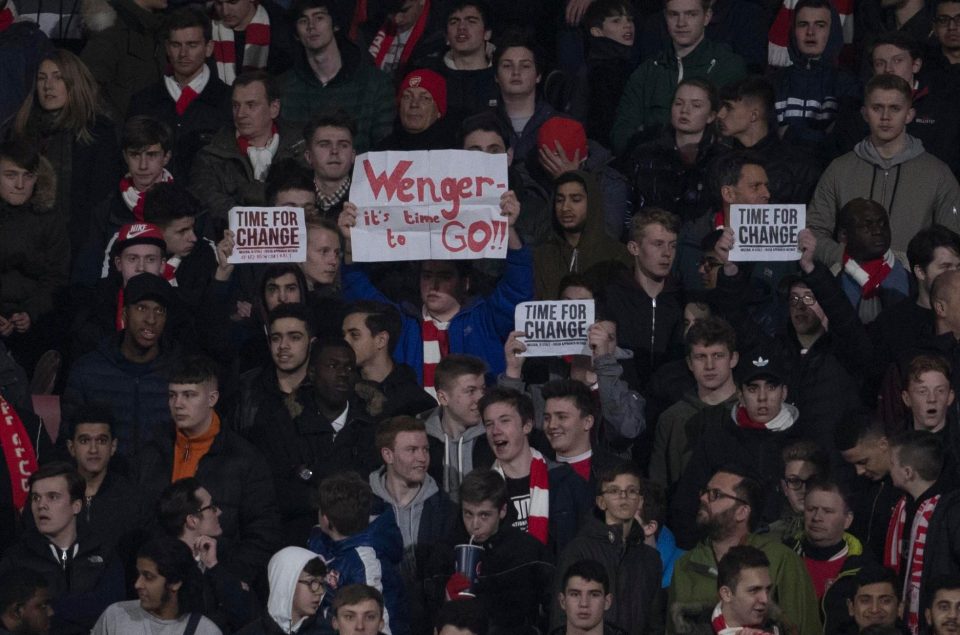 The Gunners are likely to miss out on the Champions League for the first-time in Wenger's two decade long stint at the club.
Although, Wenger himself has stated that missing out on the UCL will not be that big of a deal in the current scenario, "No, I take a bigger perspective than that," he said.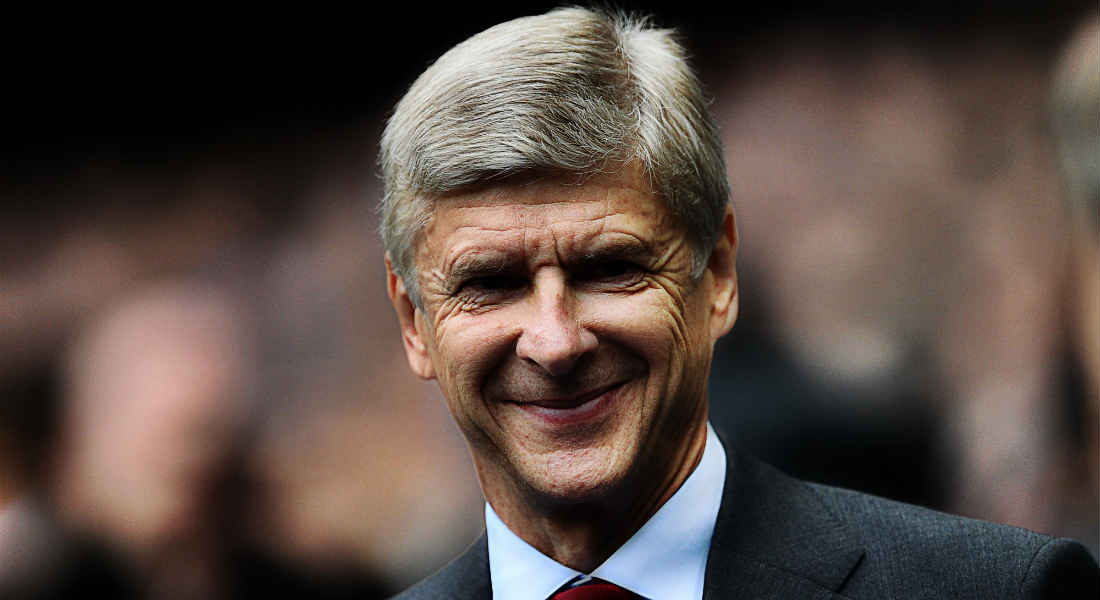 "It will not necessarily be linked with that, because I have done the top four for 20 times. It is not that, or the last result, that will decide whether I will go."
"Today, the Champions League on the sporting front would be a blow but financially the Champions League has not the impact it had five or six years ago, because of the influx of the Premier League TV money," he added.
"If we don't do it, we have to take the consequences — and then maybe one day people will enjoy it again to be in there. It will be very difficult now to do it. But I give my best as long as I am at the club, if it is for two more years or 10 more years or four more months."
Around 200 fans shouted ant-Wenger chants outside the Emirates stadium before the Champions League last-16 second-leg defeat against Bayern Munich on Tuesday.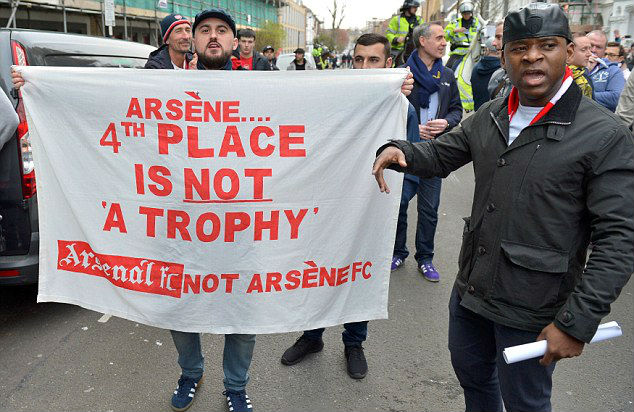 The protesters outside the stadium carried banners and signs including one that read 'No New Contract' with the French manager set to leave the Premier League club in the summer if he does not sign a new contract.
The angry fans had also chanted 'Wenger Out' as they marched towards the Emirates.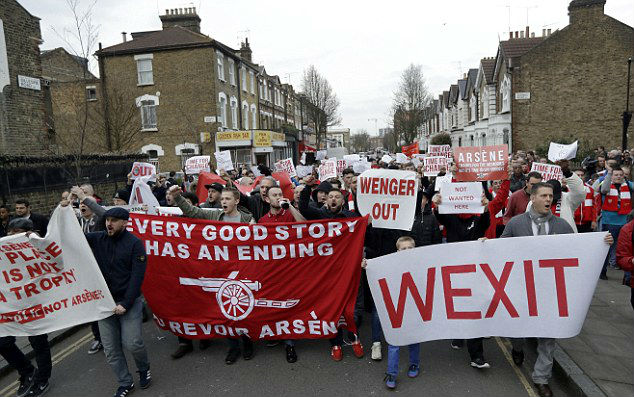 Protests against Arsene Wenger doesn't seem to be stopping anytime soon as Arsenal fans staged yet another march – calling for the ousting of the iconic manager.
Gunners fans have become more and more vocal about their displeasure with the Frenchman and they are calling for Wenger out during every game.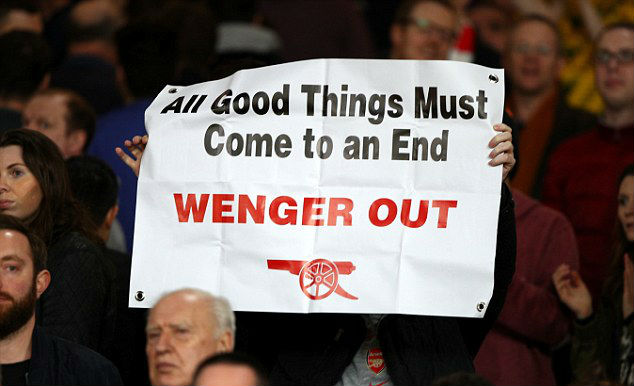 There were also protests ahead of Arsenal's 5-0 win over non-league side Lincoln City in the FA Cup quarter-final clash.
Anti-Wenger chants were heard loud and clear throughout the game – while some called for a 'WEXIT'.
Arsenal have failed to win the Premier League in over 13 seasons now and this has caused huge uproar among fans.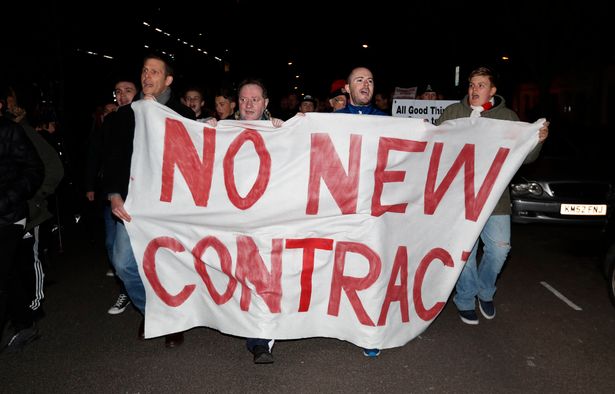 And there were 'No new contract' mass protest again when Arsene Wenger's Arsenal visited West Brom on Saturday and succumbed to a shocking 3-1 defeat.
The Gunners boss is said to hold a meeting with the board – although no decision has been made by the club on the Frenchman's future.
Arsenal have stated that any decision about the long-standing manager's future will be a mutual one.
However, the future of Mesut Ozil and Alexis Sanchez will also likely play a huge part in the outcome.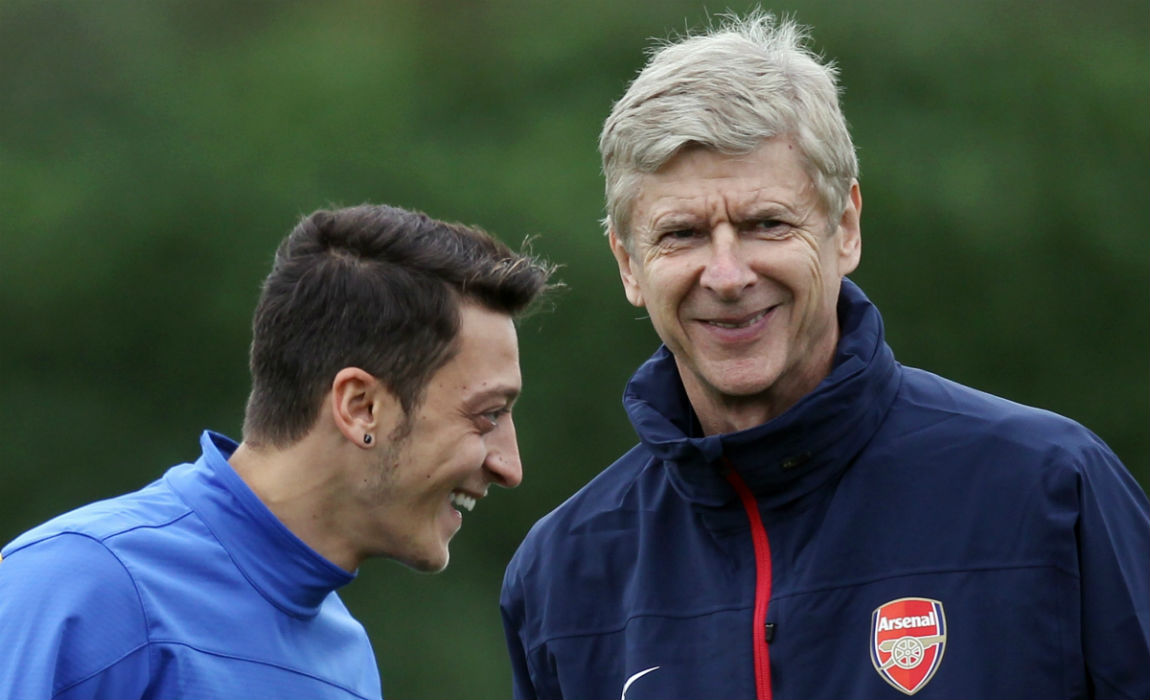 Ozil is a curious case here, as the German was involved in training on Friday, but didn't travel for the away game at West Brom on Saturday.
He will although be heading for international duty as per reports, including a friendly against England on Wednesday in Dortmund.
Ozil and Sanchez's future is a huge concern for Arsene as Arsenal could lose their star duo this summer – with both players having entered the last 15-months on their current contract.
Sources inside the Emirates Stadium have suggested that the duo have formed a team and have demanded a wage-packet in excess of £300,000-a-week.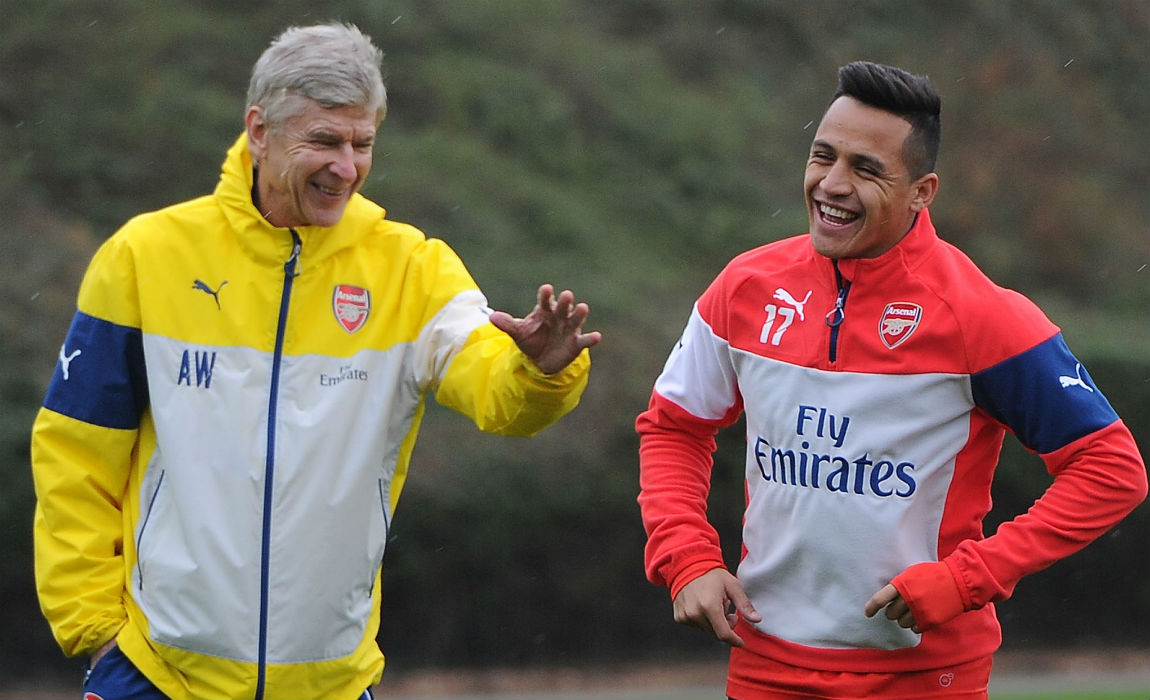 The duo are adamant on their demands and it is unlikely that they will budge, meaning that they could be moved on in the summer.
The club are likely to look for a major change in behind the scene activities with head of transfers Dick Law's future also under doubt, while a new Academy director is also expected.
If Arsenal do decide to keep hold of Wenger, the announcement will have to be kept under close-wraps – atleast till the future of Ozil and Sanchez is finalized.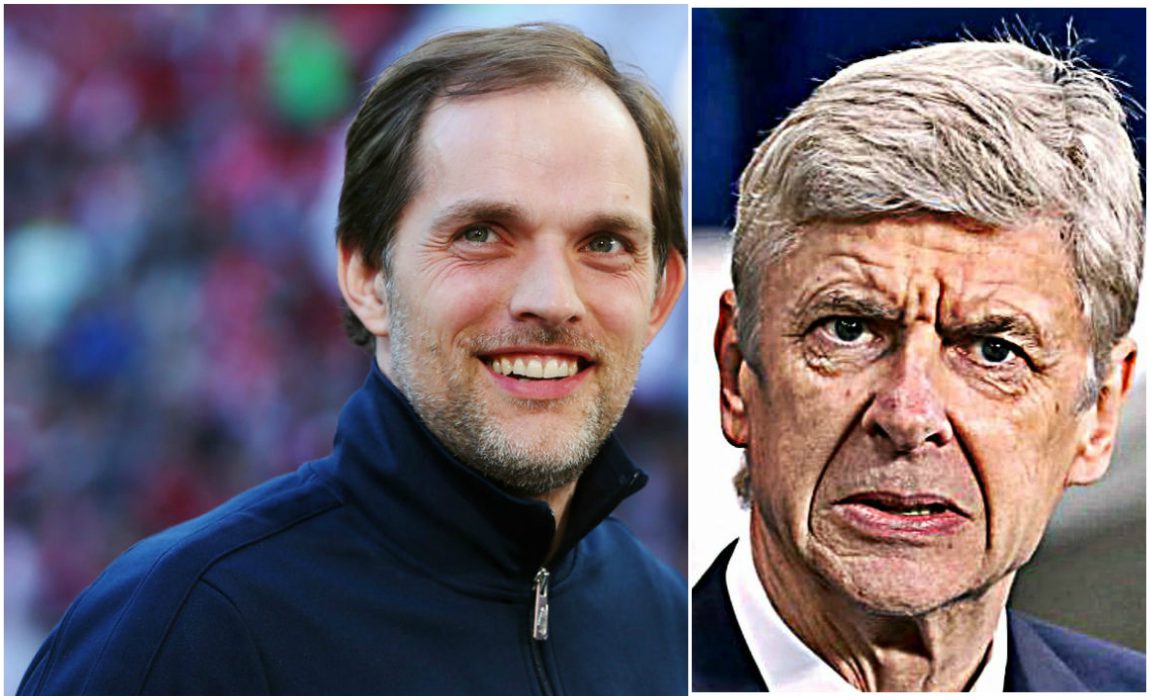 However, Arsenal have rubbished all claims of holding talks with Dortmund boss Borussia Dortmund as they search for a replacement if the Frenchman decides to leave in the summer.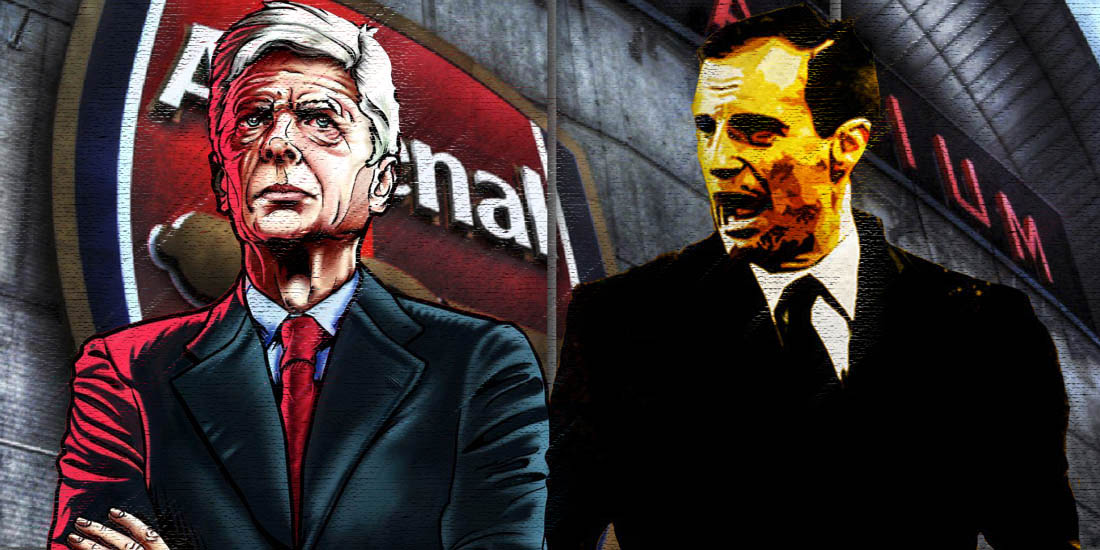 Sources reveal that Juventus boss Max Allegri tops Arsenal's wish list of potential candidates, but they will now wait for Wenger to take a final call about his future before beginning any negotiations with other managers.