The entire football world is asking only one question. What does Messi do now? Arguably, the greatest footballer of all time is without a club technically. As we approach the new season, Barcelona are desperate to sign him again. Though there are signs everywhere the Argentine international will re-sign with Barcelona, nothing is fixed yet. With Messi holding their aces at a cost, Barcelona aims to regain lost glory in the new season.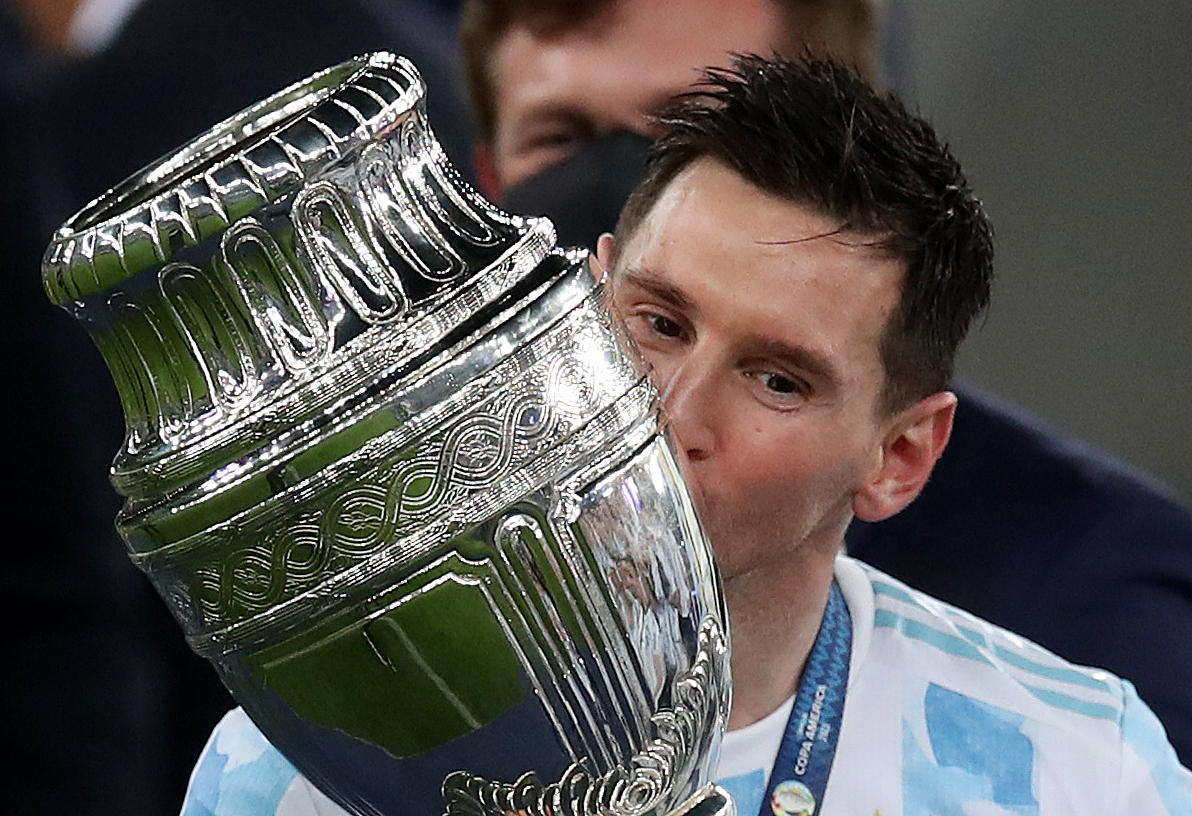 Barcelona endured a mixed campaign on the field last time. A bad start to the league cost them ultimately in the end. The Blaugrana were in supreme form since the turn of the year. However, another blip in the closing stages prevented them from getting over the line. Paris Saint Germain schooled them in the round of 16 of the Champions League as the club suffered yet another failure there. Copa del Rey was their only joy as Barca turned the clock to produce vintage displays in the semifinal second leg and finals to lift the title.
Not all was negative for the Catalan outfit tough. They can take heart from the emergence of youngsters from the famed La Masia and stability achieved in the board room. Barcelona are without a league title for two years and have failed to conquer Europe six times. They will be out for blood, once the campaign gets underway. Ronald Koeman and Lionel Messi would be the ones to usher Barcelona to glory in the new season as fans start to return to Camp Nou. We at FootTheBall profile Barcelona and how they look before the new season.
LAPORTA'S SECOND COMING
Any club's success story begins behind the scenes. To be precise, it starts with how the club is run and how smoothly every single aspect like the fans is dealt with. In a "Mes Que Un Club" like Barcelona, this backroom matters become a paramount priority. In the past few years, that mutual love affair between fans and the board was missing. Part of the blame or the entire blame, depends on who one asks, can be pinned on Barcelona's ex-president Josep Bartomeu. Anyone who knows Barcelona can easily say that the President role of Barcelona involves politics and Bartomeu was no different.
President Josep Maria Bartomeu announces the resignation of the FC Barcelona Board of Directors. pic.twitter.com/Xr9pBoUzHM

— FC Barcelona (@FCBarcelona) October 27, 2020
Bartomeu's era began with a remarkable European triumph in 2015. Instead of building on that success, Barcelona collapsed. Bartomeu's board was constantly caught in one scandal after another. Their Barcelona project was in shambles as the club lost revenue left right and center and was caught in neck-deep debt. The lesser spoken of the transfer howlers like Antoine Griezmann, Phillipe Coutinho and Ousmane Dembele the better. He almost drove Messi away last summer with inefficiencies everywhere. Bartomeu felt the heat from all corners and finally resigned in October 2020.
🗳 2021 ELECTION 🗳

Joan Laporta, new president of FC Barcelona pic.twitter.com/W0Klb7d1Je

— FC Barcelona (@FCBarcelona) March 7, 2021
The club decided to prepone the elections to fill the presidential void. Barcelona's favourite son, Joan Laporta was standing for the president role for the second time. Laporta's first spell as the president oversaw the legendary Barcelona squad assembled by Pep Guardiola. He was indeed elected without a doubt and started fixing things as soon as he assumed power. It could be said that Laporta's first task was to fix his predecessor's mess. The Spaniard also had to keep an eye on Messi's contract situation. Laporta is now slowly but successfully putting the club back on track with his transfer moves and backing the players and manager.
MESSI IS THE KEY, BUT SO ARE THE OTHERS
Having one of the best players of all time in your club is a boon. But if one fails to take advantage of the boon, it might slowly turn into a bane. Barcelona savoured Lionel Messi in all ways possible and perhaps a little more than they should've. If one observed Barcelona recently, one can notice that the club has become all dependant on Messi.
🚨 Messi and Barcelona have reached an agreement for a new five-year deal, sources have confirmed to @moillorens and @samuelmarsden 🚨

Sources also confirmed Messi has taken accepted a significant wage reduction to prolong his stay 💸 pic.twitter.com/Iq75nYt7RB

— ESPN FC (@ESPNFC) July 14, 2021
"Messidependencia", which was quashed as a myth by many in the past. That term became real as Barcelona failed on the pitch in the recent past. At times it was appalling how they lacked quality on the pitch beyond the Argentine. It was so depressing that Messi wanted a move away from the club to get the burden off his shoulders. However, the Argentine found strength in new board and friends on the pitch as he decided to turn around the situation. A Copa del Rey triumph was all it took for him to decide Barcelona were on the right track again.
𝗧𝗛𝗘 𝗙𝗜𝗥𝗦𝗧
𝗢𝗙 𝗔 𝗡𝗘𝗪
𝗘𝗥𝗔 🟦🟥 pic.twitter.com/Sv0RFTcKDr

— FC Barcelona (@FCBarcelona) April 17, 2021
Then Messi's contract bomb exploded before new terms were agreed on July first. He officially became a free agent even though he remains a Barcelona player at heart. Barcelona's astronomical wage bill isn't allowing Messi to re-sign a contract with them. The board are doing everything in their power to cut the wage bill and accommodate Messi. As a result, they are clearing the deadwood and are also selling key players in a haste.
Barcelona started their clearance sale as they terminated Matheus Fernandes' contract and sold Junior Firpo to Leeds. They are also looking to get rid of Antoine Greizmann in a swap deal. This would allow them to get Messi again and allow newbies like Depay and Aguero to fit in. Can this hurt Barcelona next season? Time can only tell.
TURNING TO LA MASIA
Barcelona's ginormous push to keep Messi comes at a cost. They are selling off their fringe players and are also ready to listen to offers for a few first-teamers opening voids in their squad. Desperate measures are taken in desperate times. Perhaps this is what it takes to step out of Bartomeu's horror era and breakout under Laporta. The club can look to a familiar place that has helped them out so many times in their glorious past.
🏆 A trophy forged at 𝘓𝘢 𝘔𝘢𝘴𝘪𝘢 💙❤️ pic.twitter.com/EH77j9LwDK

— FC Barcelona (@FCBarcelona) April 17, 2021
La Masia, their academy has produced stars who have changed the history of the club. Lionel Messi, Xavi, Andres Iniesta, and Sergio Busquets are all the notable alumni of La Masia. The academy has another crop of able youngsters to plug the gaps in the squad. Ansu Fati is one such player who had his breakthrough already. The young striker was making waves in world football as he finished runner up to Erling Haaland in the Golden Boy award. A longtime injury cruelly cut his season short. Fati is back again and looks set to fire Barca ahead.
Official: Ansu Fati has become second in the race for this year's Golden Boy award by Tuttosport, just behind Borussia Dortmund striker Erling Haaland. What a phenomenal achievement, Ansu 🤩 pic.twitter.com/HV3hZIKDrt

— barcacentre (@barcacentre) November 21, 2020
Other youngsters like Pedri, Ilaix Moriba, Oscar Mingueza, and Ronald Araujo are looking to step up. Their talent is infinite and can easily rise up to the challenge of playing for Barcelona.
As all the pieces are put together slowly, we might be in for an explosive ride with Barcelona next season. With a rejuvenated Messi after the Copa America triumph at the fore, the Catalans mean serious business in both La Liga and the Champions League.