Josep Maria Bartomeu Arrested!!!
The offices of Camp Nou were raided on Monday morning by a special division of the Catalan Police, The Mossos, who have arrested Barcelona's ex-president Josep Maria Bartomeu and three more executives in relation to the 'Barcagate' scandal.
🔴 Los Mossos salen de las oficinas del Camp Nou

📽️ @AdriaAlbets pic.twitter.com/owk0YDGKqj

— El Larguero (@ellarguero) March 1, 2021
Josep Maria Bartomeu, who resigned from his post last year in October after multiple players  and fans protested, which set in motion the process of election for a new president, which is set to take place this month.
Ex-president Josep Maria Bartomeu,CEO Oscar Grau, head of legal Roman Gomez Ponti and Jaume Masferrer – the former right-hand man of Bartomeu, have reportedly been detained in relation to the 'Barcagate' scandal. The new documents that have emerged after the raid of the  Camp Nou shows the inner workings and financial transactions between the club and I3 Ventures.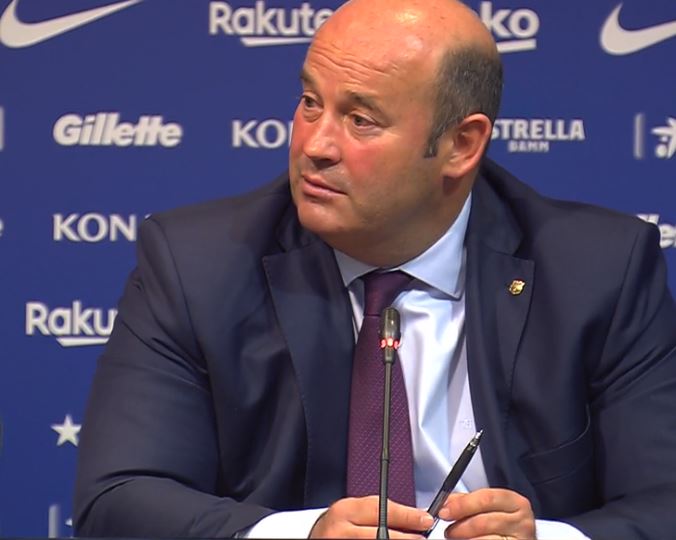 WHAT IS 'BARCAGATE'
Cadena Ser radio station early last year reported that documents had been leaked that showcased that then president Josep Maria Bartomeu was paying a third-party to run smear campaigns against Lionel Messi and Gerrard Pique. Josep Maria Bartomeu, hoped that these smear campaigns would coerce La Pulga to sign a new contract with the Blaugrana. 
Lionel Messi on #BarçaGate in 2019:

🗣️ "The truth is that I find it strange that such a thing happens. They (Bartomeu) said that there would be evidence. We can't say much and will wait to see what happens with all this. To me, it seems a strange issue."pic.twitter.com/y9g8TIgYqO

— infosfcb  (@infosfcb) March 1, 2021
 After the initial claims by Cadena Ser radio, in September last year El Mundo reported that Mossos had sent a document to Catalonia's judges, that showcased Bartomeu's involvement in corruption, to gain personal benefits, which may have led to the club's serious economic crisis.
'Barcagate' involved the transaction between then president Josep Maria Bartomeu and I3 ventures, who were paid by the club to run a 3 year smear campaign against some of Barcelona's current,ex-players and some high profile Catalan faithfuls. The smear campaign targeted the likes of Lionel Messi, Gerrard Pique, Xavi and Pep Guardiola. I3 Ventures, was allegedly used to promote their own messages both on Twitter and Facebook to discredit others, especially people who were perceived as Bartomeu's opponents within the club. 
These allegations were denied by the media firm and Bartomeu himself constantly, which makes this new development crucial to the 'Barcagate' case.
🗣️ Piqué: " They spent money to criticize legends of the club as well as active players, that's brutal. I asked for explanations & bartomeu told me "Gerard, I didn't know." " pic.twitter.com/sGGlvTLQcv

— Barça Worldwide (@BarcaWorldwide) March 1, 2021
It has become evident that Bartomeu had hired I3 ventures to run the smear campaigns ,and what is actually baffling is the fact that I3 Ventures were paid 6 times more than the market value to run such a campaign. The excessive values paid to the firm by Bartomeu has truly become a thing of shame for the club and the actual estimate of this corruption scandal is still being slowly unearthed.
🔥 AND TWITTER ERUPTS AFTER BARTOMEU'S ARREST 😂
After Bartomeu's arrest twitter erupted and a volcano of memes followed and Catalan faithfuls rejoiced with unbridled joy:
Barca fans come out oh. Bartomeu and his gang have been arrested. This is great news. pic.twitter.com/zTH0ubaXE7

— Ezenwanyi Camp Nou ❤💙 (@Jiji_Byte) March 1, 2021
What's next for Barcelona…

Proper Performance. ✅
Bartomeu arrested. ✅
Presidential Elections. ✅
Sevilla Comeback. ❓
PSG Remontada. ⁉️ pic.twitter.com/OLyJvvNB12

— BugaLuis (@BugaLuisFC) March 1, 2021
Breaking: Ex-Barcelona president Josep Maria Bartomeu has been arrested for his involvement in the #BarcaGate scandal. pic.twitter.com/WfX0n39tER

— indykaila News (@indykaila) March 1, 2021
JUST WOKE UP FROM SLEEP & SAW BARTOMEU HAS BEEN ARRESTED pic.twitter.com/zrfPB4ytYD

— ⁸ (@Nahiyann_) March 1, 2021
Leo Messi giving his thoughts on Bartomeu being arrested. #Bartomeu #Barcelona pic.twitter.com/m0dcU6iJ7M

— Darren (@Darren94775262) March 1, 2021
"Police arrested #Bartomeu " #Barca fans 👇 pic.twitter.com/3TlBD7PrWc

— LEO Rakan 🐐👽 (@Blaugrana_86) March 1, 2021
A few hours later Bartomeu gets arrested😭😭😭 pic.twitter.com/D7XTMppxeh

— Ved (@vedantabarca) March 1, 2021
https://twitter.com/TheDesiBarca/status/1366350243567034373
https://twitter.com/LioM10__/status/1366342137860812800
Josep Maria Bartomeu arrested. 🤩 That's our trophy for the season. ❤️ pic.twitter.com/LoBYohOYoh

— Pranav Gupta (@praanaavv) March 1, 2021
FC Barcelona has witnessed more president arrests (2) than Champions League semifinal appearances (1) since 2016!! #BarçaGate pic.twitter.com/QqSfjE43f8

— AM. (@akm_theotherone) March 1, 2021
On saturday Messi signed Bartomeu arrest warrant on his way to Seville

On monday morning he was arrested by the Police
😄😄😄 pic.twitter.com/ziHj2fbp1X

— Dozie (@im_dozie) March 1, 2021
BARTOMEU FREAKING ARRESTED pic.twitter.com/H4th5z59X5

— ekram (@lareinador) March 1, 2021
https://twitter.com/gtviraj/status/1366341855403642880
Bartomeu and Masferrer will spend the night in custody 😭#BartoGate pic.twitter.com/Ls8RdSZheP

— 9CAMPNOU (@9Campnou) March 1, 2021
https://twitter.com/HagridFCB/status/1366389669957488643
BREAKING: According to multiple reports in Spain, Ex-Barcelona president Josep Maria Bartomeu has been been arrested for his involvement in the #BarcaGate scandal.

His CEO Oscar Grau and Roman Gómez Ponti (Legal services director) have also been arrested. pic.twitter.com/AhTlwnn3n7

— Footy Accumulators (@FootyAccums) March 1, 2021
For ruining Barça
For destroying our identity
For disrespecting Cruyff
For disrespecting Leo Messi
For defaming our legends

This is the least of what you deserve, Bartomeu pic.twitter.com/iiqCQVcdfZ

— Sara 🦋 (@SaraFCBi) March 1, 2021