PSG might have just concluded the best ever transfer window in football this summer with the arrivals of Lionel Messi, Sergio Ramos, Gianluigi Donnarumma, Georginio Wijnaldum and Achraf Hakimi from various European clubs, but it might be even more spectacular if Cristiano Ronaldo joins next summer.
Nasser Al-Khelaifi and company have reinforced a squad that already contains players like Neymar, Kylian Mbappe, Angel Di Maria and Marco Verratti.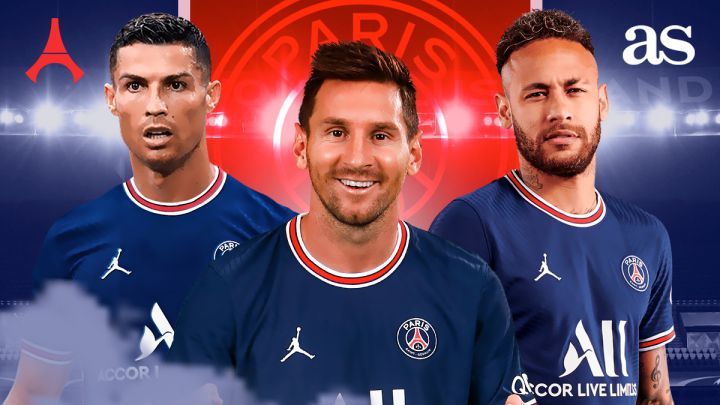 But next summer could actually be sweeter as there are chances that Portuguese talisman Cristiano Ronaldo might join the pack at PSG alongwith Paul Pogba coming on a free transfer from Manchester United in England.
As PSG continue their relentless policy of signing some of the best football players in the world in order to win the ever-elusive Champions League title, FootTheBall analyses the prospect of Portuguese forward Cristiano Ronaldo teaming up with Lionel Messi and Neymar for the French club next season.
PSG ON A MISSION
No one had imagined that Lionel Messi would make the trip from Barcelona to Paris to join French club PSG up until a week ago. 
The Argentine international was himself convinced that he would sign a new contract with Barcelona, only for La Liga's FFP rules to hinder the Catalan club's plans to re-sign Messi.
Le vestiaire est déjà prêt 🤩

📷 Julien Scussel / PSG pic.twitter.com/mtlFRnxiR5

— Paris Saint-Germain (@PSG_inside) August 11, 2021
This resulted in PSG jumping into the equation and quickly capitalising on the situation as this time around Manchester City had their hands tied after signing Aston Villa midfielder Jack Grealish for £100 million.
The French club have struck what one might call an absolutely blockbuster agreement, signing Messi on a free transfer from Barcelona and reuniting him with former Barcelona teammate Neymar and French forward Kylian Mbappe in order to reinforce its bid to win the Champions League.
The French club was also hopeful of signing Paul Pogba from Manchester United, but as things stand Les Parisiens can wait for another year as the Frenchman runs down his contract in Manchester in order to sign him on a free transfer next summer.
STUFF OF DREAMS, ABOUT TO BE REALITY?
It is almost too good to be true, but PSG's president Nasser Al-Khelaifi has shown that the French club is all about resilient pursuit of some of the top-billed football players of this generation.
Evidence of this are the signings of Neymar from Barcelona in 2017, followed by the signing of Kylian Mbappe from fellow French club AS Monaco and Angel Di Maria from Manchester United.
What a summer it's been for Paris Saint-Germain 🔥

Hisense would like to welcome Messi, Donnarumma, Ramos, Wijnaldum and Hakimi to the @PSG_Inside family! 🔴🔵
#PSGxMESSI#Hisense #IciCestParis pic.twitter.com/lu33b48Igd

— Hisense Sports (@HisenseSports) August 11, 2021
And this summer PSG have executed what can effectively be called a dream project as they signed the quartet of Gianluigi Donnarumma, Lionel Messi, Georginio Wijnaldum and Sergio Ramos for a combined transfer fees of €0 in addition to acquiring Achraf Hakimi from Inter Milan for €60 million.
Given the recent trend in them signing such A-list players from some of Europe's football clubs that form the continent's royalty in terms of footballing success, who's to say they won't land Cristiano Ronaldo on a free transfer next summer too.
CRISTIANO RONALDO AND LIONEL MESSI'S LAST DANCE IN PARIS?
Both Ronaldo and Messi have faced each other in La Liga playing for Real Madrid and Barcelona respectively ever since the Portuguese forward came to the Spanish capital in 2009 until his departure to Turin in 2018.
Even James Rodriguez mooted this very idea, saying that it would be a dream come true for football fans to see Ronaldo and Messi line up for the same team in the Champions League.
The Portuguese legend's contract runs out in the summer and if there's one thing that PSG have shown this summer, it is that they are the most attractive destination for elite free agents. This might be because they hit the sweet spot of competitive wages, chance at European silverware and living in a huge city. Therefore, it would be a fool's errand to rule out PSG having a genuine go at Ronaldo next summer.
As things stand, Les Parisiens have the highest wage bill of any sports team on Earth as they already have players like Neymar and Kylian Mbappe on their payroll.
Ronaldo's contract with Juventus runs out next summer and he could be acquired by PSG along with Paul Pogba to create a mouth-watering line-up for Mauricio Pochettino in La Ville Lumiere. 
PSG'S OWN GALACTICOS, BUT BETTER
In the 2000s era, Real Madrid under the stewardship of Florentino Perez embarked on the Galactico project in the Spanish capital that included bringing the likes of Kaka, Ronaldo, Zinedine Zidane and David Beckham to the Santiago Bernabeu.
It looks like PSG, with their Qatari, oil-rich owners are transforming into a side with somewhat the same aspirations. 
The ultimate aim of Les Parisiens is to bring the European Cup to Paris, for which Nasser Al-Khelaifi has been working tirelessly by brokering deals for some of the best footballing talents on Earth.
With a seemingly endless supply of funds from the Gulf, who's to say that PSG won't become the modern emulation of Real Madrid as it attempts to assemble what is, to some extent, the greatest starting lineup of football players of the current generation. While those who love competitiveness might scoff at the idea of two greatest footballers of this generation in the same team, even the most ardent opposers of PSG would no doubt be excited to see how such a union would play out on the field. A dream partnership is indeed possible, as possible as it has ever been.