The involvement of politics in sports is looming large in today's world with many players, coaches and teams taking a stand against what they perceive to be a societal evil. These players and teams hold a position of influence and believe that they can bring positive change to society. But more often than not, it results in controversy and creates a rift between different sections instead of bringing actual tangible change.
However, the athletes involved in making symbolic gestures shouldn't be faulted but it is rather on those who indulge in making political connotations out of simple actions who make a hue and cry. Politicians from both ends of the spectrum suffer from making everything about themselves. They appease their supporters by and perhaps take some stances that are gimmick-y in nature.
Tory MP Lee Anderson today confirmed he's going to boycott the final because the England players are taking the knee. He's going to "check his phone for updates" instead.

How much must he must dislike anti-racism to skip the first England final in 55 years? 🤯🤡

— Zarah Sultana MP (@zarahsultana) July 8, 2021
The England national team decided to continue its FA's decision of taking a knee in the Premier League to the international level at Euro 2020 to protest against the racial injustices that exist in the country. It was always going to attract opinions and even disapproval from some sections but when the team was booed by its own fans during warmup friendlies at Wembley, it caused a huge unwanted controversy prior to a major international tournament. While other fans drowned out their uncalled gesture with a loud appreciation for the Three Lions team, it wasn't going to end there.
#ENGDEN: "You've got a voice that might make people think differently": @GarethSouthgate tells #SRtRC25 about the power of footballers engaging with anti-racism education.

🔊 https://t.co/gqYW5arlKE
🍎 https://t.co/Sj9b2XNFgM
📺 https://t.co/VoDuY3RP8v#ENG | #DEN | #Euro2020 pic.twitter.com/ovFarMhEzj

— Show Racism the Red Card (@SRTRC_England) July 7, 2021
Politicians including the UK Prime Minister Boris Johnson and Home Secretary Priti Patel were asked about these incidents and their responses didn't help much. Boris Johnson while appealed the fans to not boo their own players, but also distanced himself from the movement dubbed as the "Black Lives Matter" movement in the United States and said he "doesn't believe in gesture politics". While the home secretary of his government Priti Patel claimed that the fans "have the right to boo players" and indirectly supported the criticism of the gesture.
PM Johnson, although reiterated its support for the England national team and wished them luck, also carefully distanced itself from the movement by differentiating between an anti-racism stance and the BLM movement, claiming the latter to be a political crusade of a certain ideology.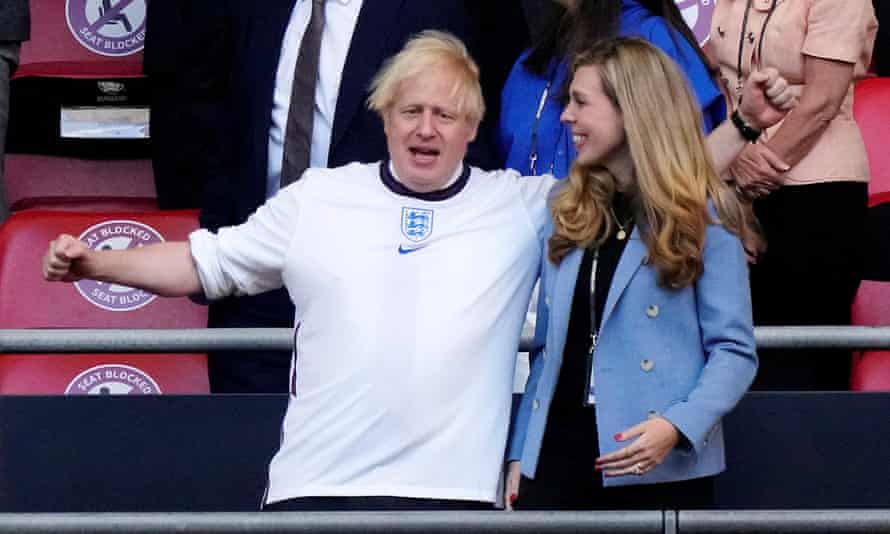 The controversy divided the English fanbase with one section demanding sports to be free from politics and political gimmicks and the other side claiming that it is necessary to fight injustice in every sphere of society.
However, things took a sharp turn as England started the Euro campaign in flying colours and went through the group stage unbeaten. Their performances only grew upwards as the tournament went on and after defeating Germany, Ukraine and Denmark in the knockouts, England has successfully reached the final of the Euros for the first time in history. They will face-off with Italy at the Wembley Stadium on Sunday, July 11
Had Priti Patel and Boris Johnson believed England would succeed would they have attacked the team for taking the knee? Of course not: they were betting on failure.

— Jo Maugham (@JolyonMaugham) July 8, 2021
The unprecedented success has toned down the political hostility and despite England playing six of their seven matches at Wembley, there were only positive chants from the large crowds.
Even those, including Priti Patel, who had earlier made contentious remarks over the booing of the team were seen celebrating the semi-final win. She came under fire for posting a picture cheering the team while donning the England jersey. Patel had earlier said that she "hasn't ever been to a football match" when asked whether she would herself boo the team.
👏🏽👏🏽👏🏽 Just brilliant. Well done #ThreeLions

Football's coming home 🏴󠁧󠁢󠁥󠁮󠁧󠁿 pic.twitter.com/dch8wdj8jL

— Priti Patel (@pritipatel) July 7, 2021
10 Downing Street released a clip of PM Johnson congratulating the team for this historic achievement and wishing them luck ahead of the final. Johnson called the feeling "euphoric" and praised the England boss Gareth Southgate and his team for the remarkable feat.
Prime Minister @BorisJohnson on @England's historic win last night. Come on England!#ThreeLions #Euro2020 pic.twitter.com/hBW2Po11b3

— UK Prime Minister (@10DowningStreet) July 8, 2021
However, experts suggest that maybe it is also time for him to reflect upon his immigration policy following the Brexit and rethink his stand on foreigners from poverty-ridden African nations or the Middle east trying to emigrate under extreme circumstances.
Immigration was one of the major reasons behind the UK's decision to quit the European Union and behind the election of Tory leader Boris Johnson to the Prime Minister's office.
British Prime Minister Boris Johnson waves the English flag days ahead of the #EURO2020 finals where England plays Italy pic.twitter.com/4agQO6j5B3

— Reuters (@Reuters) July 10, 2021
Many English stars of the past and even the current team wouldn't have been there performing in the famous white stripes of England had Brexit taken place decades earlier.
One of England's main heroes of the tournament Raheem Sterling was born in Jamaica to Jamaican parents and only moved to England in 1999. Even England's captain Harry Kane carries an Irish ancestry through his father and the most impressive youngster in the current squad Bukayo Saka was born to Nigerian parents who immigrated to England before he was born in search of a better standard of living.
Seven of #England's starting XI against #Denmark in the #Euro2020 semi final have parents or grandparents born overseas. And if you trace the families of almost all the #ThreeLions squad back, you'll find migration stories https://t.co/nJdHBrKaaP #FootballMovesPeople #ENGDEN pic.twitter.com/hiwDDJGsHi

— Migration Museum (@MigrationUK) July 7, 2021
England possibly wouldn't have the same talented lot without the inclusion of athletes from all sections of society and might not have progressed to reach the final of Euro 2020. The likes of Johnson and Patel have co-opted the national team's success but it is perhaps time they take a deeper look at their policies.