Football, at any given point of time, is a good reflection of the society around it. In the UK in the 80s, increased hooliganism in fans represented the angst of the working class towards then Prime Minister, Margaret Thatcher. Going back further, Barcelona and Athletic Bilbao were bastions of resistance in Spain of the Franco regime. Despite football's commercialization, the same has continued today.
Awareness, and importantly action, against racism, explicit and implicit, has increased in the recent past and football is no different. The lack of and need for more diversity in all aspects of the sport has been recognised from players to administration. However, a more tribal form of racism continues, in the form of online abuse, is hurting the game, through its supposed fans on social media platforms.
FEVER PITCH
In his book Fever Pitch: A Fan's Life, Nick Hornby says "It's not much to be grateful for, really, the fact that a man calls another man a c**t and not a black c**t." Racism from fans towards players has been around forever in the sport.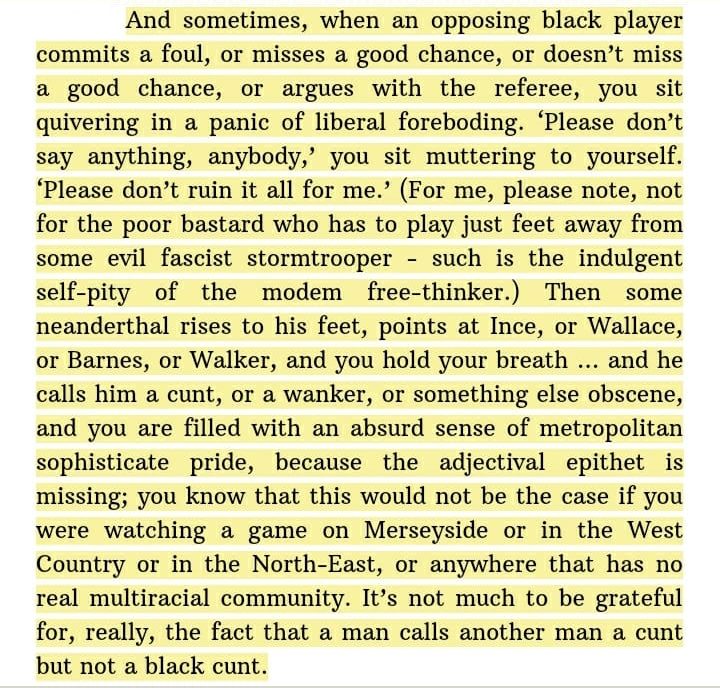 As the pandemic has pushed fans away from stadiums and towards their screens, the problem has accompanied them. People can no longer scream slurs and pretend it was someone else but they can now hide behind an anonymous username and send their slurs over on social media. Multiple players have reported such incidents and clubs have decided to take action.
CATALYSTS
On Thursday, Championship side Swansea City announced that they will be doing a week-long social media blackout as part of protest against this racist abuse. Swans players Jamal Lowe, Yan Dhanda and Ben Cabango have all been victims and the club wants social media platforms to step in and hold the people responsible accountable.
Swansea City has chosen to take a club-wide stance in the battle against abuse and discrimination of all forms on social media.

From 5pm today we will not post any content on our official social media channels for seven days.#EnoughIsEnough

👉 https://t.co/rmHXB0j2l7 pic.twitter.com/fKqKqHl8Ag

— Swansea City AFC (@SwansOfficial) April 8, 2021
This move comes after France and Arsenal legend Thierry Henry decided to boycott all social media platforms until they decided to tackle racism and abuse "with the same vigour and ferocity" that they show towards copyright infringements.
Fellow Championship side Birmingham City and Scottish champions Rangers followed in Swansea's footsteps and announced a week-long blackout as well. The decision is club wide, i.e., no player, staff, youth player, etc will be using their accounts. The clubs will be using the official club website to update their supporters for all news during the blackout.
PUTTING THEIR FOOT DOWN
Swansea and now Birmingham have shown that clubs need to push platforms to take action. It has also opened up a question of what collective action can be taken by clubs along similar lines. The Premier League, EFL, and other stakeholders have decided to make this issue a primary one during their regular meeting next week.
The Club stands in solidarity with Swansea City in the fight against abuse and discrimination of all forms across social media.

As of 6pm tonight, we will not be posting across official channels for a period of seven days. #EnoughIsEnough

— Birmingham City FC (@BCFC) April 8, 2021
Discussions over whether such a blackout can be done by clubs across the footballing ecosystem in England. Clubs from the Premier League, Championship, League One and Two are considering such a blackout and it would certainly be a major statement and could shake Twitter and Facebook out of their slumber.
An EFL spokesperson was quoted as
"Racist, discriminatory and threatening abuse online is a scourge on society that is reflected in the sustained abuse of players and people connected to our national game.

'The football authorities have consistently challenged social media companies to use their platforms to effect change and as part of the Football Online Hate Working Group we continue to work with stakeholders to create conditions that will ensure there are real life consequences for online abuse.

'Likewise we are supportive of any EFL club's proactive efforts to combat hate – the merits of taking collective action were debated by clubs today with consideration being given to scheduling further activity before the end of the current season."
EFFECTIVENESS
There remains a question on whether social media platforms will be willing to entertain such requests from football clubs. In theory, these platforms have policies against online abuse but that is limited to posts and comments in the public domain. Personal messages are end-to-end encrypted which means that the platforms cannot read them despite what the ads you get may say.
A lot of the abuse received by players has been through personal messages. Most platforms now allow you to unsend your messages and screenshot verification is a tedious process. Regulating these messages would mean verification of each individual account. You don't expect Mark Zuckerberg will be too keen on that.
🔴 We 𝗿𝗲𝗮𝗱 the comments.
⚪️ We 𝗵𝗲𝗮𝗿 the abuse.
⚫️ We 𝗳𝗲𝗲𝗹 the hatred. But without inclusive and diverse history, what would we have? pic.twitter.com/nZSwjuWFgQ

— Fred Rodrigues (@Fred08oficial) April 2, 2021
Nevertheless, a blackout will force some action and the fight against racist abuse is not made of one battle. Sports makes up a substantial part of social media and potential user, and therefore financial, loss is bound to induce changes.
This problem might just be too much for football clubs to tackle alone but they are nevertheless leading the way and as a football fan, there is nothing but pride to take from that.