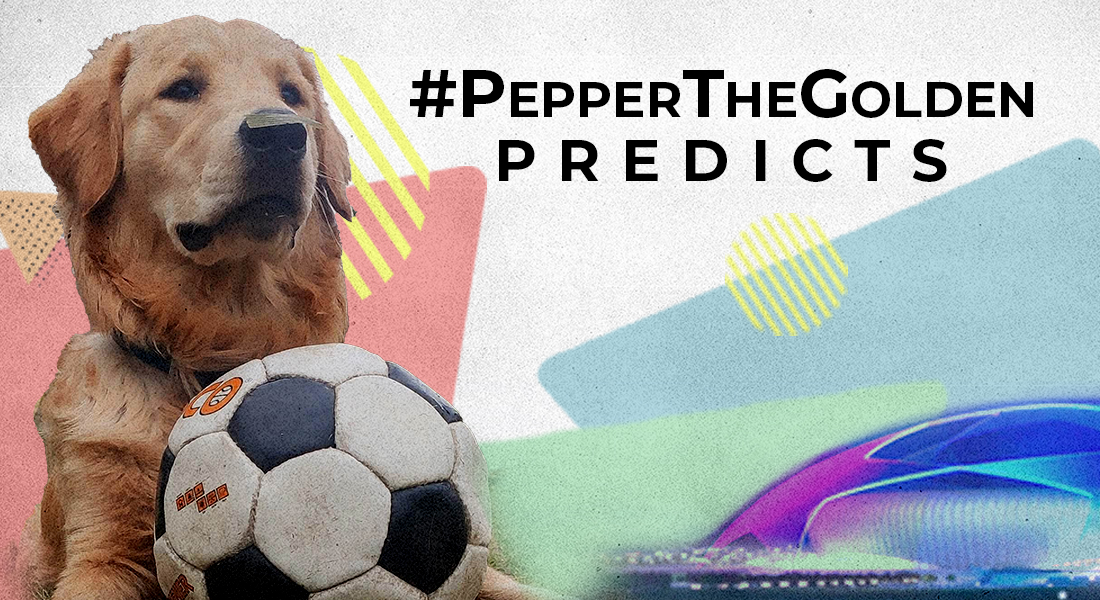 PEPPERTHEGOLDEN PREDICTS! CHAMPIONS LEAGUE, EURO 2020 AND COPA AMERICA 2021 PREDICTIONS BY EVERYONE'S FAVOURITE DOG!
Paul McCartney, Paul Rudd, Paul Pogba, Paul Newman. These people are pretty famous but none of them are the most famous 'Paul.' That accolade belongs to Paul the Octopus, who shot to fame in the 2010 World Cup with his accurate predictions in each match. Since Paul's passing, many have tried to replace him but none have been able to match his legacy.
Fear no more! FootTheBall, in association with SaltandPepper, brings to you the new Paul, so to say, in the form of #PepperTheGolden Predicts. Pepper is a nine-month old-golden retriever who is training to be a service dog and will be telling you who to put your money on in the summer of football ahead.
PEPPER PREDICTS CHAMPIONS LEAGUE FINAL
After correctly predicting the result of the semifinal legs, Pepper is back to predict what will happen over the 90 minutes in Porto on Saturday evening between Manchester City and Chelsea.
View this post on Instagram
#PepperTheGolden has predicted that Manchester City will emerge as champions of Europe for the 2020-21 season and will defeat Chelsea in the final.
PEPPER PREDICTS THE 2ND LEG BETWEEN CHELSEA VS REAL MADRID

Pepper was spot on with his prediction for the first semifinal and now he is here to select Manchester City's opponents for the big one – the UEFA Champions League final.
View this post on Instagram
#PepperTheGolden has predicted that there will be an all English final and that Chelsea will overcome Real Madrid at Stamford Bridge on Wednesday night.
PEPPER PREDICTS THE 2ND LEG BETWEEN MANCHESTER CITY VS PSG
#PepperTheGolden is back for his next set of predictions, and boy has he surprised us all with this one.
In the 1st leg of this match, Pepper had predicted a win for the 4 time Premier League Champions, Manchester City and he hit the bullseye with that one!
Has he had a change of heart this time round? Lets find out!
Meanwhile PSG fans all over the globe, after looking at #PepperTheGolden 's latest prediction.
If Pepper's latest set of predictions is indeed ONCE AGAIN CORRECT, we could expect yet another all English Champions League final, which would be a second time in last 3 seasons.
PEPPER PREDICTS 1ST LEG OF MANCHESTER CITY VS PSG
Well, #PepperTheGolden has made his pick. But will he get it right? It seems that he likes BLUE. But is it Manchester's blue or the Paris blue?
View this post on Instagram
BTW, #PepperTheGolden does take a deep look into the future. Everyday.
Beginning with the Champions League semi-finals, Pepper will be presented with two bowls of food tagged with the emblems of the two contesting teams. Whichever bowl he eats from, will be Pepper's predicted winner. Those who dare go against Pepper's wishes will most certainly fall in the next round, lest he decides to forgive them.
CHAMPIONS LEAGUE SEMIFINAL PREDICTIONS
For the second Champions League semifinal, Pepper has predicted that English champions-elect Manchester City will triumph over PSG to reach their first ever European Cup final.
View this post on Instagram
For the first semifinal of the UEFA Champions League, Pepper has predicted that 13-time champions Real Madrid will emerge victorious over their English opponents Chelsea.
View this post on Instagram
If Zinedine Zidane needs someone who can chase after the ball in the midfield, he can call up Pepper who is the expert in that field. Tell us what you think of his prediction in the comments of the post above!
This blog will be updated continuously with Pepper's predictions but you can also follow FootTheBall's social media channels to keep up with Pepper's predictions team for each and every match for the Euro 2020 and Copa America later this summer!