The Premier League, on Monday, finally announced its long-awaited first two inductees to the newly constituted 'Hall of Fame.' While there had been rumblings about the names for months, one name that was almost a lock to be inducted was history-maker Alan Shearer. The all-time top-scorer in the league was joined by another brilliant attacker and legend of the game, Thierry Henry.
Two centre-forwards, both gifted with natural skill and talent who have written their names in Premier League history

We're delighted to announce Alan Shearer and Thierry Henry as the first two inductees of the #PLHallOfFame pic.twitter.com/MAKgi3SYzV

— Premier League (@premierleague) April 26, 2021
FootTheBall recounts the legendary career of both these men in England:
ALAN SHEARER
The Newcastle-born Shearer started his career in the old First Division with Southampton in 1988 and bagged a hat-trick in his first full appearance. This made him the youngest – 17 years, 240 days – to achieve this feat. Shearer was voted the Saints' Player of The Year in 1991 and eventually ended up scoring 23 goals during his stay.
MOVE TO BLACKBURN
With speculation rife about his next destination, and Manchester United, Liverpool all being likely destinations, Blackburn emerged as the winner with a then British-record transfer fee of £3.6 million.
He scored 16 goals in the 21 games he played. By this time, professionals across the sport were beginning to notice the young attacker's flair and genius in front of goal. Still, they couldn't have predicted what came next.
Blackburn finished the 1993-94 season as runners-up, with Shearer scoring 31 times through 40 matches. He was named the Football Writers' Association Footballer of the Year that season but his biggest achievement came in the 1994/95 season as the Rovers went one step further.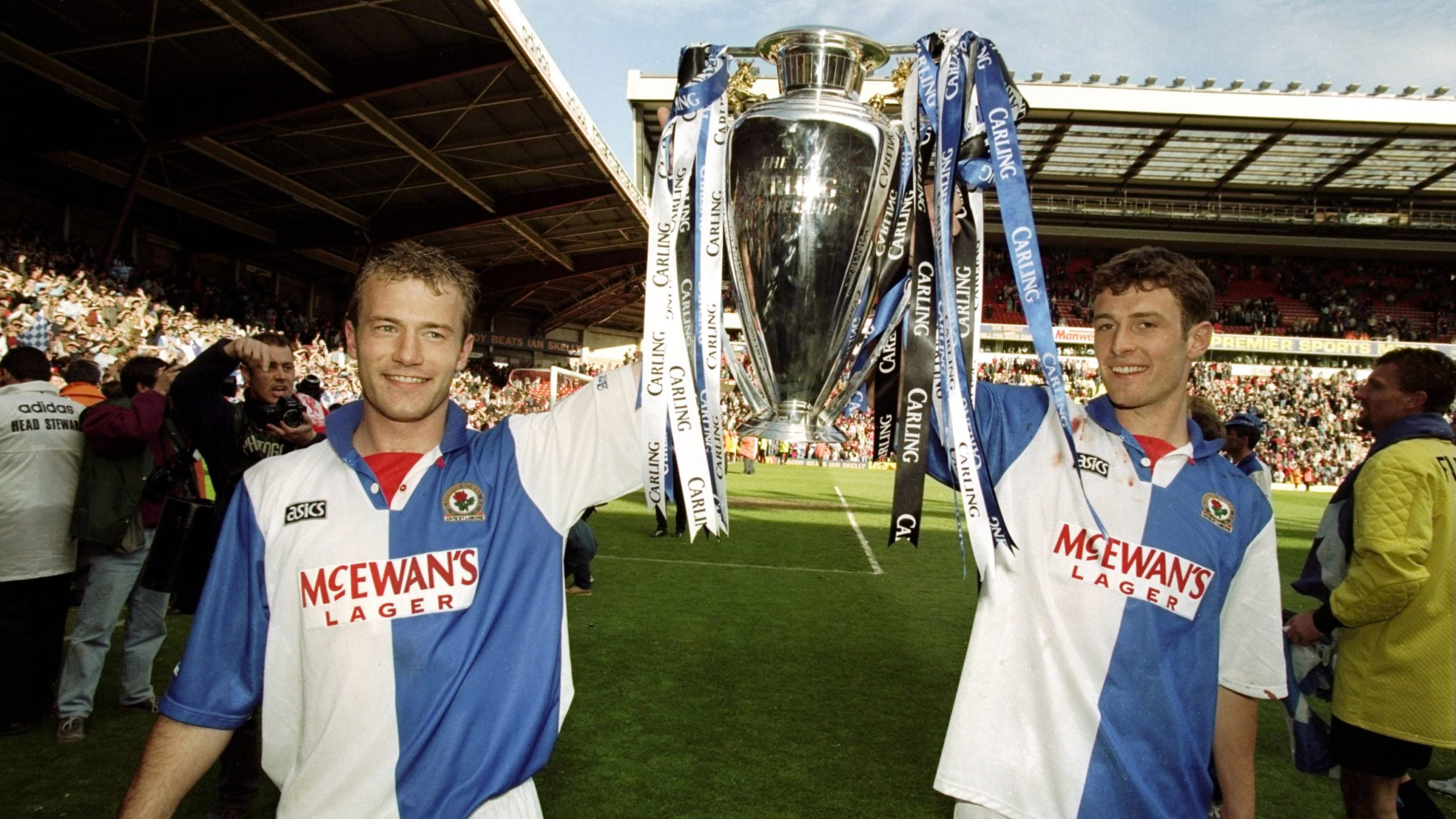 Linking up with new arrival Chris Sutton contributing 15 goals, the duo formed the deadly 'SAS' partnership with Shearer bagging 34 strikes enroute to his first Golden Boot in the league. Blackburn's shock title win cemented Shearer's status as an instant legend at 25. A feat so seismic that it would not be seen again till Leicester City's win 20 years later.
Shearer won the next two consecutive Golden Boots to make it a three-peat. He also joined the 100-goal club in the league (fastest to reach the feat in 124 matches), finishing with 112 at Blackburn. Then came the homecoming.
RETURN TO NEWCASTLE 
Shearer, amid heavy interest from United and Real Madrid, joined his boyhood club Newcastle for a then-world record fee of £15 million. By this point, the "raised hand" celebration had become the scourge of opposition defences as they struggled to contain the smiling assassin. He failed to reach double figures only twice in the 10 years he spent there, including four seasons with 22 goals or higher.
Though Newcastle were never able to win the title, with the club's second-place finish in his debut season the pinnacle. Shearer was dubbed as the traditional target-man who played physically and had no problems finishing things rough. His gruff style, combined with instinctively knowing where the goal was, ensured Shearer's status as a league and club legend.
260 – In April 2006, Alan Shearer scored his 260th and final Premier League goal, in Newcastle's 4-1 victory against Sunderland; he remains the highest goalscorer in the competition. Icon. #OptaPLSeasons pic.twitter.com/3F3dJHDS8f

— OptaJoe (@OptaJoe) April 9, 2020
Shearer finished his Newcastle career with 148 goals. His last goal in the Premier League was a penalty against arch-rivals Sunderland, with Shearer being forced off with a career-ending injury soon after. "Wasn't a bad way to go out. I'll take that," Shearer said.
Just to emphasise the sheer scale of what Shearer achieved; his 260 goals in the league still stands as number one after almost 30 years of the Premier League. He also holds the record of the most penalties scored with 56. His peers and teammates have often described him as the "best striker" the league has ever seen.
𝑻𝒉𝒆 Number 9️⃣#PLHallOfFame pic.twitter.com/GwbJRDc9Ia

— Premier League (@premierleague) April 26, 2021
"Without Alan Shearer there's no title for Blackburn in 1994/95 season. As simple as that," claimed Tim Sherwood, the Blackburn captain during the 94/95 season.
One man, though, comes close to surpassing that moniker, if not sharing it, with Shearer
THIERRY HENRY
'King Henry' as he is affectionately called by the Gunners' supporters, the largely unheralded Frenchman arrived on English shores in 1999 for £11 million. Linking up with Le Professeur Arsene Wenger who immediately moved the striker to the centre, Henry took some time adapting to the pace and intensity of the Premier League. But everyone believed the goals would come soon.
With the shadow of Ian Wright looming over him and the aim of "elevating the position" he played in, Henry took over Highbury. Left foot, right foot, pace, trickery, composure, calmness. You would run out of words to describe the array of talents that Henry brought to the team. His linkup play with Dutch maestro Dennis Bergkamp has been considered one of the best in the Premier League era.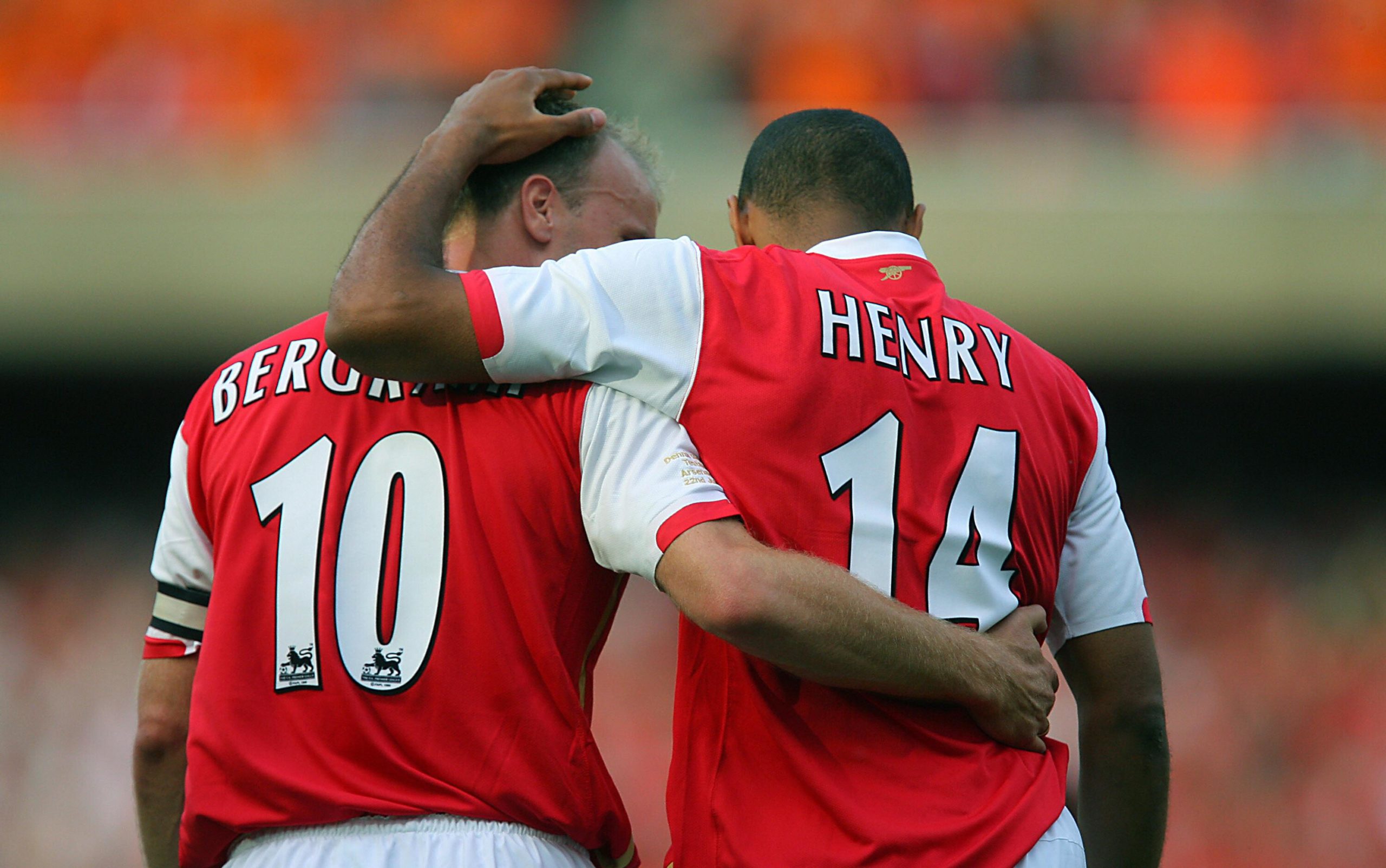 Henry scored goals at an astonishing rate, racking up four Golden Boots from 2001-2006 and even providing the highest number of assists in a single season with 20 in the 2002-03 season. This just goes on to show how high his dynamism and game-mindedness was on the pitch.
THE INVINCIBLES 
The 2003-04 season has been cited as the greatest Premier League campaign by a team and rightfully so, as an UNDEFEATED Arsenal side were crowned champions with 26 wins and 12 draws. Henry by this time was an icon in these parts and the whole country as his predatory prowess had become renowned. One of Highbury's own.
𝑽𝒂-𝒗𝒂-𝒗𝒐𝒐𝒎 🤌 pic.twitter.com/t0b7zcL5rb

— Premier League (@premierleague) April 26, 2021
During the course of the 2005-06 season, Henry broke the goal-scoring record held by the man he was supposed to emulate, Ian Wright, thereby becoming the club's all-time leading scorer. Unlike Shearer, Henry's teams won a lot of silverware with two league titles and two FA Cups amongst them. Though he left for Barcelona in 2007, this love story had one final chapter yet to be written.
"People say he doesn't score a lot of goals with his head, but does he really have to with the ability he has in his feet? He makes spectacular goals look easy. His technique is fantastic."

—Newcastle and Premier League legend, Alan Shearer
RETURN OF THE KING
Thierry Henry's homecoming in 2012 for two months did not have the same heights reached in his former spell, but this was no retirement tale. His 'second' debut against Leeds in the FA Cup third-round match saw Henry, of course, scoring the winning goal with a class curled finish past the keeper.
In the Premier League, his spell produced one goal and again, it was as memorable as they come. Henry scored the injury-time winner against Sunderland  in  a 2-1 win for the Gunners. With this goal, his tally for the North London club in the league stood at 175, which currently ranks the sixth-highest in the league.
Morning! On this day in 2012, Thierry Henry scored his last @Arsenal goal, and the winner, as we beat Sunderland 2-1 pic.twitter.com/q914nu5d2g

— Arsenal (@Arsenal) February 11, 2014
As we reflect on these two legends' careers, it's easy to see why they have been the first ones to be enshrined in the Hall of Fame.
WHO MIGHT FOLLOW?
With the Premier League and fans soon to vote for six more inductees to join Shearer and Henry, the conversation inevitably shifts to who all are next. The names doing the rounds all include club and Premier League legends including Frank Lampard, Steven Gerrard, Wayne Rooney, Patrick Viera among many, many distinguished others.