Florentino Perez might just have landed himself in hot water in the aftermath of controversial audio clips of his that were published by Spanish newspaper El Confidencial.  On Tuesday, he courted controversy for criticising club legends Raul Gonzalez and Iker Casillas but that was seemingly not the worst of the lot.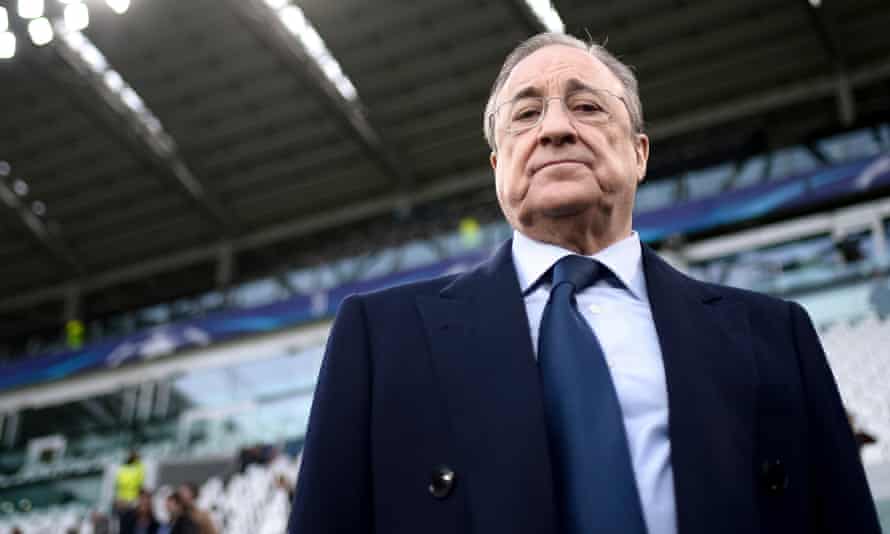 Today, he has once more become the centre of the storm as audio clips dating back to 2012 were released by the digital publication pertaining to former manager Jose Mourinho and club legend Cristiano Ronaldo.
As the Real Madrid president becomes embroiled in a high-profile debacle, FootTheBall gives you a complete lowdown on what the business mogul and former politician said due to which he has, not for the first time in his tenure, courted controversy
FLORENTINO PEREZ CALLS RONALDO AN "IMBECILE"
Florentino Perez called Portuguese football player Cristiano Ronaldo an "imbecile" as per audio clips from 2012 released by Spanish digital publication El Confidencial on Wednesday.
The business mogul also called Ronaldo's compatriot Jose Mourinho, who was Real Madrid's manager at that time, "abnormal" while also adding that both of them had "huge egos" in the leaked audio clips.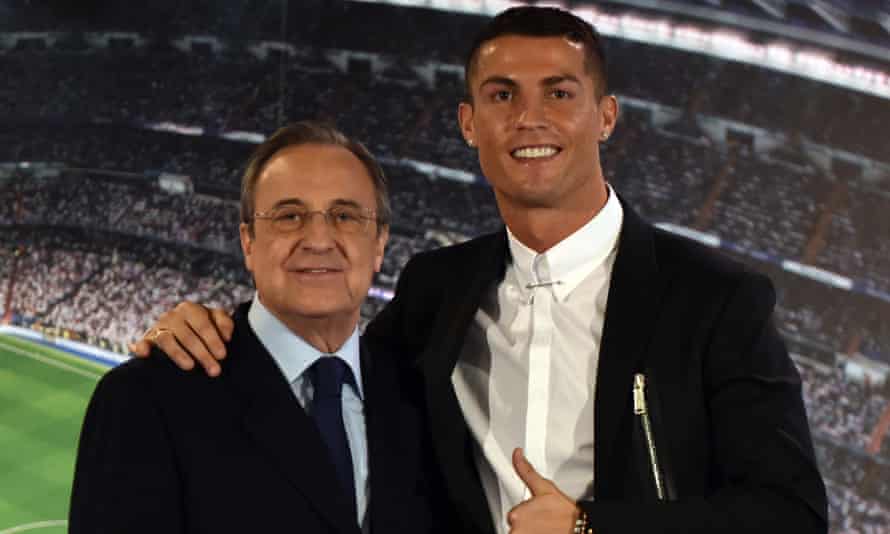 These are not the first audio clips to be leaked by the Spanish daily featuring Perez denigrating club legends of Los Blancos. A day earlier, the same digital publication had released audio clips in which Perez insulted Raul Gonzalez and Iker Casillas.
The 74-year old business magnate was not impressed with both the Spaniards and did not mince his words when referring to them as the "biggest frauds" in Real Madrid's history.
"Casillas is not a Real Madrid standard goalkeeper, what can I say? He's not and never has been. He has been a big failure of ours. The problem is people adore him, love him, talk to him, they defend him so much.
"He is one of the biggest frauds and the other is Raul, the two biggest Real Madrid frauds are first Raul and second Casillas," Perez was heard saying in the leaked audiotapes.
FLORENTINO PEREZ DIGS INTO RONALDO AND MOURINHO
Florentino Perez wasn't Real Madrid's president during the years 2006 through 2009, but he amassed information about his predecessor Ramon Calderon.
He then went on to use that very information against Calderon by contacting his "friends" in the Spanish media. But this time, ironically, the media has proved to be his undoing as his controversial audio recordings have been leaked.
In the latest leaks, Perez did not hold back from criticising former Real Madrid player Cristiano Ronaldo and current AS Roma manager Jose Mourinho. With reference to Ronaldo, Perez was heard saying the following:
"[Ronaldo] is crazy. The guy is an idiot, he's sick. You think this guy is normal, but he's not. If he was, he wouldn't do all the things he does," Perez said.
"The last stupid thing, which everyone in the world saw… why do you think he'd do something so stupid?"
It is not clear what the current Real Madrid president was referring to when talking about the "last stupid thing" that Ronaldo did, but it is clear that the Real Madrid legend was not in Perez's good books.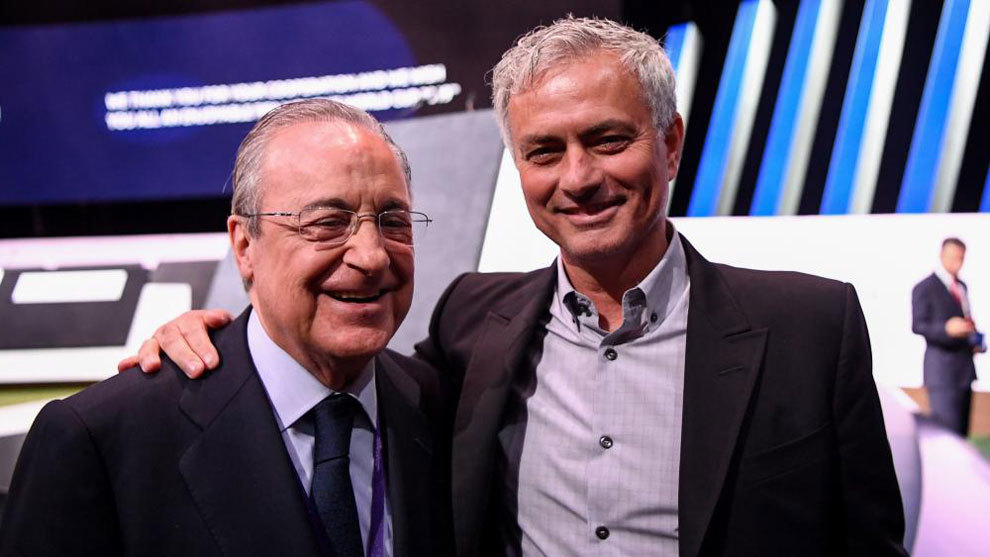 Perez didn't stop there, as he went ahead and lambasted the Portuguese duo for having humongous egos and being blinkered to reality.
"[Jorge] Mendes has no control over [Ronaldo] and it's the same with Mourinho – none at all" Perez was heard saying in the audio clip.
"Even for interviews, they don't listen to him. These are two guys with terrible egos, spoilt the pair of them, who don't see the reality because they could both earn a lot more money if things were different.
"They are both abnormal because we are talking about a lot of money in terms of image rights. And with that face they have, that challenging glare, the fact that no one likes them… if the publicity was different, everything changes" the Real Madrid president said of the duo.
REAL MADRID PRESIDENT DOESN'T TRUST THE CLUB'S PLAYERS?
Perez and the audio clip controversy that he has landed in has also uncovered one startling revelation – that the Real Madrid president might not trust his players after all (apparently his comments point towards it).
In the audio clip where he slammed Raul Gonzalez and Iker Casillas, Perez claimed that he could not trust the players in Real Madrid.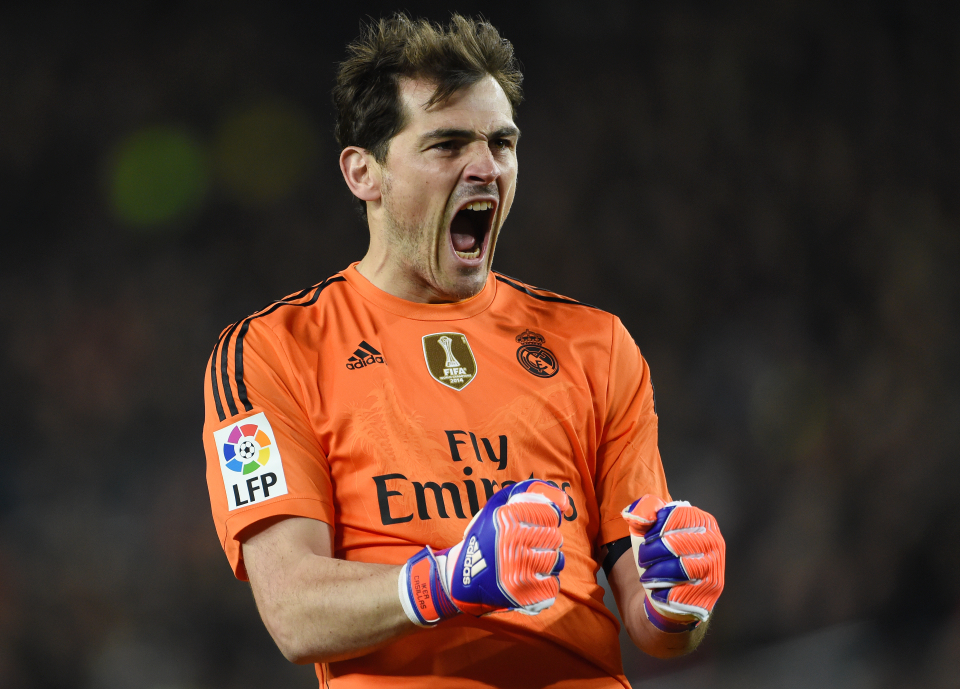 "The players are very selfish, you can't count on them for anything. If you do, you've made a mistake and they'll let you down, it's ridiculous.
"I have an awful view of the players," the business tycoon was heard saying in the audio clip released from 2006.
The Real Madrid president recently came under fire for spearheading the European Super League project in Europe that would have seen "smaller clubs" getting ostracised from European football completely.
And now the revelation of audio clips in which he is heard lambasting and slamming club legends such as Raul Gonzalez, Iker Casillas and Cristiano Ronaldo will surely put a lot of question marks on his vision and leadership at Real Madrid and football in general.