Plans for newly crowned European champions Italy to meet their South American counterparts Argentina in a one-off match to honour the memory of Argentina and Napoli legend Diego Maradona are underway after he passed away in November last year.
Football fans are well aware of the super cup tournaments held at club level at the start of every season – from England's Community Shield to the UEFA Super Cup, one-off matches held as traditional curtain raisers before the real action begins.
But no such tournament has been in existence at international level and the only time that European and South American champions can meet each other in a competitive game is during the FIFA World Cup (since the Confederations Cup was abandoned) that is held every four years.
🏆 Vení a jugar @Vivo_Azzurro no somos tan buenos

🇦🇷🆚🇮🇹 ¿Se imaginan una Supercopa entre el campeón de América y el de Europa? Qué mejor homenaje para el Diez… pic.twitter.com/X1n1NLoTa5

— Diario Olé (@DiarioOle) July 11, 2021
This scenario may just be about to change as there are plans in the pipeline to hold a match between Italy and Argentina – the respective European and South American champions in Naples.
The one-off match may even become a regular feature in the international calendar if it is viewed as feasible by all the concerned parties in the future
MARADONA SUPER CUP MATCH
Lionel Scaloni's Argentina won at the Maracana Stadium to inflict Brazil's first defeat at the hallowed venue in more than seven decades to win La Albiceleste's 15th Copa America championship.
In the process, Argentina captain Lionel Messi won his first major international title with the Argentina national football team as Angel Di Maria starred in Rio de Janeiro.
La Albiceleste's win ended a 28-year wait for a major international title after countless heartbreaks in previous Copa America finals and the 2014 World Cup final.
¡ESA FELICIDAD ARGENTINA! 😄🇦🇷​#VibraElContinente #CopaAmérica 🏆 pic.twitter.com/4VTFqy7ZtI

— Copa América (@CopaAmerica) July 11, 2021
Less than 24 hours later, the Azzurri won in a penalty shootout with the England national football team as Roberto Mancini guided them to European glory after having failed to qualify for the 2018 World Cup in Russia.
🇮🇹 Lifting it high 🤩🏆 pic.twitter.com/Fbig2VBCPo

— UEFA Nations League (@EURO2024) July 13, 2021
As per reports from the New York Times, plans and preparations are underway to host a one-off game between the two sides as a tribute to the deceased national hero of Argentina Diego Maradona.
Maradona led Argentina to their second World Cup win in 1986 when he almost single-handedly took them all the way in the quadrennial tournament – winning the final with West Germany. Meanwhile, he acquired a mythical status in Italy too, playing for Napoli in Serie A from 1984 to 1991 in the south of Italy.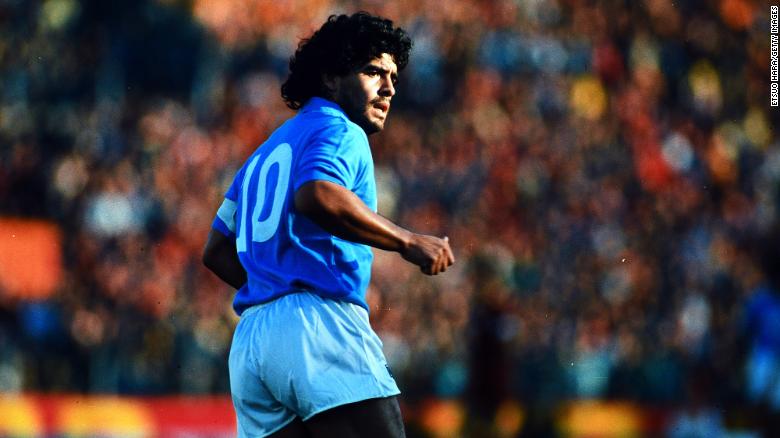 During his time in Naples, Napoli won two Serie A titles as they became a force to be reckoned with in the Italian top-flight
NAPLES' STADIO DIEGO ARMANDO MARADONA TO PLAY HOST
The tie, if it goes forward, will be held at the Stadio Diego Armando Maradona – the home of SSC Napoli that was renamed after the Argentine passed away at the age of 60 last year.
Tariq Panja of the New York Times reported that the talks are at an advanced level to host the game in Naples – Maradona's home for 7 years when he plied his trade in Serie A.
Something for the football romantics: Plans at an advanced stage for a one-off game between new European and South American champions: Italy-Argentina in Napoli to commemorate the life of Diego Armando Maradona pic.twitter.com/IJpWwo6P3H

— tariq panja (@tariqpanja) July 13, 2021
And interestingly, the last meeting between these two sides occurred during the 1990 World Cup in Italy at the exact same venue when Maradona and Argentina clashed with hosts Italy in the semi-final.
That day, Argentina were triumphant as La Albiceleste booked their place in the final of the competition before losing the final to West Germany in a repeat of the 1986 title decider.
If the plans currently being discussed come to fruition, then fans would be seeing the first ever Maradona Super Cup match in Italy as Argentina would clash with Italy in a battle between the reigning European and South American champions.
The event would also facilitate cooperation and synergy between UEFA and CONMEBOL on a hitherto unprecedented level, with another example of the same kind being the exchange of referees between the Euro 2020 and Copa America tournaments