Manchester United striker Marcus Rashford may be forced to remain sidelined until the end of October after opting to have surgery on a long-standing shoulder injury.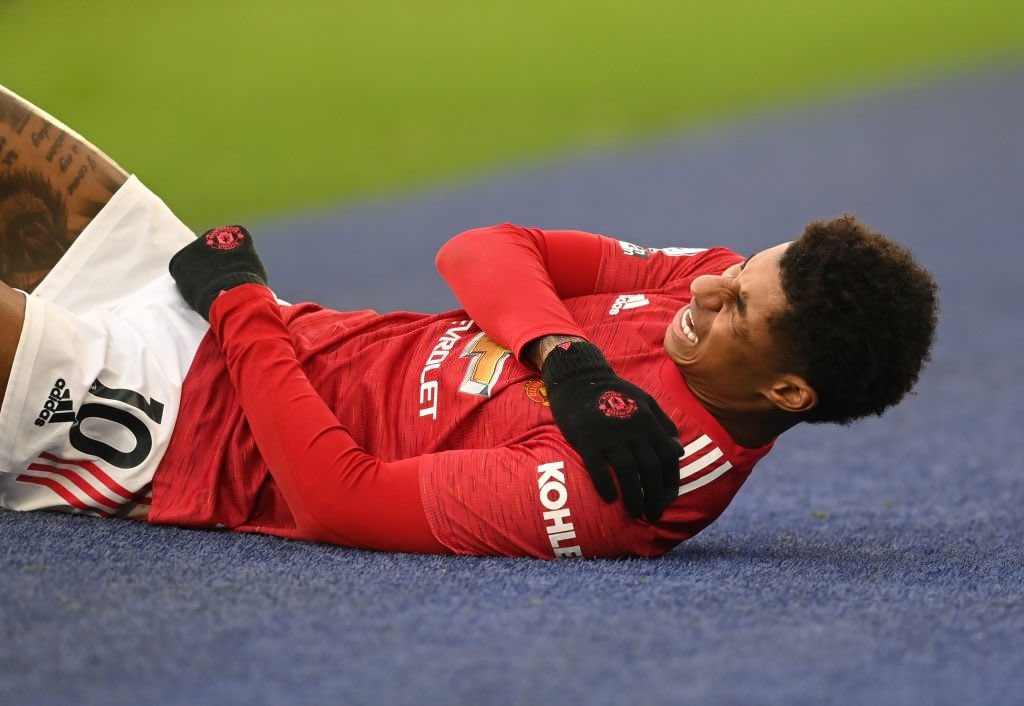 The 23-year-old underwent a scan on Tuesday after being injured in the second half of the 2020-21 campaign. It was determined that the injury was so severe that resting it would not solve the problem. 
Rashford may be fit enough to train after five weeks following surgery, but he won't be able to play for 12 weeks, keeping him sidelined until late-October.
MORE ABOUT THE INJURY
Rashford had tests on Tuesday for a muscle tear in his left shoulder, which he has been coping with since last November. The striker was given pain-relieving injections as well to assist him to manage the condition. 
Marcus Rashford is facing the prospect of up to 12 weeks out, after deciding to go ahead with surgery on a long-term shoulder problem.

Gutting for him.

✍️ via The Telegraph pic.twitter.com/IuE1MxbZOV

— Oddschanger (@Oddschanger) July 14, 2021
However, as time has passed, the issue has worsened, limiting his maneuverability as well as his ability to jump and play without any discomfort. Rashford's campaign was hampered further by an ankle injury he sustained in March during United's 2-0 derby victory over Manchester City.
During the closing weeks of the campaign, he was having difficulty getting his foot into his boot, and the ankle got swelled before United's Europa League final versus Villarreal. Rashford's ankle is expected to be examined as well in addition to his shoulder surgery.
A TOUGH COUPLE OF DAYS
The news comes as a fresh setback for Rashford, who has had a rough couple of days since England's final defeat at the hands of Italy at Wembley.
The striker, along with Jadon Sancho and Bukayo Saka, was one of three England players to miss penalties in Sunday's shootout loss to Italy. After missing the penalties, the three players were hounded with racial abuse online. Rashford's mural in Withington, Manchester, was also defaced but has since been blanketed in words of solidarity from the community 
This has been a problematic subject for some years. Fans and hooligans attempting to invade any city they visit, drinking and urinating in the streets, hurling bottles and searching for fights, booing their own players who take the knee before pouring racial abuse towards them on social media.  
Despite this, the Englishman has been overwhelmed by the avalanche of love and support from so many people. Many celebrities were among those who offered him personal words of encouragement. 
Overwhelmed. Thankful. Lost for words ♥️🏴󠁧󠁢󠁥󠁮󠁧󠁿 pic.twitter.com/PXC5H2GDtB

— Marcus Rashford MBE (@MarcusRashford) July 13, 2021
And now with this injury, the striker faces another roadblock. Rashford is afraid that the condition has not improved over time and that his mobility will continue to be constrained if surgery is not performed. The painkilling injections that he has been taking are obviously not a long-term solution. 
RASHFORD TO MISS KEY FIXTURES
Rashford believes that having his shoulder injury addressed once and for all through surgery is the best choice for him, his club, and his nation. But, as a result, he will be unable to participate in a handful of crucial matches. 
Rashford could remain sidelined in the Red Devils' first eight league matches, including their season opener against Leeds United at home on August 14, their opening three Champions League group stage fixtures, as well as England's five World Cup qualifiers in September and October.
If his recovery period from the surgery is extended, he may miss another batch of crucial matchups. On October 23, United will host Liverpool at Old Trafford, followed by matches against Tottenham Hotspur and Manchester City.
Losing one of their pivotal players for such an extended period of time can be detrimental to United's aspirations of kicking off the campaign strongly as Ole Gunnar Solskjaer will be attempting once again to end the club's eight-year top-flight title drought.